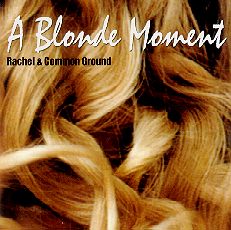 Image © Toll Records 2001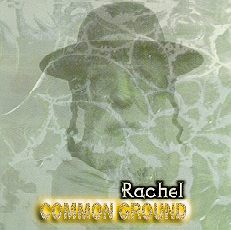 Image © Toll Records 1998

More Rachel & Common Ground
Head 2 Head and Fabulous (2002)

&nbsp
(04 October 2001) The latest recording by Cornwall-based Rachel & Common Ground is a six track EP entitled A Blonde Moment (Toll Records (UK) 008, 2001). It follows on the heels of the band's self-titled debut (Toll Records 007, 1999). With influences ranging from folk through progressive celtic, the band is fronted by the stunning crystalline vocal work of Rachel Heffer. Rachel also plays harp and is supported by Chris Lobb (bass), Richard Penrose (keyboards), Pip Harbon and Terry Wallwork. The band have performed at the Classic Rock Society several times and are one of several supported by the organisation destined for significant success.
In contrast to the band's debut, A Blonde Moment features layers of backing harmony vocals and richer arrangements. Musical Discoveries' readers will be impressed with the attention paid to the vocals in the mix; clearly a female vocals album, Rachel's voice is mixed way up. Material ranges from "Journey" a soft acoustic ballad to the highly accessible opening track "Given Life." Instrumentals perfactly compliment Rachel's soaring voice in the upbeat yet bluesy "Megan O'Reilly." Similarly complimented by a lovely arrangement and sensitive harp part, "Mice and Men" is a sweetly sung upbeat light rock track.
As with "Given Life," the rocking "Step on Board" is lushly arranged with electronic effects supporting Rachel's soaring lead vocals. The acoustic guitar passages are as notable as the stunning vocals; a small spoken word—almost rap—passage breaks up the two main passages of the song. The EP concludes with the Pan Celtic winning folk entry, "Ow Mos Tre" (acoustic version). Lush arrangements back layers of Rachel's sweetly sung Gaelic vocal passages. Certainly worth a long distance journey, this latest EP from Rachel & Common Ground is a must listen!
The self-titled debut recording from Rachel & Common Ground is comprised of four well arranged vocal numbers. "Common Ground" is a lovely acoustic ballad dominated by Rachel's sweetly sung lead vocal. A lovely harp part is part of the supporting arrangement. The EP concludes with a Gaelic version of the opening track entitled "Tir Kemmyn." Sandwiched between the versions are "Spirit," a soft acoustic ballad featuring lovely string parts, and "Take Me Home"—the original and more simply arranged English version of the band's Pan Celtic award winner "Ow Mos Tre." Dominated by Rachel's crystalline vocals the band's self-titled debut is a must listen!