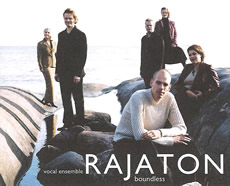 Image © Plastinka Records 2001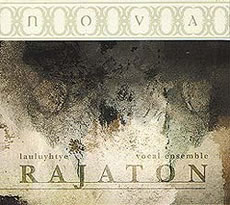 Image © Music Makers 2000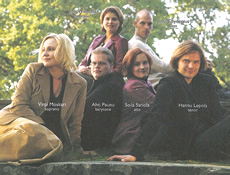 Image © Plastinka Records 2001


&nbsp
(31 December 2000) In Finland there are currently only a few vocal groups that do a cappella-style music, although Finnish music culture includes choral music. I have always liked choral and a cappella music, and, after listening The Swingle Singers (two of them—Heather Cairncross and Sarah Eyden—perform on Karl Jenkins' album Imagined Oceans) and a bit later, a wonderful Finnish group Human Organ (two of the Finnish Adiemus Singers—Säde Rissanen and Veera Railio—perform with them), I suddenly found out about Rajaton. Find out more about them at their website.
Nova. Rajaton's debut album (Music Makers (Finland) MMCD 111, 2000) got a very warm welcome by the Finnish record-buyers after its release last year and was number one at Classic FM—Finland's official classical chart—for quite a few weeks. This is not a surprise since all of the tracks are sung in Finnish and the lyrics are based on texts by both Finnish poets and of the ancient poem collection Kanteletar.
In addition to these, there are also some traditional Finnish songs in this album, which have been finely arranged for the ensemble. However, those arrangements are not very standard-like at all, because Rajaton has wonderfully managed to make each song on the album shine.
Like most a cappella groups, also Rajaton uses a lot of vocal solos in their music, and the result is very, very enjoyable. Although this album is 100% Finnish and Finnish has been used in all songs, the music may not "open up" for a foreign listener very quickly. However, I believe that the Finnishness is an advantage for the group, because that character can be referred to as exotic and therefore it may be a positive thing. For example, another Finnish ethno music group Värttinä (where Riikka Timonen-Heinilä/ née Väyrynen, one of the original Finnish Adiemus Singers, was singing few years ago) has also created a successful career abroad. Rajaton is not too far away musically from Värttinä either, both groups use same kind of lyrics in their songs whereas in the piece "Mitä kaikatat, kivonen?", Rajaton shows how "Värttinä-like" or "Adiemus-like" they really can sound. It may actually sound like Adiemus does to English-speaking people!
Boundless. The ensemble's follow-up album (Plastinka (Finland) PLACD 004, 2001) was released in 2001, and it again soared to number one on the charts for some time. Now the track listing seems to be a bit more "international," since only two pieces have been sung in Finnish and the album cover booklet does have all the lyrics written in English so that almost everyone can understand what the group is really singing. The composers and lyricists are strongly Finnish; some tracks have been composed and/or arranged by the group members, but there are also guest composers / lyricists and some folk tunes featured on the album. By the way, the title of the album is a literal translation of the group's name Rajaton, so it is at least very aptly said.
On the very first listen, I was already taken by surprise how versatile Rajaton's second album really is, and so I think that this is even more versatile than the debut album Nova. Some characteristics of Adiemus / Värttinä can be found once again, especially from the wonderful beginning of "Un-Wishing Well" and through the whole piece "Armahan Kulku" (Lover's Path). The reason for those features on the latter track can be found from the name of the album's producer, namely she is Anna-Mari "Adiemus" Kähärä. She has also composed the mentioned track for the group, so it's no wonder.
In addition to already known composers and lyricists (e.g., composers Heikki Sarmanto and Lennon-McCartney and lyricist William Blake) Boundless features also some new Finnish music makers, for example the young ladies Mia Makaroff and Laura Sippola. I think that this is a wonderful thing, because by doing this Rajaton doesn't need to focus only on making arrangements of already familiar pieces nor composing all the piece's by themselves. However, on this album there is one cover song by The Beatles ("Lady Madonna"), but this version is equal to the original.
Rajaton has also now taken some further steps on their way to explore the musical globe. While performing in Cork (Ireland) in 2000 they started to collaborate with Michael McGlynn, the director of the world-famous Anúna (review) choir, so one of the results, a beautiful "Summer Song," can be heard on this album. Another wonderful Irish piece on Boundless is "Dobbin's Flowery Vale," which shows the a cappella music and Rajaton at their very best.
Although vocal ensemble Rajaton has been existing only for few years now (in fact the baritone singer, Mr. Ahti Paunu, has been singing the bass part on Human Organ before joining Rajaton), they have already made themselves known in quite many countries with their wonderful music. Therefore I really hope that they could continue doing so in the future as well, because as Rajaton put it on their website, "Music is boundless"! Although the albums could be difficult to obtain in some countries, Nova and Boundless are highly recommended for anyone who likes to listen a cappella or "crossover" style music!--Suvi Kaikkonen