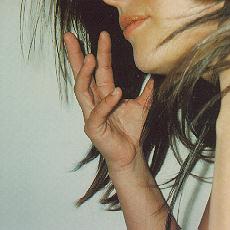 Image © 2000 Grappa Records
&nbsp
(26 February 2000) Vocal elements combine with modern instrumental arrangements on the eleven tracks that comprise this worldly progressive Celtic-oriented album. Our review of—Norway's leading Hardangerfiddle player—Annbjørg Lien's latest album, Baba Yaga (NorthSide (USA) NSD6044, 2000) is as comfortable here as it would be in our our Instrumental Album Review Digest. The album is a modern mystical tapestry incorporating ancient sounds and sprits with the modern age; her band brings elements from all over the world to a distinctly Norwegian traditional base. More photographs and further information are available at Annbjørg's own website.
From the notes that accompanied our promotional copy, "Baba Yaga is an original instrumental concept album, written by the aritst with producer/band member Bjørn Ole Rasch based on old Russian fairy tales. Lien and Rasch chronicle with words and music an encounter between the title character, a powerful and multi-faceted being, and a joyn mand to whom she teached and upon whom she confers gifts. It's Lien's hypnotic Hardanger fiddle (a violin with a flatter fingerboard and a set of sympathetic strings that resonate as the instrument is played) and Nyckelharpa (keyed fiddle) playing and vocals along with the imaginative contributions of her band members—Rasch Bjørn Ole on keyboards, minimoog and programming; with Rune Arnesen on percussion; Hans Fredrik Jacobsen on flutes, bagpipe and Meraker clarined and oud; and Roger Tallroth on guitar—that tell the story, as well as convey its deeper metaphor for the psyche."
Lovers of the fiddle music in Riverdance and Lord Of The Dance will certainly appreciate the album's progressive Celtic style with its rich orchestral arrangements ("Iriandia," "Old Larry" and "Ritual"). Annbjørg Lien explains, "Baba Yaga stands for both the dark and the bright side of the human." The album's multi-textured title track weaves international themes "into a stunning mini-epic inspired by Mussorgsky's "Pictures At An Exhibition" and is even reminscent in places of Emerson, Lake and Palmer—especially in the electronic instrumental bridge within "Wackidoo"! The calling soprano vocals in "Ája," are most reminscent of those in Robert Prizeman's Libera (more info at amazon.com here). Lien further explains the central character's influence, "She forces us to confront the dark side of our being and control it by bringing it over to the bright side. She gives us a big room to work in musically, we have wide contrasts in the tunes and each one shows a different side of her." We are told that Annbjørg 's on stage performances are hypnotic, her connection with the audience is powerful and her one-on-one eye contact with her fans is riveting. Her music is wonderful as well.
Fiddle parts indeed dominate the album, but several of the tracks have been produced to highlight Annbjørg Lien's performances. These include the "January," "W." (a completely stunning track dedicated to the memory of Hans W. Brimi) and the uptempo "Wackidoo." Lien is a representative for Save The Children and travelled to Mozambique with Bukkene Bruse. She writes, "there we had an intense experience dancing and singing with the local children, learned Norwegians move their hips as though they were made of wood, and discovered that music is life itself. The worldly track "Inoque" is dedicated to that experience.
You can order Annbjørg Lien's Baba Yaga via amazon.com here. Certainly worthy of further exploration by those riveted by stunning fiddle (e.g. Vanessa Mae) performances, her latest album has evolved to a unique worldly texture combining rich instrumental arrangements with vocal passages. Celtic, international and new age—it is a must listen!.