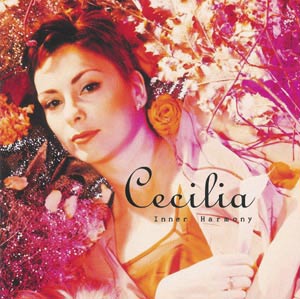 Image © 1996 Polygram AS, Oslo - Norway
&nbsp
(05 February 2000) The latest album by Norway's Cecilia, entitled Inner Harmony (Polygram (Norway) 538 814-2), is comprised of eleven heavenly vocal tracks accompanied with orchestral and Celtic instrumentation. The artist's earlier recordings include the debut album Voice of the Feminine Spirit (1994) International 1994) and Violet 19 (1997). Cecilia began her musical career at the Norwegian Conservatory of Music in Oslo. She studied there for four years before going on to further training at the Conservatory of Aarhus, Denmark and at the Conservatory of Music in Munich. Recorded in Oslo and London sessions, her latest release focuses on her spiritual side and draws upon her classical training. A complete biography, soundbites, photographs and ordering information are available at Ceclia's website.
Cecilia's voice is incredibly pure and crystalline and she is equally at home singing heartfelt ballads as rocking progressive Celtic numbers. Within the liner notes Cecilia characterised the album best, "Inner Harmony is what I'm striving for, and something I wish for everyone to feel. I believe music has the power to heal, and I hope this album will uplift, inspire and move your soul to go forward on your journey, your life. I wish you will follow your heart and dreams, amd make your life a beautiful place to be." This lovely album completely achieves the artist's aims. The production quality of the vocal work is technically superb in every way as well.
The highly accessible Celtic tracks on the album include lovely whistle parts and have rich orchestral instrumentation, stunning lead and multi-tracked vocals. "Fly Away," "Inner Harmony" and "Carpe Diem" are among the best examples of this sound. Cecilia's heartfelt ballads perfectly compliment the album; they are generally more lightly accompanied and dominated by delicate vocal work. They include the tracks "Losing Faith," "We Have Met Before," "The Prayer" and "Angel Of Love." Also ballads in their own right, the dramatic "A Eg Veit Meg Eit Land," "In Dreams" and "Wisdom Of Your Heart" begin quietly but develop with orchestral splendour into individual epics.
Cecilia's rendition of Iona's "Today" (from their fourth album Journey Into The Morn) is a progressive Celtic rocker and one of the album's highlights. The instrumentation as well as her unique vocal interpretation of the song are both absolutely stunning. Cecilia's third album once again illustrates the tremendous vocal talent of this well-established Norweigan artist. Eleven tracks centered on heartfelt ballads illustrate her vocal range and power. Cecilia's earlier album Voice Of The Feminine Spirit is available from her website and at amazon.com. Certainly worth a long distance journey, Inner Harmony is a must listen!