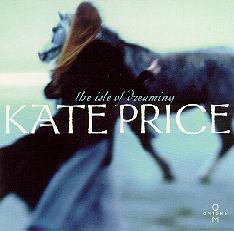 Image © 2000 Omtown / Higher Octave Music
&nbsp
(15 July 2000) The new album from singer, songwriter and multi-instrumentalist Kate Price is entitled The Isle Of Dreaming (Omtown (USA) OMCD 48526, 2000). A long awaited followup to her previous album Deep Heart's Core (Omtown Music (USA) 44859, 1997), the nine-track masterpiece is a natural development from the artist's prior work which also includes her debut The Time Between (Priceless Productions (USA) PP402, 1993). Categorised correctly by the label as "a Celtic influenced fusion of exotic vocals, folk, classical, jazz and ethnic music," Price contributes vocals and her typical range of worldly instrumentals including hammered dulcimer, hummel and harmonium. Arranged by Kate Price with Teja Bell, the featured artist is supported by bevy of additional musicians and instruments. Album packaging is stunning with the booklet including lyrics, comprehensive credits and lovely photography.
World themes are evident in many of the album's tracks, primarily through the string arrangements and non-lyrical vocal samples. Almost jamming instrumentals and percussion add to mystical musical themes developed in the epic length track "Voices Of My People." Melodies and supporting harmonies on the album's more accessible tracks will hook folk and new age enthusiasts. The lovely title track effectively blends an exotic instrumental with a short and sensitive ballad-style vocal passage. The string melodies and woodwind-sounding keyboard harmonies within the instrumental tracks "Andalusia, "Kate Counts Eight" and "Lanxty Almblade-Cruso" are highly memorable. Acoustic guitar and dulcimer dominate the instrumental "Mystic Warrior" while vocal samples provide a stunning backdrop to the melody as the track begins; vocals take over as the track builds towards its conclusion.
The album's vocal-oriented numbers clearly demonstrate Kate Price's evocative and sensual delivery, presenting her ability to gently soar above otherwise folky themes. Her performance in "The Phoenix" is especially enjoyable. Kate Price's vocal style is best compared to Rachel Jones (Karnataka), although allusions to Loreena McKennitt can also clearly be heard. Vocals are echoed by whistle and other instruments in the upbeat Celtic influenced track "Sea Of Silence." The album concludes with "Beloved," a light folky ballad with Celtic influences spanning the sweet and sensitively delivered vocals and calling whistle parts. The vocal layering works quite well.
You can order Kate Price's The Isle Of Dreaming from amazon.com here and her earlier album Deep Heart's Core here. Kate Price's music will appeal to those that enjoy Clannad, Enya and Connie Dover's work. Her latest album, The Isle Of Dreaming is characterised by its substantial depth, excellent production, and overwhelming attention to detail. The collection of worldly themes within the instrumental arrangements when coupled with Kate's stunning vocal work makes the recording worth a journey. We certainly think it is a must listen!