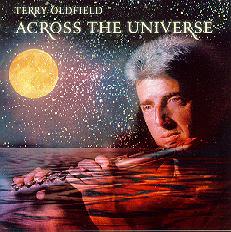 Image © 2000 New World Music
&nbsp
(04 September 2000) Terry Oldfield's 19th album Across The Universe (New World Music (UK) NWCD 489, 2000) "is about the yearning to be free that becomes so much a part of Human Condition as we travel the pathways of liberation." In contrast to his earlier projects, three of the five tracks feature stunning vocal contributions from sopranos Juliana and another named Karen Debbonnaire. Instrumentals are played and arranged by Terry Oldfield and include parts on low whistle, flute, piano, percussion and keyboards. Further instrumentals include shakuhachi, temple bell, pan pipes. Peter Rosser contributes piano to "Sun In My Eyes" and "When", to which Rhonda Oldfield contributes backing vocals.
With only five tracks to the album, each one is epic in proportion. Relaxing new age, soundtrack-oriented instrumentals dominate the mix but lovely vocals contribute to the expressive texture of the album. Juliana's lovely soprano vocals inspire the listener on the title track ballad that opens the album. Crystalline clear and flute-like in texture, the lyrics are sung over soft electronic accompaniment before flute and low whistle parts begin. The track builds in depth with rich new age sailing-oriented arrangements that pass the melody from voice to whistle to keyboard. Juliana's voice is most reminscent of Eimear Quinn in clarity, style and texture. A children's choir (Lana and Hallam Robinson and Eilidh Debbonnaire) adds texture to the chorus as the track comes to its conclusion.
Steven Page wrote, "'From the Heart' has a feel to it that is similar to that of Terry's earlier albums Cascade Reverence. It opens with some wonderfully peaceful natural sounds. Terry's flute comes in and you immediately find yourself drifting with the music. It most definitely tugs on your heart strings and fills you with all kinds of emotions."
The album's third track "When," while full of woodwind textures, is complimented by the whispy tone of Karen Debonnaire's lead vocal and the layered vocal choir. Sung in the style and textue of Márie Brennan, Enya or Shanon (Ronan Hardiman's project), it is a lovely new age ballad with several movements each rhytmically different that will delight female vocal enthusiasts. The new age ballad "Sun In My Eyes" is vocally even richer, with Karen demonstrating the crystalline texture that she can achieve over light flute and acoustic guitar accompaniment. The interplay between lead vocal and flute melodies is dramatic and evocative. The instrumental "Down to Earth" features a lovely reprise of the title track and concludes the album.
You can find further information, listen to soundbites and order Terry Oldfield's album Across The Universe at his official website and at the New World Music label website. A new age album with plenty of female vocals that should entice Máire Brennan, Enya and Shanon enthusiasts, it should be explored further. Worth a journey it is a nice and relaxing listen!