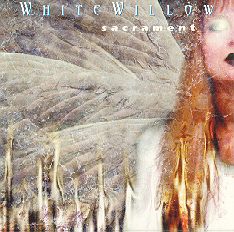 Image © The Lasers Edge 2000
&nbsp
(24 December 2001) The Norwegian Progressive group White Willow was one of the acts booked to play Nearfest 2001. Signed to Laser's Edge, and built, initially, around the talents of guitarist Jacob Holm-Lupo and keyboardist / singer Jan Tarig Rahman, their first recorded effort was Ignis Fatuus (1995), but recorded over several years with a variety of musicians and singers. This was a combination of folk and elegant progressive rock, and, though rather patchy, it won the band a rave entry in Billboard Guide to Progressive Music.
The band followed this up three years later with Ex Tenebris, a more cohesive, band-orientated affair, which introduced the lovely, folky vocals of Sylvia Erichsen. The album was a combination of dark, brooding, gothic instrumentals and melodic, romantic vocal pieces, and marked Rahman's last work with the band.
Sacrament (Lasers Edge (USA) LE1021, 2000) features Holm-Lupo and Sylvia alongside an all-new band, and takes them into more familiar Progressive territory, albeit with plenty of the brooding and folky elements showcased in the previous two albums. The lyrics, in English, focus on the band's interest in the religious principals of Gnosticism and the Romanticism personified by the (mainly English) Pre-Raphaelite painters from the mid-1800s. Overall, the music is hugely dynamic, though not overly complicated, championing thematic development over complexity, but it does introduce a jazzy element not found on the first two albums. The other major shift in emphasis on this album is towards the spectacular flute of Ketil Vestrum Einarsen. His playing is very much in the virtuoso, John Hackett (Steve Hackett's brother) mould, and it dominates the album to delightful effect.
"Anamnesis" opens with a lovely, folky melody sung by Sylvia over tuned percussion and breathy flute, then, abruptly, the music shifts character with Holm-Lupo's wailing guitar cutting in with an electrifying lead theme, a sinister organ riff builds tension, and then Sylvia is transformed, spitting the lyrics with almost punky aggression as flute, guitar and organ carry the rest of the song forward in an almost medieval hard rock style.
"Paper Moon", a shorter, less dynamic song, is dominated by Brynjar Dambo's organ and synth and Sylvia's atmospheric vocals. Instrumental "The Crucible" is an album highlight--that elicited spontaneous mid-solo applause at Nearfest--commencing with a gentle medieval-style acoustic guitar and flute piece, before a melodica solo gives the track a vaguely Gallic feel. The track then leaps into life with a stirring, jazzy, flute-and-band section, somewhat reminiscent of the Steve Hackett piece "Jacuzzi", before excellent synth and guitar solos bring this wonderful track to a close.
"The Last Rose of Summer" allows Holm-Lupo an effective lead vocal, and his voice combines well with Sylvia's later in the song. This is very gentle, with the folk element is to the fore. The lyrics are almost unbearably sensitive and the track contains some lovely flute. The mood continues at the start of "Gnostalgia," with Sylvia gently dueting with flute, though the band soon cuts in with mellotron adding a sinister note, building to an upbeat instrumental section and a final vocal coda.
"The Reach" opens with a very sinister vocal section, with Sylvia's voice again cutting rather than lulling. This is followed by a jazzy ensemble section before the music takes on a grander tone, with majestic lead guitar prominent, and a final climax with the band playing at full throttle, before reigning things in to sinister final vocal and instrumental sections, leaving the listener both exhilarated and faintly disturbed.
This is a superb album, and it is a pity this excellent band have been unable to tour more to promote it. They are now "doing a Steely Dan" and are holed up in a studio working on their new album.

Further details are available at the band's website. Read further reviews, listen to soundbites and order the album from amazon.com here. Certainly worth a trans-Atlantic journey, Sacrament is a must listen!--Stephen Lambe