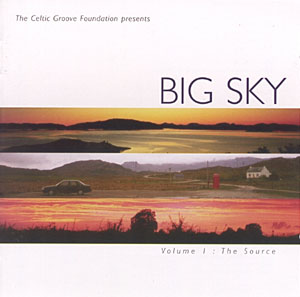 Image © 2000 Survival Records Ltd
&nbsp
(18 March 2000) The Celtic Groove Foundation is comprised of Charlie McKerron and John Saich, core members of Scotland's Capercaillie (review), well-known as pioneers in progressive Celtic music. In collaboration with Charlie's cousin Laura McKerron, their debut project Big Sky has released a debut album entitled Volume 1: The Source (Survival (UK) SURCD024, 2000). Certain to appeal to the band's followers and fans of Celtic-pop crossover bands like The Corrs (review), Big Sky produce a big alternative sound spanning a vast range of styles from Celtic folk through bluegrass and into highly accessible almost-pop. This is not traditional music but it is equally dance oriented! Soundbites are available at the project's website.
Lush contemporary instrumentals are balanced with the sensuous, honeyed-style vocals of Laura McKerron whose voice can best be compared to Andrea Coor in many of the album's tracks but especially in the highly accessible ballad "Angel." The opening track "Golden Hair" is classic Celtic-pop fusion with lots of vocal harmony, traditional fiddle and lush contemporary instrumentation effectively blended together.
Charlie McKerron's Celtic-style fiddle join contemporary instrumental arrangements and Laura's tremendous vocal harmonies in "Delicious," a tremendously accessible song that is as much Corrs as it is Wilson Phillips. Charlie is also credited with guitar, keyboards and vocal contributions sharing these with John Saich who is uniquely credited with the album's bass parts. "Millenium Girl" combines an almost bluegrass sound with highly accessible dance-oriented rock and roll with harmonica, banjo, light harmonious vocals, rocking guitar and crisp percussion.
Celtic dance flavours drive the album's instrumental riffs ("New Sardinia," the worldly and multi-cultural "Las Temporadas," "Biro Guiro") and feature work of a vast bevy of established contributing artists: Michael McGoldrick (flute/Whistle), James McIntosh (drums), Ellidh Shaw (fiddle), David Robinson (percussion), Frasier Spiers (harmonica), Phil Bancroft (sax) and Donald Shaw (accordian), Mark Duff (whistle/bodhran/wind synth), Gary Finlayson (banjo), Tom Bancroft (drums), Simon Bradley (fiddle), Ian McLeod (mandolin) and Chris Stout (fiddle). Additional backing vocals are contributed by Sandra McKay and Brian McAlpine. The "Biro Guiro" and "Las Temporadas" instrumentals are especially notable.
"Fly So High" continues in a vein similar to "Delicious" with wonderful vocal harmonies yet alludes to Martine McCutcheon with its more contemporary dance beat and deeper lead vocal part. The album concludes with the slow, sensuous and contemporary tune "Ambient Beach," with a texture that the title suggests, world themes, and evocative vocals drawing some similarity to the themes introduced earlier in "Las Temporadas." The band have done some touring in Scotland but we think a double bill consisting of Capercaillie and Big Sky would be a wonderful live performance!
You can obtain Big Sky's new nine-track album at amazon.co.uk here or via amazon.com (import) here. Tremendous in every respect, this album is absolutely worth a journey-a must listen!