Image © Music For Missions 2002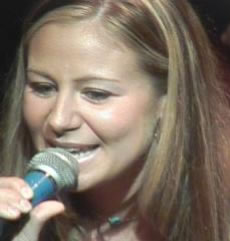 Susie Bogdanowicz (lead vocals)
on "Without You," "Know You Now"
Image © Sound Resources 2004

&nbsp
(16 May 2004) A Remedy Raised (MFM (USA), 2002) was originally released in November 2002 as the first Music for Missions project. Although a significant portion of the material was written by Music for Missions founder Eric Parker, three different vocalists and many musicians played on the album. The album also features the songwriting of independent artist Nathan Carico as well as the classic hymn "Before the Throne of God Above." Two-thirds of the proceeds from A Remedy Raised support the missions organization Gospel for Asia. GFA currently supports over 13,000 native missionaries in the Indian subcontinent.
The album was produced by Glass Hammer's Fred Schendel, Steve Babb and led by MFM's Eric Parker. Parker is also featured on Glass Hammer's Lex Live (review under construction) and was a member of the band's NEARFest lineup, which will result in a CD release during the summer of 2004. While the team are heavily involved in the progressive music scene, A Remedy Raised is better characterised as an alternative or indie release. Eleven of the album's thirteen tracks feature Eric's and Jeff Blake's smooth and melodic lead vocals while the remaining two feature the stunning vocal work of Susie Bogdanowicz, also of Glass Hammer, who sings lead on two of the tracks and can be heard in backing harmonies on various others across the album.
In addition to Parker (guitars, vocals), Schendel (drums, various guitars, keyboards, backing vocals) Babb (bass) and Bogdanowicz (vocals), the album includes contributions from Jeff Blake (lead, backing vocals), Nathan Carico (acoustic guitar), Susan Hawkins (viola, violin), Tim Starnes (harmonics, acoustic lap steel), and Matt Twitty (guitar). Solo excursions during instrumental bridges are brief but well played.
Susie's first track is entitled "Without You." An upbeat and highly accessible track with strong pop orientation, Susie's vocals soar above the rich instrumentation. While some will search the Glass Hammer recordings for her solos, this track truly showcases Susie's voice--both in lead and harmony vocal sections. The chorus has an excellent hook as well. Her second track--and the album standout--is entitled "Know You Now." With only minimal vocal enhancement during production, the track showcases Susie's stunning voice in the swirling lead vocal part as well as supporting harmonies. The catchy chorus will stick with listeners a long time.
The tracks on A Remedy Raised are well-played and produced and are arranged for accessibility and radio play. Instrumentals compliment vocal passages throughout and provide the ambience necessary to deliver the lyrical messages. One can hear the progressive influences in the music; an excellent album in all regards, we were impressed with Eric Parker's singing and songwriting and naturally most enjoyed Susie Bogdanowicz's lead vocals on the tracks she was selected to sing.