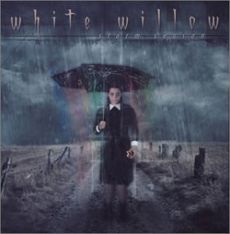 Image © The Lasers Edge 2004

More White Willow
Sacrament
Live / Photos/ Interview
Tirill Mohn: A Dance With The Shadows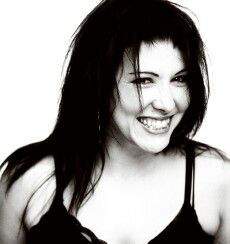 Image © Guro Lindskov 2004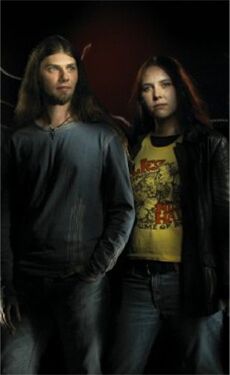 Image © Marie Sjøvold 2004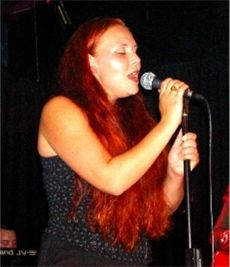 Image © Mike Davies 2004



&nbsp
(15 September 2004) It has been a long wait, even by White Willow's standards, but the wait has certainly been worthwhile. Each White Willow album, from the folk-prog of Ignis Fatuus, the beautiful, yet experimental Gothic rock of Ex Tenebris to the classic symphonic prog of Sacrament (review), has had a markedly different approach. Storm Season (Lasers Edge (USA) LE 1038, 2004) is no different, this time offering a dark intensity and a much heavier, more disturbing rock sound.
There seem to be two main catalysts for this change in musical character. Firstly, ever-present guitarist and chief architect of White Willow, Jacob Holm-Lupo started to create somewhat darker songs after the lushly symphonic "Sacrament" and it's preoccupation with Gnosticism. On Storm Season, Jacob writes about extreme environmental conditions and how they influence with the lives of ordinary people, here personified in the recurring character of Sally. Environmental turbulence, therefore, also becomes a metaphor for emotional turbulence. If the album is not quite a full concept album, it is still pretty close--indeed how odd to be writing this review, in mid September 2004, just as Hurricane Ivan lashes Jamaica and Cuba. A special note should also go to Killustrations, whose artwork illustrates some of the lyrical themes superbly, suggesting painter Andrew Wyeth's vision of rural America but rewritten as nightmare.
Secondly, some key personnel changes--a feature of any White Willow album--have made all the difference. Former bassist Johannes Sæbøe's switch to second guitar has added a raw, crunching metallic sound to a number of the songs, while new keyboard player Lars Fredrik Frøislie has brought with him a vast array of vintage analogue keyboards and a precocious technique, swamping the album with rich textures. Marthe Berger Walthinsen takes over bass duties in fine style, while, of the players from Sacrament, flautist Ketil Einarsen, no longer a permanent band member, contributes some excellent woodwind. Like his work on Tirill Mohn's A Dance with the Shadows (review), Ketil here tones down the virtuosity much celebrated on Sacrament for much more atmospheric playing, while the talented Aage Moltke Schou makes his second appearance on drums. Also from Tirill's band is cellist Sigrun Eng, whose frequent contributions add plenty of edgy, melancholic beauty. As for Jacob Holm-Lupo, he contributes his usual fluid lead guitar and some lovely acoustic moments, as well as the electronics on the title track. Singer Sylvia Erichsen is a revelation, continuing the move, begun on Sacrament, towards a distinctive, rock style in addition to the lovely soprano she brought to her early work with the band. Her vocals here are brave, and not always pretty, but suit the requirements of the music perfectly.
Opener "Chemical Sunset" acts as a bridge between Sacrament and Storm Season. Ketil's atmospheric flute leading into some a slow, bass-heavy song, full of tension with Sylvia's multi-tracked voice singing a plaintive, folky melody. This melody is taken up and varied by a variety of instruments, including cello, Mellotron, flute, moog and lead guitar, while the backing builds in intensity beneath them. "Sally Left,"a love story from beyond the grave, opens with electronics and Sylvia's chilling vocal before the whole band comes in, restrained at first, until a superb slide guitar break and heavy rhythm guitars carry the song into a second vocal section, with its sinister Mellotron. The gentle, pastoral "Endless Science" provides respite from the intensity of the first two songs. Sylvia's vocal is a delight, especially towards to the end of the song, and there is some typical acoustic guitar, a charming lead guitar break and some sensitive cymbal work from Aage.
But the respite does not last long, and the magnificent prog metal of "Soulburn" follows, a song that makes its intentions clear from the first few bars, with a brooding, heavy introduction, before the lead vocal from guest singer Finn Coren. The restrained screech of his voice combining with Sylvia's on the first chorus is both spine tingling and disturbing, before a more restrained cello / piano duet leads into a heaver section as the instruments increase in intensity, speed and volume into a few moments of all-out metal. Finn returns to a Mellotron backing, leading into another massive chorus, and a brief Moog solo reminiscent of Rick Wakeman. More huge guitars and flutes lead the song to a conclusion. This is an astonishing nine minutes, and might just be White Willow's finest recorded moment.
The tone changes on "Insomnia," a piece of hardcore prog by keyboardist Lars, which fails to satisfy only because it is too full of ideas. The initial melody is carried by vocal and piano, before church organ enters the fray followed by the whole band. A brief vocal and piano section follows some moody organ and bass, before the piece opens out into a glorious vocal chorus. Sadly, this lasts a total of 20 seconds when several minutes would have been a delight. The piece then shoots off into an excellent up-tempo instrumental section, which is again over all too quickly. The title track, follows, an atmospheric electronics and vocal piece, before the album closer the wonderful 10-minute prog metal masterpiece "Nightside of Eden." This opens with a guitar-dominated metal workout, lulling briefly for Sylvia's initial lead vocal, before the guitars return with full force and a superb Keith Emerson-like organ solo from Lars, leads into a more restrained guitar and moog duet. Storm noises over classical guitar and more Mellotron build tension towards the final onslaught, and finally it comes, with Sylvia screaming Jacob's apocalyptic lyrics. A final vocal, piano and cello section leads to the stately lead guitar and Mellotron of the final few bars. An eighth piece, the instrumental "Headlights" was recorded and appears as a bonus track on the Japanese version of the album.
Those who prefer their progressive rock antiseptic and germ-free, may have problems with Storm Season. The album is awash with moody minor keys, power chords and intense emotions. However this is still very much a White Willow recording, and many of the bands trademarks remain, from strong melodies and interesting thematic developments to plenty of Jacob's Steve Hackett influenced lead lines. Furthermore, the move away from Gnosticism as subject matter has made the lyrics more accessible, even if their message is an uncomfortable one. Fans of the band will hopefully embrace the small drift towards heavier rock that this album represents, whilst enjoying the washes of authentic analogue keyboards. Metal fans, on the other hand, especially those with inclinations towards the Gothic, may also find much to enjoy. Storm Season is very challenging, yet a

completely unique and hugely rewarding listening experience from a band at the peak of their powers. A moody, magnificent, masterpiece.--Stephen Lambe in Cheltenham and Russ Elliot in New York