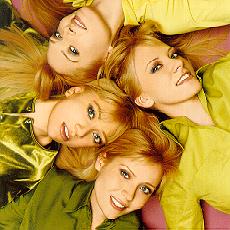 Image © 1999 Refuge Records
&nbsp
(13 May 2000) The second album by Mulberry Lane is entitled Run Your Own Race (Refuge (USA) RFGDE-11911, 1999). Their debut, Don't Cry 'Till You Get To The Car from 1998 remains generally available today (review). Their latest release includes a lovely booklet with photos, lyrics and further background information both on the performers and the songs themselves.
The album cover shows that Mulberry Lane are four gorgeous singer songwriter sisters—Jaymie, Allie, Rachel and Heather—ranging in age from 22 to 28. Creative spirits influended by timeless pop forerunners like the Beatles, the Eagles and Boys II Men, the band creates poetic lyrics, catchy tunes and sings wonderful vocal harmonies not unlike Wilson Phillips and The Corrs. In their most recent album, the band aligned with executive producer Don Gehman, founder of Refuge and producer of major performers John Mellencamp, Tracy Chapman, Hootie & the Blowfish and others.
Run Your Own Race is comprised of ten highly accessible alternative tracks ranging from moving alternative pop rock numbers to sensitively sung ballads. Vocal harmonies dominate the band's sound. The band's debut single "Harmless" was well charted in four territories (US, Japan, Germany and Holland) and received rave reviews. An upbeat pop number similar in some ways to Wilson Phillips' hit "Hold On" typifies the Mulberry Lane style with heartfelt lyrics, a catchy melody and lovely vocal harmonies. The followup single from the new album "Just One Breath" secured a spot in Kevin Costner's movie For Love of the Game. A slower almost-ballad number, it is more lightly instrumented but is equally lush in its vocals with a stunning lead standing above the supporting harmonies. "I Don't Love You" is written and performed in a similar, highly accessible style.
Contrasting the alternative pop numbers are the album's ballads ("The Why," "Crisis Time," "Just Another Friday" and "Sisters Case"). Here Jaymie's or Allie's lead—like Andrea Corr—shine above Rachel's alto and low harmonies and Heather's sensual high part. The sultry sound of "Crisis Time" and rich supporting harmonies in "Sisters Case are especially notable. The album's light pop tracks ("I Believe It's Love," "Jerimiah," "I Don't Know How To Deal") are as enjoyable as the fast paced rockers and ballads and continue to illustrate the lead singers'virtuousity.
"In a time when pre-fabricated groups are all over the charts, ML stands out from the rest because they are a product of their own creation and vision. The e-mails they receive come from girls who are inspired by Mulberry Lane because they prove that females in today's music industry can make it on their own music, voices, thoughts and brains." You can read further reviews, listen to sound samples and order their album Run Your Own Race from amazon.com here. We hope to review their debut album eventually but until then you can learn more about it with reviews, samples and ordering information here. With a broad range of alternative / pop song styles, excellent songwriting and instrumental arrangements joining their amazing vocal talents, Mulberry Lane's latest album is a must listen!