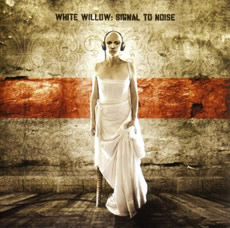 Image © The Lasers Edge 2006

More White Willow:
Storm Season
Sacrament



&nbsp
(14 September 2006) Not known for their speed of activity, it is a very pleasant surprise that White Willow's fifth studio album should follow less than two years after their excellent last effort Storm Season (review). Not that it takes the band--or at last band leader and main songwriter Jacob Holm Lupo--that long to generate material, it is usually the recording and mixing process which takes the time. It is probably this reason that has led to the band taking the unusual step of recording the album largely outside Oslo--indeed outside Norway--at Jailhouse Studios in Denmark. This has led to a streamlined and remarkably fast recording process, which shows in the consistency of tone throughout the album. The result is Signal To Noise (Laser's Edge (USA) LE1046, 2006).
The band also used an outside producer for the first time--Tommy Hansen (of Helloween fame)--that has led, in part at least, to a refinement of the band's sound. As usual, there have been line-up changes within the band to contend with. Second guitarist Johannes Saeboe, whose presence helped give Storm Season its metallic crunch, has since departed, leaving Jacob as the lone guitarist, once again. Long-serving singer Sylvia Erichsen has also moved on amicably, to be replaced by the honey-toned and versatile Trude Eidtang. All these factors have led to another evolution in the characteristic White Willow sound palate away from the dark, gothic metal of the last album towards a brighter jangle, with Jacob's guitars--and indeed his songwriting--taking their cues this time from indie rock rather than metal. Trude's vocals are perhaps lacking the character of Sylvia's but compensate with a thoroughly likeable and accessible warmth. Indeed, the album has some very effective and carefully constructed vocal arrangements, which are the most refined since perhaps Karnataka's Delicate Flame of Desire.
Fans of the band should not worry, however. This is very much a prog album, and while Jacob's song writing is more concise, there remain plenty of his characteristic lead guitar lines for the listener to enjoy. Lars Fredrik Froislie makes some significant keyboard contributions on a battery of instruments vintage and modern, though his natural extravagance is somewhat repressed for the sake of the overall sound of the album while Ketil Einarsen's flute is an atmospheric tool rather than a virtuosic one, as it was in Tirill's A Dance with the Shadows album (review). Jacob's lyrics, once again, are somewhat bleak, with "Night Surf," "the Lingering," "Splinters" and "Dusk City" all tackling issues of destruction, loss and regret. Indeed night and darkness are regular themes in all six vocal tracks, although "Joyride" and "The Dark Road" both have more upbeat messages, albeit those that suggest the possibility happiness in times of adversity.
"Night Surf" kicks off the album, the illusive nature of the verse melody somewhat unsettling, giving way to some haunting flute and Mellotron, before a crunching, almost metallic closing section. The lengthier "Splinters" is up next with a lovely lead guitar line to start, giving way to a relatively quiet verse building tension towards to a more powerful chorus. Guitar dominates the instrumental sections, though Lars' atmospherics and Marthe Berger Walsinthen's bass is particularly impressive.
An instrumental entitled "Ghosts" follows. This is a sinister, if slightly more contemporary-sounding sibling to the powerful "A Dance of Shadows" from the under-rated Ex Tenebris album. Here, the sheer power of Ange Moltke Schou's excellent drumming makes itself felt and Jacob's guitar weaves scorching patterns in characteristic fashion. "Joyride," however, is almost a complete departure for the band, a genuinely joyous four minute slice of indie pop, deservedly released as a single in Norway. Despite its total lack of progginess (except for some stabbing Mellotron), this is one of the band's finest moments, gorgeously upbeat and beautifully sung by Trude. It will defy even the most hardcore of prog fans not to tap a foot appreciatively. If only all pop records sounded like this.
"The Lingering" keeps the quality up in searing fashion. It is a passionate, emotional song with a lovely vocal performance from Trude, and a masterful instrumental break with brilliant, aggressive solos for both Jacob and Lars on Moog. The song seems to end 6 minutes in, but is further enhanced by a gorgeous instrumental coda, gently building over a shimmering keyboard background, before a melodic guitar solo over choral Mellotron ends a remarkable piece of music.
"The Dark Road" again suggests Karnataka. It is a fragile, Celtic-infused ballad with a lovely arrangement that feels genuinely traditional, while "Chrome Dawn" is another instrumental with a fluid, spacey lead guitar line, giving the track the feel of a jazz-rock piece played at half speed and former keyboard player Brynjar Dambo contributes a jazzily-appropriate Moog solo. The excellent "Dusk City, with its overdriven bass intro completes the album. This a slice of typically unusual proggy hard rock, that has a strangely eastern feel to it. A brief, charming Eastern-inflected guitar instrumental "Ararat" closes the album.
Once again White Willow have re-invented themselves, and produced an album of freshness and invention. Around the middle of the album--"Joyride" and "The Lingering" in particular--the band reach new heights of melody and emotion, and while the rest of the album does not manage to climb so high--two instrumentals over a relatively brief 51

minutes is perhaps one too many--it is quite possibly even more consistent than Storm Season in terms of tone and song-writing. Another masterpiece.--Stephen Lambe in Cheltenham, England and Russ Elliot in New York