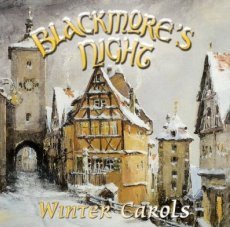 Image © Steamhammer/SPV
Minstrel Hall Music 2006

More Blackmore's Night:
reviews and interview (1997-2004)
Castles and Dreams (2005)
The Village Lanterne (2006)
Paris Moon (2007)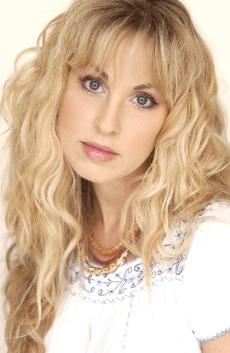 Candice Night (lead vocals)
Image © Steamhammer/SPV
Minstrel Hall Music 2007

&nbsp
(03 February 2008) What do you get when you combine a legendary rock guitarist, an angel-voiced singer, a few more amazingly-gifted musicians; throw in a hurdy-gurdy, a pennywhistle and a Fender guitar; and then let them weave their musical magic into an unequalled holiday CD? Why, it's Winter Carols (SPV/Steamhammer (USA/Germany), 2006) by Blackmore's Night, by Jove!
This hardy band of medieval minstrels, led by Ritchie Blackmore of Deep Purple and Rainbow fame, along with his lovely and talented partner, Candice Night, have once again applied their Medieval- and Renaissance-inspired rock talents to some well-known, as well as some lesser-known holiday classics, and have crafted a wonderful, extremely listenable holiday CD, that would only leave the most incorrigible Scrooge among us unmoved.
Winter Carols has twelve tracks, with many favorites of Yuletides past, including "Hark the Herald Angels Sing", "Good King Wenceslas", "Emmanuel", and "We Wish You a Merry Christmas". These are not pale, watered-down elevator music renditions of songs we've all heard many times... these are heady, mirthful, musically- and lyrically-beautiful tunes that have received the inimitable Blackmore's Night hallmark. "We Three Kings" and "Ding Dong Merrily on High" round out the classics that have benefitted from Blackmore's Night's magical embellishments. These may spirit you away to a far-away time and place!
Included are two songs perhaps more well-known to aficionados of British and Celtic music , "Lord of the Dance/ Simple Gifts" and "I Saw Three Ships". These magically-rendered pieces, along with "Ma-O-Tzur", a simple yet wondrous Hanukkah tune, lend an indescribable world music feel to this beautiful holiday CD. Also included is a pensive and melodic BN original guitar instrumental entitled "Winter (Basse Dance)", which gave me wonderful visions of merry-makers dancing before a Yule log burning in the fireplace of a resplendently-decked royal hall of by-gone days. A previously-released BN track, "Wish You Were Here", graces the CD too; its melancholy yet beautiful sentiments go right to the hearts of those among us who will not have a loved one by our side this year, for whatever reason. Another Blackmore's Night re-release, "Christmas Eve", is an upbeat and bright song, guaranteed to raise your spirits.
If you are already a fan of Blackmore's Night, shame on you if you don't have this CD by now! If you are not yet a fan, you will be before you finish listening to this CD. Ritchie, Candice, and their friends in Blackmore's Night are musicians who lovingly put every ounce of talent and skill at their disposal into their songs, somehow effortlessly, unselfishly, and untiringly. It is the magic of Blackmore's Night. They

have poured that magic yet again into Winter Carols, and in the spirit of the holidays, we highly recommend this phenomenal album to you.--John J. Toutant in Southern New Jersey