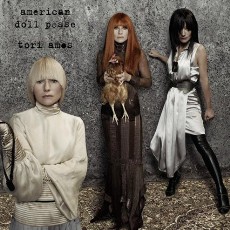 Image © Epic Records 2007

More Tori Amos:
Welcome To Sunny Florida (2004)
The Beekeeper (2005)
Abnormally Attracted To Sin (2009)
Midwinter Graces (2009)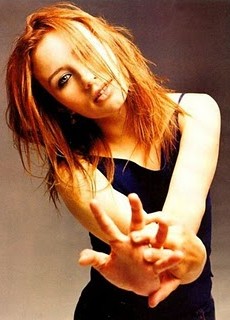 click on image to visit Tori's MySpace
Image © Epic Records 2007


&nbsp
(26 December 2009). In an era of digital downloads and singles, Tori Amos embraces her new concept album American Doll Posse (Epic Records (USA) 88697 008752, 2007) in a sprawling 23-song oratorio. Firing across the American psychological, social, and political landscape, she takes on the state of the world, war, and feminism. To help her, she adopts five personas--hence the title--who take their characteristics from Greek gods, but not their names: Clyde, Pip, Isabel, Santa, and Tori.
You need a scorecard to keep track, but don't worry. It's still Tori Amos, bending syllables in improbable pretzels with rippling piano themes and choruses that threaten to go Broadway at any moment. Amos vents her political spleen through "Isabel," leaving no doubt as to her targets on tracks like "Yo George," and comments on our impersonal age and computer addiction with "Digital Ghost." That's sung by the character "Tori," who is reputedly based on Demeter and Dionysus, representing the split between Amos's earth-mother side and her wilder, more libertine tendencies.
Anti-war and pro-feminist themes are plastered across American Doll Posse like sloganeering posters. "Dark Side of the Sun" laments both sides of the war, including the Islamists who lay down their lives "for some sick promise of heaven." Amos adopts a big '80s rock sound on many tracks, with guitarist Mac Aladdin pealing off Brian May-style guitar licks over an arena-rock beat. It's where Amos details a more personal sound that American Doll Posse leaves a lasting impression. "Girl Disappearing," sung by "Clyde," holds echoes of the Beatles' "Eleanor Rigby," not only because of the string quartet and nostalgic tone, but the updated tale of a woman losing herself. "Smokey Joe" brims with dark atmospheres, Robert Fripp-like guitar sustains, and Amos's most elaborate vocal arrangements, interweaving two sets of lyrics for "Pip."
Tori was been inspired by great rock bands of the 1960s and 70s, including greats such as, The Doors, Led Zeppelin and The Beatles. Upon listening to American Doll Posse in its entirety, she has finally let loose and really jammed with her talented bassist Jon Evans, drummer Matt Chamberlin, and guitarist Mac Aladdin on this long-overdue sonically heavy album. After all, it was her appreciation of of this music at such an early age that got her kicked out of the Peabody Conservatory, so it's good to hear her music being so directly influenced by it. She began hinting at her rock-tinged roots with in From The Choirgirl Hotel (1998), even moreso with To Venus and Back (1999), and to some extent with the covers album Strange Little Girls (2001), but she clearly had no inhibitions making this glam rock/rock opera-esque album which, as music reviewer Matt Mazur stated, plays out similarly to Ziggle Stardust and Hewdig and the Angry Inch.
American Doll Posse is clearly Tori's most politically-themed album to date and she handles it with the right amount of subtlety without being too preachy. For as political as "Dark Side of the Sun" is, it's an amazingly beautiful song. If an artist is going to release political music, it needs to be supported in some respect. Tori doesn't just wail "impeach Bush" she makes sharp observations such as "you have the whole nation on all fours," "you say you're not bothered to lie beneath pigs, then go on Laura, here's a flower for your grave" and offers some solutions, "I'll save you from that Sunday sermon, Boy I think you need a conversion." Her pain and sadness over an unjustified war is unmistakably evident. She's also clearly not a "W" fan yet she's passionate enough about her position to back it up, and herein lies the secret of the album's success: she's passionate about it. She has overcome the incohesivenewss of Scarlet's Walk (2002) and The Beekeeper (2005) and is far more passionate about all the aspects in her newest project.
American Doll Posse is more than glam rock and political statements, it also includes some "old-school" Tori sounds that are some of her most beautiful songs to date. The sonically subdued but vocally rich "Father's Son" could easily reside with the girls from Under the Pink (1994) and a less percussion-intensive "Beauty of Speed" could pass as an alumnae from Little Earthquakes (1992). The album also offers beautiful, emotion-filled songs from a contemporary Tori as well. "Roosterspur Bridge" and "Almost Rosey" remind us our piano goddess is still creating.
Despite how much one enjoys her classic" tracks, they are overshadowed by the real gems of the album, the rougher tracks such as "Teenage Hustling," "Code Red," the initial single "Big Wheel," and the standout "Body and Soul." These songs are so full of energy and emotion, and they demonstrate how multifaceted Tori continues to be, while drawing from the musical inspiration that is at the core of her being. Another strong point of the new project is the diversity of the songs, and while they compliment each other very well, the softer tracks balancing the harder tracks balancing even the pop, radio-friendly tracks such as "Bouncing off Clouds" and "Secret Spell."
Fans of Tori's early works will surely appreciate American Doll Posse for the sonic menagerie that it is, but there will no doubt be people who don't think the lyrics are esoteric enough and that the overall tone of the album isn't classic enough. Tori has managed to do what she hasn't done in a long time: create a solid and musically satisfying album--even if it's 23-tracks long--that she's passionate about while continuously evolving musically and clearly re-creating herself. A bonus DVD is also included. More than a concept

album, American Doll Posse is a convergence experience, mixing online blogs from each character, videos, MySpace sites, and more.--Rodney Bogardus in Buffalo, John Diliberto at amazon.com and Russ Elliot in New York