Annelies Kruidenier
Musical Discoveries: What can you tell us about your background?
Annelies: I was born and grew up in Cardiff, Wales and attended a Catholic School. I then won a music scholarship to the prestigious private Llandaff Cathedral School. I started dancing at the age of three and appeared on television singing at the age of three and a half.
My mum took me to a singing teacher at the age of five. She was Charlotte Church's old singing teacher. She told my mum to take me home and bring me back when I was seven. I have really been having singing lessons since the age of seven. I think music has always been in me as my mum used to be a semi professional singer. I changed singing teachers when I was thirteen and it is really since then that I have been singing classically.
I love all different genres of music and I not only sing classically but also I love singing in a pop voice. I love to dance too. I came second in the World UDO street dancing competition when I was twelve. I have self taught myself to play the piano and would love to get into the song writing side of things. I think performing from an early age has given me the confidence to sing and perform anywhere in front of any size crowd.
Now that you are finished with your GCSEs, what do you plan to study?
I was really thrilled to have received two As and eight Bs in my GCSE exams. I am going to attend St Davids College in Cardiff where I will be studying performing arts and also Chemistry and Biology. If my singing career doesn't take off I would like to become a dentist. I've not decided on any universities at the moment as I have only just turned sixteen. I'm hoping my singing career will take off.
What artists influenced you along the way?
From an early age I have looked up to Sarah Brightman. I think she is amazingly talented. I would love to play Christine in Phantom of the Opera one day! I think early Charlotte Church was also amazing.
I am often asked who I aspire to be like but I want to be me. I want to be different from anyone else. I met Hayley Westenra, Faryl Smith and Jonathan Ansell recently. They are all really lovely. Jonathan follows me on Twitter and gives me good advice.
How did you begin your solo vocalist career?
I began my solo career from a very early age! I was three and a half and I was invited to sing on a show called My Kind Of People. I sang in front of thousands of people in a shopping centre. Since then I have done lots of solo stuff through my dancing school.
Things really started to get big last year after I initially sang at a rugby match in front of 200 people. I was then invited to sing the Welsh National Anthem at the under 21s Wales v Luxembourg World Cup qualifier. That was in front of 4000 fans.
Then that lead to a big rugby match in front of 12,000 fans and then on to my dream venue The Millenium Stadium for the Wales v Russia World Cup qualifier game. That was around 30,000 people.
The one that really sticks in my head though was Wembley Stadium in front of 75,000 people. That was awesome. It was also televised on Sky Sports. I prefer singing in front of larger crowds as I don't like to see the whites of peoples eyes! I would love to one day combine the dancing and singing. Maybe a Kate Bush type of thing or classical meets street!
Why were you drawn to the classical crossover style?
Even though I sing in different styles I always come back to the classical style as that is my strongest. I think you can do so many things with the classical voice. Classical has become cool. If I ever have my own show I would love to show my fans all the different sides to me. I would love to do some acoustic versions of some rock songs maybe or maybe Lady Gaga! I could make my shows really versatile.
What kind of things do you do to develop your voice?
As I mentioned earlier I have been taking singing lessons since the age of seven. I actually sing pretty much every day. Even if I'm just pottering around the house I love to sing. Music is my life.
Please tell us about the eleven demo recordings we have heard. How were they selected?
The demos that I have done were chosen for different reasons. I think we were trying to explore thedifferent colours of my voice. "Ave Maria" was just chosen I think to see a comparison between myself and the great Katherine Jenkins. "Song to the Siren" was my mum's choice as it was one of her all time favourite songs.
"Per Sempre" is just a stunning song and one of my favourite songs to sing. "Just Believe" was written for the Ryder Cup. "Sweet Wales" is for Welsh Rugby. "My Fathers Eyes" for the songwriter's dad who was battling prostate cancer.
"Calon Lan" has been recorded as will be released next year as a charity single to release in Wales. We are working with Sony Music on this one so that's really exciting, plus there are some fantastic producers involved. I can't wait to go into the studio and record it properly. We are going to be having a huge choir involved too. So exciting.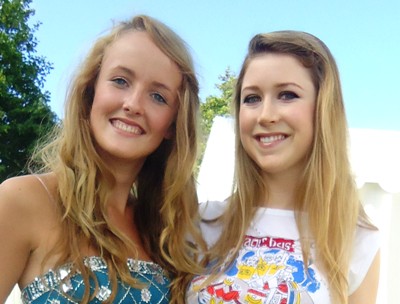 Annelies and Hayley Westenra

How would you say that the recordings developed over the time they were recorded?
I actually first went into the studio when I was seven years old and recorded "Carrickfergus." I listen to that now and I cringe! "Ave Maria," "Sweet Wales" and "Per Sempre" were done next. The most recent were "My Little Welsh Home," "The Rose" and "Calon Lan." These were done as demos at two major record labels.
I think my voice has grown in this last eighteen months and I think I understand how to use it better. I don't have to think about singing so much. It comes naturally. My mum always praises me on how good I am at remembering words to songs.
What's the outlook for your debut album?
I'm not sure what's happening with my debut album. I'll have to speak to my manager about that as he is in discussions at the moment with various labels and people. One thing I do know is that it wont be rushed. It will be well thought out and very clever.
Tell us about your live performances.
I absolutely love performing live. I do get quite nervous before a performance but afterwards I am usually elated. I get excellent reception from the audience. It was lovely performing recently with Hayley Westenra as afterwards I had people asking to have pictures taken with me and also asking for my autograph. It was a really strange thing but really nice. I have lovely fans following me on Twitter and also Facebook already. I will always have time for fans. I think it is so important.
How important do you think "image" to a female recording artist these days?
| | |
| --- | --- |
| | Faryl Smith and Annelies |
I think image is quite important. My style is quite boho in the day and I would like to follow this through with my styling when my career starts taking off. I understand that certain venues require gowns but I still want to be quite quirky. I have always had lovely comments about the way I look from fans and press which gives me confidence.
How would you say the internet has influenced your artistic direction and connection with music lovers?
I think the internet has been fantastic in connecting me and my music with fans. I'm hoping to get a website up and running soon but I am currently on Twitter, Facebook and ReverbNation. I am also on Classical Crossover site.
In addition to music, what else and who else rocks your world and fills your waking hours?
As I mentioned music is my life. I live and breathe music. As far as what else rocks my world. That would be my dog Chace and my two cats Trinity and Jada. I also love my family very much. We are all very close. I also have the most amazing group of friends at the moment which is great as I didn't have a very good time at school.
What are your plans, hopes and dreams looking out through the end of this year and into next?
My plans, hopes and dreams for the next year would be to get signed and have an awesome album released. I would love to be considered for a classical Brit. All this on top of doing my A levels.
Is there anything else you want to tell our readers that maybe I forgot to ask?
You can follow my music Twitter and Facebook. Thank you for taking the time to interview me and watch this space.
---
close this interview window