Joanna Stevens
Musical Discoveries: What can you tell us about your background before you got involved with Sleepthief?
Joanna Stevens: I soaked up my mother and father's passion for music at a very early age. Their love for song and their understanding of how just one could make a difference in someone's life, was something I sought to know and love too.
One of my earliest memories is jumping out of a home-made cardboard Jack-in-the-box and singing "Silent Night" to a squashed crowd of kindergarden/infant school parents. As the song unfolded, the room fell silent and I could feel an emotional shift happening within the audience. It was beautiful. I was only young, but I was unguarded and sharing from my heart, and they were feeling it.
Many times as a child my parents would take me with them to their shows, and I'd watch them perform on stage. They had a covers band and worked two/three gigs a week around the Norfolk/Suffolk regions of England. When I was about fifteen, they invited me to play the keyboard with them, and I'd harmonize too when I had the courage. Unfortunately, I grew so nervous performing in front of people that I squelched all the joy out of it. And became a hairdresser! Seriously! Less stress, still creative, I thought!
How did this lead to the 91 Tales and Solar Twins projects?
But it wasn't for me, and five years and many applied diversions later, music busted it's way into my life again via a boyfriend who had a band in London. Happy to move there, I found some vocal session work and sang backing vocals in his band, then called Ragged Company. I loved it, but can't quite remember how it morphed into 91 Tales, where I began to share writing duties, became the lead vocalist, and the music changed from Rock to pop/AAA.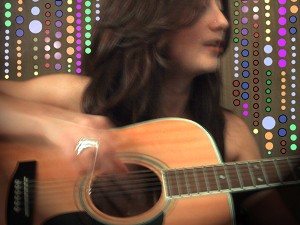 We took 91 Tales to Los Angeles and hit numerous open mic nights and played in tiny little coffee shops until a small label picked us up and helped us put an album of songs together. We never did anything with, or for the album [Good For You, Good For Me (Evil Flowers Records (USA) EFR4101, 1996)]. We parted ways, but regrouped a couple of years later to form Solar Twins. This more mature collaboration landed us a recording deal with Madonna's label, Maverick Records, and a publishing deal with Warner Chappell. We made one album, simply called Solar Twins [Maverick Records (USA) 093624738121, 1999].
Who have you worked with since those times?
Since then, I've collaborated with some wonderfully talented producers and artists, including: Delerium, Conjure One, Carmen Rizzo, DJ Rap and of course, Sleepthief.
How do you think your participation in the album will influence your career, fans and future?
I don't think about things like that. I write and I sing because I love to. I go long periods of time where I don't share though, and I like that option. But it does mean that I can't think of it as a career, or that anyone's waiting on me, or that singing on an album will change my future. Saying that, when my songs do reach people, I feel very grateful for the connection, and of course I look forward to doing it again.
How did you get involved with this Sleepthief album?
Justin introduced himself via email while he was on vacation in Europe, September 2007. He had asked Carmen Rizzo for my contact info after hearing on his website a track I had just finished with him for a movie score. We struck up lovely cyber conversations as he travelled through Rome, Venice and Milan, and I was sold. Of course, he could have been at home in Utah the entire time just trying to impress me!
What were your responsibilites on the Sleepthief songs?
For both tracks, Israel and Justin took care of the music, and I provided lyrics and melody.
Anyone who knows Justin is aware that he has much empathy. When he sent the music for "Here I Confess" to me, he said he'd written it the night before while thinking of his visits to Delphi, Greece. While there, he had felt intense sorrow and loss mixed with a profound appreciation for his life. And that to me, is exactly how the song sounds.
How were the tracks actually made?
With "Here I Confess", Justin sent me a basic piano track. I loved the feel of the piece, though it wasn't instantly obvious to me what melody line would work over the top, or what kind of song arrangement would fit. These are things that usually come very quickly to me. He gave me the option to write over a different track, but I decided it would be a wonderful challenge.
After hearing Sleepthief's first album, The Dawnseeker, I became the one who wanted to impress. A couple of days later, I sent back a vocalise version of something I was starting to like. It had melody, emotional tone, and arrangement, but no lyrics. We'd talk for ages on the phone, mostly about life, and one of those conversations was about war, and there the lyrical concept came to be.
For about a week I tried to put myself in the shoes of one who might lose the love of their life, not through anything they can really understand, but through them having to go to war for a cause, and in a country, they knew nothing about. It's heartbreaking, and it fit the sorrow and loss vibe that Justin had already set up.
What do you think contributes to the immense popularity of Sleepthief's music?
I guess the songs must connect with many people.
Certainly for me, when I listen to a Sleepthief song, I'm impressed musically, touched spiritually and usually left wanting more.
How do you feel about performing on stage?
I don't look forward to performing live. I get anxious. But when I do, all fear disappears and it's just me and the song.
What else piques your interest and occupies your time these days?
Family, friends, and new experiences.
How would you say that the internet has influenced the music business?
Suffice to say the artist is now more in control than ever which can be a blessing and a curse. And now more artists can make some money doing what they love, rather than just a few artists making all the money.
The business of selling music is one that is hard to grasp because it's opportunities and laws change constantly, but it's getting simpler and turning in favour of the artist.
And I do believe the Music Industry will always be in a state of flux because it cannot exist financially without staying head to head with the society and culture of it's playing field. And right now, thanks to the web, that playing field is very hard to read, not to mention much, much bigger.
Is there anything you'd like to say to our readers?
I sincerely hope you're happy and healthy. I'm glad you're here. And thank you for taking the time to listen!
More Joanna Stevens:
Sleepthief Labyrinthine Heart (2009)

interview, review and HTML © R. W. Elliot 2009
images © Joanna Stevens 2009
last updated 30 August 2009
close this interview window