Kirsty Hawkshaw
Musical Discoveries: Can you fill us in on what else have you been working on since the last Sleepthief album?

Kirsty Hawkshaw: I have been working on a new solo album with Ulrich Schnauss. He is the most incredible person and producer and I have long been searching for somebody to work with who applies so much depth and empathy when producing songs I have written. We met in an interesting way too I was performing at the Big Chill festival a few years ago and all the equipment went wrong, the computer wouldn't boot with all the files for Ableton so my friend Samy Bishai and I decided to just start something with him on violin and me singing.

It was a huge risk and there were loads of people watching so I felt very vulnerable. When we got half way through the song Andy managed to boot up the computer and brought the track in perfectly in time and tune to what we were doing and Ulrich commented on seeing the show whilst talking on the Big Chill radio station later on that evening.

I said to a friend, "Oooh that guy just mentioned me!" And my friend said, "That is Ulrich Schnauss! Don't know you his work?" I didn't know it by name, but when I heard the music I definately knew it, and was blown away. I saw it as a sign to contact him. When I was at his Studio last week, he showed me all my old CDs which he had and rare vinyl from the O>U>T era. It was Pete Lawrence who connected me to Ulrich. The Big Chill is responsible for our aquaintance.

How did you get involved with this Sleepthief album?

Justin contacted me on a fan forum on Yahoo groups and a guy called Adin told me about Sleepthief saying how great Justin is and how I should definately work with him. Justin is a humble guy too and sharp as a knife mentally. A man of his word and I think thats why he now has a very beautiful album in his hands. Little did I know what an adventure it was going to be, it's very rare these days to actually get into the studio with a producer or be flown out to Utah to make a class video! Justin is family to me now and I've grown alot as a result of our friendship, his mum and dad and sister Crystal and Jordan are so lovely the love we share is very special indeed.

What exactly were your responsibilites on this recording?

Justin sent me a basic piano backing track which I wrote the song over. "Skimming Stones" happened very fast. That week I was in a very difficult place mentally. My daughter was not sleeping throughout the night her molars were coming through, I was totally exhausted and in need of a break. My mum informed me that my Opa who was my last grandparent was also probably not going to live much longer as he was very old and in hospital. She asked if I would go to Germany and hold his hand so I took the opportunity. I remember sitting on my chair listening to the piano, and I wrote the words without really thinking too much and then I looked at it and burst into tears.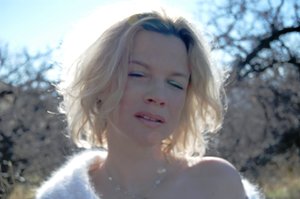 I sent it to my friend Avatar One who was talking on aim to me about Catholicism, I remember thinking how much I wished I could believe a religion like some do, they seem so much happier. But I've always been the type of person who likes to keep things open and it scares me to commit to any one path incase I might miss something as a result. I have always felt this overwhelming sense of love around me that keeps me believing that life is spiritual. I said to Michael 'I think I just wrote something thats going to turn out very well, because I can't stop crying, and he said it gave him goosebumps.
I recorded the demo in my little studio at the bottom of the garden and then I filed things back and forth to either Israel or Justin over Instant Messenger or via YouSendIt. The problem was that my recording set up is not as good as theirs so that gave us an excuse to have a knees up in Utah and do some recordings at the same time.
When I work with Sleepthief I tend to leave the music compositions to Justin and I write the top lines. I compose myself too and if I am working with Ulrich, I send him midi files of my compositions and he arranges them and changes the sounds and takes the songs to another level.
What do you think contributes to the immense popularity of Sleepthief's music?
Firstly the energy that goes into the songs are usually based on a great connection which translates into the music. Also I think Justin gives so much to his fan base who are very loyal to him, It takes alot of personal sacrifice make this happen and if you knew how hard Justin works and how much of his time he gives you would definately become a strong ally if invited.
All the women on the album are incredible artists. Women of their calibre don't just say yes to any Tom, Dick or Trance Harry. I adore Zoe Johnston, we have such a laugh together on our travels, I keep in touch with Jody Quine over Facebook and Twitter, and recently Justin, Eric, and I met up with Caroline Lavelle for a picnic by Stonehenge when they visited the UK.
I've spoken to Joanna Stevens, Shelley Harland and Kristy too, and believe me we do compare notes and warn each other if badly treated. Kristy and I joked how we have been mistaken for each other at times. It helps that Justin can play piano very well and is a great composer, has good ideas, and his taste in music, his past influences drive the passion too. It's nice to work with somebody in my age group, somebody who was young in a time when music had such quality to it. Justin and I are huge eighties fans and we love Lisa Gerrard. I just noticed in Justin's top friends that he has Yazoo in his list, I must tell him that my Mum looks after Alison Moyet's chickens when they are on holiday.
What can you tell us about the music videos and potential for live shows?
Eric Hueber is the best video producer I've ever worked with. His focus and ideas are incredible and I feel incredibly blessed to have been able to work with him on "Chauffeur" and "Skimming Stones." As for a live tour, I would really love to do that with Sleepthief because I know it would be very funny in between shows and I love a good laugh.
It's all down to the practicality I guess as we all live so far apart, but my children are both in school next year so things will be a little bit easier as far as taking a little time out to tour. Many of us ladies have children now, so I am guessing a good idea would be to take it in turns. Ulrich and I are talking about a tour next year too and we will have an album to show by then. 2010 will be a much better year all around I think. Maybe Ulrich and I could do tour support -- hint hint.
What else piques your interest and occupies your time these days?
I am the mother of two wonderful children Ike and Edie-Moon. My kids are my priority, and as they are a bit older now I have to really work on time keeping. I am currently working on a book all about Raw foods, and their benefits. Being forty years in age, a mother and an artist, I need the fuel and raw foods have been of huge benefit to me over the years. I wanted to share some of my secrets and experiences through an e-book.
What do you think of the online era?
The music industry is changing at a rapid pace however it's very easy to state "It's this and it's that" but I don't think we really actually know just yet what the truth really is. I'm waiting patiently for the right move to present itself and it will once Ulrich and I have this new album in our hands. It's a wonderful thing that an artist has an avenue to reach people without relying on a major label, or a radio station, but at the same time we have to be careful not to fool ourselves into thinking we are in control either -- life doesn't work like that.
I have learned a huge lesson in the past few years about the internet and have studied it quite well. My conclusion is to keep counsel as best one can, keep grounded and focused on ones own projects because there are alot of vampyric's who will bleed u for all they can if given the opportunity -- keep that ego in check at all times.
I recently read this blog from the band Idlewild after having a conversation with my boyfriend Tim who was chatting to one of his friends down the pub who is a fan of Idlewild. This is what they said about iTunes. "We announced this earlier in the week, here's a bit more on the subject. The standard version of the album (minus "No Wiser") is now available on the iTunes Music Store. Ideally we would have held off until the official release (end September/beginning October) but as I'm sure most of you are aware the album was leaked within six hours of it landing on people's doorsteps. This has left us with a situation where people who never pre-ordered the record are downloading it from tracker sites, blogs, rapidshare and all manner of shady places as it is not available through normal/legal outlets. By placing a slightly shortened version of the album on iTunes we can at least give people the option to purchase a proper digital copy before it is released by Cooking Vinyl later in the year."
Some will take your album and share it the minute they have it. We can do nothing about that, I used to tape the top 40 on my tape machine and share it with friends. I have had to make a hard decision this year and quit making trance music, mainly because of the attitude of those running that scene. DJs get paid a lot of money to play out, but they often do not register the PPL performance royalties so us singers often don't get the royalties from our performances.
It's one thing I often moan about in my phone calls to PPL. We are basically making dance music for nothing now, and it's hard to get gigs too so I've decided to quit all together and focus on music that is more timeless. There is only one dance producer I am going to work with next year and thats Funkagenda because we are already talking and it would be worth my time, plus he has good management who are polite and send me decent agreements that are straight up.
Ulrich and I are still biding our time creating the album we want to make without the pressure of a record label waiting for us to finish it, but I am keeping open to the fact that a label takes a lot of pressure off an artist and can often be a protection/buffer to all that energy that can overwhelm by going it alone. I think gigs followed by CD sales or even vinyl.
I long for the days where you bought something, a product you could touch, smell, and listen to that is open and not squashed to hell with digital compression. I definately think it's very beneficial for artists to play live, have a very loyal fan base, and have a very good relationship with synch companies and the compilation market. I bought Ellipse this week on Amazon by Imogen Heap and it sounds stunning. It's nice to rifle through the packaging and have a morning with it.
Is there anything else you'd like to tell our readers?
I'd like to thank all the people who have bought our music. It's people like you who keep us going and we are truly grateful for your support. I'd like to give a very special warm energy ray to Leon and a Rainbow of gratitude and love to Bert.
More Kirsty Hawkshaw:
The Meta-Message (2005)
Sleepthief The Dawnseeker (2006)
Sleepthief Labyrinthine Heart (2009)

interview, review and HTML © R. W. Elliot 2009
images © Kistry Hawkshaw 2009
last updated 31 August 2009
close this interview window