Second Story, Move My Mind and ART Album Reviews
© Russell W Elliot 1999-2000
Originally Reviewed: 07 September 1999 | Last Updated: 03 September 2000
---
Progressive rock fans of bands with stunning female vocals in the Northeastern corner of the United States that have discovered the up and coming sounds of Second Story are a very lucky breed. The band's self-titled and independently produced album is technically superb. Featuring twelve tracks that illustrate their collaborative breadth, it also demonstrates the members' individual versatility. Their debut CD is currently available in selected record shops and via the internet at a very reasonable indie price.

Visit the Second Story website for further details and to access soundbites. Enthusiasts should note that a "Digital Automatic Music" (DAM) version of the album entitled

Move My Mind is available exclusively from the band's
mp3.com website. While this edition excludes four of the indie release's tracks, the MP3 version includes one previously unreleased live track and three remixes of the group's more popular tracks. A second DAM CD entitled ART with six live tracks, including "Vicariously" which is also featured on Move My Mind is also available at mp3.com. Music from all three releases is reviewed here.

Based near Philadelphia, this currently unsigned "pop" band—better characterised perhaps as soft progressive—is fronted by lead vocalist Danielle Capoferri, whose vocal work is perhaps best compared to Classic Rock Society Best Female Vocalist Joanne Hogg (Iona). Danielle also plays flute. Plenty of photos are available in the galleries at the band's website.

With a collaborative songwriting priority and some similarities to Grey Eye Glances (formerly Sojourn), October Project—even Renaissance—a key difference in the band's sound is the tremendously lush vocal harmonies provided by vocalists Mark Gollihur (bass), Scott Lewis (guitars) and John Lewis (keyboards). Tom Bardsley delivers excellent performances on drums and percussion throughout. The band has an outstanding live performance reputation and those that have attended their concerts must consider themselves quite privileged. The band's EP of live tracks

ART provides a glimpse into what the experience must be like.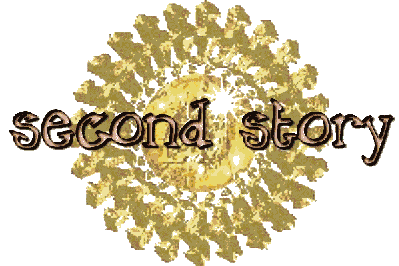 Image © 1999 Second Story

The band's overall sound is superb with both the lead and harmony vocals mixed way up and never over-shadowed by instrumentals. Yet the instrumentals are strong in their own right with excursions by guitars, flute and percussion elements during bridge sections between the vocal passages. The harmonious backing vocals in the choruses are indeed reminsicent of October Project with a key difference being the stronger male vocal content of Second Story. Solo flute and guitar performances further illustrate each of the artists' virtuousity.
The album features twelve tracks ranging from powerful symphonic rock ("Drifting Away") numbers to light almost-folky ballads ("No One Really Knows," "Return To Youth" and "Wind") and almost everything in between ("Empty Dreams") including tracks reminscent of a major Musical production number (male vocal led "Voices" and the female led, yet harmonious progressive "Angry Men"). The progressive track "Wake" is reminscent in parts of songs by Over The Rhine.
Although the album works best as an ensemble, one of the most highly accessible songs on the album is "Sometimes," with its stunning lead vocal, harmonious chorus, lush arrangements and well-balanced guitar solo. The somewhat softer opening track "No One Really Knows" is also highly accessible.
Two of the album's tracks work extremely well sequenced one after another in the album. "Voices" is a male led ballad that would be as comfortable in a West End or Broadway musical as it is on Second Story's album. Immediately following it is "Drifting Away" with Danielle leading vocals, very soulful at times with soaring vocal excursions and excellent supporting instrumentals provided by flute and piano. The song builds to a very powerful conclusion with its contrasting male vocal part.
Although "Angry Men" might be best characterized as a folk rock track with its anti-war theme, it might be equally comfortable within a major West End or Broadway musical with its harmonious choruses during the vocal passages. However the variations within it certainly plant it as a progressive rock tune. A fine electric guitar solo shows Scott Lewis' talant without being overcooked in any way. With its tremendous soaring vocal passages and excellent instrumentation—acoustic and electric guitar, strong supporting synth and progressive drums. The vocals build during each verse to the power delivered in each chorus. Technically superb, it is certain to be a favourite.
As enjoyable as the progressive rock and moving highly accessible numbers are the band's ballads. "Don't Know" is particularly illustrative in that it gives Danielle opportunity to demonstrate a highly emotive whispy lead vocal during the verses while the backing vocals provide the right level of depth to underscore her sound in the choruses. "Wind," however, provides the most insight into Danielle's vocals with the technical excellence of the production illustrated with perfect imaging of the piano, guitar and percussion and strength of the backing vocals in the choruses.
Move My Mind. The highly accessible "Fenton Hardy" remixes of "Sometimes," "Don't Know" and "Drifting Away" on Move My Mind have funky alternative instrumental arrangements with percussion and bass mixed way up—a significant contrast to the initial studio versions. "Vicariously," recorded live and available only on Move My Mind and ART is especially enticing, presenting an outstanding audible glimpse into the magic of a Second Story live performance. Those further interested in the band's live work should check out the brief (1:30) video segment of their unreleased track "Autumn" at the band's own website and their EP of live tracks.
ART. Second Story's live dynamics are captured on a six track EP available exclusively at their mp3.com website. Five new songs have been recorded live and joined with "Vicariously." The live recordings demonstrate that the new songs work well and, with various solo excursions demonstrating the individual's instrumental prowess, add further insight into the band's live performances. Since the recordings were made at different times and venues, their quality varies to a degree track to track.
The gentle rocking sound of "Wrapped in the Arms of Mountains" is instrumentally balanced between keyboard and guitar. Danielle's vocals soar above the instrumentals in typical Second Story style. The rhythms of "The Silent Giants" are driven by thick guitar and crisp percussion while keyboards provide contrasting instrumental textures. Harmony vocals are slightly undermixed yet Danielle's jazzy lead is lovely. "Abducted" is a driving progressive rocker a variety of vocal textures and supporting harmonies. Rocking guitar and bass solos dominate the song's rich instrumental arrangements while dynamic keyboard solos and guitar effects are the driving instrumental force in "Truth Is ..." We were especially impressed with "Shooting Star." More song-based than the other tracks on the EP, its chorus features a lovely vocal harmony. The live version works well and demonstrates the tightness of the band in a concert setting. We anticipate that the studio version will be stunning. The quality of the new songs and the band's performances are excellent.
Queensr˙che Tribute Track. Longtime huge enthusiasts of the band, Second Story recently covered the Queensr˙che track "One And Only" on a tribute album entitled Taking Hold Of The Flame. Mark Gollihur comments, We felt that ["One And Only"] was the best choice for us; we could maintain the inherent Queensr˙che spirit, yet inject a good bit of our sound into it. Throughout the process, we continually ensured that the integrity of the song remained, as a true tribute to the original genius of the material. However, we've added some interesting twists, including a very "MindCrime-like" choir, some R˙che-inspired acoustic guitars, and an interesting new gender perspective, since the vocals are now sung by a woman, rather than Geoff Tate." Second Story's version of "One And Only" is a wonderful tribute to this classic track. We were not only extremely impressed with Danielle's crystalline lead and band's lovely supporting harmony vocals; accompanying and bridge instrumental excursions are superb, the production is stunning and the track's recording quality is naturally tops. A high quality Real Audio sample (1:48) is available at Second Story's website (click here).
With tremendous lead vocals, wonderful vocal harmonies and excellent instrumental work, Second Story's music is certain to attract many listeners and their debut album selected as one of the finest recordings independently released by a new artist this year. Their music is definitely a must listen!
---
Return to website contents
---