The fourth (new) album from Karl Jenkins' Adiemus project is entitled Adiemus IV The Eternal Knot (Virgin (UK) CDVE 952, 2000). The project's debut Songs Of Sanctuary (1995) took the world by storm following the rise of the track "Adiemus" featured on a famous Delta Airlines commercial. Cantata Mundi (1996) and Dances of Time (1998) followed. A Best Of album issued prior to the holiday season in 1999 featured several tracks Jenkins developed for commercials as well. For The Eternal Knot Miriam Stockley once again leads all vocals providing extensive layering and texture; like the project's debut and second album, Miriam is joined on several tracks by Mary Carewe. The album was launched in a gala concert at the Royal Albert Hall on 28 September 2000. The album and concert are both reviewed here.
Musical Discoveries' review of Adiemus IV The Eternal Knot is a truly international collaboration with personal contributions from regular Adiemus correspondents. Summaries are provided by Paul VanVliet (Omaha, NE USA), Suvi Kaikkonen (Oulu, Finland) and Mauri Osterholm (Vantaa, Finland). A track-by-track review was contributed by Phil George (London, England). Finally, our exclusive Adiemus Live concert review was provided by correspondent Katharina Gross (Frieburg, Germany). Our article leads with Paul VanVliet's review.
Album Review - Paul VanVliet
The fourth Adiemus album, titled The Eternal Knot, finds its participants in fine form. After the extravagance of Cantata Mundi and Dances Of Time, composer Karl Jenkins has calmed down and created a work that is more cohesive and less erratic than the previous two albums while still showing his progress as a composer.
The album starts out with a rousing jig - "Cu Chullain" - which incorporates a driving beat, pitch-perfect vocals, and fiery strings reminiscent of Manuel de Falla's work. Easily a favorite on this album, this track leaves no doubt that this is, indeed, an Adiemus album. No other ensemble creates this kind of music.
Following the opening salvo, the album quickly establishes its main theme of Celtic lore. The Celtic sounds provide for a binding theme that gathers the songs into an integrated whole, a mood emphasized by the repeated use of Uilleann pipes. This theme makes this the most cohesive Adiemus album since Songs of Sanctuary. Of course, given how worldwide influences have found their way onto previous Adiemus albums, this is hardly a Celtic-only song cycle. Alert listeners will hear influences of various European musical styles in the songs - not inappropriate given how Celtic culture spread across the continent.
Each Adiemus album has added something to the mix and this album is no exception. The aforementioned Uilleann pipes are used with great effect. Surprising is the use of acoustic guitar in several solos. It again brings a Spanish influence to the album. The traditional Adiemus vocals of Miriam Stockley and Mary Carewe are enhanced quite well by the high soprano voice of Caryl Ebenezer. Absent on this album are the brass and woodwind sections, but given the richness of the arrangements and vocal layerings, the songs do not appear to need them.
An irreplacable aspect of the Adiemus music has aways been Miriam Stockley's amazing voice. This album finds her once again in a deserving leading role. Miriam's voice sounds lush and soulful, especially in "King of the Sacred Grove" and "Salm O Dewi Sant"; primal and tribal as in "The Dagda"; mysterious and haunting as in "Saint Declan's Drone"; and always pitch-perfect. Just listen to the rapid-fire syllables in "Cu Chullain." The Eternal Knot once again showcases Miriam as one of the best and most versatile vocalists working today.
Karl Jenkins fans will find some familiar songs here. The Eternal Knot borrows heavily from Jenkins' compositions of Imagined Oceans, Dewi Sant, and The Armed Man. While this is not new - previous Adiemus albums borrowed from Jenkins' work on commercials - it is more pronounced here. However, the songs have been reimagined to fit the album's atmosphere and with her powerful vocals Miriam Stockley makes these songs her own.
The Eternal Knot will not disappoint long-time Adiemus fans. Its use as the soundtrack to the TV series The Celts may do much to gain Jenkins new fans. Given the high level of creativity on this album, it is likely that we will hear much more from Adiemus in the future.

The Eternal Knot (Japan)
Image © 2000 Karl Jenkins Music
Album Review - Suvi Kaikkonen
While the name doesn't perhaps bring anything clearly into your mind when you see it, as soon as you read the booklet text, you will find out that The Eternal Knot is a soundtrack to a major TV documentary series The Celts, a S4C (Sannel 4 Cymru)/Opus Television collaboration, and that each of the track names have something in common with each other. The common thing is that each name of the tracks are, in one way or another, related to Celtic world and the Celts.
Because I have been interested in and fascinated by Celtic music and culture for several years and that I like also Adiemus very much, this new combination between those things seemed to be very interesting. And it is really so! The result is excellent and sole, and the style has been kept typical for Adiemus quite wholly. The "lyrics" or the texture still doesn't mean anything in particular, so that's why the album is identifiable enough and it really stands out. The melodies are still, however, very catchy and there can be found a lot of genious playing with the phonetic syllables, not forgetting the typical Jenkins elements such as the ever-changing keys and time signatures.
Compositionally speaking, this new album by Adiemus is closer to the debut album Songs of Sanctuary than the other ones. The line-up is obviously smaller with the newly-formed Adiemus Orchestra, and some kind of an extra "colour" has been wonderfully brought in by soprano Caryl Ebenezer—who sings very nicely with Miriam and Mary), Uilleann pipe player Davy Spillane, jazz guitarist Martin Taylor, a harpist Catrin Finch and accordionist David Farmer. And I think that Karl has had an idea to compose a Celtic work like this anyway, because he was born in Wales, one of the areas where the ancient Celts used to live as well. This album could also have been a "normal" album without any relation to a TV soundtrack, albeit the fadeouts of the pieces indicate the soundtrack feeling.
Maybe Karl Jenkins has had an idea to enable Adiemus to do some concerts in the future, because who on earth could be able to pay for a large group consisting of nearly one hundred musicians to travel around the world and to do many concerts in several countries!
The Eternal Knot also contains a tiny pinch of something that he's done once or twice before and about which the most ardent and faithful fans of Mr. Jenkins and Adiemus may not appreciate. Namely, Karl has borrowed four melodies from his earlier composition material. They are included in this new album as rearranged versions. There can be many different views within this topic, but I think that most of the listeners like both the older and newer versions of the songs, not forgetting those who have never had the opportunity to listen the original versions! To name these old and new versions, here is the list of them (in order old/new):
"Lacus Pereverantiae" (Imagined Oceans 1998)/"The Dagda"
"Palus Nebularum" (Imagined Oceans 1998)/"The Isle of Mystic Lake"
"Psalm 27" (Dewi Sant 2000)/"Salm O Dewi Sant"
"Benedictus" (The Armed Man-A Mass for Peace unreleased)/"The Eternal Knot"
| | | |
| --- | --- | --- |
| Image © 1998 Sony Music Entertainment | | Image © 2000 Karl Jenkins Music |
Despite this small plagiarism, a burning desire remains in my soul to extend my already dawning interest in Celtic music, myths and culture, because among the background stories of this album there are both those which were already used in the Adiemus Fan Club Magazine to outline the release of the album/TV documentary series, and those which are still more or less unfamiliar to me. I hope that someone else will also have this kind of a desire to know more about the Celts after listening to Adiemus IV The Eternal Knot. And what else would be nicer to get more knowledge about the Celts than having the wonderful CD, watching the whole documentary series and reading the soon-to-be-published (in November 2000) book The Celts, written by Dr. John Davies and published by Cassell & Co. (ISBN 0-30-435590-9). Anyway, I recommend this album very highly!
Track By Track - Phil George
All the elements are still there: quiet reflection with Miriam on top form, striking "orchestral" oomph when necessary, and yes - tribal vocals. A few things disturb me a little - any fan of Karl's will recognise half a dozen tracks from previous works. I was stunned to hear two Imagined Oceans reworks, as well as The Armed Man and Dewi Sant track repeats. The new versions of these have a slightly different slant, and Miriam is queen of the songsheet after all! And let's face it, many composers re-use many themes in their works. After all, if you wrote something and it was good, you'd probably use it again. Anyway, here's a little taste track by track:
"Cu Chullain": A rousing "jig" style. When I heard this, my initial fears about the album were immediately quashed. It's so difficult to explain. Imagine Adiemus in Ireland, sounding like you think you've heard it before, but you haven't. It incorporates almost everything that Adiemus is about. There are shades of the first track from The Armed Man also - especially with the 'stop' after each galloping chorus. There is a nice subdued breakdown in the middle, building once more. It is an instant favourite.
"The Eternal Knot": A track lifted straight from The Armed Man - "The Benedictus," - to be exact. There are slow strings with very subdued choral elements and tons of emotion.
"The Palace of The Crystal Bridge": It is playful, bell-tinkly and pizzicatto-plucky. Sounds a bit like one of the lighthearted Dances of Time tracks, like "La La La Koora" or similar. It has a very nice melody and is another favourite.
"The Wooing Of Etain": Oooh - very Titanic, I'm sure! It's those Irish pipes - you can't help but think it and a vocal-less instrumental. It is a lovely track, also with acoustic guitar, sounding "jazzy" - it works, I think! Repeat phrasing to fade. Simple but effective little "candlelit dinner" moment.
"King of The Sacred Grove": This has to be my favourite track on the whole album. Just spine-tinglingly gorgeous. Miriam really shines here, in here inimitable way. The blast of tribal chorus really really fits this well - and you know how dubious I always was of the tribal bits! I remember calling it "shouting" at one point. Not anymore - it's just soooo fabulously "flowy". The Edward Scissorhand-sy middle section brought a tear to my eye; so, so beautiful. I love it and you will too.
"Saint Declan's Throne": Another "jiggy" one with the pipes. Staccato vocals and high tempo strings make this very "dancy" in that "folky" way, yet quite modern sounding at the same time though. Honestly - how Karl makes you think of so many influences, styles and moods is incredible. There's a neat little "minuety" break too.
"Salm 0 Dewi Sant": Although lifted straight from Dewi Sant (the smooth one with the oboe), here Miriam takes the melody line. A favourite of mine already; this version is very smooth too.
"Conla's Well": Karl messes with tempo in that way he does - takes you a couple of bars to pick up the rhythm. Dances of Time "jazz" elements meet Irish-Adiemus-Latin-Medieval-type-thing. You'll understand when you hear it for yourself. Great jazz "jamming" of the Uileann pipes.
"The Dagda:" makes you think of Enya a bit when it starts - dark, deep, crumbly "horn" thing going on. It's okay though - turns out it's just "Lacus Pereventiae" from Imagined Oceans. A great track - more tribal vocal than the original. No claps though, you might be pleased to hear.
"Children of Dannu": Definately sounds like you've heard it before. Miriam flows oh-so-well, so do the sexy strings. Think "Hymn to the Dance" from Dances of Time with a touch of "Elegia," and you're nearly there. There is also a lovely "Parisian" accordian solo. I like it lots.
"Ceridwen's Curse": Quite "bluesy" in that good ol' Dances of Time way, once more. Still, the drums give it a prescence. Miriam is great, isn't she folks! There's also a Deep South US style acoustic guitar bit. It's turned into the ride of the Magnificent Seven! Better after a couple of listens.
"Hermit of The Sea Rock": A very subdued ballad that we thought was quite ecclelsiastic. It's Songs Of Sanctuary in feel and style, but the pipes come in and the Celtic thing all comes flooding back. Short and very sweet.
"Isle of the Mystic Lake": Don't worry - it's another cover version; this time it's "Palus Nebularum" from Imagined Oceans and the arrangement is almost identical. You'll find yourself singing along using the original's lyrics rather than these. It's still good after all this time though.
"Math was a Wizard": Possibly the most "African" of the lot. Jaunty and tribal; listen for the South American latin flavour guitar. And the strings can keep up with the rapid-fire vocals too.
What a journey: a Celtic-Irish-English-African-North and South American festival of sound. Honestly folks, I do love this, especially on repeated listening. This would possibly knock Cantata Mundi of my top spot - were it not for the all cover versions. I'm sure you'll gasp, laugh and cry and be carried along on another wonderous Adiemus thrill ride just as I was. Buy it now, without hesistation.
A Quick Review - Mauri Osterholm
Phil wrote such an extensive review, I only have a few comments to add. First, for the full experience, suggest you secure a quiet atmosphere and use high quality headphones when first time listening Adiemus IV. Again Miriam has the key role as lead vocalist.
The opening track "Cu Chullan" is a real good one, one of my favorites. "The Eternal Knot" is a beautiful song too. Agree fully with Phil, that one of the top favorites may be "King of the Sacret Grove", but in my opinion together with "Saint Declan's Throne" which is so straight and simple, just perfect like that.
"Children of Dannu" is going a bit out of steam but the tracks "Ceridwen's Curse" and "Hermit of The Sea Rock" really bring you back to great music experience. The instrumental parts of M. Taylor's guitar and other fine soloists contribute to the highlights of the album.
The album is to be recommended to any serious music listener and to anyone interested in following Miriam Stockley's career on Adiemus or solo. Great work again! Surely an excellent listening experience, live - if possible. I had hoped for more and longer solo parts for Miriam, but maybe next time.
Adiemus Live at the Royal Albert Hall, London Review - Katharina Gross
A really nice day has passed London on that 28th of September. I was surprised there wasn't much going on when I arrived at Kensington Gore an hour before the concert. Hard to believe that there was going to be an extraordinary performance this evening. [Ed. Note: Katharina had not heard The Eternal Knot prior to its live performance reviewed below.]

Adiemus Live at The Royal Albert Hall Advert
(click on image for full size version)

While waiting at Door 2 I was offered five times to visit the "wonderful and amazing restaurants on the circle level." Maybe that was the reason why there were no people and I would have been clever to do so as well but I stayed waiting. A young dark-haired woman crossed my way shortly smiling at me and then entered Door 1 which was marked "for artists only".
It was already dark when they opened the 9 doors to the famous Royal Albert Hall. By entering the huge auditorium one gets unhesitatingly a feeling of historical room and classical concerts viewed by the aristocracy of the Victorian Age. However, the equipment on the stage broke this kind of impression. Percussion! Lots and lots of percussion from all over the world. Everything from Tablas to Djembe to big Cabassa to a huge kind of Surdo or something like that I've never seen before.
The stage was shared in different parts. On the first floor there were the strings: 22 violin, 8 viola, 6 Cello, and 4 Double Bass. The soloists were placed before the strings to Karl's left and right. On the second floor slightly above the strings there was all the percussion and on the third floor" were all the vocalists - one row of nine Finnish Singers. Slightly before them in the middle of the whole formation there was Miriam's place.
The Royal Albert Hall was filled to about three quarters and a lively sound went through the auditorium, backing the CD-played string arrangements of the past Adiemus hits. It was quite scenic how the artists entered the stage. The strings first came to the stage and tuned their instruments. Then the seven drummers and percussion-players took their places. Pamela Thorsby was to Karl's right. The Adiemus Orchestra was coloured dark so it really stuck into one's eyes when the Finnish singers entered the stage. They were all clothed in a red diva's dress.
People started to applaud as the singers entered. The reason for a stronger applause was a small, also dark clothed person with long blond hair in between the Finnish singers one did realise soon with the second look: Miriam! Lastly Karl Jenkins came to the stage with a big rejoice from the right side. They all needed a short minute to get ready for the first piece. Karl Jenkins took the conductor's stick and looked around having all the artists concentrated on him.
One, two, three, four ... the well-known introduction bars to "In Caelum Fero" filled the room. There is one thing you usually don't realise on the recording. The percussion is live much more impressive than on the CD. For example, one guy did play one single cymbal for the whole piece. On the recording this is just in the background - you would never realise it as a special component of the whole piece. Whereas when you see it live you realise it is even essential for the way the whole groove is thought out.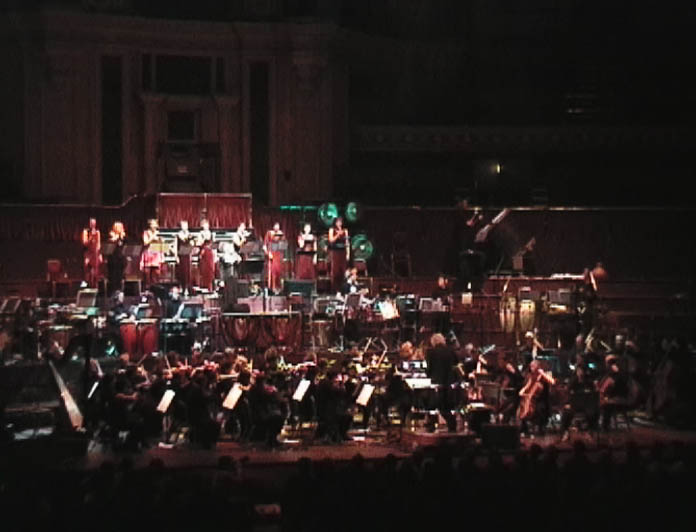 Adiemus Live at The Royal Albert Hall 28 September 2000
(click on image for full size version)

At the beginning they must have had some problems with the sound-technique because Miriam was nearly not heard - most of all her solo during the end of "In caelum fero." They also seemed to have turned up some other parts of the orchestra during the piece. The sound in the whole however was very authentic Adiemus. And Miriam, almost to perfect to believe! Absolutely correct and professional in every kind of using her voice in the live performance exactly as good as on the CD.
In the first half they played the old hits - "Kayama" - just amazing to listen to the singers live. They are really that simultaneously and have a strong and very edgy tribal sound. Very special for the show was also the light. The light was similar used like in a theatre performance but concerning the music. When all played together there was a stronger red and white light. When Miriam sang solo there was one spot on the singer floor and the orchestra was blue. The light did even underline if they played pianissimo or if they played fortissimo. That was sometimes very expressive for the show.
Miriam sang the quiet duet parts of "Cantus Insolitus" together with Mia. They didn't use any taped vocals. And on "Song of the Plains" - for all who claimed that once - there's no drum-machine! The drummers do the hand-claps on their own. The piece was shortened a bit but it was very much groovin' live and the best part was to see Miriam dancing together with the Cabassa-player.
Pamela Thorsby was an interesting image for eyes and ears and very professional in playingmany different recorders. During "Adiemus, The 1999 Version" it was a funny experience to see that a Gemshorn is exactly what it is called. It is a wonder that the obvious composer-joke with the false ending of "Dos A Dos" still works. People did really start to applaud in the last break before the end what made the artists smiling pleased with the situation.
With a huge wall of applause and rejoice Jenkins & Co left the stage after "Dos A Dos." Most of the people left the auditorium to have a drink. I just went out shortly but came back soon to watch what was going on at the stage. I recognised now that the dark-haired lady crossed my way while waiting was Catrin Finch the harp-soloist. Martin Taylor (Guitar), Davy Spillane (Uillean pipes) and David Farmer (Accordion) entered the stage for a short soundcheck on their instruments. When Spillane checked his Uillean pipes some people returned or took a curious look through the opened doors.
Some minutes later the common curiosity of so many people expecting the new Adiemus Sound created a kind of positive tension in the hall. Everybody was lively talking. This time when the artists entered the stage after the interval people even rejoiced for the strings. "Cu Chullain" reminds to Karl's work "Dewi Sant" in sound. It's like a new unusual crossover between the old Adiemus sound we know from "Corrente" (Adiemus 3 - Dances of Time) and strong typical Irish/Celtic influences. The first piece was so strong in sound that you got the feeling the musicians would send wind to your direction. I was lucky not to wear a hat. I'd maybe would have lost it to the beginning of the second half of the concert.
"The eternal knot," the title-song of the album is a very quiet piece which is very strong in expression. Miriam was singing together with Caryl Ebenezer, a new name and clear voice we have to keep in mind now! In "Palace of the Crystal Bridge," it was a pleasure to see the singer section doing small dance actions with a wink in their eyes. Mostly Miriam's lovely gestures gave the piece a further lively note. "King of the Sacred Grove' was the only piece of the new album which seemed to have typical African or better 6/8 Afro-feel influences. The rhythm in percussion was a flowing movement which was very infectious. When you looked around you saw the people moving as well.
"Ceridwen's Curse" was Martin Taylor's piece. A surprise anyway was a stunnign guitar-solo piece by Martin Taylor. "Hymn" from Songs of Sanctuary on guitar refreshed with many jazzy solo-fills; people loved it. The way Davy Spillane plays the Uillean pipe is a fascination of its own, not only because the exotic way his instrument looks nor if it was meditative ("The Wooing of Étaín") or very lively Celtic style ("Saint Declan's Drone"), Spillane and his screaming sound was a basic authentic Celtic element of this concert.
Catrin Finch didn't have that many solo parts but her harp sound was another Celtic influence. Tremendously skilled on her instrument, she always created the right mood (like in "Hermit of the Sea Rock"). And last but not least David Farmer and his Accordion made the project complete. It was amazing to watch when he played fast lines simultaneously together with Pamela Thorsby on the recorder.
"Isle of the mystic lake" seemed to be known to me from the first bar on and I wasn't that wrong. It's "Palus Nebularum" from Karl's Imagined Oceans with new invented lyrics. The dark sound at the beginning of "The Dagda" really drew an image of how Karl's "Dagda" may appear but Karl must have had an ear at Imagined Oceans while composing it as well. The piece reminds strongly "Lacus Pereverantiae" (a bit alla pasticcio-opera of the 18th century).
The last piece "Math Was a Wizard" was a good feature for the percussion. They really played enthusiastically! Exciting - one of the drummers played a quite complicated displacement on the cowbell which was permanent on your ears. Compliments to Jody K Jenkins and her guys!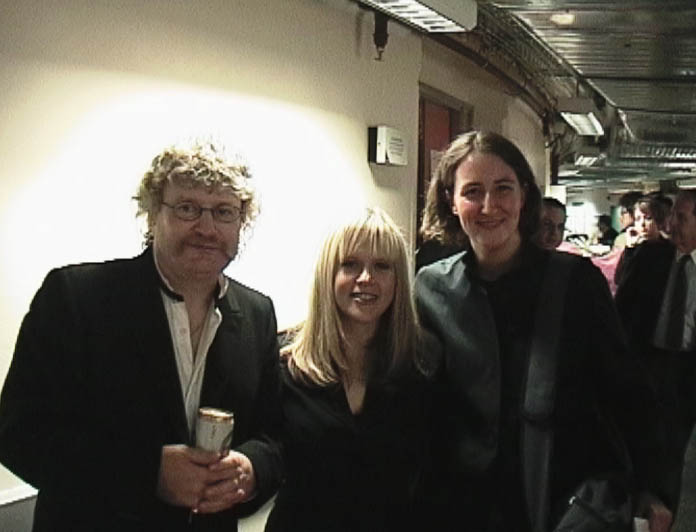 Karl Jenkins, Miriam Stockley and Katharina Gross
(click on image for full size version)

The audience generated a rousing applause at the end of the concert. Karl turned round and was in the middle of all the rejoice. He just smiled like a little boy and seemed quite shy the way he was standing there. Adiemus were doing a reverence all together. The artists were smiling and looked pleased with their performance. On the right there was Karl's fan-club carrying two huge flags with a red dragon on green and white ground screaming loudest of all. Karl smiled over to them then he went out with a wink to his fans who celebrated his work and him. The applause didn't stop; instead it grew.
Karl was forced to play a further piece. "Dos A Dos" the second! And really the all to obvious composer joke with that magic end still worked. Some people already left the hall after "Dos A Dos" and it was clearly to see that only the many real fans demanded a further piece. The artists seemed to be unsure for a short minute but then there was a sign they should left the stage. In a general view at the concert it was just fascinating how incredibly perfect all the artists were as individuals and what this kind of perfection brought to the performance as a whole. Adiemus is really an unusual project. The Eternal Knot had an excellent premier. The concert closed with a lot of demanding applause and Adiemus left a very pleased sum of people behind at the Royal Albert Hall on that 28th of September.
Closing Comments - Russ Elliot
As webmaster for Miriam Stockley's Official Website, I've naturally been following the development of the latest Adiemus album for some time. As early as this last January, we had been presented with an idea what the new album would be like but it wasn't until 1st July that we had our first listen to the material. We knew from then that this was going to be a special album, and one that many of Miriam's and Jenkins' fans would be enthusiastic about. The comments from our correspondents certainly underscore these thoughts.

The Adiemus project has grown up significantly since Songs Of Sanctuary. Whilst Miriam's vocals remain a common central theme to the project's sound, the new album's inclusion of Uillean pipes and acoustic guitar and absence of the large orchestra work quite well. The project's sound has evoloved from the former albums and thematically departed from the last two albums Dances of Time and Cantata Mundi. The album is less highly structured and more eclectic with tracks varying from highly rousing jigs to soft Adiemus style ballads. A certain highlight of the album for us from first listen is "Ceridwen's Curse" which struck us with an almost-Beach Boys allusion. Vocal harmonies and acoustic guitar blend with Adiemus tribal chants to great effect.

Originally we had planned to attend the debut concert as well but conflicts prevented us doing so. Katharina graciously accepted our invitation to review the performance for Musical Discoveries and it is clear that Adiemus performing live remains one of the wonders of the world. Clearly those of us that missed this performance at the Royal Albert Hall missed a once in a lifetime show. Rumours of additional performances are already beginning. Perhaps a well educated promoter will grab hold of these and turn them into a reality. Interested readers will find the entire concert programme at Miriam's website (What's New). Katharina's interview with Miriam Stockley can also be found at Miriam's website (Features, No. 12).

The Eternal Knot, regardless of Jenkins' melody reuse, is a testament to a talented array of performing artists, great vocal work and excellent songwriting. Miriam's treatment of the former melodies and new ones is unique and superb. In addition to the music, the album's packaging is again tremendous, perfectly complimenting the technical production quality we have come to expect from Karl Jenkins Music and Virgin. Interested readers will find the entire booklet at Miriam's website (What's New).

The album is worth extensive further exploration; worth a trans-Atlantic journey, we think it is clearly a must listen! <! do not remove these lines>
---
Return to website contents
---