Musical Discoveries published an initial feature on Finland's Nightwish that reviewed their three albums in mid-2000 and incorporated an exclusive interview with their lead vocalist Tarja Turunen. With coverage expanded since and classified by some as a heavy metal band, their progressive rock sound balances lush symphonic synthesizer-based arrangements with Tarja's stunning operatic lead vocals. Our readers' positive response to the Nightwish article led us to investigate this style of music further and to the debut album by After Forever from the Netherlands.
This online feature reviews the After Forever's debut album Prisoner Of Desire (2000), the single "Follow In The Cry" (2000), their stunning follow-up Decipher (2001) and the EP "Emphasis" / "Who Wants To Live Forever" (2002). A candid discussion with the band following their debut release and stunning artist photographs provided by Joseph Voncken are embedded within the article. Click here to jump to the Decipher review.
After Forever (full size photo) have been compared by some reviewers to Nightwish and although they are a somewhat younger band with two full length albums released to date, their symphonic metal-edged sound is very much in the same spirit. This feature reviews of their debut album, entitled Prison Of Desire (Transmission Records (Netherlands) TM-023, 2000), incorporates an exclusive Musical Discoveries interview with Floor Jansen (lead vocals), Sander Gommans (guitars, grunts) and Mark Jansen (guitars, screams). Other band members involved with their debut album include Jack Driessen (synthesizer), Luuk Van Gerven (bass) and Joep Beckers (drums).
Guest appearances on the album include Sharon Den Adel (Within Temptation) on "Beyond Me" and the After Forever Choir: Hans Cassa (bass), Caspar De Jonge (tenor), Yvonne Rooda (alto) and Melissa 't Hart (soprano) on "Mea Culpa, "Leaden Legacy," "Follow in the Cry," "Silence from Afar" and "Yield to Temptation." The band's story is told within the body of the interview yet additional information is available from the band's website (actually links to two lovely fan-produced websites are currently available there while construction of the "official" website is completed.)

After Forever
Image © 2000 Transmission Records


We asked the band about their background and Sander told us, "Mark and I started in 1995 with playing some covers of Iron Maiden and other bands to improve our guitar playing. It worked out very well, and soon we tried to compose our own music. We began to search for a drummer and a bass player." He continued, "Joep and Luuk joined us on drums and bass respectively, and they connected us with Jack, who became our keyboard player."
Sander told us aobut the development of the band's sound, "The arrival of the keyboards changed our style, and we began to compose death metal with a classical and melodical touch. At that time, we had a grunter, who decided to leave the band after Floor joined us in 1997." Sander told us the story, "We were looking for a female vocalist to sing some background vocals. There were no serious auditions—Floor was the first one who contacted us—and it was a friend who introduced her to us." One thing led to another. Sander told us, "When we heard her voice, we immediately realised she wasn't ment to sing background vocals, so she became our lead singer." Sander concluded, "Mark and I decided to do the screams and the grunts by ourselves and, together with Floor, we worked out our current style that is, of course, still developing. In 2000, our drummer Joep has been replaced by Andre Borgman, and I think he has helped us to reach a new level."

Prison of Desire
Image © 2000 Transmission Records

Follow In The Cry
Image © 2000 Transmission Records
Prison Of Desire. After Forever's debut album (Transmission Records (Netherlands)TM-023, 1999) contains eleven tracks. The Japanese version has a twelfth bonus track. The "Follow in the Cry" single contains the full length version of the album track, an edit of the album's "Silence from Afar" and two non-LP bonus tracks. "Wings Of Illusion" and an a capella version of "Mea Culpa" are the bonus tracks. We will review the bonus tracks here once we receive our copy.
The album opens with "Mea Culpa" which is the prologue to 'The Embrace That Smothers'. "Leaden Legacy," "Follow in the Cry" and "Yield to Temptation" constitute the other three parts of the symphonic masterwork and occupy the second, fifth and ninth track positions on the album. "Mea Culpa" is a lovely choral piece backed with keyboard and filled with layers of vocals. "Leaden Legacy" introduces the listener to the full range, sensitivity and power of Floor Jansen's stunning soprano voice soaring well above the guitar-laced instrumentals and characteristic metal-edged grunts and deep male choir parts. Operatic lead vocals and vocalise as well as occasional rapidfire percussion both contribute to the band's sound.

Floor Jansen
Image © 2000 Andrea
After Forever Website
[click for larger version]
Floor has a stunning soprano operatic voice that perfectly compliments the band's symphonic metal sound. We asked her about her background and she told us, "I started singing at school when I was fourteen years old. I joined the school musical—Andrew Lloyd Webber's Joseph and the Amazing Technicolor Dreamcoat.." She continued, "I was the narrator, I stood in the spotlights all the time and I liked that a lot. So I joined the school band after the musical was over. We recorded a demo-cd and at 15, it was my first studio experience! But unfortunataly I had to move and I didn't really find a nice band until I met After Forever." She recalled, "I sang in several bands before them but it didn't work out. In 1997, at 16, I met After Forever. I met a friend of the band at a party and he told me they were looking for a singer. I came to a rehearsal and that was it."
Her operatic vocals in "Semblence of Confusion" perfectly compliment the rich instrumental arrangement and male vocal parts. Heavy guitar is offset by symphonic keyboard and supported by crisp percussion. A track for female vocal enthusiasts, Floor's range and power are outstanding throughout, especially as she soars when the track lightens up during a ballad-like bridge. We were especially impressed with Floor's lead vocal work in "Black Tomb" where extra care was taken to mix her part way up. The instrumentals are hard driving, very Yes (Relayer)-style, in several of the heavy guitar passages. Lush symphonic arrangements provide a certain tightness to the number.
We asked the band about their favourite artists and who they find themselves listening to all the time. We specifically asked about Nightwish and Mark told us, "Absolutely, Nightwish is one of our favorites, besides bands like Rhapsody and Iced Earth. Personally I listen also to Filmmusic and classical music like Rachmaninov."
Sander elaborated, "Nightwish is a great live band, we played with them in Belgium, and they got everyone of the audience going! It was great! I prefer listening to more technical metal such as Dream Theater, Death and Theory in Practice, and I really like bands like Testament, Judas Priest and Iced Earth, who always use great rythm parts!" He continued, "I think many composers of classical music in the past did already play "metal", when you listen to bands like Rhapsody, Thy Majestie and others you'll see that metal and classical music can be a perfect combination." He concluded, "Just recently, I bought the classic Operation Mindcrime of Queensryche, and thought it was amazing!"
Sander told us about the band's influences, "Well, I think bands like Iced Earth and Dimmu Borgir really infuenced our guitarparts whilst the keyboard parts are mostly infuenced by classical music. I think we try to put various influences in our music, to keep it very diverse." He continued, "You can also hear this in the vocal parts, we use black and death metal vocals, choirs and Floor uses her voice in sereval ways. When Nightwish became "famous", we already completed all of our songs, but they will certainly influence us in creating new songs." The tremendous similarity of the two bands' sounds is incredible.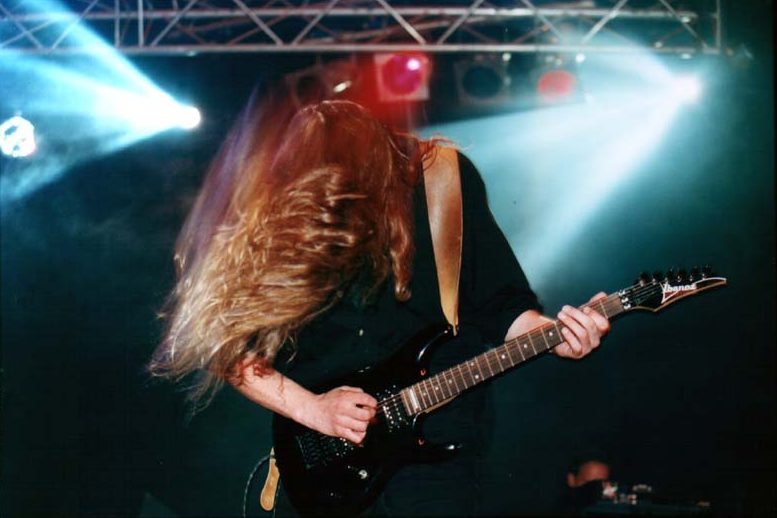 Sander Gommons
Eurorock—Neerpelt, Belgium—05 August 2000
Image © 2000 After Forever
[click for larger version]

And Floor added, "I like a lot so I find it hard to choose. I like Nightwish, Nevermore, Orhanage, Iced Earth, Ayreon, Sinead O'Connor, Annie Lennox and others. My interest will keep on changing and it will get richer. I first never listented to bands like Iced Earth but I learned to like it, now I love it."
We asked Floor about her musical training and vocal education. She told us, "I sang along with cd's. That's how I learned to sing. I wanted to do what they did on cd so I kept trying. I also developed my voice in the band during rehearsals. At school I have singing lessons. I'm a student on the Rockacademie. I hope to learn a lot there!" With what we've heard on After Forever's Prison of Desire, we believe that she's off to a great start.
"Follow in the Cry" is a heavily melodic track despite the heavy metal-edge to it. Largely carried by guitar, driving percussion and grunt-style vocals initially, Floor's evocative lead vocal joins after the initial verses and the choir layers add to the symphonic texture the track achieves. Keyboards dominate the arrangements for the dynamic ballads "Silence from Afar" and "Tortuous Threnody." These are clearly Floor's tracks, with her vocals mixed way up, right where Musical Discoveries' editors like them. We were reminded slightly of Lana Lane's ballads in the construction of "Silence from Afar"; guitars and synthesizer add texture in the most emotive portions of the song. Power further develops in "Inimical Chimera" as Floor's vocals soar to even more dramatic heights. Sander's and Mark's guitar solos during the instrumental bridges are especially notable.
We asked the band about their songwriting process. Mark explained, "Sander and I start to compose some song structures and we work it out together. Personally, I start mostly by composing with the keyboards and use my favourite sounds such as strings and piano on the Korg Trinity." He went on to explain about the recording process, "We recorded the album in the Excess Studio in Rotterdam; Hans and Dennis are very good and it was a pleasant time! We recoded the album last winter winter so it was really cold outside." He continued, "The only problem was that it was cold inside as well, especially where we slept! The mixing of the album took place at the Oscar Holleman's RS29 studios. He is a real workaholic, I like that!" He concluded, "It was possible to work very hard and rest at night. The mastering was a matter of one day in Soest. It was the first time for us doing such a big project. I learnt a lot!"
Sander added, "I totally agree with Mark, the studio experience was great; I think we've developped ourselves a lot since then. Mark and I normally compose the songs, I mostly write the harder and fast guitar parts and together we try to combine different passages and thus create new songs. Floor writes her own vocal lines. Of course we're always willing to hear suggestions or remarks from the other band members."
After Forever are a young band and have careers outside of music, mainly completing their schooling. Floor told us, "Like I told you earlier, I'm a student on the Rockacademie. I want to make a living out of music one day!"
Mark told us, "I study psychology at the University of Maastricht."
Sander concluded, "I'll become a teacher in Arts next year, of course I have to find a way to combine this with the band."
The album begins its conclusion with the choral introduction to "Yield to Temptation" (Part III of 'The Embrace that Smothers' suite) but the listener is quickly reminded of the recording's metal edges with dynamic guitar and grunting style vocals. Floor's vocal work and a lovely keyboard part provides a striking contrast to the otherwise heavy sound. "Ephemeral" is a lighter more symphonic track; a ballad in construction, it is clearly another one featuring Floor and is perhaps one of those most illustrative of the breadth of her vocal talent. Interestingly, the After Forever first four track demo recording included a version of this song.
Prison of Desire concludes with the dynamic and stunning ballad "Beyond Me." Instrumentals build as the track develops but never quite overpower Floor's stunning vocal part sung with Sharon Den Adel before the male grunting style takes over. While some of the earlier tracks on the album resembled Nightwish in spots, this one presents the most clear resemblence to After Forever's Finnish cousin, especially the guitar work. It is a tremendous track; Floor's vocal work alone certainly makes it one of our favourites on the album.
We asked Floor about the band's live performances, "It's difficult to say something like that about myself. I feel very sure about myself on stage; it makes me feel so great that I forget about everything and I'm only focused on the act, the music and the audience. I love to do it!" She concluded, "The response from the audience is very important. A performer must play with their audience, must entertain them and they must remember you. That's what I find important and I hope my stage personna can do that."
Mark Jansen
Floor Jansen
Sander Gommons
Bospop—Weert, Netherlands—09 July 2000
Image © 2000 After Forever
[click for larger version]
When asked whether the web had influenced the band's career, Mark told us, "I know that for sure, I started contacting people by the internet in 1997. We met Horizon, a band from the other side of our country. They founded Horizon around 1993 and got a lot of experience. They taught us a lot and we decided to go on tour together. John, a member of Horizon, is our tour manager at this moment so without internet the situation would be completely different."
Mark continued, "John had a contact base with Transmission Records and that was the beginning of our deal with the label. We asked about the band's website. He told us, "We found someone who took great pains to build a homepage and this was the gathering place for fans and people who were interested in After Forever. At this time we're building a new homepage. Transmission is doing a lot of promotion besides the internet."
After Forever's debut album is certain to appeal to Nightwish enthusiasts despite their slightly heavier style. With a bright future ahead of her, Floor Jansen is a marvelous vocalist that perfectly compliments the symphonic and metal-edged instrumental and songwriting styles of the other band members. Clearly we're going to be hearing a lot about After Forever in the future. You can read further reviews and order After Forever's debut album Prison Of Desire at amazon.com

here and order the Japanese version of Prison of Desire with the bonus track "Wings Of Illusion" here. We found the album worth a trans-Atlantic journey and accordingly give it our highest rating—a must listen!

Decipher
Image © 2001 Transmission Records

After Forever
Image © 2001 Transmission Records
Decipher. After Forever's second album Decipher (Transmission Records TM-029, 2001) follows amply in the footsteps of last year's "Prisoner Of Desire." Fronted by even more of Floor Jansen's stunning lead vocals, the eleven-track "Decipher" is substantially more symphonic with the addition of a string section and choir to their lineup.
After Forever are Floor Jansen (soprano), Mark Jansen (guitars, screams), Sander Gommons (guitars, grunts) and Luuk van Gerven (bass). Recent lineup revisions include Lando van Gils (synthesizers) and André Borgman (drums). Guests include the "Embred Strings" consisting of Ebred Reijen (solo violin), Noemi Bodden (violin), Janin Baller (viola), Carla Schrijner (violacello), Roxane Steffen (doublebass) and Irma Kort (Oboe on "Intrinsic" and "My Pledge Of Allegiance #1").
Produced by Hans van Vuuren, further guests on the album include Jack Pisters (citar on "My Pledge Of Allegiance #1 & #2"), Rein Kolpa (tenor on "Imperfect Tenses") and the After Forever Choir: Hans Cassa (bass), Caspar De Jonge (tenor), Marga Okhuizen (alto), Ellen Bakker (soprano on "Ex Cathedra", "Estranged" and "Forlorn Hope"). The guest work adds lots of texture to the sound achieved.
On Decipher the group have retained their metal edges with classic guitar riffs, driving percussion, traditional grunts and an occasional scream. More evident throughout, keyboard passages are substantially more orchestral. Floor has developed her soaring soprano voice operatically, driving After Forever's sound even closer to Finland's Nightwish. Sweeping tempo and style changes and well-written string arrangements are certain to please progressive rock audiences.
Strings are evident from the orchestrally arranged overture entitled "Ex-Cathedra," prior to Floor's soaring vocals taking full command in pulsing metal-edged rock tune "Monolith Of Doubt" (expected to be the first single from the album). Grunts and choir join robust strings and rapid-fire percussion completing the typically-After Forever instrumental arrangement.
Standout tracks include the fast-paced rocker "Emphasis," a two-part ballad-come rock epic entitled "My Pledge of Allegiance" and "Imperfect Tenses, a theatrical-style anthem Floor sings with tenor Rein Kolpa. Vocal enthusiasts will appreciate the the harmonies in "Intrinsic," an evocatively sung orchestral ballad.
Sharp contrasts between Floor's vocals and the harder edged grunts are evident throughout the album; similar contrasts between the album's softest ballad-style tracks and metal-edged rockers exist. One can not help but be impressed with Floor's vocal range at its operatic best; her evocative delivery blends effortlessly with the orchestral-style arrangements especially the oboe and strings in "Intrinsic," clearly one of our favourites.
Two of the harder edged tracks on the album are "Zenith" and "Estranged" which include grunting vocal bits, pulsing percussion and guitar. Contrasting passages with keyboards, strings and Floor's perfectly mixed vocal passages provide a lovely balance. We were everso impressed with "The Key," a gentle progressive rock-style ballad featuring Floor's operatic vocal work and well-arranged rocking instrumentals.
The album concludes with "Forlorn Hope," a very Nightwish-style track with pulsing percussion, romping extremely tight instrumental passages and stunning operatic vocals contrasted with a grunt or two. A spoken word passage precedes layers of guitar and multi-tracked vocals that finish the piece. The musicians' individual and group performances are tremendous. Hans van Vuuren's (Ayreon, Ambeon) typical high standard of production quality is evident from beginning to end.

Emphasis/Who Wants To Live Forever
Image © 2002 Transmission Records

Monolith Of Doubt
Image © 2002 Transmission Records
Emphasis / Who Wants To Live Forever.

The first EP to emerge after Decipher is "Emphasis" b/w "Who Wants To Live Forever" (Transmission Records (Netherlands) TMS-034, 2002). The compact disk includes the rocking "Emphasis" and ballad metal crossover "Intrinsic"--reviewed above--taken, without change, from Decipher. New listeners and longtime enthusiasts will be completely captured with Floor's vocal energy in "Emphasis."

After Forever's cover of Queen's "Who Wants To Live Forever," written by Brian May, is a most incredible track. With lush symphonic arrangements crossing the line from Sarah Brightman's cover to one that can only be by After Forever, Floor Jansen's stunning vocals soar in this lovely duet with Damian Wilson. Anthony Arjen Lucassen's (Ayreon) electric guitar work is a welcome addition to the After Forever sound--solo excursions during the instrumental bridge and song's crescendo make for a wonderful piece.

A previously unreleased version of "Imperfect Tenses" featuring further work by Damian Wilson is also included on the EP. This is a stunning 'west end style' duet with Floor's soprano perfectly contrasting Damian's vocal; it provides a lovely contrast to the version included on the Decipher album. The EP concludes with the lush orchestral arrangement of "Intrinsic" featuring Floor's sensual vocal soaring over the light instrumentals and whispering male backing vocals. Her lead vocal increases in power as After Forever's metal-edged guitar arrangement grows at the end of the track.

Monolith Of Doubt.

The second EP from Decipher is "Monolith Of Doubt" (Transmission Records (Netherlands) TMS-033, 2002). It is a four track selection certain to delight the band's most dedicated fans. The single version of "Monolith Of Doubt" from Decipher begins the EP. The first of the EP's bonus tracks is a previously unreleased track entitled "For The Time Being" is full of Floor's soaring vocals spanning the outer edges of her range supported by After Forever's symphonic metal edged arrangements. A bit of Sander Gommons' male grunting is tastefully performed and not obtrusive.

"Forlorn Hope" from the Decipher album takes the third track spot on the EP. The track is a perfect combination of metal and orchestral arrangements that support Floor's lovely vocal treatment. A previously unreleased orchestral version of one of the album's favourites "Imperfect Tenses," the lovely West End-style yet metal edged musical duet, concludes the EP.

Read further about Decipher, hear soundbites and order the album from amazon.com here. As with the band's debut, Prisoner of Desire, we found the album worth a trans-Atlantic journey and accordingly give it our highest rating-a must listen!

Exordium Limited Edition
Image © 2003 Transmission Records

My Choice/The Evil That Men Do
Image © 2003 Transmission Records
Exordium. The limited edition mini-album (Transmission (Netherlands) TME-041, 2003) is a full-colour book bound project comprising a six track CD and a bonus DVD. The DVD contains a music video of the track "My Choice," the making of the number, some studio recordings, a slide show and the mini-album's artwork. But it is the CD of exclusive unreleased tracks that makes the package a must-have. The CD and DVD are is also available in jewel box format from the label as cat. no. TM-041, 2003. Sascha Paeth (Aina, Epica) is responsible for production.
The CD opens with the progressive metal instrumental "Line Of Thoughts" which serves as a great introduction to Floor's soaring vocals atop the thick orchestral arrangements of "Beneath." Listeners will immediately notice the softer edge of the material--arrangements are less metal-edged than former material by the band but not without powerful guitars or well-punctuated percussion. Floor's voice is as powerful and vast-ranging as in prior recordings. Vast tempo variations and intermingled spoken word passages add interest and contribute to the strength of the material.
Floor's vocal work soars in the ballad "My Choice," the title track of the band's single released after the mini-album. Although less operatic than some will be accustomed to from their earlier work, string and keyboard arrangements join crisp percussive strings never overpowering Floor's tender vocal delivery. Guitars and keyboards develop and deliver superb solos before the choir (done with samples) concludes the number. "Glorifying Means" is an agressive, grunting vocal style metal number with Floor's soprano sung against thick arrangements in sharp contrast. The band have added rich choir parts to soften the edge.
While "My Choice" is a linear extrapolation of the material on Decipher, clearly "The Evil That Men Do" takes a turn towards the direction of straight up rock. Floor's voice is perfectly suited, sung here in a lower register but with no less power, for the rich guitar-laced arrangements and fast, almost rapid-fire tempo. We were reminded immediately of Nexx in the vocal arrangements but never lost familiarity with After Forever in the guitar excursions. The cinematic, yet percussive, "One Day I'll Fly Away" is the stunning concluding track of the EP. We especially enjoyed the way Floor's lead vocal soared atop the gentle orchestration as the track begins and builds in power as the arrangements do likewise. The piano solo during the instrumental bridge perfectly contrasts the otherwise powerful guitar and percussion based arrangement.
The DVD's video clip and "making of" features are the perfect accompaniment to the tracks on the mini-album. Clearly After Forever are making steps forward, and their style is developing them into a force to be reckoned with rock band.

My Choice.

The five track EP (Transmission (Netherlands) TMS-042, 2003) is comprised of a 4:00 edit of "My Choice," similar to the version accompanying the video clip on the "Exordium" mini-album. Listeners will enthrall over Floor's crystalline vocal delivery and the rich choir within the orchestral arrangements. The stunning "The Evil That Men Do" has been shortened from the mini-album's 4:50 to 3:18 with the only loss being the time rather than the intensity or strength of the longer length release. It is the acoustic version of "My Choice" that makes this EP a must have; it features a simpler arrangement with choir and gentle instrumentation to support Floor's stunning vocal work and still runs at just 4:00.

The "My Choice" EP includes "My Pledge Of Allegiance," a six and a half minute track brought across from Decipher that will remind listeners of the power and rich arrangements of the band's former album. The EP concludes with an almost seventeen minute interview with Floor Jansen and Sander Gommons that discusses the making of the "Exordium" mini-album and the band's plans for their concept album Invisible Circles.


Read further about "Exordium," hear soundbites and order the min-album from amazon.com here. The "My Choice/The Evil That Men Do" single is also available from amazon.com here.

Invisible Circles
Image © 2004 Transmission Records

Digital Deceit
Image © 2004 Transmission Records
Invisible Circles. The long-awaited follow-up to Decipher comes with several line-up changes, most notably the departure of Mark Jansen who formed Epica (feature) to pursue the melodic side of the progressive metal genre. The stunning soprano Floor Jansen fronts the band with performances spanning rock, metal and operatic theatre. Sander Gommans (guitars, solo, grunts), Bas Maas (guitars, vocals), Lando van Gils (synths), Luuk van Gerven (bass) and Andre borgman (drums, solo, acoustic guitar) complete the line-up. Extensive use of choirs and orchestra adds smoothness to the otherwise rough texture of the metal edges. Amanda Somerville (Epica, Aina) is credited with vocal coaching and lyrical editing.
Invisible Circles (Transmission Records (Netherlands) TM-045, 2004) is a 12-track concept album. They band bring up subjects from contemporary life dealing with loneliness and the accompanying problems that children have to face while growing up in this world. Tragic manifestations thereof for example at school are more relevant than ever before. During a one-hour compelling musical adventure, the listener experiences the world through the eyes of a child. The material blends progressive metal sounds,various modern effects and elements of musical theatre.
The album is a heavily diversified project with material ranging from aggressive power metal through progressive rock and musical theatre. Long-time enthusiasts will find more growling than on former releases, yet the ballads are as tender as previous experiences. "Eccentric" is a classic After Forever ballad sung by Floor in her most crystalline solo soprano over gentle piano accompaniment--and it is a certain album standout for female vocalist enthusiasts. Recurrant instrumental themes contribute to the presentation of the concept album. Make no mistake, this is a metal album--even with the varied textures, After Forever don't let the listener forget.
Floor Jansen's singing has never before been so strong and diversified, the combinations with choir and classical orchestra are at exactly at the right places and the use of melodious elements and supplementary samples in the sound make this album into one that simply nobody will be able to get round. Floor and Sander draw perfectly upon their teaching profession to bring current events to the band's songwriting.

Digital Deceit. The first single following the Invisible Circles album release (Transmission Records (Netherlands) TMS-048, 2004) continues to promote the band's success and includes four new versions of previously released tracks and an audio interview. Be sure to view our slide show of the band's live performance at PinkPop 2004. The EP opens with the single and video clip version of the title track. The label have also included a wonderful orchestral version of "Eccentric," and the single version of "Sins Of Idealism" which both have original versions found on the Invisible Circles album.
An "agressive version" of "Blind Pain" concludes the music portion of the single. An almost ten minute interview conducted by Irene Jansen provides further insight into After Forever's music and gives listeners a chance to hear Irene speaking as well! Overall it is a good single with the orchestral version of "Eccentric" and the interview being the two must-haves for dedicated enthusiasts.

Musical Discoveries editors are working with Dutch photographer Joseph Voncken in the development of an all new interview with Floor and Irene Jansen. We expect publication of this photographically intensive feature, and the first to interview the two stunning singers side by side, before June 2004. <! do not remove these lines>
---
Return to website contents
---