Singer songwriter actress dancer. Annie Barker is personally blessed with many gifts. With a crystal clear voice, the artist's debut album Mountains and Tumult, produced by Robin Guthrie, is a vast collection of well arranged ethereal dream pop tracks certain to draw interest not only from from Cocteau Twins fans but Tori Amos, Kate Bush, Karen Carpenter and Joni Mitchell enthusiasts as well.
As we go to press, Annie has formed and is preparing her band to tour more widely in support of the album's release. Those that have seen her onstage in the Los Angeles area exude praise for her live performances and well-crafted emotional delivery. We certainly think that once the tour is underway that Annie Barker will be the live act to see in 2008.
This article contains the results of our interview with Annie conducted in November 2007, after our staff had a chance to listen to Mountains and Tumult thoroughly. This edgy interview explores the artist's musical development, the writing and making of her debut album and her personal views about the music industry. She also talks in unusual detail about how images can incorrectly form audience opinion before hearing a female artist's work. Read our review of the album below.
Interview
| | |
| --- | --- |
| | Image © Beautiful Revolution Records 2007 |
Musical Discoveries: What can you tell us about the beginnings of your musical career?
Annie Barker: I was a precocious little girl who sang all the time. Music was always in my head and throat. My grade school teachers would complain to my parents about my singing in class. "She sings all the time. It's not that it's bad. It's just constant," they'd complain.
I was put in piano lessons at three and started performing in front of audiences at a very young age. I was the token young thing in nightclubs singing covers to Gloria Estefan songs and in community performing arts groups. I continued performing throughout school, expanding my horizons to classical and, especially, jazz singing in high school and college.
The jazz music became instrumental in developing my vocal styling after artists like Ella Fitzgerald and Diana Washington. I was also an actress and dancer, so I got involved in musical theater which taught me about stage presence, among other things.
How did things begin to solidify for you?
Out of college I attempted to form bands with players who were interested in bands like the Cocteau Twins and Lush with electronic components. We were a mixture of electronica and ethereal. Then I decided to get a jazz project together. I recorded some standards and one original by Michael Gurley, from DADA, and started performing around Los Angeles in bars and clubs. This was lovely, but I desired to get my own voice out there, and I also found that the jazz scene was quite an old boys club, not eager to let a young singer in on their piece of the action.
I took guitar lessons and began writing music that I wanted to perform. Once I started to write my own stuff, I tried to form a band again and record the songs in professional studios. After several failed attempts at trying to get other musicians to create my vision of blending brit rock and dream pop, I decided to build my own studio, learn the recording programs and record the songs myself.
It was in the middle of recording, when I was having a problem with one of my mics, that I ran into Robin Guthrie at Guitar Center in Los Angeles. I went right up to him and told him that he needed to produce me. Upon hearing my tracks, he agreed and we made this record.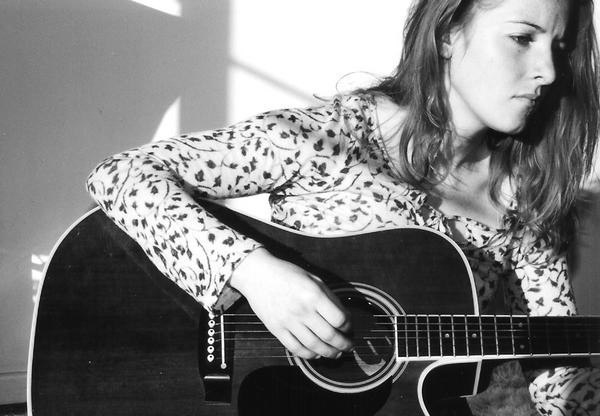 Image © Beautiful Revolution Records 2007


When planning the release, did you think at all about how to bracket yourself, music, age, or otherwise?
Bracketing by age is limiting to the music. When you think of age, you start to compare to pop tarts or other such performers. When you think of Bjork, you don't really think of her in a certain age bracket, you think of her music and sound. I think my audience will transcend age brackets because it's not about a hip style, or dated concept. Robin and I aimed at making something that was timeless. Also, youth is way over-fetishized.
How did you develop your unique vocal style?
I like singing in many different styles. Also my vocal sound changes with every song. One could say I've got a certain sound on "Kissed Me" and then you listen to "Revolutionary Rock 'N' Roll" and will hear a different vibe completely. My lyrics can sometimes determine my styling for that song. If there's emotional complexity, the vocal line will be more complex, like in "Gripped with that Leg."
In a song like "Revolutionary," I imagined it as an anthem thousands of people should sing along to, so it's more about being clear. I think artists who have ventured out on the edge and have made it OK to be experimental with vocals are Elizabeth Fraser, Bjork, Imogene Heap, and Tori Amos, especially in the Boys for Pele era.
| | |
| --- | --- |
| Image © Beautiful Revolution Records 2007 | |
Who do you go to see perform live?
As far as female singer/songwriters I've seen Tori Amos and Bjork. Other than that I primarily watch male-fronted bands like Super Furry Animals, Air, Supergrass, Belle and Sebastian and acts like that.
How long did it take to create your album Mountains and Tumult?
The songs on Mountains and Tumult have been in the works for several years. Some songs were mixtures of other songs I used and reworked or put together with other songs. The recording of it spanned a little over a year.
Mountains and Tumult is the title of a song that came to me as one of my stream of consciousness lyrics. There is a melody to the phrase that kept haunting my songwriting until it found a home in this particular song. The song is about the highs and lows of a dysfunctional relationship.
I titled the record Mountains and Tumult because the theme of the album is about the ecstasies and turmoil of self discovery.
Although the "tumult" reference in the Old Testament refers to the military activity during the Hebrews' attempt to form their nation and survive, this was actually not my intended meaning in the album title.
And what's the album about?
As far as lyrical content, there are songs about love, creativity, familial pressures and conflict, personal demons, celebrity suicide, taking love for granted, lust and desire, idealism and sex, dysfunctional relationships, and manipulation and misuse of power. You know, light stuff.
So how did you go about making the album?
I recorded the tracks at home on my studio and then brought them to Robin at his home studio in France. There he and I mixed, recorded and produced the tracks. The tracks I sent we used as skeletons on which we layered guitars, bass, drums and vocals.

Image © Beautiful Revolution Records 2007


Robin and I dissected the tracks that I had brought from my studio. I really enjoyed working with him during this process because everything we did was democratic. It was easy to discuss musical decisions with him and then we would come to an agreement. Elliot's Song had to be completely reworked because neither of us was happy with our first take on it. Suddenly, it came together and we both knew it at the same time.
What was the inspiration for the vocal excursions, words and sounds in the album standout "Revolutionary Rock 'N' Roll"?
It was written after reading a rock critic's review about a particular band saying that they were revolutionary because they combined beauty with rock and pop. And my initial thought was, "was he asleep in the eighties and nineties during the whole dream/ethereal pop wave?" It's also about all of the image standards, definitely apparent here in LA, put on musicians. The resolve in the song is to instill revolutionary elements to one's own art. Like I said earlier, I imagined singing this song in a stadium with the whole audience singing along.
| | |
| --- | --- |
| | Image © Beautiful Revolution Records 2007 |
The album cover image is incredible.
I had a metal bodice made for me by metal sculptor Bruce Gray. He used a piece of a propane tank that had been riddled with bullet holes at a shooting range and fit it to my body. He padded the back with rubber and felt and attached the bodice with leather strings in the back. During the shoot, my fingers got all shredded from pulling on the bodice.
I wanted something that symbolized urban decay as well as a hard shell that I was trying to break free from. This record is about transcendence, and I wanted the cover to represent that. Through the difficulty of self discovery, we shed this outer shell to a more human, beautiful state.
Why was Beautiful Revolution Records created?
I named the label as a play on the idea of beautiful sounds coming from the revolution of a disc, or record, as well as the deeper meaning of resensitizing, therefore revolutionizing, my audience with beauty and thought provoking lyrics. My music aims to fight against the alienation our society creates in us.
The thing about majors is that they want you to prove that you're making money before they'll consider you. So I figured, if I'm already making money, what do I need them for? Also, I had controlled this record from the onset, the last thing I was going to have was some silly twat telling me to dye my hair, or wear black nail polish or say that George Bush is OK.
I want to control my image and music, and if a label comes along to capitalize on that and yet allow me the freedom to be exactly as I want, then cool. As far as distribution, I haven't found a physical distributor who had nice enough personnel that I wanted to distribute the record.
Do you think that an artist's image is important to how potential listeners are drawn to their music?
| | |
| --- | --- |
| Image © Beautiful Revolution Records 2007 | |
Well as far as generalities go, I'm no good. But from my image and experience, I'll speak. Unfortunately we're an extremely visual society. You're almost always seen before you're heard as a music artist, and when people describe new artists, they tend to include a description of appearance as well.
When I set up my photo shoots I have a vision and purpose, a story to tell in the pictures. I want it to be vulnerable in nature, or bare in a bedroom. There's a point, it's not about luring hits.
There's something I'm trying to say about sexuality and music in the sexy pictures on my MySpace. I embrace sexuality, raw sexuality. Not any kind of adulterated or distorted form. This is why you won't see me lying like a mangled toy on the ground, or with a "come and rape me" look on my face. In fact, this dark image steered me from using American Apparel t-shirts for my band shirts.
I aim to present a healthier image of sexuality and a representation of the beauty that we all have inside us. This is what makes for healthy sex and relationships. The other, come and take advantage of me shots, that proliferate MySpace just reinforce our country's sexual distortions and, even though these images reap a lot of views, I refuse to stoop.
I think people may also invalidate someone's musical ability due to the way they look, ie "well, she's pretty, but I doubt she can sing."
Do you think that MySpace is worth the energy or do you think a personal artist website does more to promote your music?
MySpace is great when it's working properly. When it's got a bug or their servers are down, it can be quite traumatic to an artist. This is why an artist website is so important. No waiting for the songs to load, no crazy spammers, and no inaccurate song listens or profile view counts.
Is performing live is still the best way to connect with your audience or is YouTube bringing the audience indoors?
| | |
| --- | --- |
| | Image © Beautiful Revolution Records 2007 |
Playing gigs is the only way to connect to a live audience. I also think videos of live performances are more of an encouragement than a deterrent for fan attendance to shows.

And playing live illustrates to people what kind of an artist you really are. When people see me live they always claim, "wow, it wasn't all studio trickery, you really can sing!"

How extensively will you tour to promote this album?

I am in the process of preparing my band for a tour. I can't wait to get out in front of my fans. I hope to tour all over this lovely planet.

How satisfied are you with the album?

I love the album. I was involved in the entire process, from recording to mastering, and if I had any problems with the mixes, I would have changed them at the time. Some might not understand the way the vocals are laid down because it's an ethereal album.

Some don't get it because they want cock rock. And others who understand the complexity of the record say they can't live without the record, or they say that it's a record that needs to be heard.

I think the difference between people who get this record and don't is a difference between people who like to just fuck and those who like to make love.

Were there Annie Barker songs that didn't make it to this album?

What's this collection of unreleased material like and who has heard the songs? How do these relate or not to the next project

My unreleased songs are songs I either don't like or still want to change. All my material floats around in my head until they get solidified into a song. And then songs can have spin off songs.
| | |
| --- | --- |
| Image © Beautiful Revolution Records 2007 | |
What do you think the outlook is for the CD industry?
Unfortunately, a lot of people are moving away from the physical CD. I think having the package of artwork and lyrics brings you closer to the artist and their intent. It's interactive to hold, touch and smell the package when you're listening to the CD.
The images, as well as sounds, can capture the emotion you have when listening to the music. Without it, we continue on our path as a culture of desensitized humans. Pretty soon you'll be able to download your meals.
Does file sharing help or hurt artists in the long run?
I also don't think that file sharing sites hurt artists. Maybe artists like Prince or Michael Jackson who have an incredible amount of cd sales and earn a larger percentage on their songs, but everyone else only gains from these download sites. One could say the same about the advent of the CD burner in every computer sold.
I don't know how many records friends have burnt for me which has in turn led me to become a fan of the artist and buy every album they've put out and more importantly go to shows and buy merch. Shows and merchandise are the biggest money makers for audiences. So if you really want to support, buy a tee or two.
Are there any closing thoughts you'd particularly like to leave with our readers?
Thanks for listening!
Album Review

Annie Barker: Mountains and Tumult
Image © Beautiful Revolution Records 2006-2007


Mountains and Tumult (Beautiful Revolution Records (USA), 2007) is Annie Barker's debut album. Ten tracks written by the artist and produced by Robin Guthrie take the classic ethereal dream pop sound and blend it with Britpop chord and song structures make the music more accessible to a broader audience. As well produced as the music, the CD is accompanied by a photo-filled booklet. Annie performs all vocals on the albums and contributes
The singer's powerful voice, crystal clear vocal texture and emotional delivery are evident from the opening track "Kissed Me." Thick guitar textures couple with the artist's jazz influences in the memorable track. The powerfully delivered anthemic stadium rocker and album standout "Revolutionary Rock 'N' Roll" will appeal to the broadest range of audiences. Annie's sustained delivery of the lyrical passages and most lovely sensual vocalise easily glide over the rhythmic lead and bass guitar.
The artist's range of songwriting and stylistic influences combine in "Pretty Boy," a progressive ballad styled in the spirit of Fula and Zoe Stafford. Lyrical content moves into the more sensual theme Annie has designed into the album. Even more gently delivered with soaring vocal lines backed with both acoustic and electronic guitar, "Gripped With That Leg" continues to develop and well illustrate the emotional content of the album. "Elliot's Song" is the most jazz influenced tune on the album. In addition to being a delightful and evocative listen, it illustrates the dramatic range of Annie's voice.
Layers of self-harmonizing vocals shimmer to enhance the sound of "Beautiful Life" and contribute to the stylistic variety of the album, as does the downtempo "Sausage Fingers," a track that interestingly shares similar guitar stylings with "Revolutionary Rock 'N' Roll." The thrustfully rhythmic "I Want" deals tastefully but most explicitly with sex. Evocatively delivered with soaring vocal lines, the verse-chorus structure is a also welcome addition to the record.
In the title track and emotionally delivered ballad, Annie softly and comfortably sings at the edges of her range, lovely self-harmonies adding texture above thick guitar stylings. The mood established within the song accurately reflects the contrasts of "Mountains and Tumult." The album concludes with Cocteau Twins-styled "Amphetamine Dream." Annie's layered vocals blend perfectly with shimmering guitar to gently bookend the album's nine-track-ago opening track. A distinctive set of tempo changes make the track that much more of an interesting and enjoyable listen and add to the memorability of the harmony laden chorus.
Annie Barker delivers almost 45 minutes of extraordinary listening in these ten tracks. The album will draw significant attention from female vocals enthusiasts and further critical aclaim as her listener base naturally expands. Her broad range of tasteful sensual and evocative material is delivered on with a menu that illustrates vast singing and songwriting talents that listeners are sure to cherish and adore. The tracks work well together and while few build into instantly memorable numbers, the songs flow seamlessly across the album and build interest from beginning to end. While her

current audience patiently waits to see her perform this material again on stage, we're sure that an even broader base is just as keen to hear this rapidly emerging and most talented female artist's next record.

<! do not remove these lines>
---
Return to website contents
---