Musical Discoveries' editors were introduced to the music of Bliss, that is Lucinda Drayton (vocals) and Andrew Blissett (keyboards), by Rhonda Flemming from Buckland Hall, a lovely all-natural retreat located in eastern Wales specialising in yoga, relaxation and other inspirational activities. Although we were looking at the venue from the perspective of the next Karnataka and October Project double bill, Rhonda gushed with enthusiasm about Bliss so we made contact with Lucinda not long after our visit. Our feature insludes reviews of their albums A Hundred Thousand Angels and their most recently released self-titled follow-up Bliss. We also catch up with Lucinda and explore her background and gain insight into their music in this exclusive interview.
In addition to the two most recent albums, we were exposed to Lucinda's and Andy's twelve-track album Suicidal Angel. Since there is a clear progression from Luce's "solo" project--especially on Bliss--and she speaks of it below, our review is also included within the article.
A Hundred Thousand Angels
| | |
| --- | --- |
| Image © Blissful Music 2000 | |
The debut Bliss album (Blissful Music (UK) BLISS001, 2000) is a twelve track collection of meditative and more accessible tunes with lush vocal work and superb instrumental arrangements. The title track opens the album with slow yet rich keyboard washes underscoring Lucinda's soaring vocal work. "Come Into The Light" is a contemplative and tender acoustic number sung by Lucinda and Andy together.
The acoustic trend continues with "Farewell To Music," an instruemntal performed entirely on harp. And it blends perfectly into the Enyaesque and standout track "Sunrise" where Lucinda's vocals are so layered as to almost be vocalise. Acoustic guitar and standup bass work perfectly as accompaniment. "I'll Be Waiting" returns to acoustic singer songwriter style, Lucinda's solo vocal atop gentle acoustic guitar--listen for the solo in the bridge--throughout.
The arrangements thicken in "This Love" with keyboard washes and Andy's lead vocals taking over with layers of Lucinda's work serving to effectively back. The first of two Yoga-inspired tracks is "Shiv Sakti," an extended meditative piece blending powerful keyboard textures with mood-inspiring percussion to underscore Lucinda's powerful vocal work. The upbeat, multi-layered, chorus is inspirational.
The second part of the album opens with "Naked" a short yet tenderly and sensually sung ballad accompanied by acoustic guitar, lovely strings and keyboard washes. The evocative texture of Lucinda's soaring voice blends perfectly with the arrangements in this album standout. Powerful orchestral new age textures open the meditative "Say Goodbye," where Lucinda's voice significantly contrasts the rich instrumental arrangements. The violin solo blends everso well with vocalise during the bridge.
"Grace" is a piano-based instrumental with only occasional light percussion and keyboard wash added for texture. It is a lovely yet light track with a tremendous melody. Accompanied by harp with orchestral keyboards supporting, Lucinda's evocative vocals tenderly deliver the lyrical message of "One Wish," a tremendous piece and album standout. The album concludes with the powerful and Yoga-inspired tune, "One Shanti." This standout blends rich arrangements--listen for the bass especially--with an accessible tune and layers of lovely vocals. Tremendous.
Interview
Musical Discoveries: Please tell us about your background, I mean, where did it all start?
Lucinda Drayton: I Started singing when I was very young and wrote my first song when aged about six. Singing always felt natural to me and was something I could always just do. I joined a band at fifteen and from then I was bitten by the bug. I loved it.
At University in Wales I joined up with Rob Smith who now plays guitar in Bliss. We were in a band together and won the National Competition Battle Of The Bands--it was Pop Idol without the pop or the money!. The band moved to London and we played all the usual Venues waiting for A & R men who regrettably never came. We had fun and all the time I was earning my living singing covers in pubs and at weddings. When that band split, I met Andy at a Cricket club gig and we started writing together. After a couple of years we wrote a song that was picked up and remixed by a dance label. It amazingly went to Number One with an artist called Toni Di Bart. After this success we were signed and made an album of our own material. Apparently it still in some record shops. Released under the moniker Luce Drayton, it's called Suicidal Angel and we are still pretty proud of it.
Around this time we discovered Raja Yoga Meditation. This was to change both our lives in ways we could never have forseen. The music became softer--lost its edge. My voice became more pure sounding and our record company couldn't understand the change. So in one year we were dumped by EMI publishing and our manager. You would have thought this would upset us but actually it set us free. We really started to make the music we wanted to make--from our hearts.
How did you develop your vocal style?
My vocal style developed by just doing it. There were lots and lots of three and four hour gigs in pubs and clubs singing with great musicians. I have had no formal training or musical education. Just a lot of gigging, singing great classic songs and strumming around on my guitar, although I have now found a new guitar teacher called Nick who is great.
When I started meditating my voice changed. I sang for a different reason and from a different place. I just let go and it flowed out on a natural easy way. As I became more content and peaceful throgh meditating my voice opened up. Thats how I sing now--easily, I just trust my voice because the success of it is all in the hands of the one I sing for. I am free.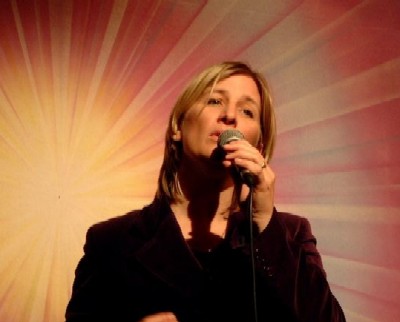 Image © Blissful Music 2002

What artists have been your musical influences?
I have been compared to many vocalists from Barbara Striesand (what a compliment) To Eva Cassidy to kim Wilde and Enya. As to my influences I think Rikki Lee Jones in terms of her phrasing and the way she uses vocal harmonies and just her easy way of writing. I was also facinated by the sheer poetry of both Rikki and Joni Mitchel--the way they told stories and used imagery. However when I started meditating, I stopped copying and found my own voice. Then of course the lyrics are very related to my spiritual path ad many are given to me, so a lot of it I cant even claim as my own. In fact I wouldn't dare say some of the things that come out when I am writing lyrics.
Please tell us more about your albums.
Well we began with the Journey which was Andy's instrumental album. That was about six years ago and it was his desire to make an album people could meditate to. It doesn't interfere but washes away in the background creating a feeling of peace. I love it!
Then we put together a collection of demos for The Brahma Kumaris, who wanted spiritual songs sung in English. We put together some old songs and wrote some new ones and called the collection Flying Free. People loved it so later we started selling it to the public. It's half songs and half instrumental and you can still hear some of the old pop sensibility in there, but some gems come through. "I Am," a song about the soul is particularly powerful and is used a lot in meditation centers.
Next came Through These Eyes. You can hear our love of Celtic music in this. It was born out of a desire to make something really beautiful. The Whole album is really deep and meditative, it takes the listener right to the heart of themselves--a few tear jerkers on this one. We were just writing from the heart.
And then the two we review here, right?
The next album, was the classic A Hundred Thousand Angels. We used alot more musicians on this as by this time had built our own studio. We spent months with guitarists and percussionists. I think the standard of production went up with this album. The songs vary from Countrish to celtic. It's a fantastic album and is our best seller so far. I never get sick of singing the title track which I have been told changes lives.
Our latest album is simply called Bliss. It took two years to make and we are still recovering. I feel it is another step up, we spent more money, used more diverse instrumentation and really settled into writing deep meaningful songs. I think my favourite is "Child." I feel there is potential for this album to make radio so maybe the message will reach out further. Bliss is a deeper album and if it doesn't grab you on the first listen stay with it because many people are reporting that it takes time. We were both going through some deep spiritual stuff at the time and I think this is reflected in the work written.
What was the gigging like and was anything recorded that readers can hunt down other than what's out there now?
Gigging was always my love. I love people and connecting with them. I have also worked with some great jazz musos who have lifted my Soul and scared me to death with their technical artistry. I love that, there's no drug better than a great groove.
Many have said that Bliss are much better live. And although I have been accused of miming many times, I can assure you I don't mime! If I wasn't so old I'd love to see what the panel would think of me on pop idol. Perhaps I could sneak in with a bag on my head? Something to look out for is my first album Suicidal Angel by Luce Drayton on the Edel label; it lurks in some record shops still and has some great songs on it.
Who are some your favourite artists and groups?
I love silence but when the mood takes me I will put Off the Wall by Michael Jackson and have a right good bop round the lounge. I recently bought East Mountain South's first album a duo from the states who write classy moving songs and its mixed by Bob Clearmountain so you can't go wrong there. (Bob, if you are reading this, would you mix our next album--I make great cups of tea?) Other favourites are Mr Stevie Wonder himself.
Anything else?
Songs in the key of Life is a must must buy. I also love One Giant Leap; their DVD is incredible. Also Lyle Lovett, Kate Rusby and of course my old friends Joni Mitchell and Rikki and lots of world music--love Indian ragas and drones.
Where do you draw your inspiration for the music?
Inspiration comes form my meditation and my spiritual path. Raj Yoga teaches you to sit still and face yourself. In the stillness you experience yourself to be an eternal spiritual being, A Soul whose nature is peace. This journey has been the greatest of my life and coming to know the Supreme Soul has been the greatest experience of my life. This is what inspires both the music and the lyrics. That, and a desire to bring something of beauty, and value to the world.
How you would describe your music?
Whilst we were touring in the States one man said that our music 'creates an awareness of the self, it takes the listener into an experience.' I like this description of our music. We borrow from all styles of music and use more and more varied instrumentation so its hard to categorise it. What makes it different is that its backed up by a way of life--a practice. To describe ones own voice is difficult, I can tell you that it has become more pure sounding since the discovery of meditation and that I sing in a much more free way. I can't really say much more than that. Each one will have a different opinion. I try to just tell the story when I sing, I am not interested in vocal acrobatics, listen to Nat King Cole. He never messed with the tune, he didn't need to, he just melted your heart as he told the story. I love that.
Please explain the creative process and tell us about the studios you use in different stages.
I am lucky to work with Andy my partner, he is an amazing producer writer and pianist We know each other inside out so I can be totally myself with him. He is also a student of Raja Yoga so we have similar aims even if we work in very different ways. He is Mr detail--a perfectionist--while I am more impatient and full of lots of ideas. We also work with various musicians; Rob Smith is our live guitarist and he usually contributes to the albums as does Jonathan Hughes our Cellist. Its Jonathan's voice you hear on the Angels album although I feel Andy will do more singing in the future.
We use our own studio which we built on faith using the money that was supposed to pay off the mortgage. We bring in a good engineer to help us at the mix stage and both Leigh Jemison and Mike Bigwood have taken our work to new levels on that front. If Andy gets his way in the future, which he usually does, we will be recording Air Studios with a full orchestra, then I can really do my Baba's impression. Actually it's my dream to sing with a full orchestra.
We have recently acquired a beautiful grand piano, so the next album will feature some tracks of just piano and voice--maybe in the Tori Amos Style, we are both inspired by her work, she is a gifted artist.
The creative process is very organic. Sometimes it comes from a poem, sometimes a bass line or piano riff or maybe one of my little country songs on guitar which Andy then takes and remolds. The link through all of it is silence. We start and end all our sessions with silence. This allows space for inspiration. It's when we get out of the way that real magic happens. I often write lyrics when I am on a retreat in India or at one of our centers in Europe, but it could just as easily be in Tesco's.
Do you have a career or work outside music?
We earn our living from music and the rest of our work we see as a service and we do it for free. We both teach meditation, we take music into prisons and hospices. I work once a week with some Young Offenders basing workshops around Self respect. We also help out when we can at The Global retreat Center in Oxford taking part in dialogues and workshops or doing a spot of hoovering!
Please tell me what you think about your live performances and the audience's reaction to your on stage personna.
We do have several videos made when we were in the pop industry, so that was great experience but now when I go on stage I am just me, the soul going to share an experience with my spiritual family. I am not an entertainer or even a performer. If we are lucky we become instruments for a higher energy to come through. This is what makes the concerts special. It is our life and our practice which enables us to help create a vibration which allows people to experience peace, to experience themselves as something more than the body. What I love most of all is to share my experience of spirtuality with others and watch them change. We have plans to make short films which we can use in conjunction with the music. We are working on a video at the moment but let's see, it's a new medium which we are very excited about.
The two albums you sent us are great--our readers are going to adore them. Where have you been hiding?
I vowed to stop pushing years ago. I surrendered my work to the Universe and left it all up to God. Since then the music has been selling with no advertising no press and no promotion except a few concerts and Mind Body Spirit Exhibitions. It is passed through people who love it and that to me is so wonderful. I love the way it is not about us but about the music and i ts message--long may that last.
What are your plans for 2003?
To Make a new album and to become more gentle with myself and others. To become an easy Yogi and to laugh a lot.
How has the internet influenced your musical career and the promotion of your music?
The internet is amazing and lots of people order from our site each day. I'm not sure it brings new fans it just provides a shop, which they are directed to. The internet has freed us from the constraints of record companies and we can just make the music that comes to us and put it out there. It lets artists tell their truth I suppose, which has to be a good thing.

Read further reviews, listen to soundbites and order A Hundred Thousand Angels at amazon.com here. A great introduction to Bliss, this album is worth a journey and is great listening!
| | |
| --- | --- |
| | Image © Blissful Music 2002 |
Bliss
The latest album from the group is a self-titled collection of thirteen tracks (Blissful Music (UK) BLISS002, 2002). It continues in their trend of producing meditative new age style music. The album opens with the everso mellow "Thank You" where Lucinda's vocals supported by gentle strings.
Instrumentation and vocal effects develop in "Child" where further instrumentation and vocal layering add a lush texture to the sound while a somewhat faster tempo and keyboard washes improves its accessibility. The artists join up in vocal duties providing lovely harmonies in the upbeat "The Only One," a very accessible folk-rock style number and album standout.
In addition to the more richly arranged songs on the album, Bliss can articulate their message in a gentle acoustic guitar backed solo style. Such is the case with the tender tracks "Breathe On Me." Similarly "Be Who You Were Born To Be" is initially performed accompanied only by piano. The power and clarity of Lucinda's voice is certainly stunning. The robust and accessible chorus reminds the listener that the album can also be used for meditative purposes.
The percussive instrumentation and lush arrangements that join layers of vocals in "Peace On My Mind" reveal the band's ability to produce accessible pop-oriented music as well. The vocal harmonies work tremendously with the rich instrumentation. "War No More" is a lighter easy listening number building on the album's earlier tracks with lead vocal underscored by lush arrangements and vocal harmonies.
"Wait And Wonder" combines the best of the group's acoustic guitar and piano arrangements with lusher instrumentation and Lucinda's tender yet lush vocal treatments. "The Deep" is slower, more contemplative and bluesly, Lucinda's vocals soaring well above the arrangements self-backed with an occasional whisp of Andy's vocals in there as well. The woodwind instrumental solo is superb.
The band's virtuousity is further illustrated in the Enaesque track "Seabird," which is dominated by vocalise joining string and light electronic arrangements. "Here Where You Lay" is a very slow and meditative tune; listen to the virtuous string, keyboard and piano work within it. Accompanied by the tender instrumentals, Lucinda's voice carries it to conclusion. The album wraps up with the slow yet anthemic tune "The World Is Lost To Me" and spoken texture of the meditative Yoga-inspired number "Returning Home." A tender solo vocal hidden track sung brilliantly by Lucinda is buried in the extended closing piece.
The follow-up Bliss album is a clear step from the band's debut. Blending some accessibility of Luce's debut album with new age sounds it is worth a journey. Order it from the band directly--it is a must listen!
Suicidal Angel
| | |
| --- | --- |
| Image © Edel Music 1996 | |
Recorded under the moniker Luce Drayton, Suicidal Angel (Edel Music (UK) 00979EDL, 1996) is a twelve track collection of varied and accessible pop songs with a total run time of almost 45 minutes. The singles "Dreamer," "I Said Hey" and "To Be Loved" were also released. Like the album, they are out of print collectors items at this writing.
The album opens with the evocative ballad "Dreamer." Luce's soulful voice is accompanied by modern rock instrumentation, lushly arranged especially in the chorus with plenty of backing layers and thick guitar. "I Said Hey" has the accessibility expected of a single with Luce's vocal power never being compromised by the instrumentals. The electric guitar solo is tremendous. The acoustic guitar foundation, keyboard washes and sensual vocals in the gentler "Drown In You" and "Holding On" provide insight into the roots of Bliss. Further guitar and bass rhythms in the former contribute to the broad appeal of the track.
Luce's vocals soar in the bright and breezy mid-tempo rocker entitled "Alone" which is certainly as strong at this writing as when it was originally recorded. The band lets loose with vast guitar excursions in the powerful "What About The Sky." And the album standout "Bitter Blisters" is a dramatic and evocative rock track with wide ranging vocals. We especially enjoyed the orchestral keyboard part during the instrumental bridge. It shows that not only Evanescence can produce an album with highly varied stylings.
Perhaps the most insightful of what was to follow is the mid-tempo "La La La." Luce's lead vocals are perfectly complimented by backing harmonies and pop-styled instrumentation. And as if to continue in the same directly, in "All That Vain" Luce's whispy vocals are supported by tender acoustic guitar, standup bass and the occasional keyboard wash. Evocatively soaring vocals emerge above the guitar-laced arrangement in the upbeat "To Be Loved" that follows.
Layers of vocals perfectly compliment the arrangement in the track "Tears Of Our Youth." Guitar, percussion and keyboard blend well in the foundation of the verses. The album comes to a rousing conclusion with "Kiss The Blues Goodbye," an evocatively sung ballad accompanied by a lovely piano melody. Understated vocal harmonies add texture to the otherwise simply arranged track. It is a testament to Luce's tremendous vocal prowess.

Read further reviews, listen to soundbites and order Suicidal Angel at amazon.com here. While browsing you might also find second hand copies of the three rare singles. Clearly worth a trans-Atlantic journey, Luce's debut album is a must listen! <! do not remove these lines>
---
Return to website contents
---