Originally brought to our attention by her debut album Spirit and contributions to Loreena McKennitt's albums, Caroline Lavelle's music has drawn significant attention and critical acclaim from our editorial staff and frequent visitors. We were pleased when Caroline approached us prior to the release of this latest project, A Distant Bell and agreed to work with us on the indepth and exclusive interview presented below. Our review of the stunning album follows.
2004 Interview
Musical Discoveries: A Distant Bell is the name of your new album which explores the acoustic-traditional-folk genres. What inspired you to do a more traditional-folk album this time around?
Caroline Lavelle: Well, I found that with Brilliant Midnight, it took me ages to complete because I was doing so much sound manipulation. I would sit at the computer for hours and hours. A Distant Bell is possibly a reaction to that earlier and lengthier recording process.
With the new album, I just wanted to record a human being playing at the beginning of a song and ending at the end--with great musicians playing really beautiful parts. I really solidified the idea last year when I was in America touring with the Chieftains. I loved the fact that we could go from city to city and just pick up our instruments and play. Performing some of the songs off Brilliant Midnight would be much more difficult.
I really wanted to make a record that also reflected my musical roots. My mother is Irish--from County Mayo--and used to sing me old songs when I was a child. The first piece of music I wrote was actually a jig--it was rubbish. Actually, I remember saying to my grandmother when I was eight "Oh, Beethoven writes like me!" and my grandmother said "I think it is the other way around. You write like Beethoven ... in your dreams."
Is there a particular meaning or inspiration for the title A Distant Bell?
The feeling that I wanted to convey is an echo across time. In England, you can stand and sometimes hear distant bells ringing from far away. And the bells may be ringing for a joyous occasion or a sorrowful occasion. Some of the traditional songs on this album have been around for years. In one sense, their melodies cross time to the present.
| | |
| --- | --- |
| Image © Ringing Tree Records 2004 | |
The title also conjures up positive images for me--sunshine and warmth. I tried to make this record a bit more happier than some of my earlier work. It is quite funny, because my personality is a "daytime" personality. I tend to be very outgoing and I enjoy conversation and having a good time. But I suppose that the more silent secret part of me that I tend not to reveal as much seems to go into the music. At any rate, I really like to explore a broader emotional canvas with my music.
On the new album, you've worked with quite a few exceptionally talented musicians like Harvey Brough, Paddy Moloney, Hugh Marsh and Triona Marshall among others. Is it a more time consuming process to record their various instruments layer upon layer or more difficult to do something like you did with William Orbit on your first album Spirit
It is actually quicker to work with the live players. You usually have them for a set amount of time, and so at the end of the day, you had better have gotten things right!
Do you have a personal favorite song on the new album?
It really depends on the day. I think with this album, I've weeded out more songs than on the others. I wanted this album to be a bit shorter than Brilliant Midnight. I thought it was important that liseners be able to relax and listen to the entire album in one sitting if they wanted to. Funny enough, several of the tracks that will not be on the final version of A Distant Bell are some of my favorites. I really went back-and-forth trying to decide which tracks to include and which tracks to omit. However, fear not: the ones that I removed will reappear at some point.
"Gently Johnny" is a fairly risque folk song from the medieval period. What is the story behind its inclusion on the new album?
I think it is such a gorgeous, lovely song. In truth, I really just like the song. When I first sang it, I thought "I could never play this for my dad." So, I rang up my mother and told her that I was including a slightly "rude" song on the album. She said "Oh, don't be silly. Where do you think I've been for the last 70 years!" She's probably seen alot more than me. When "Gently Johnny" was collected, the original lyrics were actually changed to give it a more tame connotation--somewhat of a sanitized version.
You've adapted two poems by Brian Patten to music for your new album--"Innocence Sleeping" and "Simple Lyric." The lyrics for "Sleep Now" from your first album were also drawn from a poem by Brian Patten. What is it about his poems that translate so well musically for you?
I love the fact that his work is so very immediate and direct. If you read his poetry you will find layers and layers to his words. I love the way that he paints pictures with his words. And he can do it from a woman's point of view. Brian seems to know so much about women. His writings are so intense and beautifully erotic at the same time. He creates living, breathing characters with his words.
Before meeting Brian, I had purchased so many of his love poems and given them away. And so many of my girlfriends bought so many copies and gave them away. It was sort of like a pyramid scheme! So, one day, I plucked up the courage to telephone him. When I called, I spoke with an agent of his. I told her that I really wanted to send Brian some songs. She was kind enough to forward some of my work to him.
Amazingly, I received a small handwritten note from him saying that he enjoyed my work. He was so kind and told me that he was not "precious" about his work, and that I could use as little or as much as I saw fit. I nearly fainted! I went a wrote "Sleep Now" immediately and sent it to him. A short time later I met up with Brian in London and we had a wonderful visit. He has been so generous.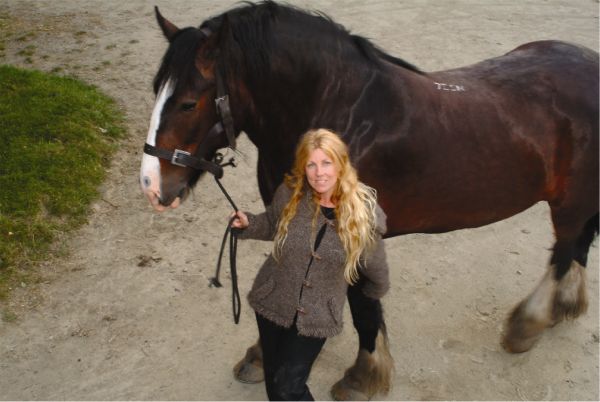 Image © Ringing Tree Records 2004


You are performing live at the Ocean on September 17th. Having toured with the likes of the Chieftains and Loreena McKennitt, how do you feel about being front and center as a player and vocalist?
Actually, it is much more relaxing. I feel such an enormous responsibility to the artists that I tour with that I want to make sure everything is perfect. When I'm playing my own music, I don't feel that pressure. I can tell you, however, that singing is alot easier than playing the cello. The cello takes loads of time to work with. I've been playing since age six. When your that young, though, you really don't remember actually learning specific techniques or notes. I think you just suck it up like a sponge.
Do you have any plans to tour in Europe or Amrerica or Asia with the new album?
I'd really love to go to America or Asia. Right now, the only things that I've got planned are a few dates in Italy in October. Because it is my own label, I bear much of the financial responsiblity for such endeavours. So, I have to plan wisely. But I do love playing my stuff live. When Spirit was released, I was lucky enough to go to the United States to promote the album. I performed in L.A. I had the worst sore throat that night! I felt like I had swallowed razor-blades. But the show went on. Hopefully everyone thought I had a particularly husky voice.
What does the rest of the year hold for you?
Well, I will be collaborating with Hector Zazou a bit. And then in July I will be touring with the Chieftains in Italy. Then, I come back and will begin working on the next record. I've got so many tracks written that really just need to be recorded. I try and leave some free time for writing. I also need to work on the live performance aspect of my art.
Your music contains flavors of classical, folk, pop and electronica. Do you think we'll hear a more electronic album in the future in the vein of Spirit?
Yes, I think so. Hector Zazou and I have been talking about a future collaboration that may be sung in French. It will likely be more electronic sounding. But I will save that for later when we solidify some of the details. Nicola Hitchcock and I did some vocal work on Hector's last two albums. Nicola is a great friend of mine. She does not live too far away. In fact, Brian Patten lives in the area, and so does Tori Amos. Just a while ago, I was on the beach and I ran into Thom Yorke of Radiohead. It was grand! This is really quite a lovely area to live in.
Review
| | |
| --- | --- |
| | Image © Ringing Tree Records 2004 |
Caroline Lavelle, the gifted vocalist and cellist has graced fans with a breathtaking new recording, A Distant Bell released on her own label, Ringing Tree Records. This time around, Caroline has explored further the boundaries of folk/traditional/chamber music. While Caroline's first album, Spirit, was steeped in electronic ambience, several songs on the album (like "Moorlough Shore" and "Sleep Now") evidenced Caroline's interest in folk and traditional music. Her follow-up, Brilliant Midnight (review/interview) was an entirely more organic affair, relying more upon strings, guitars and piano.
With A Distant Bell, Caroline has mined Britain and Ireland's rich musical heritage, offering reinterpretations of traditionals songs as well as several lovely new compositions of her own. As part of this endeavor, Caroline collaborated with many prestigious musicians including Paddy Moloney (whistle), Harvey Brough (acoustic guitar, psaltery, cor anglais, backing vocals, piano and accordion), Alec Dankworth (bass), Triona Marshall (harp), and Hugh Marsh (electric violin). The Scottish Festival Orchestra also features prominently on the album. Together, these skilled instrumentalists have created a layered and rich backdrop for Caroline's voicings.
It is obvious that Caroline has a great love and admiration for the traditional songs that she's chosen. Perhaps it is not suprising, however, that some of the best moments on the album come from Caroline's own compositions. The very cool "So Uncool" is a musical and poetic masterpiece featuring piano and bowed string rifts. The chilling "Simple Lyric" is a musical adaptation of a Brian Patten poem. Hearkening back to Caroline's song "Karma," "Simple Lyric" is a mournful and penetrating piece that allows her emotive singing to capture the spotlight.
Caroline boldy presents her take on the "jig" in the jaunty "No More Words." With a fiesty beat and clever lyrics, "No More Words" is the type of song that one would not be surprised to hear in a local Irish-music pub. Caroline's interpretations of the traditional songs "Banks of the Nile" and "Greenwood Laddie" are stunning and evocative. Like her associate, Loreena McKennitt, Caroline wonderfully captures the otherworldliness of a distant time while imbuing new life into old songs.
On "Handful of Ashes," Caroline revisits the works of Armenian poet Siamant'o using filmic and ghostly strings to striking effect. "Timeless" is one of the best tracks on the album both musically and lyrically. What is doubly impressive is Caroline's undeniable poetic gift for writing potent lyrics such as: "Young love is honed so sharp that the blade can snap embedded in your heart, and when you move you feel the ache, though the face that caused it fades."
Caroline Lavelle's greatest strengths have always been her poignant and captivating voice, her powerful cello-playing and her ability to write gorgeous lyrics and melodies. A Distant Bell serves as a reminder of these strengths and is a showcase for a superior talent in the music arena.

<! do not remove these lines>
---
Return to website contents
---