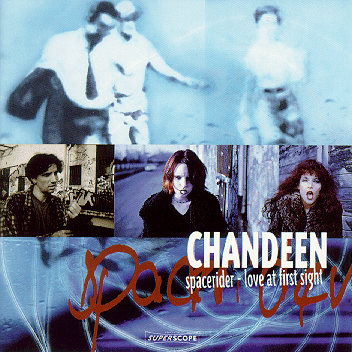 Image © 1998 Synthetic Symphony
Catalog No. SPV 085-62072 CD


Album Review
© Russell W Elliot 1998
Last Updated: 21 September 1998
---
Chandeen - now Stephanie Härich, Harald Löwy and Antje Schulz - release their fourth major album Spacerider - Love At First Sight on 28 September 1998. The album is the band's first on the SPV Synthetic Symphony label. Additional instrumentals are again provided by Axel Henninger and Dorothea Hohnstedt while Joi Härich enters the fold to do backing vocals and Florian Walther adds additional instrumentation. The steadfast Michael Schwalm again provides additional sampling and is obviously responsible for the album's stunning imagery - a clear Chandeen trademark.

Chandeen's new album indeed represents a significant shift in overall style from the three former full length albums, their recent compilation - A Taste Of Ginger - and four accompanying EPs with a broadening of their sound. While the new album may well appeal to first time Chandeen listeners, we believe that those who have heard their earlier work will have a deeper appreciation for the changes that have been introduced and the overall sound of the new album. Clearly worth a journey, we've rated the album three stars plus (***+) and recommend you listen to it at your local CD retailer soon.
Chandeen ~ Background
Chandeen released their first album, Shaded By The Leaves, in 1994 when Harald Löwy, Oliver Henkel and the two gorgeous female vocalists Antje Schulz and Catrin Mallon began Chandeen. The group, whose sound was originally more Gothic than progresive, but in a heavenly vocals vein, were also accompanied Axel Henninger (acoustic guitar) and Dorothea Hohnstedt (German flute).
While Löwy's composition and supporting instrumentals are outstanding, Chandeen have always been a vocal band, with a trademark being the way their albums alternate lead vocals between the two featured female vocalists track to track. On their premier album, the leads alternate, but the artists sing more together with one doing backing vocals for the other, moreso than on any of their subsequent albums.
Chandeen's second album - Jutland - was released in 1995; the band lightened their sound a bit, but vocals were strictly alternated track to track between Catrin and Antje with the two styles clearly differing signficantly. The Jutland single "Strawberry Passion" featuring Antje's vocals is reminiscent of the most popular tracks by Enya. The Jutland track "Drift" was the last recording to feature Catrin and Antje singing together.
Catrin Mallon and Oliver Henkel left Chandeen after Jutland when tensions between the two pairs of artists reached an unacceptable level. In a 1996 release on the Cleopatra label, Catrin and Oliver became 'Edera' and released the richly instrumental album Ambiguous, engineered and mixed by Axel Henninger. The work shares the darker Gothic texture of the first Chandeen album and more instrumental experimentation.
Stephanie Harich joined Harald and Antje for the first time appearing on Chandeen's 1995 EP, Light Within Time where she sang lead vocals on "Change" and "Imagination." In 1996, The Waking Dream emerged as what would become the final Chandeen release on the Hyperium label. In traditional Chandeen style, the lead vocals alternate between Stephanie and Antje. An accompanying single - "Papillion (It's Easy To Fly)" - was the first CD to release a live Chandeen recording. Further live tracks were released in 1997 on the Cleopatra label Chandeen compilation A Taste Of Ginger.
The New Album
Spacerider - Love At First Sight is an album with many different styles and textures. The songs work well together, however a couple of the tracks are quite different from what we would typically expect from Chandeen. Broad-minded listeners should enjoy the variety.
Clearly the two most accessable tracks from the album are "Mirror" and "Mighty Loreena." The former, with Antje's lead vocals, is very reminscent of the most upbeat tracks from The Waking Dream however the song has a more popular sound and it should appeal to the broadest range of audiences. "Mighty Loreena" has a similar overall sound, yet is has been enhanced with further instrumentation; Stephanie's brassier style gives it a slightly harder, but very enjoyable, edge.
The album opens with the largely instrumental overture-style Löwy-penned "In Love" which, despite it's evidently industrial style, shows off the guitar talents of Florian Walther while subduing vocals to an almost imperceptable level. The title track "Spacerider" opens opens with a gorgeous flute passage before being joined by further instrumentation and ample guitars. Stephanie's strong vocals swarm in as the instrumentals back off. Acoustic guitar is the featured accompanyment for the initial lyrical portion of the track, which is destined to become an excellent single, with it's hooking chorus reminiscent of the "Papillion (It's Easy To Fly)" remix from the compilation album.
"Be With You" achieves a bluesy-country and western flavour from the slide guitar element, but again is a perfect illustration of Stephanie Harich's stunning and broad range of whispy, yet brassy vocal styles. A highly accessible almost slow dancing song, this is new Chandeen territory for sure. "Time Walk" has a jazzy feel to it, but it's joined with unique industrial cyberspace overtones, a bit like "In Love." Acoustic guitar solos compliment Stephanie's voice in the instrumental bridge between the dreamy and whispy vocal passages.
Antje's "Skywalking" is a stunning 'experimental' pop song featuring lush instrumentals, screaming guitars and her unique vocal style. The chorus and the following "Siren's Call" are both written and performed in a similar vein that perfectly illustrate Antje's ability to sing emotionally soft and sweet, almost whispering at times, as well as her ability to 'belt' out a tune and sustain notes for the longest time.
The amazing "Mirror" opens with a fanstastic guitar-led instrumental introduction before Antje's vocals kick in. This is a highly upbeat song with tender lyrics, a fantastic chorus and excellent intrumental backing. Backing vocals have been treated specially and perfectly accompany Antje's lead adding depth and additional presence to the song. The track is yet another perfect illustration of Antje's wide range of vocal talents. Clearly this highly accessable track would make an excellent foundation for another single and one where we hope the band will release album and remix edits - perhaps even a live version will emerge.
In a style similar to "Time Walk, Antje delivers the dreamy "Song Of The Green Meadow" accompanied by additional backing vocals and bizarre computer noise. While the vocals are stunning, the song doesn't develop with any structure and we found it hard to get firmly into.
Electric piano and acoustic guitar provide the foundation for "Love Flag" which opens into a wonderful and highly progressive rock track. Showing Stephanie's ability to vocally soar, the track contains a variety of rhythms and ambient sounds illustrating Harald Löwy's growth from the earlier Chandeen albums.
"Where I Want To Go" is a new ballad featuring Antje's vocals and light instrumentals mixed with the scratchy sounds of an old record. While the track has the raw ability to be as good as the stunning and vaguely similar "Fire And Water," the scratchiness tends to work against what the song could ultimately be.
The upbeat and fun "Mighty Loreena" features a wide range of instrumentals including almost-marimba sounds amongst other samples used to underscore Stephanie's soaring vocals. Another clear candidate for a single, the highly accessible "Mighty Loreena" is a track that would also work well in alternative remixes or perhaps even a live version on a subsequent release.
The dreamy "Love At First Sight" concludes the album with whispy Stephanie vocals joining the wide variety of dance-oriented instrumental textures Löwy puts down. A seemingly unrelated bonus element from Sesame Street (my children tell me) follows five minutes after the short final track concludes.
Spacerider is clearly a step away from Chandeen's earlier albums and one that should widen their audiences. The album has a number of terrific tracks with differing styles making the album one that should appeal to listeners in progressive, folk and perhaps even new age markets. In the months following this album's release, we hope to see additional singles emerge from the album and live performances and hear about a touring schedule to promote the album.
Click here or on either the album or single cover images to visit Chandeen's official website.
The first single from the album - the title track
Spacerider including a remix by Daniel Myer (Haujobb).
Siren's Call is also included.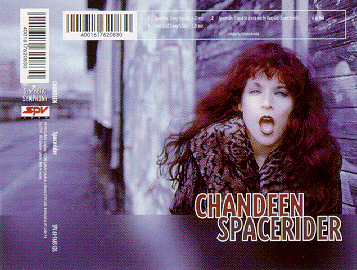 Image © 1998 Synthetic Symphony
Catalog No. SPV 055-62083 CDS
---
Return to website contents
---