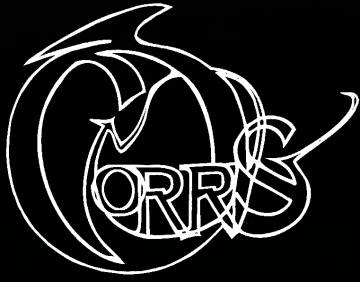 Concert Review &nbsp © 1998 Russell W Elliot
Last Updated: 07 June 1998
---
We saw The Corrs at the last show of their UK Talk On Corners tour in Croyden just over two months ago and as you'll see in our review, it was simply an outstanding performance. Every seat was taken and others lined the walls of the sold-out Fairfield Hall venue. So when we heard that they were returning to southern England on their Summer 1998 tour, we jumped at the opportunity to see them again and were fortunate to get reasonable seats not far behind and above the engineering consoles. As hard as it was for us to imagine when we bought the tickets as it mightbe for those of you reading this review, the Portsmouth show was better than Croyden in many respects. The Portsmouth Guildhall was also sold out. No seats were available.
Although their studio and now live recordings are stunning in all respects, The Corrs must be seen live to fully appreciate their talents. A good taste of the sound can be heard on their recent Live At The Royal Albert Hall "Dreams" EP, and we were told a video to commemorate their 17 March 1998 performance there will be released later this year.
Again Picture House opened the show, which began precisely on time. This lively Dublin-based band played a thoughtful set of upbeat rock songs and quiet ballads with a sound that might remind some of REM. They have a knack of getting the crowd thoroughly involved and this performance was no exception. Songs were played from their new album Shine Box which was plugged during the show along with a couple of singles that they quite willingly autographed for new fans during the half-hour interval. Their 45-minute performance concluded to grand applause from a crowd that appreciated the talent, style and energy of a terrific support band. It seemed that we weren't alone in being familiar with their music with their fans standing up dancing at the back of the hall throughout the performance.
As in Croyden, The Corrs came to a darkened stage while a recorded introduction was played. The band took over as the lights came up and their performance opened with "When He's Not Around" to intense applause. They played song after song from their Talk On Corners Tour set, with Andrea dropping in occasional commentary between tracks. Their incredible energy was evident throughout the show but it was Andrea's performance particularly that was a significant notch above the Croyden show. She seemed far more animated and at ease improvising her vocals to the vast acclaim of the audience. The Corrs' show is a high-class operation with good staging, super lights and fantastic audio.
Here's the set list which, we were quick to note when preparing this review, is identical to what they played at Croyden:
Main Set:
When He's Not Around
No Good For Me
Love To Love You
Erin Shore
Forgiven Not Forgotten
Joy Of Life
Intimacy
What Can I Do
The Right Time
Queen Of Hollywood
Dreams
Instrumental
Haste To The Wedding
Runaway
Only When I Sleep
Hopelessly Addicted
I Never Loved You Anyway

Encores:
So Young
Toss The Feathers
This concert was engineered far better than the Croyden show and we expressed our delight along with others from the audience to their lead audio engineer after the show. It turns out that he also did the Clannad concert we saw in Portsmouth a couple of years ago. The vocals were taken way up. Andrea's lead and Sharon's backing vocals were crystal clear and separated from the instruments and despite her intensity, Andrea's full voice was carried without distortion to full effect. We gained a real appreciation for Sharon's vocals at this performance. She should have the opportunity to sing either a stronger backing or lead vocal part in the future as she has an absolutely fantastic voice.
We were also very impressed with the staging despite the addition of an array of floor monitors which had been pleasingly absent in Croyden. Also gone was the scaffold running above but behind the band, however Caroline's drum platform was lowered and her position behind the set was substantially improved so she could be seen. As in Croyden, it was a real treat to see Caroline drumming. She is perhaps the unspoken, maybe even an unacknowledged, star of the band and to some of us her sheer energy and perfect precision makes her one of the best drummers on the scene today. She did another fantastic bodrain solo in the instrumental following "Dreams."
All four of The Corrs family members had a chance to demonstrate and show off their talents through the show. In addition to her super violin and fiddle playing along with the band, Sharon did a couple of fantastic violin solos and one number on her own. Jim showed off what he can do on guitar and keyboards and in addition to her bodrain solo, Caroline also had a short drum set solo in "Toss The Feathers" played in the final encore. Andrea's stunning vocals and animated stage performance were of course the main feature of the show for many of us, but her tin whistle parts were also outstanding and must be seen live to be fully appreciated. She is as gifted instrumentally as she is with stage performance and lead vocals. Since a full standing ovation ended the main set, the entire audience remained standing following a stage rush for the encores.
A good friend commented, "they really do sound great but I had no idea of the visual impact they would make before seeing them." A translation of her comment: the three women are simply drop-dead gorgeous. We couldn't agree more. However, we hope Andrea will toss the top she wore for this performance as she must have better-fitting stage clothing. The tiny straps wouldn't stay in place for more than a few moments at a time; she had to keep pulling them back up to prevent her top from falling down!
The Corrs Live at The Royal Albert Hall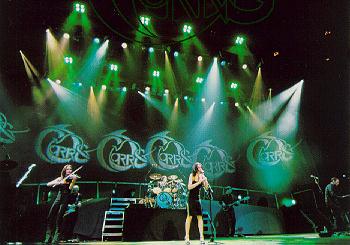 Sharon (violin), Caroline (drums), Andrea (vocals) and Jim (keyboards)
Photo by Brian Rasic

The Corrs Tour Dates - See Them Live!
June
(USA)
13th New York Fleadh - NY
17th Alexandria - VA
20th Chicago Fleadh - IL
28th Bay Area Fleadh - CA
29th Los Angeles - CA

July
5th Odense - Denmark
8th Luxembourg
10th Koln - Germany
12th Llieda - Spain
15th Montreux - Switzerland
17th Zeebrugge - Belgium
18th Chateaux Arnoux - France
19th Bern - Switzerland
21st Lyon - France
All in all, like Croyden but better, this was an outstanding show. The band have a clear and loyal following in southern England demonstrated by the sell-out crowd and their obvious familiarity with the band's songs. The applause following the main set was incredible and ear shattering. "Dreams" has climbed high in the charts and The Corrs' rendition was obviously appreciated by the crowd during this performance along with the array of songs from their prior two albums. Since the Croyden show, The Corrs have re-released Talk On Corners with "Dreams" added and have released two singles based on the song. Clearly these CDs have been well received by the public. The manager of our local CD shop says that the band have really made it. Yes, they have and if you have not seen them live, you must do so to fully appreciate their talent. Check out their tour dates below.
---
---