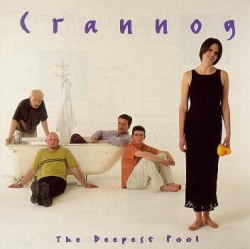 Image © 1998 Crannog Music Partnership
Click on image to visit Crannog's webspace

Limited Edition Compact Disc
Review © 1998 Russell W Elliot
Original Review: 10 May 1998 | Last Updated: 27 March 2000
---
Issue 19 of the Capercaillie Fanzine Sidetaulk - published by friends David and Mandy Shanks - had a short article on the up and coming Inverness-based band Crannog. It was David's personal recommendation in a subsequent e-mail that pushed me over the edge to write away for their debut compact disc.
The CD features five highly polished tracks that were recorded primarily to promote the band commercially. The sound is stunning in every respect and at the end of the first listening, I longed to hear more. Fortunately, their manager enabled me do so and it's a pleasure to give their music a very positive review here and my highest rating. Their compact disc is fantastic (****); now we've just got to get to a live performance!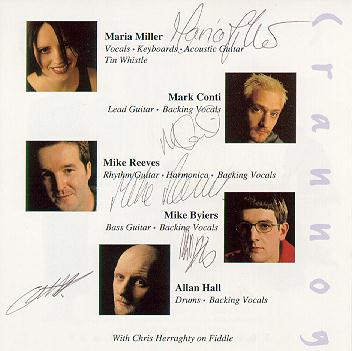 You can hear Celtic roots in their music but the band have developed their contemporary sound from other alternative sources. Clearly a highlight for me are the strong lead vocals provided by Maria Miller pictured right.
Like many contemporary Celtic crossover bands including one of my favourites - The Corrs - the lead vocalist is also a multi- instrumentalist. Backing vocals are provided by the rest of the band across a small array of tracks that cover a relatively broad spectrum.
Here's the track list:

The Deepest Pool
Take Me Away
Step Back
The Porter Black
Bumpy Roads
The Deepest Pool begins with a contemporary mix of guitars and percussion before Maria's voice breathes a unique life into what has become a very popular song amongst Crannog growing fanbase. The song has a strong hook and it might even be classed as pop by some. The instrumental work is excellent throughout and kept in perfect balance with the vocals. Keyboards perfectly underscore the guitars.
Take Me Away is a modern ballad with very soft backing when Maria is singing lead. The band comes alive in the chorus and kicks into high gear--solo parts in what might be a bridge shows talents of other band members. This is a song where Celtic roots meets Country and Western in its sound at times. This song is one that shows the Maria's raw talent, true dexterity and extensive vocal abilities. Maria shows a vague style similarity to Sinead O'Connor in the choruses.
The lead guitars in Step Back show the band's talent to mix it up and play progressive contemporary music. Here Maria's soaring multilayered and well engineeered vocals again add a layer of sensitivity and emotion. The instrumental bridge includes excellent percussion work and highlight's Allan Hall's skills.
Perhaps the most traditionally-based song included on this CD is the song The Porter Black. This song really moves and is very reminiscent of Karen Matheson's "mouth music." This song actually has English lyrics that Maria sings quickly backed by the full band with unique traditional fiddle parts provided by Chris Herraghty. I loved the tin whistle solo near the end of the song. By this time in the CD it's clear that the band has tremendous virtuosity and a unique ability to interpret pop, rock and traditional music in their own style.
Bumpy Roads concludes the CD. Similar in style to "The Deepest Pool" and "Take Me Away" the song features soaring lead guitar, the full band and Maria's stunning vocal work. The guitar solos are done on acoustic and electric instruments, and once again they have multi-tracked and engineered Maria's vocals to give the song a unique warmth.
In conclusion, I must say once again this is a great CD. For the mere six pounds sterling that it costs, even with a short running time, it remains a real bargain. Get one before they are all gone. They are certainly going to be signed soon and commercial success is not far away.
Like Capercaillie, October Project and The Corrs this is a band that must be seen live to be fully appreciated. As soon as a tour schedule is obtained from their management, we'll post it here. Let's join them at a live gig and give them our support.
For more information about Crannog or to
purchase their limited edition CD write to:

The Crannog Music Partnership
PO Box 5857
Forres, Moray
IV36 0EN
United Kingdom
---
---