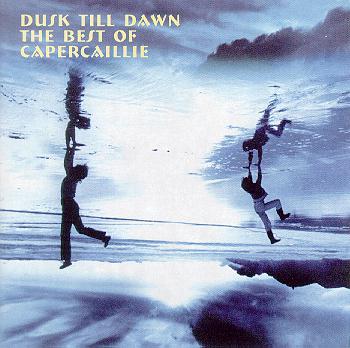 Image © 1998 Survival Records Ltd.


Album Review
© Russell W Elliot 1998
Last Updated: 04 October 1998
---
Issue 20 of Mandy and David Shanks' Official Capercaillie Fanzine Sidetaulk contains results of their readers' favourite album and favourite track poll. Seven of the poll's eight top tracks and selections from all five of the poll's top albums have been indcluded on Survival Records' first Capercaillie compilation album - Dusk Till Dawn The Best of Capercaillie (SURCD 023). This is a superb CD and an excellent introduction to a fantastic modern Celtic band. If you've not heard Capercaillie before, the album is certainly worth a long distance journey which earns it our four star (****) rating.
Sixteen tracks from six of the band's prior albums have been included. Recorded in November 1993 at London's Dominion Theatre, the seventeenth - "Breisleich (Live)" - makes its CD debut on this album. Lincensing arrangements precluded the more traditional tracks from the band's first three albums - Cascade, Crosswinds and Sidewaulk - from being contained within this first compilation of the band's work. A lovely booklet with band photos and a passionate band history by Colin Irwin is also included in the stunning package.
Often when discussing progressive Celtic music with colleagues, we mention Capercaillie. Two questions seem to arise immediately. "What do they sound like?" is often the first. The answer often involves making comparisons to Clannad, Iona and some other artists and leads to another: "OK then, what album should I listen to first?" And that's where we typically got all caught up. We have never been able to decide between Delirium and Secret People. The answer is now very clear; it's "Listen to Dusk Till Dawn. You can't go wrong with this album."
This album is a perfect balance of the band's work. Here you will find Karen Matheson's stunning vocals and her unique "mouth music." There is also a sampling of of Capercaillie's "dance music" from the self-titled album and their unique treatment of traditional Celtic reels and jigs as well. And most importantly the album balances the work from Secret People, Delirium, Get Out (with it's wonderful live tracks) and the two most recent new albums To The Moon and Beautiful Wasteland. The two new remixes and previously unreleased live track make the CD a must for the band's keenest fans and completists.
An almost complete discography of the band's recordings can be found at their official website. The albums have all been thoroughly reviewed in the media with further details now available on the worldwide web. The liner notes contained within the CD booklet of Dusk Till Dawn provide a thorough and passionate band history so we'll conclude this review with a track listing and a bit of further very interesting information.
Dusk Till Dawn The Best Of Capercaillie
| | |
| --- | --- |
| Track Name | Originally From |
| Coisich A Ruin | Delirium (1991) |
| Miracle Of Being (Youth Remix) | Capercaillie (1993) |
| The Tree | Beautiful Wasteland (1998) |
| Ailein Duinn | To The Moon (1995) |
| Grace and Pride | Secret People (1993) |
| The Whinney Hills Jiggs | Secret People (1993) |
| Claire In Heaven | To The Moon (1995) |
| Outlaws | Get Out (1992) |
| Inexile (1998 Remix) | Beautiful Wasteland (1998) |
| Seice Ruairidh | Secret People (1993) |
| Kepplehall / 25 kts | Beautiful Wasteland (1998) |
| Tobermory | Secret People (1993) |
| Waiting For The Wheel To Turn | Get Out (1992) |
| Nil Si I nGra | To The Moon (1995) |
| Four Stone Walls | Secret People (1993) |
| Dr. MacPhail's Reel | Delirium (1991) |
| Breisleach (Live) | Previously Unreleased (1993) |
Aside from a live performance, Dusk Till Dawn provides an excellent introduction to Capercaillie. Click here to check out our concert review written during the band's Beautiful Wasteland tour.
An important message to Capercaillie devotees is included on the final page of the booklet accompanying the CD:

In 1996 Capercaillie were filmed overnight for a television programme
"From Dusk Until Dawn With Capercaillie at Glenfinnan" which marked the 250th anniversary
of Bonnie Prince Charlie's uprising in 1746.
Drawing strongly from songs written at the time this nine track CD
is now being made available by mail order.
For details please visit the Capercaillie website: www.capercaillie.co.uk
or write to Survival Records, PO Box 888, Maidenhead, Berks SL6 2YQ.
E-mail: survivalrecords@compuserve.com
Capercaillie E-mail: secretmusic@sol.co.uk

Dawn To Dusk The Best Of Capercaillie is released on 19 October 1998 througout the UK. Distribution and release in other parts of the world may vary.
---
Return to website contents
---