Back when Musical Discoveries was only a distant dream of our editors, Eimear Quinn had already established herself as a featured soloist in the Irish choral group Anúna. Of those that have pursued a solo career after working with the ensemble and their involvement in Riverdance—others include Méav Ni Mhaolchatha (review), and Katie McMahon—Eimear Quinn's career has taken a different route.
Our feature article reviews her work on the stunning reissue of Anúna's Omnis and reviews her solo recordings "The Voice", Winter, Fire and Snow and her new recording with Clannad's Pól Brennan Through The Lens of a Tear. Eimear has also recorded the Tom Petty song "Angel Dream" which appears on the Winter's Tale compilation. She sang on the title music for soundtrack of Stille Waters as well. The artist's background, courtesy of Decca Music, is also included within this article.
Eimear has been singing almost since she could talk. "Apparently, I used to dance around the house pretending to be an opera singer!" she says. She joined her first choir at the age of four and hasn't stopped enchanting audiences with her soft and pure—yet full and strong—tones since. She began piano lessons at the age of ten and at fifteen started formal vocal training at the College of Music in Dublin where she quickly developed a passion for early music—a genre which perfectly suits the quality of her voice.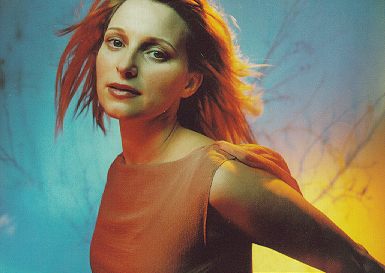 Image © 2001 Decca Music Group


It was this quality that led to her joining Anúna—the Celtic chamber choir of Riverdance fame—in 1995, one year after the ensemble's performance of the opening number "Cloudsong" in the Eurovision Song Contest interval. Eimear sang as one of the their principal soloists for a year-and-a-half in cities all over Europe, appeared in several performance of the phenomenal Riverdance and recorded two albums (Omnis and Deep Dead Blue) with the group.

Omnis (Special Edition, 1997)
Image © 1995-1997 Danú Records


Omnis. Although the initial release of the album was restricted to Irish distribution a subsequent "special edition" by Danú Records (CD 08, 1997) was entirely re-recorded and features four tracks not included originally. Directed by Michael McGlynn, Eimear Quinn is the featured soloist on five of the album's sixteen tracks. As a choral group, Anúna's work is largely performed a capella with only an occasional Celtic instrument accompanying.
Omnis opens with the traditional "Gaudete," with a lush vocal arrangement underscoring the calling and ringing crystalline soprano voice of Eimear Quinn—a perfect introduction to the range and power of this stunning voice. Solos by Méav Ni Mhaolchatha, Caron Hannigan, Miriam Blennerhassett, Monica Donlon also grace the album. Eimear returns with a solo in "Diwanit Bugale." This track, added in the Omnis "special edition," is a Michael McGlynn arrangement of the French 1996 Eurovision Song Contest entry written by Dan Ar Braz. This beautiful song, sung in the Breton language combines in an innovative way the Breton and Irish traditions. Eimear's performance is sweetly sung, crystalline in texture, with her voice soaring well above a rich choral arrangement.
The pair of tracks "Ave Generosa" (solo by Máire Lang) and "O Viridissima" (solo by Eimear Quinn) work together as a perfectly matched set with soaring vocal layers contrasting Irish harp and violin. From the liner notes, "Hildegard of Bingen (1098 to 1179) has only recently achieved the level of acclaim accorded to her in the Medieval ear. Besides being an author and a poet, she wrote some of the most beautiful vocal music of the Middle Ages." Interestingly "Ave Generosa" is a short extract (0:35) from one of these exquisite chants. "O Viridissima" continues seamlessly and "is a reaction both musically and textually to the erotic, ecstatic and spiritual nature of her work." One can not help but be aroused by Eimear's soaring soprano lead.
In "Salve Rex Gloriae," Eimear's solo vocal is featured in the background sharply contrasting by John McGlynn's lead and a thicker than usual instrumental arrangement. Irish harp perfectly supports Eimear Quinn's and Méav Ni Mhaolchatha's solos in "The Mermaid," a lovely vocal track featuring two of the ensemble's very best vocalists. Only with many repeated listenings will one be able to discern the difference between the two singers.

The Voice (CD single)
Image © 1996 Polydor Records


The Voice. While singing with Anúna in the magnificent setting of Dublin's St Patrick's Cathedral that songwriter Brendan Graham spotted the distinctiveness of Eimear's voice. He immediately asked her to sing his song "The Voice" for Ireland in the 1996 Eurovision Song Contest.The beautiful ballad, with its Celtic instrumentation and ethereal vocals was very different from typical compositions and went on to win the contest by a huge margin.
"The Voice" (Polydor Ltd (UK) 576 884-2, 1996) is certainly one of the all time most stunning Celtic numbers written, recorded and sung. Eimear Quinn's crystalline voice is a perfect match for the blend of traditional and modern arrangements. With a Eurovision and radio friendly running time of exactly 3:00, the rare single also includes an instrumental-only version of the piece. Eimear's vocals soar above violin, other strings, whistle and traditional percussion which perfectly fill the brief instrumental bridge.
With her haunting voice and matching willowy beauty, Eimear was set on the road to stardom. But the then 23-year-old showed that she had brains as well as a show-stopping voice by putting her education before her singing career. Although she already had a degree in town planning, she had continued her studies and had one final year towards a music degree to complete. However, so many opportunities were coming her way and something had to give. "I tried to maintain everything, study and music," she explains, "but I just couldn't fit it all in so I have deferred it for a while. I will definitely get that final year finished one day," she says determinedly.
Although the single identified above is no longer in print, "The Voice" also appears on the Faire Celts compilation (review).

Winter, Fire and Snow (EP)
Image © 1996 Peach Records


Winter, Fire and Snow. Eimear began to develop her own sound and identity by writing her own material. Her style has been described as very Celtic in spirit but passed through the filter of modern day music and this distinctive trademark is clearly stamped on the EP Winter, Fire and Snow, (Peach Records (Ireland) 001), her only previous solo album released in 1996. Credits in the sleeve notes include Acorn Records, the copyright owner of the "The Voice."
Winter, Fire and Snow is comprised of four relatively short and lightly arranged tracks sung in English. Guitar, cello and oboe support the title track Eimear's crystalline soprano voice is mixed well above the arrangements. The whistle echoes Eimear's vocals in the beautiful ballad and love song "Black Is The Colour." Accompanied by only bodhrán and claps, Eimear's rendition of the traditional "I Know My Love" features her stunning soprano lead with backing vocals by Aimeé Leonard. The EP concludes with Eimear's interpretation of the traditional "The Lowlands Of Holland." Again backed by Aimeé Leonard and supported by acoustic guitar and cellos, Eimear's evocative lead is certain to capture the listener's full attention.
"I was nervous about the industry so decided to learn about it from within by handling every aspect of the release myself," she explains. "It meant that when it came to signing up with a record company, I knew what I was looking for. It has been fantastic working with Decca. They have the ideology of an old-style record company: they are traditional yet extremely innovative, signing an artist like me and undertaking the release of such a different album shows their pioneering attitude. They have been so supportive. It was a total partnership," she adds.
| | |
| --- | --- |
| Image © 2001 Decca Music Group Limited | |
Through The Lens Of A Tear. Co-written and produced by Pól Brennan who wrote all of Clannad's material with his brother Ciarán. The album (Decca Classics (UK) CD 470 049-2, 2001) is comprised of ten average length tracks that work together as an original soundtrack to the legend. Styles vary from one to the next but Eimear Quinn's crystalline vocals and lush arrangements bind the project into a cohesive masterwork.
Through The Lens Of A Tear opens with the gentle ballad "White Sail." Eimear's soft lead vocal is backed with lush Brennan-style arrangements and vocal layers. The low whistle contributes right away to the album's Celtic flavour. Rich and swarming epic progressive and soundtrack-style instrumentals underscore Eimear's calling lead vocal in "Stillness In The Storm," which begins the story. The depth of the album's lush arrangements is immediately apparent as the piece develops.
The soft ballad "Forbidden" blends new age sounds with traditional Celtic elements. Eimear's lead is echoed by well-arranged strings, whistle and Pól's backing vocals. Unmistakably Clannadesque both orchestrally and vocally, one can not help but hear similarities to Máire Brennan and Enya in the dramatic and new agey "Magical Place." Orchestral depth and whispy vocal delivery are everso reminiscent, but Eimear's signature is undeniably well placed within the layers of the vocal arrangement.
One of the album's standouts is "Hunted," an upbeat progressive Celtic masterpiece; tempo variations between the ballad oriented verses and the rocking choruses are dramatic. "Hunted" is held together by Eimear's tremendous and evocatively sung lead and dense orchestral arrangements. A lush Celtic instrumental bridge is a further highlight of the piece. "If You Care About Me" a sensually sung ethereal style ballad with light pop oriented-primarily electronic-arrangements; guitar excursions dominate the instrumental bridges.

Image © 2001
Decca Music Group Limited


Eimear says, "Pól is no stranger to working on concept albums, being the co-writer of the massively successful Robin Of Sherwood soundtrack." She continues, "When I contacted him and told him about my idea, he was totally captivated, so we gave it a go and this wash of sound poured out."
Layers of vocals and modern arrangements support Eimear's evocatively sung lead in the gentle ballad "Return To Darkness." The title track is sung solo evocatively soaring over a light electronic arrangement. The lush orchestral arrangements and stunning lead vocal make "Endless Sadness" another one of the album's standout tracks. Backing harmony vocals add a lovely texture to this rhythmically intensive track. The album concludes with an acoustic version of the opening track "White Sail," featuring Eimear's emotively sung lead accompanied primarily by piano although further strings join during and after the instrumental bridge.
"I got to work with some fantastic people," she enthuses. "Pól, apart from being a great co-writer and producer, is a wonderful musician. Additionally, it was an honour to have David Rhodes—who plays with Peter Gabriel—on guitar. For the programming, we had Leo Pearson, who worked on U2's current album. I adore working with people from all walks of Musical life. Although I have a classical background, and I so love doing choral material, I do enjoy working in an improvised setting, too. I believe that if you love music, you love music!"
Eimear adds, "It is very much string-based but with programming and lovely Celtic harp sounds. We've created a fairly original melange of sound, modern in one sense but timeless in another. There is a classical element with the string arrangements and a pop one with the programming. Whilst we wanted an accessible sound, we also aimed to convey the Celtic origins of the story which is where the harps, barrons and whistles come in," says Eimear. "We used traditional musicians but in some instances we were asking them to play their instruments in a totally different way. It was challenging but great fun," she laughs. "We all really enjoyed it."

Image © 2001
Decca Music Group Limited


The Story. A woman stands at the bow of a ship crossing the seas between Cornwall and Brittany. The sea breeze that blows through her long golden hair also fills the white sail, driving the vessel on to its final destination. It is to be her final destination too, for each of her sea journeys has also been a transition to a different life. The first from girl and princess to woman and queen, and this second crossing from life to death.
The time is that of legend and myth, but the images of her story are still vivid: a white sail far out to sea, proclaiming hope and unwavering love; an emerald ring, sign of remembrance; a sword, a sympbol of bravery but also of exile; a forsts, a rocky coast, both sanctuary and prison; dying flames that signal the time of parting for an undying love; and the sea, eternal and unbounded.
The woman is the Celtic queen Iseult, and the story she tells through these songs is the most enduring of all love stories, that if Tristan and Iseult, a love so all-consuming that it will ultimately demand life itself.
So how does this extremely friendly and happy-sounding artist so convincingly convey the suffering of her heroine? "The inspiration comes from the story itself," the 28-year old Dubliner explains. "It all started when I visited an exhibition in Brittany on The Legend of Tristan and Iseult. I was fascinated to find out that she was an Irish princess and knew that I would so something musically with the story one day. I went off and read everything I could find on the subject and became more and more mesmerised. With Wagner's amazing interpretation, and the way the legend was incorporated into French literature in medieval times, it's Celtic origins were getting lost and I wanted to reclaim them! When I started on the lyrics, they were coming out in the first person—Iseult had kind of got inside me—so not only was I telling the story from a Celtic perspective, it was also from the female point of view."
The Celtic Legend. The story of Tristan and Iseult is thought to have come from the Celtic tradition of elopement tales, specifically from Welsh mythology. Set mostly in Cornwall, there are also episodes in Ireland, Wales and Brittany, making it the only true pan-Celtic legend, the first known written account is from the twelfth century Breton poet Béroul; a later version by the medieval Minnesänger Gottfried von Strassburg established the tale in European culture and was the source for Wagner's treatment of the legend.
The Iseult of legend was an Irish princess, "Iseult of the fair hair," daughter of the high king of Ireland. Tristan, a Cornish prince, takes her from Ireland to marry his uncle, King Marc, the marriage a token of peace between Ireland and Cornwall.
| | |
| --- | --- |
| | Image © 2001 Decca Music Group Limited |
Iseult and Tristan fall in love and embark on a secret and passionate affair, but are eventually found out. They flee to neighbouring Welsh woodlands where they are haunted by King Marc. Marc discovers the lovers asleep in a cave; he takes Iseult's ring, replacing it with his own, and leaves his own sword in place of Tristan's; Iseult may return as Queen, but Tristan is banished forever. The lovers return to Tintangel, where the King allows them a final farewell: when the last log has burned out in the hearth, they must part forever. Iseult gives Tristan an emerald ring, and vows to come to him should he ever send the ring to her.
They live for many years in sorry, Iseult as Queen of Cornwall and Tristan at a Breton court where he has been rewarded for his valour in battle with a wife he cannot love. Mortally wounded in ambush, Tristan longs to see Iseult once more and sends his ship to her bearing the ring. If she returns the crew must hoist a white sail so that Tristan may hold onto his last breath long enough to embrace her one last time. If she is not with them, the sail will be black. Iseult sails to Brittany under the white sail. Tristan hears that the ship is on the horizon and asks his Breton princess if the sail is white. Consumed with jealously, having overheard his confession of love for Iseult, she says that it is black. He breathes his last, and Iseult dies from grief at his side.
Eimear currently lives half of the time in the town and half in the countryside where ultimately she's like to settle. She finds inspiration all around her and has a constant stream of ideas whirling around her head. "Right now though, I can't wait to get this album out," she says. "I'm dying for people to hear it and to get their reactions."
Through The Lens Of A Tear means a great deal to Eimear Quinn—and it shows. The album is certain to appeal to Clannad, Máire Brennan, Enya and Loreena McKennitt enthusiasts. Eimear tells us a good source for her music is the online shop at www.irishmusicmail.com. They have both Through The Lens Of A Tear and Winter, Fire and Snow available. Read further reviews, listen to soundbites and order the album from amazon.com here.

Check out the audio and video segments available at the Eimear Quinn section of her label's website. For those that have followed Eimear Quinn's artistic development, it will be recognised as her most ambitious project to date. Certainly worth a trans-Atlantic journey, it is a must listen!

<! do not remove these lines>
---
Return to website contents
---