click on image to visit Eleisha Eagle's website
Image © Guy Hamlin 2005

Eleisha Eagle
dramatic singer/songwriter
artist reflections and music reviews

review and interview © Russ Elliot 2006
click on images to visit artist's website
special thanks to Guy Hamilin for live shots
taken at Pecos Winery, Roswell, New Mexico
formatted for 800 x 600 or larger windows
Last updated: 29 December 2006

Entirely self-created, the dramatic Eleisha Eagle has capatured the attention of a loyal national fanbase. So much so, that this stunning singer/songwriter has donated tens of thousands to charity from her initial two releases alone.
Eleisha introduced herself to the Musical Discoveries staff earlier this year and enticed us with her debut album Private School and her six-track self-titled acoustic EP and gave us a unique peek inside her life in an extensive interview.
Eleisha is certain to capture an audience from thos following to Charlotte Martin. A double bill would be a site to behold. Her dramatic--not to be missed--live performances to be missed--have yet to be captured commercially. But interested visitors will find a video of a live performance at her MySpace site.
Learn much more about Eleisha Eagle in our extensive interview conducted in July 2006 and our reviews of her debut album Private School and self-titled EP presented below.
Interview
Musical Discoveries: Please tell us more about your background.
Eleisha Eagle: I am originally from Lake Charles, LA. It was here that I started my musical training. I can remember singing and dancing around the living room Madonna's first vinyl record at the age of four in one of my mom's slips. It wasn't long after that my parents enrolled me in dance class and signed me up for classical piano lessons.
I began competing in state rallies and eventually became interested in musical theatre. Around nine years old I joined a children's theatre company, thus beginning my love of entertaining. The next seven years I would spend my summers at various dance and theatre projects around the country, with one in Australia.
In fact, I am currently assisting at Ann Reinking's Broadway Theatre Project, a three-week intensive workshop focusing on dance, theatre, and music that I first attended when I was only fourteen. For the longest time, I thought I wanted to pursue a career in musical theatre. When the time came around to apply for college since my mom was insistent), I decided to only apply to one school with the reasoning that "if I didn't get in, I'd just head to New York and start working."
Where was that?
The school was Washington University in St. Louis; the year was 2000. At the time, the university was ranked twelfth in the nation and tuition was ridiculous. I thought for sure that I would be rejected and then happily whisked away to the world of Broadway. A few days before Christmas, I got a call from the Dean of Students offering me a scholarship to the School of Arts to study Visual Communications. I had mixed emotions about the acceptance. You would have to understand how much I love art, but also realize how much I would miss musical theatre.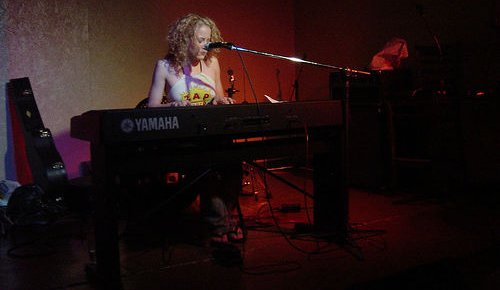 Image © Eleisha Eagle 2006

What was it like?
I spent freshman year of college chiseling away at the basics of a Graphic Design degree. I learned to build websites, work with computer design programs, and even construct 3-D projects with power tools and welding supplies, experiences that later helped me design my own CDs and create my own promotional items. I had a blast in college, but something was missing. When the time came to put on a musical for the children's carnival that Wash U hosts every year, I jumped at the opportunity to participate. Once I was back on the stage singing, I realized what I had to do. I packed my bags and left for Nashville to become a singer/songwriter. I was only going to spend the summer there, then return to school in the fall.
Did you go back to school as planned?
That didn't happen. I spent the next two years sitting in studios around the city, learning everything I could about the music business while waiting tables. After two years of studying and writing songs, I decided to start playing my songs around town. The more I played, the larger my following became. I began working on my debut album, Private School, to sell at shows.
How did you finally release the project?
The record was released at my annual benefit, Eleisha Eagle in Concert, which has raised $36,000 for Children's Miracle Network and my high school alma mater in its two years of existence.
What did you do next?
I eventually decided it was time to move to Los Angeles, where I began putting together a national solo tour. I set out for three months in 2005, returning in January 2006 to record the EP. I left my producer and engineer to the mixing and mastering, then headed back on the road for another four months to promote the then soon-to-be-released record.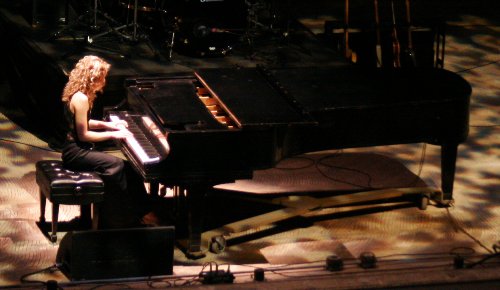 Image © Eleisha Eagle 2006

The EP was released, what are you doing now?
I'm on a break between tours, though I'm working just as hard in my own home instead of in my car. I'll be heading up the west coast in September, and possibly touring a little of Texas before year's end. Plus, I begin working on my new full-length album in November, which will be released early next year.
Did you always more or less know that you wanted to be a musician or did you have other aspirations?
I've always wanted to have a career in the arts, but the ultimate idea ranged from dancing to singing to acting to playing to designing. Now that I have learned the basic techniques of every facet, I hope to move through them one by one. Currently, I'm heading in the direction of a pianist/singer/songwriter. It seems to be the best place for me right now—the most inspiring.
When I was younger I would wake up in the middle of the night with a song in my head and start plucking away at the piano until I got it right. That same thing still happens, so the direction feels right. Being at the Broadway Theatre Project has made me realize how badly I want to write for a musical and choreograph dances to my songs. I want to finish a book that I've been working on.
Then later, I feel like I will turn to graphic design as a means of income when I settle down to start a family. I don't want to be one of those entertainers who is always on the road and never sees her husband or kids. Of course, there is so much that I want to do before I start a family. I'm giving you the tip of the iceberg here.
| | |
| --- | --- |
| | Image © Guy Hamlin 2005 |
Does the music you listen to at all influence your direction?
The music I listen to definitely influences my direction. When I first started writing, I wouldn't listen to anyone because I wanted to find out the core of who I was. Now, I can listen to Ben Folds, Fiona Apple, Hanne Hukkelberg, Sondre Lerche, Bjork, Tricky and mold the influence into my own style. I rarely listen to the radio though.
Do your fans or musical enthusiasts in general compare your work to that of other artists?
My favorite quote that sums up my style is: "Ben Folds ate a Fiona Apple and gave birth to a show tune about a postmodern Catholic school girl." Others have compared me to Regina Spektor, Imogen Heap, Regina Spektor and The Dresden Dolls for various reasons.
Have you heard or seen Charlotte Martin? We certainly believe that a double bill with you both would be a gig to remember!
I haven't heard or seen Charlotte Martin, but I will certainly look her up. Maybe we can put a gig together and party with Musical Discoveries!
Is Eleisha Eagle your real or a stage name?
Eleisha Eagle is my real name. My dad gets credit for that one.
Generally speaking, without support of a major label, how have your two releases been financed?
I was fortunate enough to have a family friend loan me money for the first album. After the first day of the release, I had already paid back half of it. For the EP, I spent less money because I decided to record without a band in the Roy O. Disney Hall of CalArts, where students can record for free. Luckily Owen Vallis, my producer, is a student at the school and leant his time to the project. I'm happy to say that both records have been completely paid for. Now, I'm searching for investors to complete the next album.
One of your FAQs asks: "How does such a big voice come out of such a tiny girl?" So, for those of us that have not met you, just how tall are you?
I am 5'3".
The photos illustrate that your live performances must be very dramatic. How would you characterize them?
The live performances are nowhere near as dramatic as I'd like them to be, but they certainly stick with you. With a background in musical theatre, I'm very interested in bringing the audience in through all forms of entertainment. I share stories, tell jokes, and encourage audience participation. Something strikes a chord with people who see my live shows, especially if they can relate to the songs.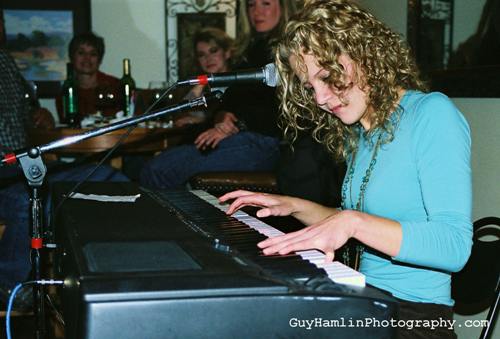 Image © Guy Hamlin 2006

Have you worked with other artists during the evolution of your musical career or did it all really begin with the solo projects?
It really all began with my solo projects. I've written with people from other bands, and I will probably do a side-project eventually; but as of right now, I'm enjoying being on my own. The lineup of individuals I work with was assembled after an assessment of talent, motivation, creativity, hunger, and a willingness to step outside the box. I have surrounded myself with people who inspire me to be better.
How would you characterize the material on Private School?
The material on Private School is all about my journey to independence, marking my deviation from the expected. The title came after a fiasco in the studio at the start of the recording process. The idea fit the theme and I went with it. I wasn't sure how my fans would react to the CD, considering that they had only ever heard me play solo with my keys. Luckily, the album was a huge success--in the eyes of an indie, at least--and every day I have a new fan that buys a copy—whether it's off of iTunes or on CDBaby.
I always find it difficult to pick my favorite songs. "Darla" holds a special place in my heart because it harkens back to my days of musical theatre. "Side of the Fence" has a quirky give-me-a-chance kind of character to it, which perfectly defines where I was at the time. Though I hate to write cheesy love songs, Flowers managed to describe my feelings in a way that came off as an I-love-you-even-though song instead of an I-love-you-because song, if that makes any sense. My favorite one to sing on the album would have to be the hidden track, "My Birthday."
| | |
| --- | --- |
| Image © Guy Hamlin 2006 | |
Do you have a career outside music these days?
I haven't had a career outside of music for the last 2 years; but with my recent return to Broadway Theatre Project, I am looking to teach dance lessons. I spent the last three weeks as an assistant for the intensive singing/dancing/acting workshop in Tampa, FL. Other than that, my free time is always spent in some other form of art—painting, acting, dancing, etc. Of course, I love watching movies and hanging out with friends.
How would you describe the differences between your self-titled EP and your debut album?
Private School was recorded with some amazing musicians in Nashville, TN. The basic tracks were cut in a professional studio on music row, then all overdubs and vocals were cut in an old house--a.k.a. The Park Studio. I was extremely pleased with the result.
On tour, people would buy Private School and ask if there was a version that represented my live show more. When it came time to release more songs, I took into consideration the plethora of requests for a piano/vocal album. Then I got together with Owen Vallis to produce a stripped down EP that highlighted relationships in my life.
Each song on the EP talks about people who I see myself in, or who have changed my life in some way. There is data on the disc that pops-up when you put it in your computer.
The data includes stories about the people, the meanings behind the songs, and other random information. The Eleisha Eagle EP was basically a way to let the audience get closer to me as an individual. I really couldn't tell you which tracks are my favorite. They are all so personal.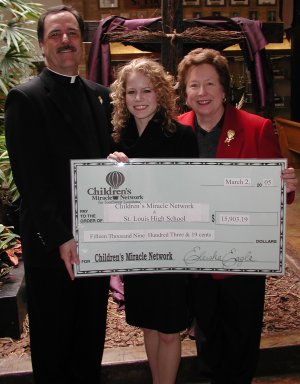 Image © Eleisha Eagle 2006

Did a strong response lead to your charitable work?
I have been performing for charity fundraisers since I was nine years old. My family has always pushed the importance of giving back. It only seemed natural to start a benefit concert in my hometown. My ultimate goal is to make enough money in the long run to where I can eventually retire and volunteer for the rest of my life. With all that has been given to me, I hope that I can somehow return the blessings.
Were the tracks written in the run up to Private School and held back for the EP or were these written more in the run up to your next album?
The songs for the EP were specifically written for the EP. I just had the idea and went with it.
What are your plans for the next project and when do you think it'll be released?
I plan on recording my second full-length album through the winter and releasing it in early spring at my third annual benefit concert. I am unbelievably excited about the new CD. I am really beginning to hone in on my craft and understand the direction I want to head towards. The few people who have heard the ideas for the next album are equally excited.
You seem to have a good balance with respect to touring. When are you going out on the road again?
I had planned to go out on a west coast tour in September; but the creative itch is starting to get to me. I might just head straight into the studio and push the tour back a few months. Either way, I'll definitely be heading back out for a national tour to promote the second full-length release. Anyone is free to e-mail me with a venue or city to play in; and I'll try my absolute hardest to meet every request.
| | |
| --- | --- |
| Image © Guy Hamlin 2006 | |
How do audiences respond to your live performances?
People come up to me a lot and say, "I love your CD, and I can't believe your live show is even better!" The general consensus seems to be that I have yet to capture the live performance on disc. Like I said earlier in the interview, I have a background in musical theatre. Those experiences allow me to be more than just a small girl behind a piano. People see me grow before their very eyes, from a quiet face amid the crowd to a confident entertainer who isn't afraid to make a fool of herself.
Of course, it took me a while to become so confident. A combination of practice and crowd response allowed me to believe in myself. I can't tell you how incredible it feels to look out across the audience at people mouthing the words, or bobbing their heads--the silence that falls over a noisy group when I sing the first word. And then to bring them in with the stories that make them cry, or jokes that make them laugh. I love what I do.
Are you considering doing some video work--promotional music videos or recordings of your live performances?
I would love to shoot a video. I have the ideas; but I haven't found the right person to direct it yet. I promise to keep looking; and hopefully next time I get asked the question, I will have a detailed anwer.
What are your plans, hopes and dreams for the balance of 2006?
I will spend the rest of 2006 developing a fanbase around the Los Angeles area. Since my move to the city a year ago, I have spent most of my time touring around the country. Now is a good time to create a concentrated audience in one area. With that being one primary goal, the recording of my second full-length album is equally necessary. I will be putting all of my time into making this next CD the best yet.
Reviews

CD Cover: Private School Album (2005)
Image © Eleisha Eagle 2006

Eleisha Eagle's debut CD, entitled Private School (Self-released, 2005) is a collection of twelve catchy tracks with rich guitar-based arrangements supporting the singer / songwriter's lead and harmony vocals. Eleisha plays keyboard parts and is supported by an extensive cast of the finest musicians from Nashville, TN. Adventurous in its writing coupled with superb production and recording quality join great attention to detail to deliver a top quality album.
Eleisha opens Private School with "Side Of The Fence," a dramatically delivered piano-backed and upbeat and progressively-styled tune. Right from the outset, the pure dynamic range, power, theatric skill and range of this exciting songstress are brought to the fore above rich arrangements. "Better Suited" is a more lightly arranged ballad but contains rich chorus with guitar solos that illustrate the quality of the supporting artists and great vocal effects that amplify the artist's emotional delivery. Perhaps the quietest and most subdued track on the album is "Take My Time." "Box" is similarly structured, but more rhythmic. Vocal and keyboard effects contribute further interest to the track. Crystalline vocals and Eleisha's bluesy delivery are extremely sensual.
One of the silliest bunch of lyrics are within one of the most upbeat tracks on the album, "Fe Fi Fo Fum." Layers of vocals, percussive piano and a memorable melody contribute to the strength of the song. The photos, artwork and album title were likely derived from the album's powerful standout, "Catholic School Girl." A tremendous statement to the singer's songwriting, the vast tempo changes within the song add to its strength. The crisp piano playing, vast choir parts and Eleisha's powerfully delivered vocal melody make "Darla" another album standout.
Listeners will also adore "Flowers," an emotionally sung track supported by light rock instrumentation and sung in a sultry and bluesy tone. "Rough Day" is an upbeat rock track, with some great sonic textures supporting Eleisha's vocal. It is followed by the stunning "Changing Tides," a richly arranged rocker with great guitar parts, and the gentle ballad "Wonderful." One of Eleisha's favorites, the hidden track"My Birthday," concludes the album. There is a 2:05 silence before this stunning lounge-styled song performed atop bluesy piano and bass actually begins. Perhaps the most dramatically delivered song on the album, it distinctly illustrates Eleisha's vocal prowess and must be very special to see performed on stage.
It is no wonder that Private School has drawn such significant attention from listeners. The album is a tremendous debut from the extremely promising talent of Eleisha Eagle that is most likely only topped by one of her live performances. Twelve varied tracks are dramatically performed that illustrate the power, range and variety of this rapidly emerging young woman.


CD Cover: Eleisha Eagle EP (2005)
Image © Eleisha Eagle 2005

The Eleisha Eagle EP has a stripped down sound when compared to Private School, but is every bit as well-performed, dramatic and enticing as the artist's debut. Production quality is tops in every respect. Eleisha's lead vocal is accompanied by her piano and/or keyboard and harmony vocals. We found several of the tracks even more memorable and became even more interested in seeing a live performance with repeated listenings. The EP is a tremendous appetizer to the meal that a concert would serve to the Eleisha Eagle devotee.
The EP opens with the melodic ballad "Jenni's Still In June" featuring Eleisha's lead and harmony vocal backed with a gentle, yet percussive piano part. The evocative "Never Let Go," is a bluesy singer/songwriter-styled number. The vocal layers in the chorus add a tremendous texture to this stunning track. The torch ballad "Naps With Dave" is sensually performed with additional vocal layers contributing a lovely texture to the tune. Rhythmic keyboards--especially the solo that accompanies the lovely vocalise in the mid-section--and a memorable and vocally lush chorus add to the powerful vocals that make "Cellophane Features" a delightful track.
One of the EP's standout tracks is "I'd Still Be You." The gentle ballad textures of the verses are contrasted with choruses that build with increasing power, richness and depth as the track progresses towards its conclusion. Eleisha's percussive piano performance is tremendous. The EP finishes with "Yellow Sunset." A singer/songwriter tune is most often one with lead vocal atop keyboard or piano. This track features Eleisha evocatively singing lead alongside piano without further effects. This is a fantastic EP. Bravo!

Eleisha's CDs are available at her website and at CDBaby (Private School) (Eleisha Eagle EP) and the tracks from both CDs are also available for digital download at iTunes.

<! do not remove these lines>
---
Return to website contents
---