Shankar and Gingger were shopping around tracks from their debut album One In A Million back in 1999 when we were introduced to their music by Bruce Pilato. Recent visitors will recall Pilato has worked with Jessi Hamilton the past few years and is largely responsible for her debut self-titled album (review). The artists' debut album was finally self-released a couple of years later. An accompanying DVD with six channel sound and video features followed.
The artists' latest album, Celestial Body is more ethereal, and has more of a new age sound to it although some of the accessible textures of their debut prevail. Released on Mondo Melodia, and manufactured by Copeland's Ark21 Records, Celestial Body is certain to gain broader distribution, draw further critical acclaim and bring these artists the attention they well deserve. We caught up with Gingger for the exclusive interview just prior to release. This feature also includes our reviews of their albums and the DVD.
Gingger Interview
| | |
| --- | --- |
| image © Ganesh Music 2004 | |
Musical Discoveries: Hi Gingger. To begin, will you tell us about your background.
Gingger: I was born and raised in Los Angeles. Most of my family are musicians. We have musicians, writers and artists in our family. My mother was a singer, my grandfather was a violinist, that is where my initial training began as a child. I was taught at a very early age that music was an integral part of my life. I grew up thinking that it was so normal to play music, write music. I have been to concerts since I was a baby, music has surrounded me all of my life.
And when did you begin singing?
I started singing before I could speak--according to my mother--and I started playing the violin as soon as I could pick one up without dropping it! I was taught to practice every day, no matter what, and that stays with me even today. My Mother always taught me that you donít get anywhere without hard work and constant devotion to your art. I am in my early twenties, and I have been performing since I was fourteen.
Who were some of your musical influences?
Even though my early years were based on Western classical and Indian classical training, I started involving myself in piano, opera and pop music training as well. I always listened to the Beatles, Bach, Beethoven, Elton John, Stevie Nicks, Stevie Wonder, and many others. My mother made sure I was always exposed to all musical styles; we would go to the Hollywood Bowl one night, and an Indian concert the next. I love all different styles, and have always incorporated them into my art. That is why I have been involved with world music as well as pop/rock.
My earliest influence was my Mother. I have also been influenced by the compositions of Bach and Beethoven, the songwriting John Lennon--his voice is so powerful--the greatest violinist, Jascha Heifetz; Ray Charles, Karen Carpenter, Diana Ross, The Rolling Stones and Carlos Santana. TThe list can just go on and on and on!
Please tell us about your musical training and education.
I trained in Indian Classical and Western Classical voice, and violin from the age of two. I started learning piano at about eight, which I loved, but the only bad thing was that I could hear something and play it by memory, so I always used to trick my piano teacher into thinking that I was reading the music. That made me very lazy about reading piano music, but I did learn piano for five or six years. It is very useful to me in my songwriting process. I also took opera voice lessons which I loved. I loved learning operatic arias, I love singing as high as I possibly can and seeing how far my voice can go.
What were you doing musically before you got involved with Shankar?
I was writing a lot of music, and working with different musicians. I performed a lot, but never really recorded anything. I was more into live performances and seeing what could be created, and seeing how the songs I wrote affected the audience. I still feel like that today. I love recording in the studio and the creative process, but when you get in front of the audience and perform your new songs, there is nothing in the world that can compare to that!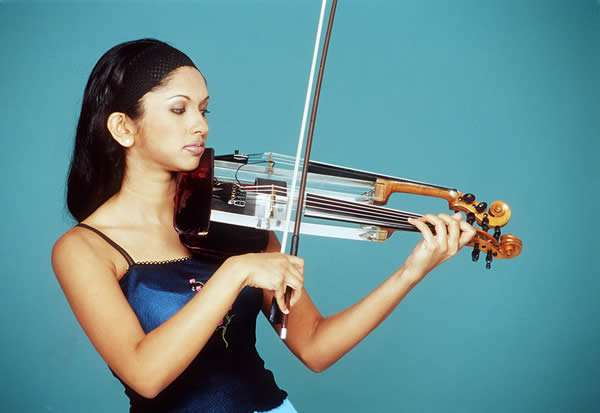 image © Ganesh Music 2004

I also love collaborating with different artists, it is always incredible to see what kind of music can be created when you bring in artists with different musical backgrounds and life experiences. When you become influenced by the artist you are working with, and they become influenced by you. It is almost an out of body experience, getting caught up in the music, no inhibitions, just music being created.
And how did your role evolve?
Shankar and I started working together about nin years ago. We first performed together in Peter Gabrielís WOMAD shows in Spain. The collaboration was really incredible, and it was great to work with someone who had worked in world music and pop/rock as well.
Is this where you learned play the double violin?
I was singing at that point, but Shankar had created a double violin, which combines the whole range of the orchestra--double bass, cello, viola, violin)--and the challenge was too good too pass up! Since I had trained in violin, I thought it would be easy to play. Boy, was I wrong!! It took a while to get used to it, but once I did, it was spectacular! To be able to produce such a variety of sounds from one instrument is unbelievable.
What happened next?
Once we performed at WOMAD, we decided that our collaboration was something very unique and we challenge each other really well. When you have a musician that not only compliments your sound, but also pushes you to new creative heights that you never thought you would ever reach, you realize that it is something that is almost impossible to find. We decided to form a band together, and we have recorded several albums, performed all over the world, and composed and performed for many soundtrack projects since then.
| | |
| --- | --- |
| | image © Ganesh Music 2004 |
Does the emotional bond with Shankar influence the music?
I think since we have worked together for nine years, we have evolved a lot. We always write new things that push the envelope, break barriers, always push the line a little further. Since we have to answer to each other, there is no room for complacency, or ever doing the same thing twice. Every album is new, different, exploring new territory.
And who do you find yourself listening to all the time nowadays?
I listen to a wide range of musicians, everyone from Beatles, Elvis and Frank Sinatra to Coldplay, Outkast, and Madonna. I love listening to Ella Fitzgerald and Billie Holiday, especially when I need some serious soul searching, they can just rip your heart out!
Where do you draw inspiration for your own songs and lyrics?
My biggest influences for my songs come from life. What goes on day to day in the world, what goes on in my own life. I think it's the healthiest way that I deal with things. Whether I am deeply hurt, ecstatic, or just plain angry, I write it down in my journal. That has been my biggest influence in writing songs. Sometimes I will find something I wrote two years ago, and it will fit perfectly into a song that I'm writing now.
Would you say there is a consistency to your sound or are you branching out more?
I don't find myself tied to any specific genre at all. I love the creative process in world music as well as pop/rock. In world music, you rely on the music to convey emotions, sometimes without any lyrics. With a vocal line or a violin riff, you have to able to convey a heartbreak, or a joy that knows no bounds. This is where I draw on my Classical training. In pop/rock, I love the songwriting process, not only the music, but to write lyrics, which is my favorite part. Sometimes the lyrics are very tormented, very abstract; sometimes they are very simple and straightforward. I never know what they are going to be. Something else I find is that whatever lyrics or words that come to me stick. I can never replace them or find something better, they always come to me, and end up the same.
I always see myself involved in these different genres of music. I never understood having to be one thing or the other. Being an artist is all about creative freedom, it is my outlet, it is my salvation. However I feel today, that is what you will hear in my music. There is so much honesty in it, you can't really hide anything when you write or perform. I wouldnít do it if I felt any other way. You have to open and always grow, if there's an artist who says they know everything there is to know, you know that they havenít learned anything. You have to be open, work with other artists, there is always more to learn, more to grow. If you canít, you are not being true to yourself or your music.
| | |
| --- | --- |
| image © Ganesh Music 2004 | |
What can you say about the differences between your last two recordings?
Celestial Body is more of world music record. It has a lot of Indian and Western Classical influences, as well as some soundtracky pieces--I mean the kind of music that we compose and perform for our soundtrack projects, such as Passion of the Christ. It has a lot of technical double violin pieces, a lot of atmospheric vocals and violins, as well as some deeply personal songs.
"Open Your Eyes" deals with a very dark part of my life, that I have come through, and "Palaces" was a song that Shankar wrote for all the children of the world. That song was performed during Peter Gabrielís Secret World Tour as well as Nelson Mandelaís 80th birthday celebrations. It is a very special song which we are also performing at the World Peace Music Awards in September to benefit all the Orphans of War and Terrorism.
One in a Million is more of a pop/world album. It is a very vocal album, with double violin atmospheres and solos. It is a very positive album with lyrics that were personal and written to give people hope as well as make them think. From "Fear" which deals with getting over all the things in life that hold you back because you are too afraid to go after them, to "I've Been Waiting" which deals with moving on with your life, before it's too late, all the songs were written during a period of time that we had a lot of things happening at once. Even one of our songs "Out of My Mind," was written about this very persistent fan (stalker) who was always in every city we were, and very pushy. That was pretty scary! We had some very special guests on the album including Phil Collins, Mike and Steve Porcaro, Tony Levin, Guy Allison, David Paich, Steve Vai and Steve Lukather. This album was such a blast to make, and to get all these artists that I've been such a fan of was just the greatest thing in the world.
What was it like to work with some of the guests on One in a Million?
I have known Tony Levin since I was fourteen. Funnily enough, the first professional show I did was with Shankar and Tony at Madison Square Garden. I was so extremely nervous, I think I had butterflies the size of footballs! I just remember pacing backstage, not being able to sit or do anything. Tony came over, gave me a hug and wished me luck. He said I should go out there, and give my best, and that I would do great. I will never forget that. He was so encouraging, and he is such a warm and wonderful person. To this day, he is one of my favorite people. He is also such a monster on the bass.
Steve Porcaro is a genius. The things that come out of his mind and he translates to music is something extraordinary to watch. He comes up with keyboard parts that boggle the mind, he is so musical, and so generous. He is a very warm person with a great sense of humour, and takes care of everyone around him. He always reminds me of papa bear. Shankar and I always have a lot of fun working with Steve, it's crazy, funny, and always amazing.
| | |
| --- | --- |
| | image © Ganesh Music 2004 |
Mike Porcaro is a sweetheart, and when he plays the bass, he gets everyone in the room into the groove. He is an incredible performer, and always plays the exact thing that the song needs. And Guy Allison is such a talented all-round musician. He comes up with keyboard parts and guitar lines that fit so perfectly in our songs. He never ceases to amaze. He does everything from drum loops to keyboards without skipping a beat, and each instrument is so distinctive and musical in its style. We work with him on virtually every record we do, and will definitely continue to work with him on future records.
How has the response been to Celestial Body?
The response from our audience has always been incredible. People are always open and appreciative. We get such awesome letters from our fans about how a particular song touched them, or got them through a really tough time, or that they saw us at a show and they loved it and were coming to another show in a totally different city because they had to see us again. That's always the best part, to be able to perform for the audience, to hear how your music can have an effect on someone else, or inspire them. I love meeting little kids at shows that say that they are taking voice lessons or violin lessons, and that they want to perform like us when they get older. It's such a great feeling.
The responses to Celestial Body and One in a Million were both incredible. Our reviews have been incredible as well, which is always nice. That has never really factored into anything that we do, though. You can never go by reviews, you always have to go by what you want to do creatively, artistically, if you start listening to business people and reviewers, you are in serious trouble!
What is is like performing in front of a live audience for you?
I sing as well as play the double violin in all the shows that I do. There is nothing like performing in front of an audience. I can't even describe how it feels. I get really nervous before I go on, I'm usually in my dressing room, warming up. A musician once told me that once the butterflies are gone, thatís when you should worry, it means you donít feel "it" anymore.
As soon as I start singing on stage, then the butterflies start to settle. Once you start performing, it's almost like you go into a trance. I get so into the performance, everything else sort of fades away. It is the best feeling in the world to be on stage, it also takes a toll. You have to go out on stage night after night, city after city, and give everything that you have. You perform a show with everything you have, go back to the hotel or the airport, and then do it again the next night.
| | |
| --- | --- |
| image © Ganesh Music 2004 | |
Do you have another career outside of music?
The thing I love to do the most outside of music is art and writing. I love to draw and sketch, and I love to write, whether it is a story, poetry, or anything else that enters into my mind.
What would you say has been your biggest challenge?
People always have preconceived notions about what I should be doing artistically. Some people think you can only do classical, or world music, or pop, but why should I have to? If actors can act in comedy, then drama, then be on Broadway, why can't I be involved in different musical styles as well?
I think each type of music I do is so creatively challenging, and such a great outlet for me, I love singing, I love playing the double violin, I love being a songwriter. People always try to put you in a specific box, but I feel that if you are trying to be like someone else, you have already failed. You always have to be original and always do what you believe in. Thatís the only way to be a true artist and a true human being.
And your biggest achievement?
It's wonderful to have the support of musicians that I have admired and respected all my life. I'm privaleged to have musicians that I can go to for help or advice, and have them watch over me and always be there when I need them.
What are your hopes, dreams and fantasies?
My hope is to continue to grow as an artist and as a person. To get closer to the "truth," to become a better person. My dream is to help develop children's cancer hospitals in India and Africa. That cause holds a very special place in my heart.
Reviews
| | |
| --- | --- |
| | image © Ganesh Music 2001 |
One In A Million.

The DVD (Silverline Records (USA) 86043-9, 2001) includes the ten tracks on the CD (Ganesh Music (USA), 2003) as well as special features. These comprise an over 20-minute video documentary, Shankar & Gingger's own song commentary, artist biographies and an extensive illustrated photo gallery. The audio is 24-bit/96 kHz DVD-Audio and there is also a 24-bit/48 kHz Dolby Digital surround sound option. The disc can be enjoyed as an audio experience or in conjunction with television to access the visual content. The DVD provides tremendous insight into the work of this incredibly talented duo, but since it was recorded in 2001, it falls short of their latest project and provides insight only to that point in their career.

About Shankar: Widely known as a living legend in the world of music, he has entranced audiences and critics alike all over the world. Shankar is an acclaimed vocalist, violinist, composer and producer who has sold over ten million albums. A child prodigy, born into a renowned family of musicians, he studied vocal from the age of two, violin from the age of five, and played his first concert at the age of seven.

Shankar is a virtuoso whose vocal range covers five octaves. His 1980 release, Who's To Know and Phil Collins' solo debut Face Value introduced the unique sound of Shankar's own invention, the 10 string stereophonic Double Violin, to listeners around the world. Shankar along with violin virtuoso Gingger are the only musicians that have mastered and currently play the Double Violin. The Double Violin, designed by Shankar and built by Ken Parker, covers the entire range of the orchestra's double bass, cello, viola and violin, and is the only one in the world. The combination of Shankar's haunting vocals, double violin and also as a composer has brought him worldwide acclaim as an innovator. his unmistakable sound has been heard over many albums.

Grammy nominated Shankar has released numerous solo albums and videos in various idioms of music, from pop/rock to world music. A major world recording and touring artist, his numerous collaborations have brought him international audiences. His pop albums have featured an impressive line-up of guest musicians including Frank Zappa, Peter Gabriel, Phil Collins, John Waite, Bruce Springsteen, Van Morrison, Stewart Copeland (The Police), Steve Vai, Ginger Baker and Nils Lofgren (E Street Band) to name a few.

One In A Million is an accessible pop-oriented album featuring contributions from Phil Collins, Steve Porcara, David Paich, Guy Allison, Tony Levin, Mike Porcaro, Steve Vai and Steve Lukather. The artists' contributions to the songwriting are evident. Gingger's vocals don't dominate the album; Shankar does the bulk of the lead vocal work and listeners will find his work to have a remarkable similarity to Phil Collins.

It is easy to see why the album has drawn such critical acclaim. The lush production quality that spans the album is superb. It opens with the title track, featuring Shankar's lead vocal. Further harmonies and rich instrumentation perfectly accompany the lead. The strong hook drives home pop accessibility. "I Don't Care" and "Life Goes On" continue in similar style.

Gingger takes the lead on vocals in the tremendous upbeat track "A Lot Of Love" with the other singers joining in backing harmonies. The rich production quality--especially the thick bass--of the album is especially evident in the track "I've Been Waiting" which again is accompanied by Gingger's great backing harmonies. Gingger returns to the lead--self-harmonizing--in "Fear," another upbeat and accessible rocker. Keyboard and guitar riffs share sound with some latter day Genesis. The album's rock sound builds with vocal textures accompanying electric guitar and keyboard excursions in "Out Of My Mind."

"We Are Meant To Be" is a downtempo ballad, sung more or less as a duo between Shankar and Gingger with backing slide guitar echoing vocal lines and the latter building. Standout track "Look Into My Eyes," led by Gingger is a tender and upbeat pop song with lush rhythm section contrasted by extensive orchestral keyboards and further slide guitar. Vocal harmonies continue to be tremendous. The album concludes with "Everytime," led by Shankar but with lovely vocalise by Gingger. A slight new age sound provides a glimpse of what is yet to come.

One In A Million provides a superb introduction to the songwriting and musical performances of Shankar & Gingger. While the foundation is clearly pop/rock,

the duo has worked with notable musicians to produce an album with superb quality and a harder rocking edge. The CD is available through the artists' website and the DVD is available through traditional commercial channels such as amazon.com. One In A Million is a superb introduction to this dynamically talented and virtuous duo.

| | |
| --- | --- |
| image © Ganesh Music 2004 | |
Celestial Body

. The eleven track album (Ganesh Music / Mondo Melodia (USA) 186 860 082 2, 2004) picks up right where One In A Million leaves off, but takes a direction into new age music. From first listen to the opening title track, the prominence of the double violin on this largely instrumental album is most notable. Again Shankar's vocals--similar in sound to Phil Collins--accompany Gingger's. Vocals primarily accompany the instruments as vocalise. The duo are joined by Janani and Guy Allison who also participated on their prior album. Neil Citron (Lana Lane) contributes keyboards and guitars and mixed the album.

"Maya" is an upbeat new age crossover with soaring violins supported by rock instrumentals. "Voices From Heaven" has classical derivations but Shankar's and Gingger's powerful vocalise perfectly accompanies the violin work. The track "Sunrise" appears to have Middle Eastern elements accentuated by rapidfire violin work; again Gingger's tender vocalise contributes to the rich sonic blend. The standout pop-new age crossover "Open Your Eyes" features not only rich violin-based instrumentals but Gingger's stunning lead vocal. Shankar and Gingger's additional vocal harmonies produce a lovely texture. "Twilight" provides a short interlude between the first and second half of the album.

The memorable melody within "Journey Through Life" is reminscent of popular tunes of the 70s. The violin solo work continues to build and illustrates the tremendous prowess and virtuosity of the artists while "Revelations" is far more orchestral and demonstrative of the power in the double violin. The unique blend of violin and vocals is illustrated within the track. The tempo drops and textures build in the meditative and epic cinematic sound of "Transcend" which flows naturally into "Palaces." "Palaces" is the second and final vocal track on the album; led by Shankar, Gingger's soprano vocals provide lush backing harmonies to this contemplative new age number. The appropriately titled "Lullaby," a gentle violin/vocal number, concludes the album with grace and style.

From the album sleeve, "Shankar and Gingger are masters of a unique instrument, the double violin, which they emply as interstellar craft to expore the terrain of inner-space. Their trademark sound of vocals and double violins create haunting, evocative music that combines ancient ambience with new technology. No surprise that Shankar and Gingger have composed music to Mel Gibson's The Passion of the Christ." Shankar and Gingger's voices and violins can be heard throughout the movie. [Note that Lisbeth Scott, also featured heavily at Musical Discoveries, also contributes extensive vocal work to the film's score.]

Celestial Body embodies the musical union of Shankar and Gingger's virtousity and empathy with erotically

slinky accompaniment. Clearly this is an album of stunning proportion, perfectly blending new age and rock with soaring vocals and stunning violin work.

<! do not remove these lines>
---
Return to website contents
---