This feature article presents a complete retrospective on Heart, including concise reviews of their work from the 1970s to the present day. It also includes a review of their CD and DVD Alive in Seattle, a review of their 2004 studio album Jupiter's Darling and a review of their live performance at London's Hammersmith Apollo on 10 June 2004.
It could be argued that this website owes a great deal to Heart. Before the mid 70s, female fronted rock bands were amazingly rare. There were plenty of female solo artists, of course, names like Joni Mitchell, Buffy Saint Marie and Janis Joplin trip of the tongue easily. But aside from Fleetwood Mac, a band with two female singers? Now that was a real novelty.
Though always very much a 'band,' since 1976 it has revolved around sisters Ann and Nancy Wilson. The two women--now in their early 50s--provide an interesting contrast. Ann--dark haired and passionate--has a huge voice, capable of massive, bluesy power and gentle restraint in the same song. She is operatic in spirit, though her voice is far more natural sounding than many of the 'power' vocalists featured in this website, taking her lead from soul, and the blues influenced Robert Plant, rather than the metal singers of the 1980s. Her useful flute playing is also seriously underrated. Nancy--blonde and slim, has a gentler, folkier voice, and sings lead on perhaps 20% of the band's material. Her virtuosic acoustic guitar playing is her greatest strength, though her mandolin work is wonderful, and over the years she has developed into a more than useful electric rhythm player. Importantly, their voices combine beautifully, with both power and delicacy.
The band had existed in the Seattle area long before the two sisters became involved, but Ann joined the band in the early 70s. She was just the impetus the band needed, which already revolved around talented guitarist Roger Fisher and multi-instrumentalist Howard Leese, and she had soon drafted in her little sister to provide backing vocals and acoustic guitar. By the time they had signed to tiny Canadian label Mushroom, the Wilson sisters were writing most of the band's material.
Beginnings
| | |
| --- | --- |
| | Image © Capitol Records 1976 |
The debut album, released in 1976, was Dreamboat Annie (

). This was a perfect start, both tender and aggressive, the hit rockers "Magic Man" and "Crazy on You" dominated by Fisher's lead guitar, complimenting the delightfully pastoral title track and the gorgeous "How Deep It Goes" which feature Nancy's acoustic prominently. The album remains a mid 70s classic, a personal favourite and was a huge hit, especially in the USA and Canada, where the innocuous cover

caused some excitement and suggestions that the sisters were lesbians. In fact, both sisters were in band-linked relationships: Nancy with Roger Fisher, and Ann with Mike, Roger's brother and the band's manager.
One record executive's leering suggestion on this subject led to bilious classic "Barracuda" on the bands follow up, the excellent, yet grittier Little Queen (

). This album also included the hard rocking title track, and the gentle, romantic "Love Alive", though it peters out slightly on its second side. It also found them signed to a major label, Epic, much to the disgust of Mushroom, who attempted to rush out a series of demos and live tracks Magazine (

). The band stopped its release for many months, before a remixed, band approved version finally arrived. It has little merit, though it did demonstrate the girls' liking for a slightly cheesy cover version that continues to this day, with a lively rendition of "I've Got the Music in Me".
The wonderful Dog and Butterfly (

) from 1979 sounds like it comes from another age. One side was a series of decent hard rocking pieces, while the other featured gentle acoustic pieces. Highlights were the rocky "Straight On," the glorious title track and the epic, Led Zeppelin-esque "Mistral Wind." By the late 70s, a real gap was appearing between the girls and the male members of the band, not helped by the romantic parting of the ways between the Wilson sisters and The Fisher brothers. Roger left the band and was not replaced. With Nancy developing as an electric player, Howard Leese was able to take over on lead guitar.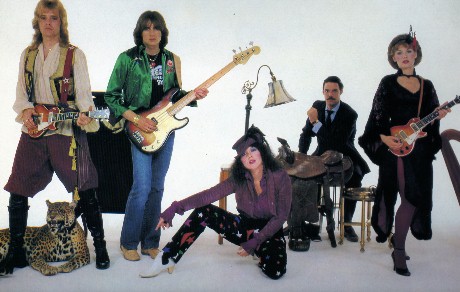 Image © Capitol Records 1980

The decent Bebe Le Strange (

) and a greatest hits / live album combination just called Heart (

) were released in 1980. The former included the excellent "Even it Up" and the splendid, crunching title track. The latter had some intriguing live tracks, including a brilliant version of Zeppelin's "Rock and Roll" and, once again demonstrating an eccentric choice of cover versions, "Unchained Melody". The last gasp from this line up was Private Audition (

), an album derided by many fans, although it's actually a personal favourite, a mixture of show tune pastiches and hard rock. By 1983's Passion Works (

) Mark Andes and Denny Carmassi had joined on bass and drums, and the band used an outside producer for the first time in years, Keith Olsen. Though a decent album, the band found themselves out of fashion, the album was not a commercial success, and the band parted company with Epic. However, Capitol soon picked up the band, and they had a plan.
The Big Hair Years and Beyond
By 1985, commercial, stadium-orientated hard rock was making huge amounts of money worldwide. Bands like Bon Jovi, REO Speedwagon, Styx, Journey and the 1980s version of Yes were cleaning up.
| | |
| --- | --- |
| Image © Capitol Records 1985 | |
| Image © Capitol Records 1995 | |
Capitol planned to hire big-time producer Ron Nevison and some big-name songwriters to give the band some commercial power. The band's image was also given a facelift in fitting with new 'romantic-influenced' times, and the ever-slim Nancy came to the fore in videos, as Ann's weight increased.
Heart (

) from 1985 is something of a classic of its time, though it has dated badly. Amongst a handful of hit singles was the Nancy-sung "These Dreams." Ann, Nancy and Sue Ennis wrote only four songs, and none were selected as singles. In 1987, Bad Animals (

) was almost as successful, and included the huge, Ann-sung single "Alone" as well as the delightful single "There's the Girl" and the band-penned title track.
By Brigade (

) released in 1990, the band were tired of constant touring, though the album did include one last huge single "All I wanna do is make love to you" and the classic rocker "Wild Child." A lack lustre live album Rock the House Live (

) followed the year later, and then the band took a rest.
Leese and Carmassi were still in the band when they recorded 1993's Desire Walks On (

). This was a decent effort, with a strong whiff of the 70s about it and the band penning most of the songs, apart from an interesting Bob Dylan cover in "Ring Them Bells" and The Mutt Lange-penned single "Will you be there in the Morning." Excellent Wilson sisters' songs included "Back on Black 2" and "Back to Avalon", though other material was not quite so strong.
The live acoustic The Road Home (

), released in 1995, also released on DVD and recorded with Led Zeppelin's John Paul Jones producing, was an excellent,

intimate rendition of some of the band's best moments. Alongside both 70s and 80s songs were once again some choice covers, including Joni Mitchell's "River" and Elton John's "Seasons."
And then--nothing. Or rather, some solo work, some tours, and two albums, as The Lovemongers, and time off being wives and mothers. By this time, Nancy was married to former Rolling Stone journalist and later film director, Cameron Crowe. Her work on the soundtrack to his excellent film Almost Famous, set in the 70s, is worth investigating.
Reviews
| | |
| --- | --- |
| | Image © Sony Music 2002 |
Alive in Seattle.

In the summer of 2002, which they called he summer of love, Ann and Nancy put together a new bad to tour the USA. The results were captured on this excellent CD and DVD. Fans of the band who might be wary of another live CD should be informed that this is an essential purchase since it represents the band at an interesting point in their career, functioning wonderfully as a live outfit, but not yet ready for the studio.

This is demonstrated by the four new songs available here, none of which made it onto the Jupiter's Darling album. "Sister Wild Rose" has its moments, especially in the lead guitar department, but is slightly substandard, as is the end-of-set chant along "Break the Rock," which, despite some great backing vocals from Nancy, would not be out of place on an AC/DC album. "Two Faces of Eve" is good, with an unusual refrain, and the brooding, eastern-sounding "Heaven" is the pick of the bunch.

Elsewhere, however, the band is in fine, relaxed, jokey form. There are the usual cover versions including the old garage classic "The Witch" as well as brilliant renditions of two songs from Led Zeppelin 4, "The Battle for Evermore" and "Black Dog." The highlight, however, is a spellbinding rendition of Elton John's "Mona Lisa's and Mad Hatters," beautifully sung by Nancy.

As for the Heart originals, 70s Heart is represented by "Crazy on You," "Straight on," a lovely "Dog and Butterfly", "Magic Man", "Love Alive" and the essential crowd pleaser, "Barracuda", while 80s Heart is represented by the obligatory ballad "These Dreams", a stripped down "Alone" and the rocker "Wild Child."

As for the band, all are in excellent form, with Ann and Nancy both singing beautifully nearing 50, and the new backing band playing well, especially the underrated Scott Olsen on guitar, who was not retained after the tour. (

)
Live at Hammersmith Apollo, London, 10 June 2004. The set list included: "Kick it Out," "Crazy on You," "Papa Was a Rolling Stone / Straight On," "The Oldest Story in the World," "The Perfect Goodbye," "Love Alive," "Dog and Butterfly," "Make Me," "Things," "These Dreams," "Enough," "Even it Up," "Vainglorious," "Lost Angel," "Magic Man," "Barracuda." Encores: "Alone," "Wild Child," "Black Dog," "Misty Mountain Hop."
Two years later, the band were again on tour in the summer, this time making it to Europe with the same rhythm section as the DVD, but, significantly, with a new guitarist, the excellent Craig Bartock who had played a major part in the recording of 2004's "Jupiter's Darling." It is safe to say that many bands might have rested on their laurels and played "the hits", so full credit should go to Ann and Nancy for giving the new album a more than decent outing, with seven songs played. Having said that, they stuck to the more obviously crowd- pleasing material, such as the chant-along "Vainglorious" and the epic ballad "Lost Angel."
| | |
| --- | --- |
| Image © Sony Music 2002 | |
Though this was a rather more 'formal' occasion than the relaxed jollity of the 2002 live recording, the band were playing even better with Nancy still demonstrating the same moves as she did 25 years previously--great 'rock star' stuff, and Ann in astonishing, note perfect vocal form. Of the older songs, the 70s pieces received pretty much authentic treatment, including the throbbing Mini Moog of "Magic Man" while the obligatory 80s songs--"These Dreams" and "Alone"--were even further stripped down, the former, though getting the biggest cheer of the night, arranged for Nancy's mandolin.
The rest of the set was splendidly predictable, though tagging "Papa Was a rolling Stone" onto the start of "Straight On" was a nice touch. The Led Zeppelin covers still made an appearance, with "Misty Mountain Hop" a delightful final encore. What a Zeppelin tribute band Heart would make! With a new album of remarkable quality on the marked and Ann and Nancy clearly rejuvenated, let's hope regular tours are now back on the cards. (

).
Jupiters Darling. The band finally convened to record the long-awaited new album in 2003, not 2002 as Ann had so confidently announced on the live album. The catalyst for this seems to have been the recruitment of Craig Bartock on guitar. They went looking for a guitarist – what they got was a songwriter and co-producer. Jupiter's Darling is very much a band album, with only six main musicians used: Ann and Nancy, Craig, plus Mike Innez on bass and Ben Smith on drums--both ever present since 2002--plus Darian Sahanaja on keyboards.
| | |
| --- | --- |
| | Image © Sovereign Artists 2004 |
As for feel, take 70% 1970s Heart, add 20% 1980s Heart, plus a dash of something much more contemporary, and you're pretty much there. Significantly, it is the acoustic guitar of Nancy Wilson that lies at the heart of nearly every song. This is particularly evident of album opener, "Make Me" with its jaunty acoustic opening, leading into a splendid "old Style" Heart song, with an excellent sing-song chorus.
"The Oldest Story in the World" cranks up the guitars in fine style, and Ann sings with all of her old swagger. The acoustic, bluegrass-style "Things" is the first vehicle for Nancy, and a charming one it is too, before gentle acoustic leads into the Ann-sung "The Perfect Goodbye". There is another excellent chorus here, reminiscent of some of the material on Private Audition.
"Enough" slows things down, and presents a typically lovely Ann Wilson ballad. Prog fans will welcome some lovely mellotron on this song, alongside the acoustic guitar, while "Move On" lays down a fabulously psychedelic rock groove with some gritty, dirty sounding guitar and Ann's raunchy vocal. Nancy's trademark mandolin introduces her delightful " I need the rain", a fragile, poppy ballad and an album highlight. "I Give Up" is another crunching rock song, with a winning, catchy chorus, while "Vainglorious" is 80s Heart at its best, a thumping riff surging into a chant-along chorus. "No Other Love" features more mandolin and some effective strings on another Ann Wilson ballad.
Nancy's unusual "Led to One" is very reminiscent of 80s Prince offshoot pop duo Wendy and Lisa crossed with The Beatles in Eastern mode, while "Down The Nile" continues the eastern vibe, this time with a harder rock edge and an Ann Wilson vocal. The surreal, almost industrial, funk rock of Nancy's "I'm Fine" is a genuine surprise and another highlight. "Fallen Ones" is more great rock in Led Zeppelin style with a superb vocal from Ann. A great acoustic intro introduces a typically excellent epic ballad "Lost Angels," before the brief, gentle album coda "Hello Moonglow" with its lovely harmony vocals. The album includes two bonus tracks, a re-recorded "How Deep it Goes" and an acoustic rendition of "Fallen Ones."
In an era when yesterday's heroes and heroines often seem happy to relive past glories, it is gratifying to know that a band like Heart can produce an album of stunning quality like this. The usual trademarks are all there: some great singing from both sisters, but with Ann, in particular in excellent voice. Nancy, however, produces the albums best and most surprising songs. If there is any fault to be found with the

album--and it's hard to pinpoint many, it's a couple of songs too long. Nonetheless, this might just be the band's most consistent album since "Dreamboat Annie." It's almost flawless, and is therefore heartily recommended. (

). <! do not remove these lines>
---
Return to website contents
---