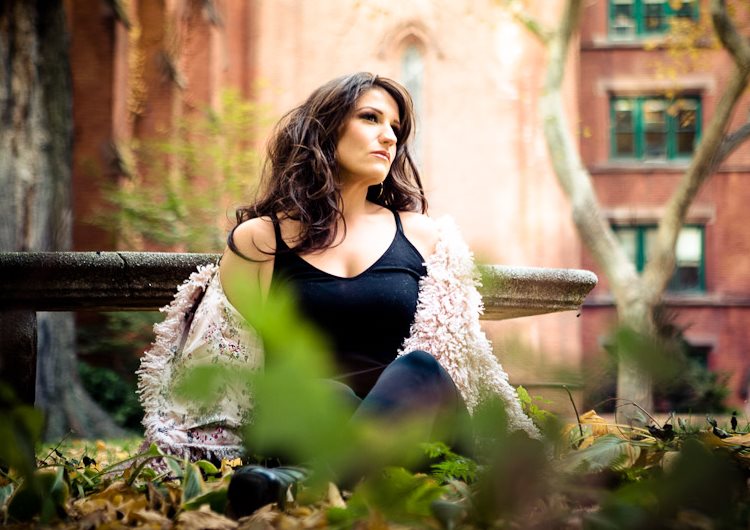 click image above or album covers below to visit the artist's official website
review and interview © Russell W. Elliot 2013 | last updated 26 May 2013

Leslie DiNicola .: music reviews and artist reflections :.
We're told that sitting across from Leslie DiNicola, you get the feeling that you're sipping coffee with Sandra Bullock or Jennifer Aniston--the sexy girl next door. But when she opens her mouth on stage, she unleashes the soulful blues diva that will rock your world. Not many artists today can dazzle 38,000 people at Citi Field and then, moments later, take the stage at an intimate club like Rockwood Music Hall and captivate the audience with merely a whisper into the microphone.
Leslie moved around a lot when she was growing up, and has that unique perspective of someone who's been the new kid at school a few too many times. After graduating from Syracuse University, Leslie found herself pulled in opposite directions by her love of music and her love of sailing.
She reflects, "By the time I was 22 and moved to Manhattan, I had already lived in eight different places. No matter how much you like a place, the way I liked NY, there's a hesitancy to get too comfortable. I think thatís what kept me running off to sea so often, sailing to different countries every chance I got." Be sure to check out our exclusive interview to learn more about Leslie DiNicola.
The editorial staff at Musical Discoveries was led to Leslie DiNicola's music by our friends in October Project. Leslie's three EPs that span 2010, 2011 and 2013 have distinct themes that run through them. Visitors will find a variety of the Leslie's music online both for listening and visual enjoyment. Visit her website and check out YouTube for more. Reviews of her three EPs follow below.
image © Leslie DiNicola 2010



Leslie DiNicola's It Resembles Fiction (Leslie DiNicola ASCAP (USA) 8 84501 28608, 2010) presents the artist's first five track offering in a gorgeous tri-fold digipak. Musicians supporting Leslie's powerfully delivered vocal work include producer Ellis Traver (guitar, rhodes, organ, percussion); Michael Cheever (bass); Angela Webster (drums); Jeff Hudgins (saxophone); Greg McMullen (additional guitar); Nailah Daaj (backing vocals); and Shannon Gutteridge (backing vocals).

The singer's clearly delivered voice consistently rises above the arrangements. Her tremendous power is evident from the start in "Lay Me Down" and again in "I Wish," The supporting backing vocals on the stadium rocker "Chasing Nothing" and delicately delivered ballad "Now That You're Mine" add further texture. A bluesy rocker entitled "Back To Me" concludes the EP.

It Resembles Fiction is an accessible rock collection with gorgeous vocal work and tight production. Leslie's powerful and well-honed vocals are perfectly mixed well above the arrangments. It's evident from her debut EP--almost a sampler of her work--that the artist will have much more to offer.



image © Leslie DiNicola 2011



Draw Back Your Bow (Leslie DiNicola (USA) 8 84501 65210, 2011), presented as a bi-fold digipak with another gorgeously silkscreened CD, includes five cover tracks. Leslie's first project produced by Julian Coryell includes his instrumentation. Jim Wheeler (saxophone) and Mitch Manker (trumpet, trombone) add an especially rich sound to "I Put A Spell On You."

The bluesy rocking opener is Leslie's stunning cover of "I Put A Spell on You" although we believe the standout track is her tender ballad-style delivery of "With or Without You." Coryell's harmonies add great texture to the chorus. In contrast to Leslie's first EP, she presents her extremely tender rendition of "Separate Ways (Worlds Apart)." The song demonstrates the singer at her very most vulnerable and most crystalline. "You Get Me Lost" is vocally similar but supported with gentle electric guitar washes.

The EP concludes with the accessible "Cupid," a country-style tune whose lyric gives rise to the EP's title. Leslie told us that she had many cover tunes to select the five on this EP from. The resulting collection on the EP demonstrates additional dimensions of the artist's range. Essential listening to new and past Leslie DiNicola enthusiasts, Draw Back Your Bow is a stunning EP.




image © Leslie DiNicola 2013



Leslie DiNicola's most ambitious project thusfar is the five-track to-be-released Some Greener Yard (Leslie DiNicola (USA) 780863, 2013). Our review copy includes a preview of the EP's front and back cover artwork. As with Leslie's prior EP, the five original tracks are produced by Julian Coryell. Combining the rocking sound of her debut with the vocal range of her follow-up, this third EP of entirely original songs is an outstanding collection.

Fronted by Leslie's powerful lead, "Shakey Wire" is a rock tune that includes vast electric guitar excursions and Coryell's lovely backing harmonies. An immediate contrast to the opener is "Give Me Away," a superbly delivered and tenderly sung ballad. The upbeat, accessible and extremely well-arranged country-style number "Stay" introduces Leslie's crystalline voice in a higher register.

Also sung in a high register is the tenderly delivered ballad "Weight." Backed with gentle electric guitar washes, "Weight" perfectly follows "Stay." We appreciated the percussive build up to the song's delightful concluding crescendo. Some Greener Yard concludes with "It's Alright." An outstanding bookend to "Stay," this very genntle ballad demonstrates Leslie at her most vulnerable with crystalline vocals soaring above the lightest arrangements. Coryell's harmonies are tremendous!

Leslie's latest EP will be released later this year. This superb collection of original material produced by Julian Coryell clearly demonsrates the artist's growth and is certain to be appreciated by audiences worldwide.



Interview
Musical Discoveries: What can you tell us about your musical background and leading to the release of your first EP?
Leslie DiNicola: I have been singing since before I can remember. I would mimic the voices I heard coming through the radio in the car or the record player in my parent's room--everyone from Otis Redding to Three Dog Night. When I was ten, I began studying classically in an extremely competitive environment which later led to being trained in Opera. This background has given me a strong technical foundation.
Life and loss has given me the soul and sincerity that distinguishes my true voice from my technically trained voice. It has evolved naturally out of many years of experimenting and allowing many different variations of my voice to occur--all the while finding it's center.
It Resembles Fiction came from a deep desire to match my voice with songs that expressed myself truthfully and directly. I, also, had a very strong desire to collaborate with other musicians and marry their extraordinary gifts with mine.

click image for Leslie's FaceBook
image © Leslie DiNicola 2013

Where do you draw on inspiration for your songwriting?
My songs are very personal. They are all stories from my life that are interpreted into lyrical and musical expression. When I am writing, my intention is to be as specific and honest as possible. It is my way of moving through an experience and coming out clean on the other side. By making each song as personal as possible, my hope is that listeners will recognize themselves in the stories and that it will help them move through their own experiences--sort of a universal message of transformation.
How did you chose the songs you cover on your second EP?
I had a lot of fun choosing the cover songs on Draw Back Your Bow. I started by making a list of suggestions from fans, friends, and other musicians, then combined it with my own list of songs that I loved. My fans have heard me perform so many different covers over the years that the list became pretty extensive and diverse. The hard part was narrowing what became a list of thirty down to five songs that could be combined to create a whole experience.
Once I got to LA to start working on it with Julian Coryell--who truly is a human jukebox--the story this EP wanted to tell naturally started revealing itself to us as we played through the options together. In the end, some of the covers came from my list and some were suggestions from Julian.
Would you take us through the development of your three EPs.
From a songwriting standpoint, the evolution between the three EPs is simply a reflection of the person I have become over the past three years. My first EP, It Resembles Fiction, dealt a lot with love and heartache. My upcoming EP, Some Greener Yard, is a bit of a deeper album. It deals heavily with loss from the past--loss of a different quality or tone than on It Resembles Fiction. I think the covers EP, Draw Back Your Bow, was my stepping-stone for bridging the gap between the two albums.
I was growing in the way that I looked at production, sound, and self-expression. I was changing as an artist and found a lot of freedom in singing other musicianís work--freedom that gave me the confidence to find the more mature voice and writing that I was able to give to Some Greener Yard.
What can you tell our readers to expect on the latest EP that perhaps they might not have heard on the former two?
Some Greener Yard is the most honest of the three EPs. I have been becoming more true to my voice--both lyrically and musically--and I think it is displayed in the work. There is a lot of vulnerability on Some Greener Yard. It is a much more personal EP.

click image for Leslie's FaceBook
image © Leslie DiNicola 2013



Who have you collaborated with on these recordings?
Julian Coryell has been my main collaborator on the last two EPs. He was introduced to me by Julie Flanders of October Project. On the covers EP, he proved to be an extraordinary musician, producer, and visionary. Our musicality had a very lovely and effortless chemistry which made me want to collaborate with him on my original work and not just on covers.
By working with him on Some Greener Yard, I learned more about what I was capable of as a musician and a songwriter than I had realized. He always challenged me and never allowed me to leave anything between myself and the music other than the truth. He forced me to get all the way into the songs. Erich Gobel was our engineer on the past two EPs and has a phenomenal ear.
Despite being a chain-smoker, he breathes fresh air into every session with his jovial spirit. Even in the forteenth hour of a sixteen hour session, he was always there to lighten the mood and keep things moving. He has an exceptional ability to manipulate sound and space to create warmth or tension-intimacy or distance.
Ellis Traver was my first collaborator and, to this day, a true friend. He gave me the confidence to create my own music and was the first person that made me believe it was, not only possible, but necessary. He produced It Resembles Fiction with his phenomenal skills and quirky authenticity.
Are you particularly close with any other artists the NYC area?
I am very close with Julie Flanders and Emil Adler of October Project. They have always been very supportive and encouraging of my work and asked me to create a cover of their song "Take Me As I Am." It will be featured on their next Covered album--October Project songs covered by various other artists.
Recently, we have been discussing a project that would bring together their deep and intense songwriting with my voice. I get so much enjoyment out of singing their material because it is always so rich and vocally challenging. It is still in the beginning stages, but the project we have been discussing raises the chilly hairs on my arms.
Whatís a live Leslie DiNicola event like?
Well, in life I'm really kind of a "good girl from next door" type--maybe even a little boring. But, being on stage is something I see as an opportunity to open up into something deeper and wilder. I love performing with a full band and feeling all the energies come together. In live performance, there is so much risk and excitement that it gives you the chance to really feel the audience traveling with you throughout the songs. On stage, I feel it is my responsibility to bring a lot of courage and conviction in order to reveal a truth that can't be lived or said in the every day course of life. Artists have that unique ability to speaks these truths when they raise their voices in song.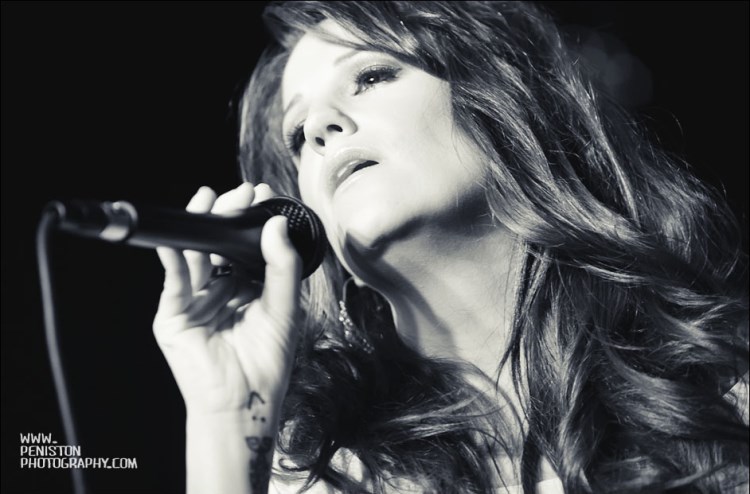 click image for Leslie's FaceBook | image © Leslie DiNicola 2013

As a young woman in the recording industry these days, how important is image and what do you do to manage yours?
Well, it is more important than I think we all wish it was. I consider myself to be an athlete as well as a musician. And I manage myself by the demands of both. Rather than wasting energy thinking from the outside in--like "Oh, I should look like this or like her"--I try to think from the inside out. Everything from my appearance to my musical ability and creativity is at it's best when I am taking care of myself and making sure that my body is getting everything it needs actively, nutritionally, and spiritually.
I think of myself as an expressive artist. There are a lot of artists who play with image and with representing certain truths or--like my first EP calls it 'resembling fictions'--by presenting themselves as something synthetic, like a Barbie doll. But, I am committed to embodying my own truths. Which, at times, means that I am committed to beauty and feeling alive and sensual.
Other times, I'm committed to an ugly truth that needs to be expressed musically, so I'm not going to be worrying about my hair or make-up. Of course, I am a girl, so to some extent, I love to express myself through fashion. I have a deep appreciation for the artistry of fashion designers and other creatives. But, other times, I love to express my inner tomboy and just sit on a stool in a pair of old jeans singing the way I do when there is no one around.
How vital is the internet and social media to your work?
If I said it was anything less than 100% vital I would be lying to you. The internet and social media is the number one way that I connect with my fans. I have a very diverse fan base that is spread out all over North America. There is simply no other way to reach them without social media. It's, also, the main tool for connecting with venues and booking agents. So, my opportunities for personal interactions with my fans through live performances would mostly not be possible without the internet.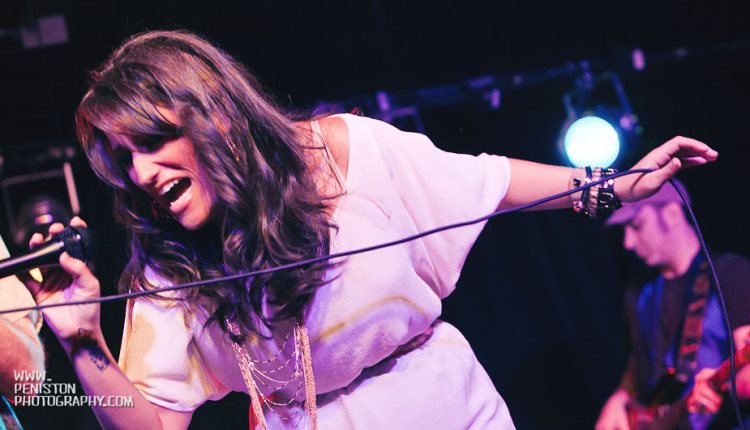 click image for Leslie's FaceBook | image © Leslie DiNicola 2013


As we draw to a close, besides your music, what else rocks your world?

I always say that if I wasn't a musician, I would be working for the Sea Shepherd Organization helping them battle the illegal poaching of whales and other ocean mammals. I grew up on boats and have circumnavigated the Pacific Ocean twice. I have an overwhelming love for wildlife and the environment, but particularly the ocean and itís inhabitants. I am active with the Wildlife Conservation Society and do what I can from here in NYC. But, I hope that my career eventually puts me in a position where I am able to make a real difference in these ongoing struggles to protect our earthís habitats, ecosystems, and species.

Is there anything else youíd like to tell us that perhaps we did not have the insight to ask?

There was no mention of my spectacular Sean Connery impersonation. It's more me impersonating Sean Connery impersonating himself--but, maybe Iíll pull it out for you sometime.

Thanks for the interview Leslie!

<! do not remove these lines>
---
Return to website contents
---