With more than 14 million albums sold to her credit, it seems that Loreena McKennitt is touring now more than ever. We were granted a rare personal interview between her 2007 summer Canadian tour, and the beginning of her 2007 American autumn tour. Loreena will illuminate venues coast to coast with the entire ensemble from Nights from the Alhambra (Quinlan Road (Canada) / Verve (USA), 2007), a DVD plus two-CD set recorded at mystical places in Spain during 2006 and partially aired on Public Broadcasting. The CDs include a transcription of the music from the stunningly filmed DVD. Our review of the value packed release and our in-depth interview with Loreena is presented below. Also be sure to read our review of her live performance in Buffalo.
Musical Discoveries: We've followed you for quite a while and know that your career spans more than twenty years. How has the creative process evolved over that period?
Loreena McKennitt: Well, I think when I started out I was primarily smitten by the Celtic sound, meaning more the overtly Irish, Scottish, English, Welsh and Breton sound. I attended an exhibition in '91 which was the most extensive exhibition ever assembled of Celts, I learned at the time there was this vast collection of tribes that had fanned out across Europe. I found myself using that pan-Celtic history as a kind of creative springboard for the process that I would undertake. For me anyway, it resembled an act of musical travel writing and reaching toward a finished piece of art. So the inspiration has come not only phonically but also through history and literature and all the various other themes that come through when mining the history.
As this mining has occurred, do you think the creative process has changed much?
It has formed into a much broader palette of things. Initially, for example, when I recorded Elemental, at that time I had spent some time in Ireland and I was familiar with some of the traditional repertoire. I worked at this theatre here in Stratford so part of my theatrical experience had formed that first recording and I also been invited to set an Irish poem to music as part of an event at the Toronto Authors Festival. So those were kinds of things that had formed my creativity at that time. When I learned about this other swath of history, I traveled to as many places as I could and gathered visceral information. I would also read books, speak to some of the experts and archeologists and so on. The creative process really involved those aspects of things which of course in '85,'87 and '89 it really didn't. It's a kind of distilling down of alot of information to make things interesting creatively, musically speaking and otherwise.
We notice some of your musical companions are consistent such as Brian Hughes, Hugh Marsh and Caroline Lavelle. They have very different personal careers but they blend perfectly into your music.
Yes, yes. There's a whole complement of musicians that we're touring with. We're touring with nine all of which except the Greek lyra player played on An Ancient Muse. The process of building An Ancient Muse was again trying to find the right instrument, the right player to play in the right medium, that would evoke a particular place or a particular time or a particular cultural dimension. All these people do play a very important role in my performance and replicating the textures of that musical fabric.
How did the connection with Caroline Lavelle originally happen and how has the long time collaboration been sustained?
I guess the connection with Caroline began with my colleague in the UK, before the Book of Secrets. But we were in the studio in the UK and we were looking for a cellist, and my colleague suggested that we should contact Caroline Lavelle. We did and she worked wonderfully. She's exceptional. She's trained classically and she also has that history and love of Celtic music. She's a most exquisite player. Her whole feeling when she plays is full of passion and commitment.
Alot of your songs have a profound spiritual basis. How much of that comes from your own spiritual beliefs?
The whole aspect of religion and spirituality is quite a fascinating one. I particularly got interested in it as I was preparing for The Mask and Mirror in '93 and '94. Part of it came through as I was sensing there was more than an Eastern connection to the Celts - they dated back to the ancient times. They were known by the Greeks and the Romans dating back to 500 BC and they would have interfaced with people that had a large complexion of religious permeatations.

Photo: Demetris Kollalous
click on image to visit artist's website

As I approached The Mask and Mirror, the whole subject of the Celtic region in Spain and that opened up a wider context of Spanish history involving Christian, Judaic and Muslim cultures or religions. I really got thinking that it seems that the human species has had a need to be spiritually engaged and religion is a kind of man-made response to that. But as with many man-made things, it can be open to distortion, permeatations and evolution. So I don't think that I will ever feel that I have landed on a fixed interpretation of spirituality.
I think my own approach to it will probably shine through to some degree in the recordings, but the recordings really reflect more of a quest and a searching and questioning, rather than saying OK I've found the answers. I think any of these answers lie individually for people and not necessarily collectively
You chose to record at Peter Gabriel's Real World Studios. What was behind that decision?
It was a byproduct of the fact that I manage my business and career as well. What it had to do with all of this is siphon off times for the artists and times for the managers. I found myself psychologically feeling trapped by the geographic proximity of my operation. Many recording studios are windowless - you can go in and not have any idea what time it was or what month of the year it was or anything - I feel that my creativity is hugely impacted by being as closely integrated into the natural world as possible.
So when it came to contemplating weeks and months in the recording studio I really wanted to find a place that was the most beautiful-istic in a natural way. We looked actually at a studio in Quebec and we looked at Peter Gabriel's studio. There are these residential studios here and there. But we also tried out Real World and finished off The Mask and Mirror there. We liked it so much and I felt like I found my recording home. It's a beautiful compound of colorful stone and three or four studio spaces there so there are other projects going on there at the same time. Yet, it is a residential and communal atmosphere. So you sit down and have breakfast, lunch and dinner together with other people, not just your own working team. And I like that ability to be in the proximity of other people, and you might sit next to a producer of another project or a bass player and it's nice to shuffle the deck.
We also would work in this fabulous space called The Big Room which to me is like the cross between a sanctuary and a conservatory because the whole front of it is filled with long windows and it's a round and a bay window that looks straight out onto a pond. While we're recording we're watching the herons and the ducks and the swans. Because Peter is involved in world music, we need certain kind of musicians or instruments. We could often go to the artists and say would you folks have any idea where we could reach certain kind of players and they often would have contacts. It just became a home away from home. And when you're in a line of work that keeps you away so much, to be able to reestablish a surrogate home away from home is also a very neat and cool thing.
Can you tell us about the formation of Quinlan Road? What led to collaborating with Verve?
Quinlan Road is simply the name of a label I had to give my first recording when I made it in 1985. I was working with a wonderful book by a woman called Diane Rappaport, and the book was called How To Make And Sell Your Own Recording. She explained in great detail all the ingredients and the steps that one had to take to make their own recording. Of course at that time it was primarily cassettes and albums. And she said you must find the name of your label even if the label was just a notion. I lived on a road outside of Stratford, Ontario called Quinlan Road, so I said, why don't I call it Quinlan Road. That was really the inspiration of how that got done.
From 1985 to 1991 I continued to build and run my operations more or less from my kitchen table top. In 1991 as a result of the success of my third recording Parallel Dreams in Canada I needed to get the operations out of my home. I set up an office in downtown Stratford and I had a one person staff. Then I had a licensing deal with the Warner Music Group and it was an international deal. Then my recordings all of a sudden became widely available in the world, I think in over 30 odd countries. The success played itself out through the 90's and then a couple of years ago my contract was up for renewal and I felt that I wanted things to change and that the Universal family was in some territories where I needed to be.
With regards to Verve, the choice of going with them was in the context of the music industry which with all intents and purposes has collapsed and I thought that in the United States I wanted to work with a kind of boutique group of people that worked on a small scale who I could get to know by name and who could get to know me and so on. Because I think that this project is a kind of boutique thing in itself that needs that type of mindset or type of approach.
What would you say would be interesting to our readers in our publication about this tour you're embarking on?
I think that musically speaking we are performing about three or four songs from An Ancient Muse and the rest of the material is from across the catalog with the exception of one song that is not formally recorded. I'm travelling with nine musicians and the instruments within those nine musicians because many of them play two or three instruments goes from Brian Hughes who plays acoustic and electric guitars, Oud, Bouzouki; we have a hurdy gurdy player; we have a bass player who plays acoustic and electric bass; Tal Bergman plays a drum kit; we have a fellow from Athens who plays a Greek lyra; we have Caroline Lavelle of course on cello; Donald Quan plays viola, tabla and keyboards; Hugh Marsh is a superb fiddle player; and I think that pretty much touches everyone. We have a very modest set and lighting so we have the visuals that hopefully compliment and create almost an approach of theatre to the concert. So you're not simply walking on stage and the lights are full on. Our lighting approach is slightly more dramatic.

Photo: Demetris Kollalous
click on image to visit artist's website

What would you say are the special ingredients that lead to being an enduring musical artist?
I think it has to begin with the music that you are performing. It may sound extremely pragmatic but there is an audience for the music that you are making and that it can survive on its musical legs and not have to survive on a marketing and promotional machinery. I think it has to be able to survive on its musical legs. I also think for the artists who are well into their career the challenge gets greater to be doing something where you're going, yet you're not leaving your audience behind. They too feel that they are growing and not simply revisiting the same experience.
I think from a business standpoint one of the most important things is to always respect your public and respect them and serve them - undertake strong customer relations which means staying in touch with them, making sure they get good service, good value for money, those kinds of things. I think if one brings alot of those things together, the laws of universal gravity will play themselves out such that one has a career that probably goes for a while.
What collaborations with other musical artists are in your dreams or plans?
At the moment I don't but that doesn't mean that I shouldn't or I couldn't. My brain right now is so locked in. We just finished a month's touring in Canada, and it won't be long until we pick up the US leg. I'm very much up to my ears in this recording and this project. There are a couple of peripheral things, other projects that are going on. One is that I've been asked and have already composed a song for a Disney animated film. I hope that it will see the finished end. So there is that kind of project going on. My own book project, also. And we're looking at touring around other parts of the world next year.
What is the book project?
Alot of people have read the liner notes of my recordings and they've written to us saying that's interesting, I'd like to learn more. And when it comes around to writing the liner notes, it's such an excruciating exercise because I usually write a lot, and then through the pragmatics that everything has to be shoehorned into "x" number of pages and we have to take into account that there are probably translations in other languages, and what ends up in the liner notes is small relative to the material that there is. It's been suggested to me on various occasions could I not find some way of expanding on that, so this book is really to expand on the research and travels of my recordings.
How long until your next studio release?
One doesn't always know. One can only guess and that's the humbling part about our mortality. We can't forget that we only have control over certain kinds of things and then we don't have control over anything! There's certainly a lot more research that I'm interested in doing in association with the history of the Celts. There are a lot of threads that came up in the past recordings that have remained undeveloped. Certainly there's a lot of fodder there for another recording. Part of the challenge is to see can I still create things, that I'm not being redundant. And ways that I can take things that are new and interesting. The more recordings one has under their belt, it actually becomes more difficult. We'll see. I've been approached as I mentioned by the Disney film, and I've been approached to score and write another documentary, I've been approached to do a radio program. We haven't been begun to service other territories - well, we've done Europe and North America for touring, but there are lots of other territories for touring. It depends on where I put the priorities.
Are there any parting special thoughts you'd like to share with our readers?
I'm really looking forward to meeting people. It finally occurred to me this spring when we finally got out to tour after such a long hiatus, that the whole process for me resembles sort of like preparing a meal for friends where one goes and shops for ingredients, which is like me going out and doing my research. And then you go back to the kitchen which is like the studio and then you try to discover new recipes. And then you think OK now I'm going to invite people over for dinner and the concerts and performances have for me a sentiment of inviting people over that you can share things with them and rather than performing for them. It is sort of in the spirit of that we come to tour and in particular the United States, especially a time in the spring. It was really, really wonderful. It was so great to meet people. I find the American people very welcoming and very generous.
Reviews

Nights from the Alhambra (2007) [DVD/2xCD]
image © Quinlan Road 2007

Nights From The Alhambra (DVD/2xCD Box Set)

. After nearly a decade off the scene, Loreena McKennitt returned to the performance and recording stage in 2006 and 2007. The Canadian singer picked up exactly where she left off, traveling through the Celtic-Middle Eastern fusions she explored on The Book of Secrets with her latest studio album, An Ancient Muse. Now, with momentum behind her, she's released a DVD document of her performance at Alhambra palace in Granada, Spain. This is the same performance that has been running on PBS station pledge drives for the last year, but with a double CD included.

McKennitt's renditions of songs from An Ancient Muse and her earlier albums are impeccable. As she is something of a perfectionist, there isn't much deviation from the original studio versions, but McKennitt is in fine voice and the band gets to rave it up a few times on tracks like "The Bonny Swans," where violinist Hugh Marsh and guitarist Brian Hughes trade increasingly frantic leads.

An enchanting musical performance, set beneath the stars in the breathtaking Moorish heart of medieval Spain. Captured in concert in September 2006, singer/composer Loreena McKennitt leads viewers through the multi-textured landscapes of her catalog, from traditional Celtic ballads to literary narratives and highlights from her latest recording, An Ancient Muse.

Filmed in rich HDTV, Nights from the Alhambra evokes the otherworldly magic of Granada's palace of dreams, the fiery and inspired performances of a stellar cast of supporting musicians and, of course, the unforgettable voice and songs of Loreena McKennitt herself. The package includes the complete footage on DVD and 2 separate audio CDs that encompass the complete evening.

This is an expanded group for McKennitt, with players from England, Greece, and the Middle East playing oud, dumbek, kanoun, hurdy-gurdy, duduk, and other ancient sounds from the British Isles to Turkey. The advantage of this edition of the Alhambra performance over that seen on PBS is that we're spared McKennitt's earnest and precious interstitials, talking about the location and her inspirations while slowly running her hands over Celtic carvings. But if you want it, that version of the performance is also on the DVD, as the commentary track. The CDs thoughtfully drop the between-song patter. Although the

performance is beautifully, if conventionally filmed, and it's great to see this virtuoso band playing in communion, it's ultimately McKennitt's songs themselves that brim with visual imagery as she creates her ancient evocations as effectively on the concert stage as she does in the studio.--John Diliberto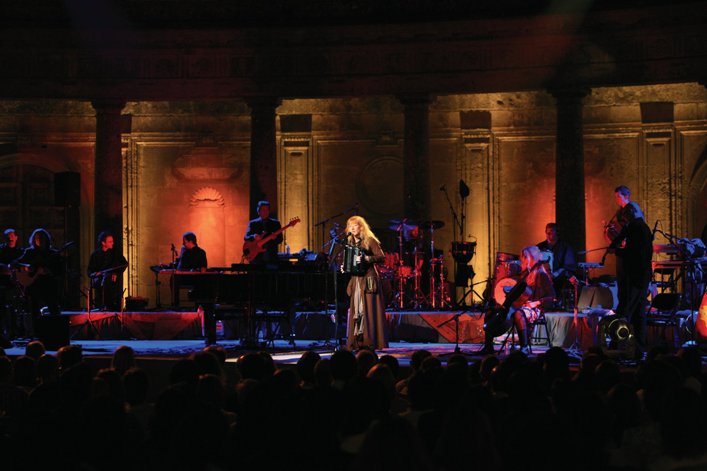 Loreena McKennitt and Company - Nights from the Alhambra | Photo: Demetris Kollalous
click on image to visit artist's website


Live in Buffalo, NY

. Loreena McKennitt and her talented musician ensemble appeared at Shea's Performing Arts Center in Buffalo, New York on Wednesday, October 17, 2007 as part of her North American autumn tour for An Ancient Muse. Firstly, Shea's is a magnificently restored venue that was originally built in 1926. This majestic theatre is resplendent with its lush decor and old time charm, boasting a combination of Spanish and French Baroque and Rococo styles. The lobby was designed to resemble the Hall of Mirrors at Versailles. The interior, designed in the Tiffany style, contains furnishings and fixtures supplied by Marshall Field in Chicago, and immense Czechoslovakian crystal chandeliers of the finest quality. The interior contains over one acre of very comfortable seating. These beautiful surroundings helped set the tone for a magical evening.

There was great excitement and anticipation of this show by the audience. The people in the lobby were abuzz with enthusiasm. The stage was simply set to evoke the feel of Byzantine, Greek and Turkish decor with its Moorish archway and minaret-like flickering brass hanging candelabras. The mystical feel came alive as the musicians and Loreena walked onstage. She set the tone of the evening with "She Moved Through The Fair" from Elemental. This piece has a great number of Celtic influences, and instrumentation of the Greek lyra and harp are highlighted. Loreena's gentle and exquisite tonal quality combined with the lilting music carries the audience to a higher level. The soothing and eastern inspired "The Gates of Istanbul" from An Ancient Muse incorporated all the immediately recognizable sounds of the Middle East. You could feel yourself being swept away to the casbah. "The Mummer's Dance" from The Book of Secrets with its percussive and soaring melody followed.

In addition to Loreena's musical prowess on harp, keyboards, piano and accordian, the superb ensemble of musicians deserve special recognition. Each musician is a standout on their own merits and the merging of these hugely gifted individuals makes brilliant music. These amazing artists include: Tal Bergman (drums and percussion); Caroline Lavelle (cello); Ben Grossman (hurdy gurdy and percussion); Rick Lazar (percussion); Brian Hughes (electric and acoustic guitars, oud, Celtic bouzouki); Hugh Marsh (violin); Tim Landers (acoustic and electric bass); Donald Quan (viola, keyboards, tabla and accordian); and Stratis Psaradellis (lyra and Greek lute). The sumptuous musical ethnicity further enhanced the beauty and historic values in the concert.

During the show, Loreena spoke at length a couple of times about her journey through Celtic history and the creative springboard it provided her. Loreena is extremely knowledgable and has great expertise through her personal study and travel regarding the Celts and their origins. She interacted with her audience easily and brought them into her realm, engaging the crowd especially through her anecdotes. She described one of her journeys into Mongolia where she talked about this nomadic tribe she stayed with. These herders of horses, sheep, goats and camels did not have vegetables in their diet, but utilized their resources of meat. As a welcome gift, she was given a bowl of a frothy white liquid in a bowl which she later discovered to be fermented mare's milk. She laughingly said that another culture's welcoming gifts were sometimes challenging. While informative, her descriptions tended to be a bit lengthy and Loreena joked that her ensemble teased her that she may like to have a power point presentation as well!

Her gorgeous rendition of the traditional "Bonny Portmore" from The Visit was certainly one of the standout songs of the evening. The soothing melody, Loreena's soaring and sensitive vocals combined with Caroline Lavelle's rich cello accompaniment captivated the listener while absorbing the story in song. The next three songs were from The Book of Secrets: the mesmerizing and ethnically rhythmic "Marco Polo," the dramatic rendition of "The Highwayman" and the simple and poignant ballad "Dante's Prayer." Loreena's more pop-oriented "The Bonny Swans" from The Mask and Mirror highlighted the fabulous fiddle and electric guitar duo. This traditional narrative ballad was enhanced by the varying instrumental flavors. The first set ended with "Caravanserai" from An Ancient Muse. The Celtic ballad style remains central to her music and Loreena's beautiful alto is spellbinding.

Loreena returned in the second set with "Raglan Road" from An Ancient Muse. The lyrics were written by a famous Irish poet, Patrick Cavanaugh. Simple piano and splendid cello evoked serenity and peacefulness. Two songs from The Mask and Mirror, with its dancing percussion arrangements in the "The Mystic's Dream" and the Celtic inspired instrumental of "Santiago," highlighted their Moroccan musical spice. Hugh Marsh shined with his vibrant and impressive fiddling in "Santiago."

The poetry of Tennyson comes alive in "The Lady of Shalott" from The Visit. Loreena's expert storytelling in this lovely interpretative piece yields a strength and gracefullness in this spiritual sojourn. Another ballad, "The Old Ways," from this album followed with its Celtic flair and stylized melody. The great, touching melody of the "Never-Ending Road/Amhrán Duit" concluded the second set. Loreena's trademark magnificent tones created an aura of tension and density to the music, with the results being intoxicating. The audience, wanting more, received their just reward with two more songs in her encore.

Throughout her performance, Loreena's strength of vocals as well as her grace on stage were pronounced. She had the audience from the very first note, to the closing melodies of the encore. This "best of" concert from Loreena's various albums was certainly the best. These songs all represent Loreena McKennitt and her music at its very best. She certainly filled each individual with inspiration and took us on a magical journey that no one wanted to end.

<! do not remove these lines>
---
Return to website contents
---