Kyoko Baertsoen (vocals) and Walter Hilhorst (guitar, keyboards, programming) are the heart of Lunascape. The duo originally met in 1993 at the television and film academy in Brussels, Belgium. The Lunascape sound mixes catching rhythms, sampling and loops with acoustic and electric guitars reinforced by strong melodies and Kyoko's enchanting voice. Our feature includes our 2002 interview with Kyoko and Walter, a new intervew with Kyoko in 2004 as well as in-depth reviews of their material.
Lunascape's album lineup also includes contributions by Didier de Voglelas (drums), Mirko Banovic (bass), Piet Goddaer (strings), Audrey Riley Quartet (strings), Sally Herbert Ensemble (strings), Jo Mahieu (guitars) and Philip Masure (bodhran). See the album's sleeve notes for further details.

Kyoko Baertsoen
Image © Dany Lucas 2002


The music of Lunasape can best be described as ethereal ambient trip-pop music and is certain to appeal to enthusiasts of Delerium (reviews Poem and more) and Balligomingo (review) whose work has been covered well Musical Discoveries.
After touring through Europe as lead female singer for the band Hooverphonic in 1997, Kyoko combined forces with Wlater to form Lunascape. They created their own unique sound influenced by such acts as Dead Can Dance, Cocteau Twins, Sinead O'Conner, Portishead and many others. In February 2001, the new 3D IMAX movie Haunted Castle was released across North-America featuring Lunascape. During a three minute sequence in this movie, Kyoko performas the song "Lane Navachi" on screen in a 3D computergraphics environment.
Lunascape's debut album was recorded in Belgium with producer Ash Howes (Texas, Sinead O'Connor, Faithless). For one of the songs "Tears From the Moon," the band worked with songwriter Rick Nowels who contributed three songs on Madonna's Ray Of Light album and has also written for Celine Deion, Mel C, Dido and many others. "Tears From the Moon" was released as Lunascape's second single after "Your Shadow" followed by "Sequoia" and the latest single "My 2nd Skin."
Reviews
| | |
| --- | --- |
| Image © Lunascape 2002 | |
Reflecting Seyelence.

Lunascape have created one of this years most original and arresting albums, Reflecting Seyelence. This twelve-track debut is brimming with original music, lyrics, and instrumentation--and Kyoko may very well be one of the most talented female vocalists to appear on the scene in some time. At any given time, Sinead O'Connor, Delores O'Riordan (the Cranberries), Bjork, and Anneli Drecker (Bel Canto) can be heard battling to gain control of Kyoko's voice. Moving from purest siren's call to Celt-in-the-wild banshee wail, Kyoko adds a dazzling breadth to each track on Reflecting Seylence by expertly managing the nuances of every song.

Reflecting Seyelence is a multi-faceted, often breathtaking collection of twelve songs that combine elements of electronica, flamenco, mouth-music, trip-hop, pop, and rock. In fact, this melange of sounds actually work together to give Lunascape their novel sound. For example, "Tears from the Moon," which was co-written by Rick Nowels (who has worked with Dido and Madonna) and Billy Steinberg is a strange breeding of popular and classical music styles. The melody sounds almost as if it has been drawn from an eastern european folk tradition, but with an added contemporary spin. Particularly clever is the way in which the orchestra emphasizes the line "Tears from the Moon fall down like Rain" with cascading strings that create the effect of something actually falling from the sky.

The darkwave-touched "Love=Creepy" shows Kyoko's voice in top form. With its pulsing electronics and edgy guitars, this track sounds like Blondie performing in a goth club. "Lane Navachi" begins with a brief and inspired acapella performance by Kyoko. Although the listener may initially think that this will by a gentle lullaby, the pristine mood is quickly interrupted by electronic whirrs, sensual rythyms and a fantastic middle-eastern tinged melody. Against this backdrop, Kyoko's ever-mesmerizing voice hovers, connected but disembodied.

One of the best tracks on the album, "Love Leather" is notable not only for its sweeping and tragic music, but also for its unusual lyrics about Rome, jealousy, murder and love. With her skilled singing, Kyoko imbues the song with a hint of otherworldliness. "Sequoia" is a more crunching, trip hop piece--think the Cranberries mixed with a touch of Portishead--that sounds amazing with the sound system turned up to the max.

Lunascape display a more urban, downtempo vibe in the Sade-esque "Mourning Star." Utilizing funky guitars and laid-back percussion, this track provides a pleasant move away from some of the more intense songs on the album. "Mourning Star" would fit perfectly into an Ibizia morning chill collection. The closing track "Dream Scenario" provides a memorable finale to the album. Featuring a washed and sensitive guitar lead, and retro Wurlitzer, "Dream Scenario" captures that late hour, melanchoy ambience found in many Love Spirals Downwards songs. Slighty chilling, but resonating with surreal romance, "Dream Scenario" feels like that serene moment between sleeping and waking.

With such an striking debut, we can only predict great things for Lunascape's future. This is a band that deserves a wide audience. The production on the album is impeccable, and all of the players perform superbly. Lyrically and melodically, Lunascape display a skill that belies the fact that this is their premiere release. Sure to be a longtime favorite in this reviewer's collection, we highly recommend Lunascape's Relflecting Seyelence. Lunascape have indeed created a unique and highly enjoyable debut.--Justin Elswick
| | |
| --- | --- |
| | Image © Lunascape 2002 |
Remotions.

Lunascape released their debut DVD in late 2002 following the tremendous success of their debut album Reflecting Seyelence and acclaimed Conjure One (review) cover of their hit song "Tears From The Moon." The DVD (B-Track and Supermusic (Belgium) BTR DVD01, 2002) runs just thirty-two minutes and is recorded in PAL format. This means unfortunately for some outside PAL territories that although it is region-free that it will only play on personal computers. That said, the DVD includes a collection of four professionally produced music videos and three live perrformances of songs from the album Reflecting Seyelence.

While the music videos are commercial, both production and visual quality are well above average and all demonstrate the artists' acting abilities in illustrating themes behind the individual tracks. The first music video presented is "Your Shadow," shot in October 1999. Kyoko mimes words to the tune, rhythmically moving to the music while the visual fantasy that accompanies it further illustrates the themes found within the song.

The "Tears From The Moon" video, shot in November 2000, is clearly the premier production number of the DVD mixing Kyoko's singing with a lushly produced visual fantasy sequence. The artists' virtuosity to act their individual parts works well with the album's standout track.

"Sequoia," shot a year later in October 2001, is more dance oriented and avante-garde with visual textures and Kyoko's makeup that compliment the music and fit typical extremes of music videos. The final music video of the DVD, recorded in July 2002, "Mourning Star," is much more evocative. Kyoko, dressed in a sensual black dress looking absolutely stunning, mimes the words and moves her body gracefully in time with the ballad. Lighting effects perfectly compliment the recorded material.

The music videos are good but the three outstanding selections from the DVD are certainly the recordings of Lunascape's live performances. Two recordings made in April and July 2002 of "Yairo" are mixed together and effectively capture the band in one of their most upbeat tracks. Watch the animated Kyoko as the premier front woman in both open air and club atmospheres on this stunning track. The band is everso exciting in these live settings. "Inferno," recorded live in the studio provides a unique visual appreciation of Lunascape and the excellent camera work expecially of Kyoko's beauty, but the recording lacks the live atmosphere of the prior track.

Clearly the standout video track of the DVD is the unplugged version of "Tears From The Moon" recorded in the studio in February 2002. Here, Kyoko's tender and un-retouched vocal is accompanied only by Walter's acoustic guitar. The evocative visual and vocal performance is perfectly captured on the film. Kyoko's emotional delivery of the lyrical message is perfectly performed with graceful body movements perfectly articulating the material. The DVD is a must have if for this track alone. A "Dreamscenario" with further information on the videos and artist backgrounds concludes the DVD.--Russ Elliot
| | |
| --- | --- |
| Image © Lunascape 2004 | |
Mindstalking.

The wickedly talented Belgians of Lunascape have returned with their second full-length album, Mindstalking (CNR Records International (Belgium) 22 999342, 2004). The band's debut Reflecting Seylence was such a tour de force that it seemed Lunascape might have a hard time delivering a follow-up that could match its beauty and originality. Luckily, fans have nothing to fear--Mindstalking is easily on par with the band's debut both musically and lyrically.

Although reviewers are not supposed to "gush" about their subjects, we find it difficult not to rave about Kyoko's vocal performances on every track on this album. Ms. Baertsoen is just so gifted! Comparisons to Sinead O'Connor and Delores O'Riordan are inevitable; but with all due respect to both of those Irish singers, Kyoko voice is far more dynamic and varied than either of these singers. Kyoko's voice is simply the sound of heaven manifest on earth.

While it can be assumed that Walter Hilhorst is content with having the lovely Kyoko in the spotlight--his face is always in the background or in tiny photos in the album sleeves--his presence is integral to Lunascape's sound as its programmer. Patrick Steenaerts (guitars), Wouter Berlaen (bass), and Eric Bosteels (drums) are also featured heavily in each of the songs and contribute significantly to the wonderful Luanscape sound.

The songs on "Mindstalking" range from hard hitting rock ("Right to be Wrong") to gothic/ambient ("Nude Nature") to ethereal/electronic ("Daydream History"). Lunascape even channel Angelo Badalamenti (Twin Peaks) on the deleriously dreamy "Perfume Recalling."

The spine-tingling "SOS Planet" is the theme for the large format movie. Melodically grand and soul stirring, Kyoko's pure voice is backed by immense strings, strummed guitar and electronica interjections. Another attention-grabber is the slightly chilling "Daydream History." Somber and tragic, the ambiguous lyrics and intense melody are hard to forget.

The possible best track on the album, "State of Mind" is a brilliantly crafted tune. Kyoko's overdubbed harmonies in the chorus create a perfect "hook" that will have you playing the song over and over and over. Why Lunascape is not yet a worldwide phenomenon is hard to fathom, although it may have something to do with the state of a music industry that often gravitates toward and promotes only the most colorless chum. You cannot listen to Lunascape without falling in love with the music--plain and simple. Listen to Mindstalking and fall in love again.--Justin Elswick

Interview (2002)
Musical Discoveries: Please tell me a little bit about your backgrounds prior to Lunascape.
Walter: Kyoko and I met at the television and film academy in Brussels. There was a free-stage festival where both of us performed seperately. After the gig I asked her if she would be interested in making music together. She said yes, and that's where it all started. We started of with some covers and songs we both wrote before we met. Nothing too serious, just enjoying the pleasure of making music. We called our band Calyx. Of course as time passed we really wanted to do something with the music.

Kyoko Baertsoen and Walter Hilhorst
Image © Annick Geenen 2002


In 1997, Kyoko was asked to be the lead vocalist for Hooverphonic. She went on tour with the band and even wrote a few songs together with them. But due to several problems she decided to quit Hooverphonic and continue with our band. From then on the music started to take shape. We knew which direction but didn't really know what road to take to make it public.
So when did things really get cooking for Lunascape?
The turning point came in 1998. We were playing on Debutrock Festival in Belgium. And like in a typical rock'n'roll band's story, we got the attention of a record company, former DoubleT Records (K's Choice, Ozark Henry). The next day they actually rang my doorbell and presented a contract.
But it took another year to sign the record deal as we were being really careful. This was new to us and we wanted to make the right decision. In this period we also changed the band's name to Lunascape as there already was a band called Calyx. So, as soon as the contract was signed in February 1999, plans were made to record our debut album.
Then, in the summer of 1999 we recorded and mixed all of the songs we wrote in the previous years. Our label gave us the change to work with the big stuff: expensive studios and great producers (and vice versa).
Tell us about the producer.
We chose Ash Howes to produce the album. Ash already worked with Texas, Sinéad O'Connor, Dido and many more. He's a very cool minded person. He could really cool us down if there were any problems going on. And he's a great engineer and mixer as well. When the album was finally finished in September 1999 we waited to have it released.
And how about the early singles?
Our first single "Your Shadow" was released in February 2000. Then the record company wanted us to write a hit single. They suggested we work with Rick Nowles who had written many top hits for Madonna, Dido, Belinda Carlisle and many other famous artists. So we were truly delighted he wanted to work with us. He only had to find the right time in his ever so thight schedule. Finally, we took off to his studio in Los Angeles early May 2000. We worked together one week and wrote two songs: "Tears From The Moon" and "Antony." Lyrics were written by Billy Steinberg (known for many hit singles such as "enternal flame" by The Bangles and "True Colors" by Cindy Lauper.
Meanwhile, like many others, our record label were also having financial difficulties. So for a few months nothing was done at all untill DoubleT was taken over by Sony Music. In this way we were literaly sucked into the "big mean music machine." This was an uncertain period for Lunascape. What scenarios did Sony have for our music--a worst case scenario or a "dream scenario"? Luckily, they made an effort to invest in a second single.
As we all enjoyed "Tears From The Moon," this was recorded in London by producer Steve Lyon (The Cure, Depeche Mode). After three remixes it was finally released December 10, 2000. Unfortunately, one month later Sony Music itself suffered from the sick economy in the music industry. It had to quit with many local bands. On January 23, 2001, Kyoko got the call of death from the Sony's big chief: "I quit Lunascape." And again, we were without a label. This really made us very suspicious about the whole music industry.
So what do you think about the music industry then? Did things work out well at the end of the day?
It's all about the money ... but then again the money is not all of it! But still fortune wasn't on our side and luck wasn't either. And all we wanted to do is make music and have it released so people can enjoy it! The only good thing about the affair was that we were handed over all of the mastertapes for free. This made us the only natural owner of our music which of course is a good thing.
What did you do next?
At that time I just had the new website up and running. For a long period this was the only way to keep in touch with the public. It was and still is a great way to show music, clips and many other things about the band. And there were many people who found out about our site through Haunted Castle, a 3D-imax movie which at this moment is still showing around the world. In this film, Kyoko played a starring role as she sang "Lane Navachi" in a mesmerizing 3D sequence.

Kyoko Baertsoen
Image © Philipe Allaeys 2002

Meanwhile we started to look for another label. This was very difficult as very few bands were signed due to the bad shape the music industry was in. Luckily in August 2001, B-track, a sublabel of Zomba records was interested. This time we didn't sign the regular record deal. Instead we got a license deal. This meant we would personally have to pay any future recordings and videoclips. But this wasn't going to be a problem at all. We had already made the clips of the singles ourselves for a low budget. And musically we would manage perfectly with our own home studio, the LunAttic. In the end we we're already doing lots of professional recordings ourselves anyway. It forced us to gain total control over the music, clips, artwork, website and many other things related to the music. And as we physically do all of these things on our own, it's a lot to deal with and it doesn't make live any easier. But in the end, any appreciation will be much more rewarding.
So, things started to rock'nroll again on February 16th, 2002, when our debut album was finally released. The months before we still made many changes to the album of which three songs were remixed ("Love=Creepy," "Sin For Me" and "Sequoia") and four songs were replaced by new ones ("Tears From The Moon," "My 2nd Skin," "inferno" and "mourning star").
This time fortune still wasn't on our side but luck was coming in. The album was well received by the public. It even made it halfway into the charts of top album sales in Belgium. Radio's started to pick up our singles and made several tv appearances. So, after three years of fighting and struggling with record companies we finally got the attention we had been hoping for.
Did anyone special take notice?
There was even one person with a very special interest: Sinéad O'Connor, who got a copy of "tears from the moon" through Billy Steinberg. She liked it very much and decided to record it with Delerium's Rhys Fulber for his solo project Conjure One. The album with the track is due to be released the end of August.

Kyoko Baertsoen
Image © Annick Geenen 2002

And what are you up to just now?
At this moment we are working on the soundtrack for Ben Stassen's next 3D-imax movie, SOS Planet which will be released worldwide starting this Autumn. This is a great challenge as producing music for this brilliant movie technology is a quite unique and very new thing to do.
Who are your favourite artists/bands? Who else do you find yourself listening to all the time?
Walter: I think nowadays, it's really difficult to have one or a few favourite bands. 10 or 20 years ago there were only one or two bands playing a particular style. Great bands like Pink Floyd, U2, Rolling Stones. That's all over. These days there are so many bands sharing the same kind of music. Some of them even sound the same. They use the same producers, guitar sounds, effects, drumloops and so on. It doesn't really matter as long as the songs are ok. And of course every band is influenced by other bands. I know I am and have been. And I came all the way. Probably from about the end of the disco era. I've seen them even live: Abba, Boney M, OMD. My first concerts ever. But it didn't take too long too realise it wasn't really my kind of music.
In 1983, at the age of 13, I found out about Peter Gabriel (Plays Live), Fischer Z (Going Deaf For A Living) and Simple Minds (Sparkle In The Rain). I will never forget their brilliant albums. Especially the Plays Live Double EP: my all time favorite. I remember one sunny wednesday afternoon in '83, I even painted my face like Peter Gabriel's monkey face (which is on the front of the sleeve). Luckily it had hurt so much to get it back off so I never did this crazy thing again.
Then I entered the dark zone and got in contact with the experimental music of Einstürzende Neubauten, In the Nursery, Psychic TV. And the sinister new wave of Sisters of Mercy, Bauhaus and Joy Division. But at one particular moment only one band really took me all the way into the "beautiful realms of music": The Cocteau Twins. It's hard to listen to these days as I don't like the arrangements anymore but I still like these extraordinary original melodies of Liz Fraser. And I've never heard anyone do this again. For me she'll stay the goddess of chant forever.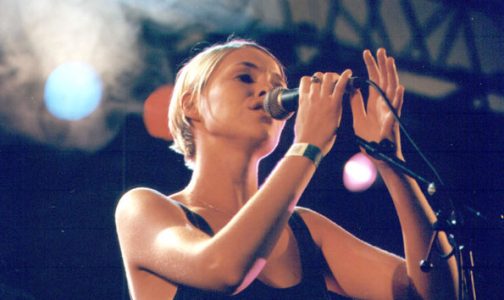 Kyoko Baertsoen
Image © Dany Lucas 2002

That's the main origin for my love for woman vocals. But don't give me any of this terrible Céline Dion shit. I hate that. But I love the pure and most of all natural and untrained singing voices. Then you know it's true. And that's what really like about Kyoko's voice. Pure and natural. You don't need any Cher like autotune machinery. I even think Céline Dion has a build in autotune.
Nowadays I just like every great written song. That could be System of a down, Destiny's Child or even Madonna. But I almost only buy creamy music. Warm, mellow with a harsh flavour. Bands like Elbow (sounds like Peter Gabriel playing stereo tremelo guitars, great album!), Coldplay (should be Warmplay), Zero7 and Air (great songs, amazing music), Graig Armstrong (because of the great sounding combination of real orchestral arrangements with triphop beats, listen to Wake up in new york on the latest album!). There are two similar kind of bands I really listen to alot: Muse and Radiohead. A long time ago this could have been one band. Maybe Radiomuse or something like that.

Kyoko Baertsoen
Image © Lunascape 2002

Kyoko: I love Sinead O'Connor, Liz Fraser, Dead Can Dance (Lisa Gerard), David Bowie, Radiohead, The Smashing Pumpkins, Air, Massive Attack. And I adore everything Angelo Badalamenti does (score-writer for David Lynch). The music for his films is brilliant (the straight story, Twin Peaks, Fire walk with me). I also love classical music and yes, even reggae.
How did you develop your vocal style--can you elaborate on your musical 'training/education'?
Kyoko: When I was eleven years old, I started to go to the music-academy. I studied 'musical background' for five years and learned to play the flute as well and studied it for over ten years. I definitely can rely on my musical education, especially when it comes to look for melodies. Although I never took singing lessons, my technique and breathing control--which are very important for a singer--are good thanks to my experience as a flutist.
Most people compare my vocal style with Sinead O'Connor. As my mother worked for Aer Lingus, I visited Ireland a lot of times. I even learnt my English over there. I guess I was influenced as a child by the typical Irish folk singing, and the singing style of Sinead O' Connor in particular.
I love to experiment with my voice and to combine all sorts of styles: screaming, whispering, etc. Some songs on the album ("Lane Navachi" and "Inferno") are even more in the direction of opera.
I'm glad that I never took singing-lessons, because now I can develop my own style which is very important if you make 'emotional, sensitive' music. I sing in my way, maybe technically not 1OO%, but with lots of feeling. I know many singers that sing technically perfect but with a lack of sensitivity and emotion. As singing comes from the heart, I prefer my way!

Kyoko Baertsoen and Walter Hilhorst
Image © Annick Geenen 2002


Please explain the various sequences you go through when writing your music and tell me a bit about the studios that you use in different stages.
Walter: Eevery song has been composed in a different way. There is no regular process. Sometimes I start of with a simple guitar riff. Then Kyoko tries to find a melody. Other times it can even start with a drumloop or a few chords on the piano. We like to bring variation into the music. If we make a rock song one day then the other day we just need to write a dreamy song. It keeps things well balanced.
This is not on purpose but it's the natural need to do it. And when a song has been composed then I start writing lyrics for it. This is truly the most intense task to do. Especially because Kyoko only sings sounds or abstract phrases which I think sometimes should be left like that. But then again you also want to tell a story or say something. So I really like to fit the words on to her original sounds. It's like a puzzle of words and sounds. And when I find the words I want to tell something. And I always try to write through Kyoko's mind because in the end she has to sing it all the time. But in that way somebody might also get the chance to identify him or herself with the lyrics. Even myself.
Nowadays, we produce our music ourselves. We can no longer afford any of the expensive producers. But we've also seen how these guys did their job. We learned a lot and the experience is very useful now. So at my home studio, these are the main musical tools: the macintosh, a few guitars, keyboards, a mixer, amp, speakers and a microphone. That's basically all we need. If there is more, especially technical stuff then it's hard to choose from and they take forever to learn.
We probably only use a professional studio to record drums, strings or for mixing purposes. All the other things are done in the attic of a simple house: the LunAttic.
Do you have a career or work outside music? I'd be interested to know the kinds of things you do if this can be shared.
Walter: I'm a TV-director. It's a fulltime job and it involves the creative production of on-air promo's, trailers and graphics for a popular television station here in Belgium. I love working on music and sound but I also need to be busy with visual aspects. When I hear a sound there's always a visual image connected to it somehow. If you listen to music and close your eyes you'll probably try to visualize the music someway or the other. That's also one of the reasons why I directed and edited our videoclips myself.
Please tell us about your live performances and the audience's reaction to your on stage personna.
Kyoko: We play with five people and the general sound is a bit harder and louder. We want to play with a band as I think it's important for the audience to see a live gig. The reactions so far have been very good. People dance, people listen, they enjoy.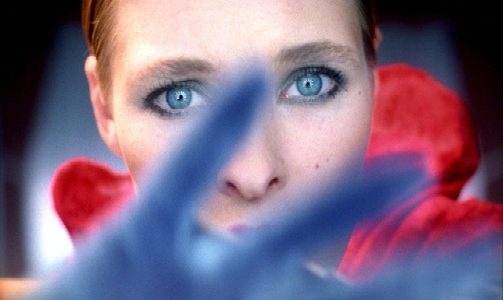 Kyoko Baertsoen
Image © Lunascape 2002

How has the internet influenced your musical career and the promotion of your music. Do you think that your website will bring you many new fans?
Walter: We started the website last year on the first day of the new millennium. It's a new era. In the beginning I was closely watching the visitor counter every day. And I could even see from which countries the visitors came. As time went by the list of countries was growing day by day. I haven't looked recently but I'm sure we've had visitors from all over world. This is certainly due to the fact of Kyoko's appearance in the Imax movie Haunted Castle. In this way the website and internet are very important means for the public to get and stay in contact with our music.
Interview 2004
Musical Discoveries: Do you feel that Mindstalking is different sound for Lunascape than Reflecting Seyelence?
Kyoko: I think the overall production is completely different. This time we did everything by ourselves: recording, mixing and producing. Some people told us that they found Reflecting Seyelence overproduced and that's why we wanted this album to breathe more. We wanted this album to sound more dynamic and that's why some people have said that it is more rock-sounding.
We found it important that you could hear every single istrument and melody-line. We left out all the additional loops and sounds and that's why I think this album is more dynamic. We also followed the rules of the songwriting instead of experimenting too much: verse, chorus, double chorus at the end, etc. We noticed that for example radio stations appreciate that more. I think it's the same as writing a book: you have to know your alphabet first, before you can start writing sentences. If you follow some rules, people will understand it better and I think that's very important.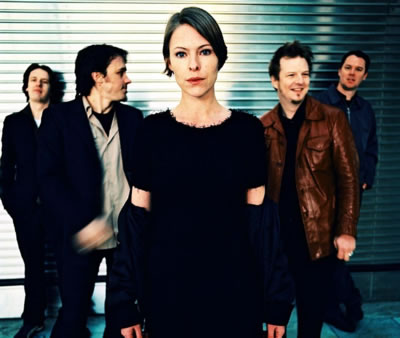 Image © Lunascape 2004

The "SOS Planet Theme" is beautiful. How did you get the opportunity to work on it?
The A/R director of our previous record-company knows the director of both movies Haunted Castle and SOS Planet. In the first 3-D-movie, I play the role of a mother in an animated haunted castle that sold her soul to the devil in return of fame. That movie did so well, that the director asked us again to work with him. For this 3-D-movie we wrote the score on the images which was really great to do, as Walter and I are both television-directors. Apart from making our video-clips ourselves, this was also really fun.
Are Lunascape touring to promote Mindstalking--any dates outside of Belgium?
For the moment CNR records is preparing a release in the Netherlands and Germany. I hope of course that concerts will follow. But for the moment, we are only playing in Belgium.
Lunascape often create their own music videos. Do you feel that creating your own videos gives you the freedom to craft your own visual imagery?
Definitely, and it's also a very nice way of working, because we know the whole crew. We always try to work with friends, so that there's a nice atmosphere on the set. We never have enough money but we have the luxury of working at ease without people telling us what to do. Last week we shooted the videoclip for "Mindstalking." We are now editing it.
Do you have a favorite track on the new album?
I like "Feigned Affair" the most personally. Without really knowing why, as I like all songs of course.
Rumour has it that Lunascape has a few hidden b-side/rarity tracks that were not released on either album. Is there any chance these will be made available, maybe via your website?
Well, maybe a bit later. We didn't use some songs that were meant to be on the first album, but who knows, I would love to release them once. Good idea of you to put them on the website!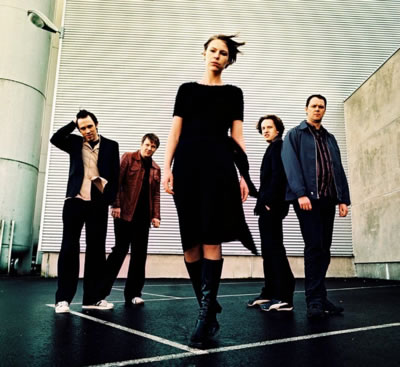 Image © Lunascape 2004

Conjure One tapped Sinead O'Connor to cover your song "Tears from the Moon." Although many believe Lunascape's version to be superior, did such a high-profile cover get Lunascape any additional notice?
Yes! First of all, some people are saying that my voice is quite similar to Sinead O'Connor's voice. Now I have a kind of "proof" that we just share the same taste, as she's the one covering a song of us.
I've always been a big fan of Sinead--especially because she's able to keep her own personality in this hard music-world--and for me it was an honour that she covered it and not somebody else. Last year I met her in Antwerp, and she gave me many compliments and a big hug!
Her version of the song is used in the new Tomb Raider movie and we also get a lot of response of fans that like the song, then look it up on the net to find out that we wrote the song.
What is the story behind the incredible song "Daydream History"?
Hmm, this is a bit hard to explain. It's kind of personal. I think the lyrics speak for themselves.
Kyoko, your voice sounds as amazing as ever--what do you do to keep your voice in such condition?
I never shout! Very important and very pleasant for the people around me too. And I never sing in the morning, as my voice is still sleepy then. Apart from that, I do some singing exercises and drink a lot of tea.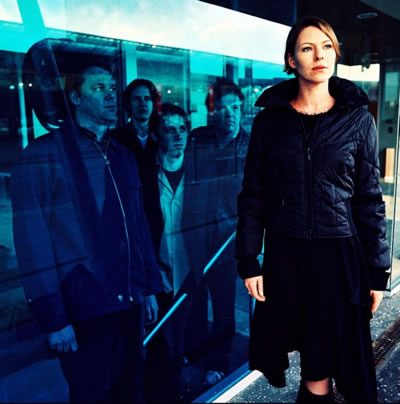 Image © Lunascape 2004

What can we expect out of Lunascape for the 2004 year?
We hope to find record-companies outside Belgium to release our albums and to play a lot of gigs.
How can fans of your music help get Lunascape more exposure around the world?
I believe in mouth-to-mouth advertising. Spread the word. All kinds of contacts are welcome at our website www.lunascape.net.
What are your plans, hopes and dreams for the future?
To be happy, healthy, in a good mood and with a lot of energy to keep on writing music.
Further Information
The Lunascape website presents further information about the band, a gig guide, additional reviews, soundbites, stunning video clips, additional images of the artists and much more. Here you can see a glimpse of the band's live performance and music videos. It is most certainly worth a journey and is best browsed in broadband however dial-up users have been equally well catered for.

Lunascape's album Reflecting Seyelence, DVD Remotions and latest album Mindstalking are all available at several online shops however they are likely best purchased through the band's website. Their music should be explored further. Worth a trans-Atlantic voyage, our editors found all of the material a must listen!

<! do not remove these lines>
---
Return to website contents
---