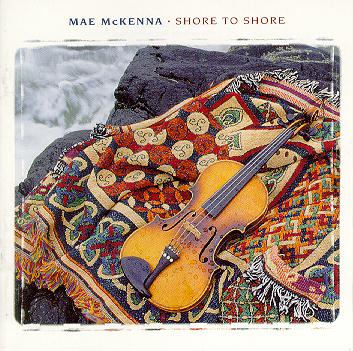 Image © 1999 Mae McKenna; Used with permission.
Click on the album cover to visit the artist's own website


Album Review
© Russell W Elliot 1999
Last Updated: 28 May 1999
---
With a voice strong and dynamic enough to support a totally acoustic folk style, the latest album produced by singer songwriter Mae McKenna, Shore To Shore (Mill Records (UK) MRCD015, 1999), is a wonderful illustration of her breadth of talent. Mae says the album is "totally acoustic, very organic and rootsy." Although the new album departs from the unique style of her previous two albums, characterised by "the creative use of voice in a modern musical setting" and "the blending of different ethnic musical styles and the unusual combination of traditional, acoustic and up to the minute electronic instrumentation," the new album works very well and is a natural evolution from Mae's previous six albums. An thoroughly updated and illustrated artist biography follows this review.

Mae's new album delivers outstanding solo vocal performances accompanied by a range of traditional acoustic instrumentation. As the title indicates, the album was recorded both in America and the United Kingdom with the eleven of the album's thirteen tracks being recorded in Nashville. Songwriting credits are generally shared amongst combinations of Mae McKenna, Hugh McKenna, Pat Cunningham, John O'Kane and Isabelle Nesmon; John McKenna wrote the song "New York Harbour." Arrangements of traditional pieces were primarily provided by Mae herself.

Additional artists on the various tracks include: Peter Cairney (acoustic guitar), John Mock (acoustic and spanish guitar and mandolin), Bill Verdier (fiddle) Billy Jackson (harp, whistle, flute, uillean pipes and keyboards), Randy Howard (fiddle and mandolin), Dennis Crouch (double bass), Vince Farsetta (banjo), Deborah Packard, Lee Satterfield and Wes Hightower (backing vocals). Writing and and performance credit details as well as a complete set of lyrics are presented in a lovely and well-produced booklet that accompanies the CD.

Shore To Shore effectively combines music styles from both sides of the Atlantic: traditional (Celtic-origin) folk is actually produced at times with American country sounds. The album opens with "Footsteps Of My Father," a light folky tune with verses sung in a heartfelt mid-register by Mae, backed by Wes Hightower in the choruses. The style builds further "Same Old Me" with the fiddle continuing to provide an American country backing accompanyment in spots but this song is carried by the acoustic guitar primarily. Mae's backing vocal harmonies work well.

The fusion of Celtic with American continues in "The Sands Of Tara's Shore" which opens with the call of a whistle. A lovely folk ballad along the lines of "Same Old Me," the chorus is more fully instrumented and upbeat with excellent backing vocal work by Wes Hightower. In "New York Harbour, the fiddle and lyrics both certainly continue the American country sound but Mae sings it with more of a traditional folk implementation. Some wonderful instrumental digressions show off the virtuosity of the individual artists between the vocal passages.

The theme continues in "The Spirit Of Love" which is more warmly instrumented and upbeat still with a slight American country sound derived from the fiddle part. "On Heaven's Shore" has a theme not unlike "Where Did It Go" but is is a very slow number, with more indepth instrumentation and lovely multi-tracked vocals. A very American country sounding tune from its fiddle and mandolin parts is called "The World At Our Feet." Mae's backing vocals work really well to compliment her lead.

The song "Where Did It Go?" stands out as a very soft ballad carried by Mae's sensitive vocal that thoroughly explores her range and accuracy. The Spanish guitar is very light throughout the song and the recording quality completely suits the sensitivity and accuracy of the performance. "Tonight" is a lovesong sung in a rootsy style with Mae's stunning lead and backing vocals.

Five more 'traditional' sounding songs are also included on Shore To Shore. "The Christ Lullaby" is a lovely traditional hymn / lullaby carried almost entirely by Mae with light harp, whistle and flute lightly backing and providing instrumentation between the vocal passages. Mae's backing vocals and the keyboard underscore the last half of the song. The light instrumentation is absolutely stunning and the clarity and range of Mae's vocal performance is likely the best example on the album.

The most traditional sounding number on the album is called "The Whistlin' Gypsy Rover." It is thoroughly, yet lightly, instrumented with lead and backing vocals by Mae with her harmonies working quite well. The instrumentation during the jig portion of the song was much appreciated given the overall lightness of the album otherwise. "Mo Ghile Mear" is the only song on the album to be sung in Gaelic. It opens with an a capella solo before the light backing instrumentation is introduced. It is indeed another true testament to the range of Mae's voice.

"The Hick's Farewell" is quite a traditional sounding piece with Mae's mid-register folky vocal accompanied strictly by banjo and Deborah Packard's backing vocals. It is vocally rather than stylistically similar to "The Chosen One." Finally, "Ca' The Ewes" is sung completely unaccompanied, Mae's unique multi-tracked vocal arrangements of one of Robert Burns' best loved songs completely underscores her vocal virtuosity and concludes the album.

Clearly Shore To Shore is an exciting new work by Mae McKenna that folk enthusiasts in the United Kingdom and rest of the world will enjoy. The album has been recorded and produced very well, is packaged nicely by Mill Records, and it contains an array of songs to suit many tastes.

A unique combination of American country production with traditional Celtic roots is a likely result of a collaboration with the Nashville studio recording environment and provides a somewhat unique edge to the folk themes. Mae's vocal work is again outstanding in all respects and this album is a true testament to her style, range and virtuousity.

Sources indicate that initial response to Shore to Shore by the Scottish radio stations has been very encouraging. As part of her independent release, Mae has planned a radio promo and small launch party in her native Glasgow. For those eager to get a copy, Shore To Shore will be available by mail order from Mill Records. The album's release is planned for 17 May 1999.

Be sure to check out Shore To Shore and visit Mae McKenna's website for the latest news from the artist directly!
---
Mae McKenna Biography
© Mae McKenna 1999

Image © 1999 Mae McKenna; Used with permission.
Click on the album cover to visit the artist's own website


Mae McKenna doesn't just sing songs, she inhabits them. Her voice is a powerful and passionate instrument equally at home with Celtic traditional songs as much as original country/bluegrass flavoured compositions. Hers is a voice both ancient and modern, attractive and beguiling yet full of soul and sensuality.
Mae McKenna's roots are strongly Irish and Scottish. She grew up in Coatbridge near Glosgow, the youngest of three children with her brothers Hugh and John. Mae was raised in a house filled with music. Her parents and grandparents played music and songs from the variety theatre and the art songs of John McCormack to the classics of Frank Sinatra. At an early age she was exposed to jazz and classical music. At 14 she joined the Lanarkshire youth orchestra where she played viola. The sounds she heard at home included Art Tatum, Joni Mitchell, James Taylor and the Tamta Motown classics on the radio all embedded in her teenage brain.
Mae joined her first group -- "Day" -- in high shool where she played viola with this gothic folk band. Playing in a local festival, her musical talents were noticed by another young band called Contraband. Some meetings later and a night visit to a friend's house in search of this elusive and talented young woman led to Contraband asking Mae to join them as lead singer. A Scottish folk rock legend was born.
Contraband featured Mae McKenna, George and Billy Jakcon, John Martin, Peter Cairney and Alec Baird. Their music was an exciting mixture of Irish and Scots traditional tunes, dramatic folk rock arrangements of classical ballads and contemporary songs. They attacked their mkusic with youthful vigour end energy. "We loved playing together," Mae recallse, "we alsyways used to play and sing on the way to gigs and coming back from them. Looking back I couldn't have wanted a better band to begin touring with." Life on the road was an adventure and Contraband toured all over Scotland and England.
Contraband signed with Transatlantic Records in 1973. They recorded their debut album Contraband in Chipping Norton studios in Oxfordshire. Released in May 1974, the album caught the young band in the cusp of their useful musical prowess and joi de vivre. Mae sung and played violin, viola and piano and joined with George and Billy's multi-instrumental talents, Peter's country tinged guitars, John's expert traditional fiddling and Alex's solod drumming to create a fresh new Celtic Rock sound. Contraband disbanded in 1975.
| | |
| --- | --- |
| Image © 1974 Castle Copyrights Ltd; 1997 Lapwing Records | Image © 1975 Transatlantic Records |
Mae McKenna began her solo career in 1975. She recorded three solo albums for Transatlantic Records: Mae McKenna (1975), Everything That Touches Me (1976) and Walk On Water (1977). She also appeared on radio and TV both as a guest and featured performer.
Her debut solo album Mae McKenna focused on dramatic ballads with lavish orchestrations and was a promising if pensive debut. Everything That Touches Me was a tasteful, melodic soft rock album with strong American West Coast country/rock leanings. Mae's exquisite voice wrapped itself round songs by Andrew Gold, Richard Thompson, Jackson Browne and Anne McGarrigle. The single "Crying in the Rain" received extensive radio airplay. Walk On Water continued the Transatlantic soft rock sound with songs by Kim Carnes, David Paich (Tot writer of the 1970s hit "Hold The Line") and the Motown standard "What Becomes Of The Broken Hearted."
| | |
| --- | --- |
| Image © 1976 Transatlantic Records | Image © 1977 Transatlantic Records |
The late 70s and early 80s saw Mae McKenna enter the world of the session singer. She became on of the UK's top session voices. She sang on albums by Scritti Polotti, Climie Fisher, Pete Townsend and virtually every Stock Aitken and Waterman hit including albums by Rick Astley, Donna Summer, Kylie Minogue, Jason Donovan and Bananarama.
All the while Mae McKenna the solo performer was busy writing new material. In 1987 she recoreded some home demos of original songs with a Celtic theme. Virgin Records new age label Venture liked what they heard and signed Mae to a solo recording deal. Nightfallers, recorded in Dublin and London, was a stunning mix of Celtic traditional styles, contemporary folk/blues and new age influences. The album was produced by Mae herself and featured 99% original material and its 1988 release preceded the Celtic/New Age bandwagon that was to ensue over the next ten years.
1992's Mirage and Reality covered similar ground and was released by Virgin in Japan. Mae toured Japan and she collaborated with William Jackson on "St Mungo A Suite for Glasgow" and "Incholm." She toured with Peter Cariney opening for Steve Hackett (ex Genesis) and then with Al Stewart. She also performed in the Glasgow folk festival and Mayfest with William Jackson while still doing session work.
| | |
| --- | --- |
| Image © 1988 Virgin Records Ltd. | Image © 1991 Kadence; used with permission of Mae McKenna |
1997 saw Mae writing new songs and contemplating recording a new solo album. Writing with John O'Kane, a school friend from Airdrie, the songs betrayed a Country/Bluegrass/Celtic sound. On her own initiative she made the journey to Nashville to record her latest solo album Shore To Shore.
Shore To Shore is a new musical departure for Mae McKenna. It's a potent mix of traditional Celtic sounds and American folk and blugrass strains and is a completely acousitic album. Mae reflects on the album, "I feel there is a close relationship between American mountain and Old Time music and Celtic Music. I love acoustic music and I think Shore To Shore is a very honest album. There are no gimmicks, just good playing and good material and I am very pleased with the result."
Shore To Shore represents a marking stone in Mae McKenna's life. It's her first album recorded in America and her first fully acoustic recording. Self-produced and mostly self-written with tasteful backings recalling shades of Ossian and Alison Krauss and Union Station, Shore To Shore c rosses musical boundaries with subtlety and panache topped off with Mae McKenna's superb voice. It is a very masterful return to form from one of the premier female vocalists in contemporary music.
---
Return to website contents
---