click on image to visit Magda Angélica's website
Image © Magda Angélica 2006

Magda Angélica
pop, rock and new age
sensuous and tender spanish language vocals
artist reflections and album reviews

review and interview © Russell W. Elliot 2006
click on images to visit artist's website
formatted for 800 x 600 or larger windows
Last updated: 31 December 2006

When approached by Magda Angélica's management earlier this year with a few samples of forthcoming work asking us to consider doing a story on this emerging Mexical vocalist, we already had a full writing schedule, but agreed on the merit of these initial tracks alone. In a style established that will propel her forward, it is Magda's most recent album that will set audiences worldwide astorm.
It was a big year for Magda. In addition to releasing a major new album advancing her style from pop rock to adult alternative, launching brand new flash-based website and she performed some major concerts to promote the new album to critical acclaim. She also got married!
We had an opportunity not only to listen to her three albums but also to witness a live performance via the video powers of the world wide web. It is fitting therefore that we conclude the year by presenting this extensive interview with Magda and reviews of her three recordings.
Interview
Musical Discoveries: Please tell us about your musical background.
Magda Angelica: I was born and grew up in Guatemala, in Central América. I had the gift of growing up with two Mmayan women. They taught me another sense of life, diferent values and a special cosmovision.

click on image to visit Magda Angélica's website
Image © Magda Angélica 2006

Ever since I was a little girl, I knew that music will be the must important element in my life. I started with vocal technique classes, and recorded jingles and backing vocals.
Then, in 1996, I recorded my first album Jardin Interior (Inner Garden) and in 2001, the second album Ángeles de Barro (Clay Angels) was released.
I moved to México in 2002. This has been a very important experience, because I founded a lot of answers to questions that I had mainly about the Indian spirituality. I met a group of people that work of the sacred stone "Obsidiana." Through the Obsidiana they guide a deep contact with the inner being.

click on image to visit Magda Angélica's website
Image © Magda Angélica 2006

With this work, I discovered another way of making music and how to integrate my childhood experiences with the wisdom of this two Mayan women, and the mysticism of the Mexican people. So, the latest album was born: Tejedora de Sueños (Dreams Weaver).
Were there any projects you worked on prior to your latest album? What were they like?
At the beginning, I worked with Guatemalan artists, recording jingles and doing back vocals. It was a good experience, because recording in a studio gave me very good training.
Then, I started to write my own songs. My first album, was my first experiment with music. It was a pop album. I had the opportunity to open concerts to Laura Paussini, Alberto Cortez, José José, Raul Diblassio, Armando Manzanero and Jorge Muñiz.
I had good results, I felt a lack of a deep contact with the audiences. It was like stopping before reaching their souls. This was the reason I started to seek inside of me for another kind of music.
At this time, I had a lot of people working with me: musicians, singers, dancers, etc., but I wasn't happy with the results, because even that everything was carefully planned, the deep contact with the people, was still far away.
So, with another friend--a musician and composer who plays the cello--we made a series of concerts that was called "The Nude Song," where the lyrics had the main role.
The challenge was to guide people through a jorney between the contrast of diferent emotions. It was a satisfaing experience.
What happened next?
Then I started to work in my second album Ángeles de Barro. In this album, all the songs are written by me and I talk about the vision of my reality at that moment. A female point of view of things that happened around me.
Finally, I had a deep change. I felt more free to write music in order to go deeply into the Indian spirituality, and Tejedora de Sueños (Dream Weaver), my lastest album, was born.

click on image to visit Magda Angélica's website
Image © Magda Angélica 2006

I think that I found my own way to make music, with more freedom and honesty.
In México, I have been invited to perform with another musicians in live concerts, like Fratta. I also did some musical theater.
What can you tell us about other artists that have worked with you on your earlier projects?
I started with Jorge Estrada, a musician and also owner of a studio recording jingles. Then I worked with the most important rock band in Central America: Alux Nahual, in theire live presentations and the drummer Lenin Fernández, started to work with me in my recordings.
Fernando Scheel, another Guatemalan composer, made all the electronic musical arrangements of my latest album, but in the two first recordings, he was a very important part of my team.
Two special women are Linda and Calixta Gabriel. They are Mayan people. Linda from Quiché and Calixta from Cakchiquel etnic groups. Linda colaborated with me singing in "Nanita," and Calixta gave me the lyric of a prayer that Cakchiquel women make the day that they initiated as spritual guides in their community. She is the voice in the prayer of the song "Belejé B'atz." Both are songs of my latest album.
Carlos Chaclan a researcher of prehispanic instruments. He is ceramist and musician too. He builds instruments with ancient designs. He recorded this instruments in my latest album.
I had worked also with musicians from Mexico and Costa Rica, like Manuel Obregon, director of the international Papaya Orchestra, whom has included one of my themes in their latest album Tierra de la Dulce Espera.

click on image to visit Magda Angélica's website
Image © Magda Angélica 2006

Where do the album names come from? Is there anything specific you are trying to connote?
I gave the name Inner Garden to the first the record because, even though it was a pop album, ever since I started in music, it was very important for me to say something with the songs. Say something important. So, Inner Garden is a deep space in my self, that I wanted to show through music.
I chose the name Clay Angels for the second album because I beleive that this is the nature of human beings. We have the ability to fly and reach higher grounds, but sometimes, our inner chains stop us in this journey. Our fears, doubts, guilts, etc, stop us. This is the clay.
The third album is named Dream Weaver because of the meaning of weaving in Indian spirituality. They believe that the Moon (the grandmother) taught to women the art of weaving. All this art is a tribute to the miracle of creating life. All the human beens have the power to create or destroy life. We have the choice, but when we are weaving dreams, we are building something beautiful and a blessing to our world.
What kind of music--or artists perhaps--has influenced your own?
In my latest album, it was the ethnic music from Guatemala and Mexico. Since I was a little girl, I heard this music played with marimba. The rhythm called "The son guatemalteco" is made with the 6/8 measure. Is like the rhythm of the human hart. I think that music of contemporary artists, like Enya, Mecano and Allanis Morrisette has also influenced me.
What kind of music you listen to all the time?
I like to hear diferent music styles. Rock, jazz, experimental music, ethnic, etc. And epecially the ones composed by women. Nowadays, I am more into the world music.
How would you characterize your music today?
My music today is a fusion of experiences and life, I talk about the wonderful things that I found in the Indian mysticism. It is a gift for me because they think more freely and deeply. The two forces: male and female are necessary to give life. So God is not only a man, God is a man and a woman, father and mother at the same time.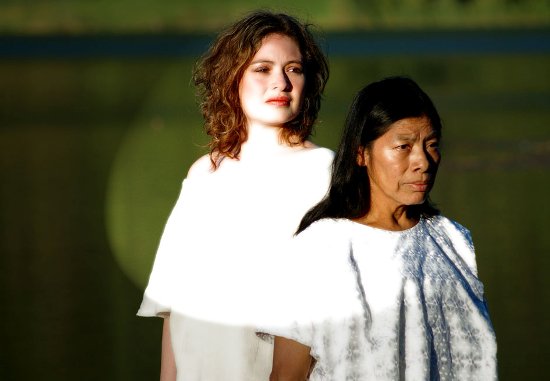 click on image to visit Magda Angélica's website
Image © Magda Angélica 2006

How have you developed your vocal style?
I have been working on vocal techniques since I was 13 years old. I'm constantly looking to find new elements to improve my style.
What has the reaction to your albums been?
All the albums had a good comments, but in the lastest, I feel that people are traveling with me to their deep innerbeing, discovering new emotions and experiences of life.
Can you tell us about the others that work with you on your latest project?
Calixta and Linda, the two mayan women who I talked about before. And Lenin Fernandez, who plays clay percussion instruments. He calls them "tonajas," because they produce musical tones. Fernando Scheel made all the electronic arrangements. Jenifer Pinto sang backing vocals. And from Mexico: Sr. Gonzalez produced the album with me and recorded some electronic percussion. Leo Granados did the mixing and Felipe Kobeh did the mastering.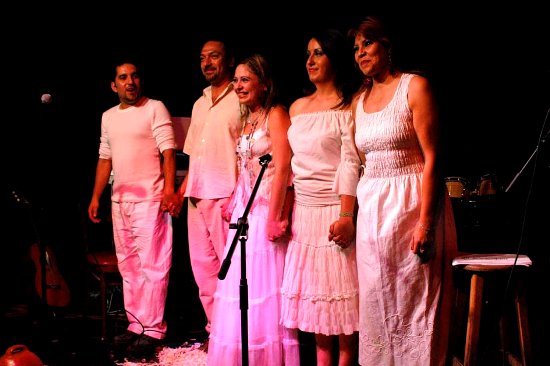 click on image to visit Magda Angélica's website
Image © Magda Angélica 2006

Is there a story you are trying to convey in the album or in any of the individual tracks?
Some of the themes are based on legends and stories that indian people tell in their communities. In some others, I talk about magical beings, spirituality, and beliefs.
Can you tell us how the other performers were selected and a little bit about your experiences working with them.
All the musicians were selected because they have experience working with prehispanic instruments, except Fernando Scheell. I selected him because he understood my intention in the making of this album. He understood the mystic atmosphere that I wanted to achieve. It is a wonderful experience to work with all of these people, all are friends and very good musicians.

click on image to visit Magda Angélica's website
Image © Magda Angélica 2006

Are there any songs on the album that particularly that stick out for you?
I think "Nanita." It is a song written to the two Mayan women that I grew up with. I think that they are like trees. All the time are standing up with a very deep roots, with a big wisdom and a great love. Nanita is a tribute for them.
What are the live performances like for you?
We are doing live presentations in Mexico. It's a great experience because people come with me to talk about life experiences. All the time, new people are comming to the concerts and that makes me very happy.
Do you think the internet will help your musical career?
Of course. I think that internet is a very important tool to distribute music and to shorten time and distances.
I think that the internet will be the most important media to distribute and promote music in the near future.
Do you have a day job that our readers might be interested in hearing about?
I'm working the Obsidiana therapy with people. It is a period of three months, making a deep contact with the inner being.
I'm studying Mexican philosophy and other kind of alternative therapies. I'm also working with children, teaching music.
What are your hopes plans and dreams for the rest of 2006?
I am working on a new album writing new songs. This new album is going to be more in to the tribal style. I hope to be recording during the second half of the year.
Album Reviews
The first two albums by Magda Angelica are entitled Jardín Interior (1996) and Ángeles de Barro (2001) respectively. Entirely sung in crystalline Spanish, the recordings illustrate Magda's tremendously vocal power, extensive range, warm clarity and the sheer versatility to handle rock, pop, jazz, blues, latin and folk styles. Some of the tracks feature layers of self-harmony and others include full choir. Instrumental arrangements are, even in these early stages, well produced and the albums are very listenable, having a timeless quality, largely due to Magda's tremendous vocal delivery. He calls them "tonajas," because they produce musical tones.

Jardín Interior (1996)
Image © Magda Angélica 1996


Ángeles de Barro (2001)
Image © Magda Angélica 2001

Jardín Interior (1996) is the most pop-oriented of Magda's recordings. Rhythmic instrumentation, suitable for dance is contrasted with gentle ballads, across the album. While some may compare Magda to Gloria Estefan, Magda's range is far wider and she seems more comfortable with a wide range of material than Ms Estefan. Harmony vocals add lovely texture adding to tracks' accessibility and radio-friendliness. Ample use of reverb supports the artist's vocal delivery in the most upbeat numbers but her clarity is left virtually unprocessed in the quietest moments of the recording.

By Ángeles de Barro (2001), Magda's music had caught the latin flair that was all the rage at the time. Her vocal power still strikes through the arrangements and entices the listener to go for more. Guitar licks reminscent of Country & Western snuck into the recording as well and most clearly attracted border cowboys. The artist also included a couple of electric guitar-based rock tracks and a dynamic blues number to further demonstrate her versatility in style and vocal prowess.
Perhaps the track that would tell what was to come eventually is "Kirye Eleison," a folk oriented outing with dynamic vocals atop acoustic string arrangements, accompanied by a vast choir. The track is clearly an album standout. A tribal number entitled "Bèleje Bàtz" concludes the album. One can almost hear the local Indians praying during the song's mid-section. But listen to Magda's voice approach that of Sarah Brightman in the stunning concluding segments.


Tejedora de Sueños (2006)
Image © Magda Angélica 1996

The newest album is entitled Tejedora de Sueños (2006). It is a stunning ten-track collection--being marketed as New Age--running about 32 minutes. It is a giant step forward from Magda's earlier work. Delicate recording of Magda's (Sarah Brightman-styled) vocal transports her voice above lush orchestral arrangements. The lush keyboard-based instrumentation takes off supporting Magda's crystalline soprano as it soars soars above the gentle arrangements before bursting into a rousing orchestrally-backed chorus of "Obsidiana" that is also full of vocal harmony layers.
The New Age 'label' has served to enhance Magda's material. Keyboard textures are more dynamic, electronic and ethereal and give way to lush harmony layers that would be equally home on an Adiemus album perhaps. "El Hada" is not sung with words per se--vocalise layers accompany the instrumentation instead. An atmospheric song of many distinct moods, the vibrant chorus is wonderful and most uplifting. "Nanita" is a gentle ballad sung over piano with multiple supporting atmospheric washes.
The growth in Magda's vocal talent is immediately evident in the powerful crystalline lead vocal and extensive harmony layer delivery (Adiemus styled). The upbeat folk tune "Colibrí Azul" is extremely memorable, vocals soaring atop robust arrangements and lovely bird-sound atmospherics. Additonal harmonies in the song's last third add texture and drama against Magda's solo that precedes the song's abrupt conclusion. A robust reprise of "Bèleje Bàtz" is presented at the albm's midpoint.
Bright acoustic guitar and acoustic percussion underscore "Tjedora," a lovely ballad with Magda's vocals mixed way up, far above the instrumentals which build with keyboard washes and further instrumentals, that don't go un-noticed in the mid-song break. The sensually delivered ballad "Huatit Mama" is, albeit brief, one of the album's standouts. Clearly recorded with darker textured New Age electronic instrumentation, Magda's vocals glide above the melody demonstrating her extensive range and power. Electronic textures continue into Mujer Jaguar, a rhythmic extension of "Huatit Mama" and clearly the heavily the memorable melody makes it another album standout. The lush chorus contributes to the song's significant appeal.
The album builds towards a tremendous climax in the powerful tune "Flor De Agua." While the verses are delicately delivered, the choruses are full on. We make the reference to Sarah Brightman again here to compliment Magda, the musicians, the production staff and the producer. This is the album standout. This is the direction of Magda Angelica. The album concludes with the similarly styled "Espejo de la Noche." Powerful crystalline vocals and rich instrumentals bring the project to a conclusion, with the last track acting as a perfect bookend to "Flor de Agua."
Magda Angelica's talents have grown over the past ten years from a pop singer through a rock stage and now is a true music professional. Her newest material has broad appeal and lasting qualities that will make listeners want to explore her repertoire and lead to additional recordings that promise to draw existing enthusiasts' interest and gather acclaim from new isteners as well. Magda, we can't wait for the next installment and a North American tour!

<! do not remove these lines>
---
Return to website contents
---