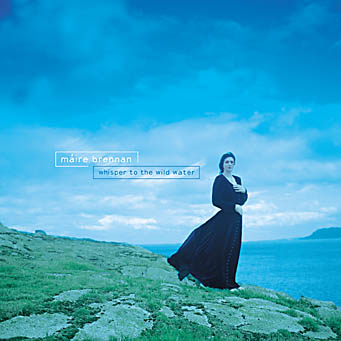 all images herein © 1999 Word Entertainment
Click on the image to access Word Records' website


Album Review
© Russell W Elliot 1999
Last Updated: 16 October 1999
---
A significant repertoire with Clannad spanning the last twenty eight years encompassing almost as many albums, numerous guest appearances on traditional, progressive and (even) dance music albums as well as three acclaimed solo albums precede Máire (pronounced 'Moya') Brennan's latest project. Her stunning new album released 19 October 1999 is entitled Whisper To The Wild Water (Word Records (USA) 080688595128). Máire's haunting yet heavenly and heartfelt vocals are backed by traditional and contemporary instrumentation in this vibrant progressive Celtic recording—one that will certainly earn widespread critical acclaim.

Again co-produced by Denis Woods, the new album builds its sound and message upon the critical success of her top charting prior solo album, Perfect Time (Word Records (USA) 7019965601, 1998), as well as the Grammy Award-winning Clannad album Landmarks (Atlantic 83983-2, 1997). The success of the tour supporting Máire's last solo album (review) has prompted a series of concert performances to support this release as well. Although Máire's and Clannad's recorded music always provides a superb listening experience, their live performances are absolutely unsurpassed.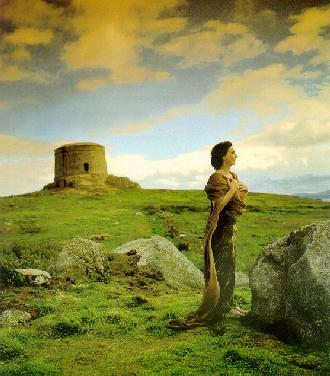 Whisper To The Wild Water includes thirteen tracks that vary between highly sentimental ballads and rhythmically moving upbeat numbers exploring the full depth of the progressive Celtic experience.
Similarly but not coincidentally, the lyrics alternate between English and Gaelic. A lovely booklet with colour photos and a full set of lyrics accompanies the compact disc.
Backing vocals by Máire's sister Dee as well as Sinéad Madden and Ewan Cowley add significant depth to the upbeat numbers contributing signficantly to the overall sound achieved.
Guest performances include Máire's son Paul on "Peacemaker" and a duet with her mother Baba on "I Lathair De" (In God's Name) also credited in the liner notes as choirmaster.
Acoustic and electric guitars, traditional and contemporary percussion and orchestral strings are joined by traditional whistles, Uillean pipes and other traditional folk instrumentation to produce a stunning listening experience. Máire's Celtic harp is evident in several of the album's tracks ("To The Water") and is most noted on the album's one instrumental "Mary Of The Gaels," written by Máire Brennan. Excellent instrumental performances throughout are equalled by the flawless recording quality achieved in the studio and final production process.
Although the Clannad sound is present almost throughout the album to one extent or another the songs most reminiscent of the band's recent releases are the "Follow The Word," "Hard To Break The Seal" and "Ageless Messengers" in their rhythmic and highly integrated instrumental progressions. The highly accessible title track melds the Clannad style with that established in her former solo ablums Máire and Misty Eyed Adventures. This track is further underscored by contemporary—almost rock—instrumentation at times.
The album's ballads vary in their tempo and depth and serve to illustrate the range and depth of Máire's vocal, songwriting and arranging skills. "Life" with its guitar excursions and modern percussion is most reminscent of tracks from Máire's first album while the keyboards backing lead vocals in "Where I Stand" alludes to the sound of Misty Eyed Adventures. The light backing that builds during the tracks in the vocally rich "Rinne Tú" produces an almost-Clannad sound. The sweet and graceful melody of "Sound From The Hills" is supported by the a lovely guitar, harp and vocalise between the lyrical segments.
"I Láthair Dé" (In God's Presence), with Maire's lead vocal offset by mother Baba and backed with choir effectively highlights the secular theme that underscores the album. "Bí Thusa Mo Shúile" (Be Thou My Vision), which concludes the album is a traditional song arranged and performed almost a capella that fully inllustrates the delicacy of Máire's voice.
Contemporary in its arrangements and vast array of styles that span her earlier work and grow from it, this is a tremendous new album certain to evoke feelings and memories of a modern County Donegal to those that have recently visited this corner of Ireland. For those that haven't, imagine the most rugged yet beautiful terrain where wind, ocean, and driving rain have sculpted the landscape. Their culture is fun-loving and their traditionally-rooted music evolves each year to become more contemporary. With its broad selection of styles, stunning vocals and instrumental soundscapes, Máire Brennan's new album Whisper To The Wild Water is a tremendous accomplishment, certainly worthy of a cross-country journey—a must listen.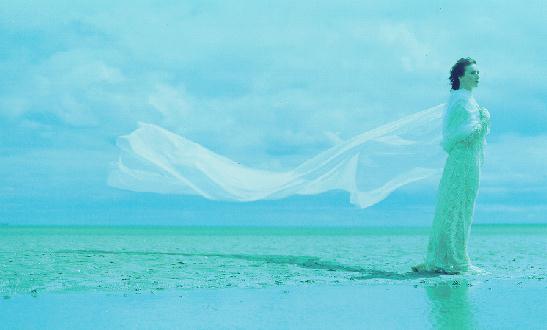 ---
Return to website contents
---