In early 2003, our review of the Love Her Madly compilation of Doors covers by emerging female artists noted Evelyn Downing's stunning contribution of the track "Summer's Almost Gone." Not long after making contact with Evelyn and writing partner / band member Jamie Field, a review of their first two recordings and a demo EP of tracks from their forthcoming album was published. The feature included our first insight into their work together and has drawn significant attention from our visitors.
We caught up with Evelyn and Jamie at their studio in Kington on the outskirts of Hereford, England on 11 May 2003, having received a pre-release copy of The Mermaid Kiss Album, the band's all-new 14-track collection the night before. With only two listens prior to the meeting, we had a track by track discussion with Evelyn and Jamie as the album played the third time and a private viewing of both "Mermaid Kiss" and last summer's video as well. We discussed the release plans for the album, gathered further information and began planning our indepth interview which is now presented below. This expansive article tells the band's story in their own words and includes inputs from Evelyn, Jamie and Andy Garman. Our review of the album is also included here.
Album Review
The Mermaid Kiss album is a collection of fourteen widely varying tracks featuring Evelyn Downing's stunning vocal work. She also contributes flute, guitar and sound loops and co-produced and co-wrote the material. Jamie Field plays acoustic and electric guitars, bass and also shares writing and production credits. Andrew Garmin plays keyboards, bass and drums and in addition to sharing production credit is responsible for mixing and mastering the recording. A tremendous project in every respect, the music defies genrefication and trancends ambient, acoustic, singer songwriter, progressive and pop music. It is certain to appeal to Musical Discoveries visitors, especially those with a passion for the sounds of Karnataka, Kate Bush, Clannad and Iona. Read all about the making of the album, the writing of the material and the artists' backgrounds in the interview below.

Mermaid Kiss: Jamie Field, Evelyn Downing, Andy Garman

Although the artists might say that the three opening tracks set the scene for the recording, the material continues to develop as the album unfolds. The title track is a lovely and light acoustic number, perfectly suited to introduce listeners to Evelyn Downing's vocal work and the band's songwriting strengths. The depth of the band is further exposed in gently rocking tune "Breathing Under Water." Sound loops, crisp keyboard, lovely vocal harmonies, flute and rhythm section blend perfectly to support Evelyn's evocative lead vocal. The complex arrangement of "Write My Name In Stars" continues to illustrate the virtuosity of the band members and their production talent, especially through the creative introduction of sound effects. Lovely flute solos show the results of Evelyn's extensive classical training.
Rich instrumental production perfectly blends with layers of vocal harmonies in "Blind," whose keyboards dominate the arrangements. Warm orchestral keyboards emerge in "Spirit," a sensitive tune about the power of music, evocatively sung directly from Evelyn's heart. The songwriters' progressive tendencies are introduced in "Soundchaser," a complex and somewhat bluesy tune with vocals that some will certainly liken to Kate Bush. The extremely crisp and highly notable percussion underscores throughout. Listeners will be delighted by Evelyn's soaring vocal in the chorus and whispering during the instrumental breaks. "This Feeling" is a cheery and upbeat more accessible number with keyboard and flute arrangements perfectly blending with vocal harmonies and underscoring the tenderly sung lead vocal.
The strength of the team's production talent is demonstrated in "Just Like You," a tune about cloning that is further described by the artists in the interview. A wide variety of tastefully applied effects have been used to drive the point home. Evelyn learned to sing the chorus backwards, recorded it and then played it backwards within the mix, to produce the finished product. While the extended instrumental at the conclusion of the funky and richly arranged "Some Days Are Like This" is one of the bands earliest compositions for the album, the lyrical front end of the song was written much more recently. Listen to the rich brass underscoring the vocal in the beginning and the incredible flute solo in the extended instrumental. We can't wait to hear more of this from Mermaid Kiss.
Clearly the standout track of this album is the rocker "Like Water," a tune that will attract significant attention once the album is generally released. In the true Mermaid Kiss style, the tune combines effects, loops and rich rock instrumentation--note the powerful bass part--behind Evelyn's soaring lead vocal and lush backing harmonies. The track has a tremendous hook that will draw listeners' hands to the repeat button before the song concludes. Read more about the track in the interview.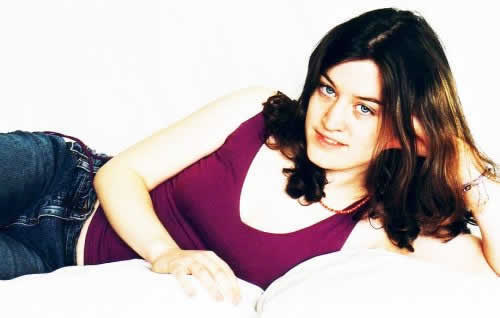 "Fated" is primarily an acoustic ballad but Evelyn's lush harmonies and a tight rhythm section add to its attractiveness. Orchestrally styled keyboards, loops, crisp percussion and various vocal effects in "Whisper" join sensitively sung lead and backing vocal parts to produce a modern and electronically styled ambient tune. Another standout tune for us is "Thirteen" ("Treze"), a lovely keyboard backed number sung in French about the various merits of the number 13. Perhaps moreso than some of the other material on the album it serves to demonstrate Evelyn's vocal virtuousity, primarily as a result of the crispness in which the vocals were recorded.
A "Reprise" of the title track, remixed by Andrew Garmin concludes the album. Additional effects, vocal loops and keyboards contribute a rich texture to the remix. In the Mermaid Kiss album, the band--Evelyn Downing, Jamie Field and Andrew Garman--clearly demonstrate their extensive virtiousity and talent without any pretentiousness. Songwriting, arrangements, intrumentals and vocal work are each individually stunning but they work combined to deliver an album of incredible depth and strength that will delight listeners worldwide. Mermaid Kiss is a tremendous new discovery. Their album is available from their website now. With exploration worth a trans-Atlantic journey, their self-titled album is a must listen!
Interview
Musical Discoveries: How did you all meet each other?

Evelyn: Jamie and I met through connections at my school when I was fourteen. At the time, musically, I was primarily a classically trained flautist although I had just taken part in a school production of Little Shop of Horrors. I was one of the horrors. OK, so I was actually a singer!

Jamie: The connection is that my wife Frances was Evelyn's drama teacher. She'd told me a little about Evelyn and got me front row tickets for the production. That's where I first saw and heard Eve sing.

Evelyn: During the summer holidays he sent me a tune called "The Hare" which eventually became the instrumental at the start of "Dark Cover," the fourth track on Shine. I liked the tune and the idea of working on arranging and performing it and so he and I together with two of my friends, who played clarinet and violin, formed a group called Tsuki. We wrote and arranged instrumental pieces during lunch breaks at school! This eventually developed to the point where we decided to branch out into song writing. Again Jamie presented me with a song out of the blue and told me to sing!

Jamie: It was difficult trying to arrange songs with three melody instruments and guitar.

Evelyn: But it got easier when Emily took up the bass guitar. We started to develop an interesting sound and wrote more songs. It was about this time that we spent a day in the recording studios at the Royal National College for the Blind in Hereford.

A recording studio! What was it like?

Jamie: The studio time was a birthday present to me from Fran. Our producer for the day was Paul Cobbold who'd worked with bands like Hawkwind and Clannad.

Evelyn: It was an amazing and inspiring day for me and one I will never forget. I had never been in a studio before and I found the experience, atmosphere and recording process was something I really enjoyed. It also meant for the first time that I could harmonise with myself--a process that has become central to the music we currently produce. It was also about this time that I wrote my first complete song from scratch.

Previously I had worked with Jamie on ideas, adding lyrics, adapting tunes, etc. but never starting a song successfully. This song, "Cloud Day," reached the final of a young people's song writing contest and resulted in Tsuki performing live at Huntington Hall in Worcester. I didn't win--a fix we're sure!

What about the music you guys did for The Vawn and The Twelfth Night?

In the autumn of that year, 2000, I started my A-level courses: English, French, Maths and Physics. And at the same time I got involved in a local short film project called The Vawn. My interests have always been many and varied. I have been a member of drama groups since an early age. I initially got involved with The Vawn project to act but inevitably ended up writing and recording the musical score with Jamie--saving the film company money I should add--they were going to get 'professionals' in--huh!

Jamie: It was through this project that we met the actress Kate Garman who told us that her husband Andrew wrote and recorded music on his computer based system. So we met Andy, recorded the music for The Vawn with him, and then for a stage production of Twelfth Night, for which we wrote a full instrumental score.

Then what happened?

Evelyn: By this time Emily and Anna (the other members of Tsuki) had left to pursue other interests but Jamie and I continued to meet when I could find time around school work to write songs. After the success of our recording projects with Andrew we decided to continue working with him to produce the two mini-albums Shine and Electric, (reviews) released under my name, and now The Mermaid Kiss Album a full length cd.

Was it only music or did you write anything else during this period?

Evelyn: I have always enjoyed all aspects of creative writing and have written poems and short stories. Not long after Jamie and I first met he picked up on this and presented me with page one of a novel about two teenage girls who find themselves lured to Etarlis, an imaginary land parallel to Snowdonia. It's a fantasy story that has developed in the most extraordinary way with Jamie and I writing sections and setting challenges for each other! It has also become worryingly real to us now and many times we find ourselves escaping into Etarlan discussions to avoid work! It has also been an inspiration for a number of songs, including "Whisper," for example. We also wrote a short play recently called god@heaven.com, a comedy piece about teenage girls lost in a wood, which I also acted in at a local drama festival.

Jamie: Despite the title, it's not religious. God is under the misapprehension that she's Eric Clapton. We insisted that the part be played by a female.

Evelyn: Our writing is very varied really!

So how would you characterise your first recordings?

Evelyn: Our first recordings were primarily instrumental. Even the songs we did in the early days with Tsuki had extended instrumental intros or solos. Our very first recordings were done with a single microphone onto a cassette tape recorder. We developed our own mixing method as well called SPASE: Spatial Proximity And Sound Equalisation. It basically involved us playing spread around the room to get a balance between the different volumes of the instruments! Happy days!

And how did you hear about the Love Her Madly project? What led to your selection of the song and how did you do the final production of the track?

Jamie: I think I read about it at CDBaby and thought we might have a go at it. We'd done one cover previously, The Catherine Wheel's "Goodbye," which ended up on the Electric CD. We'd enjoyed doing that and were pleased with the way it had turned out.

Evelyn: After Jamie presented me with the idea of doing a Doors' cover, and once I'd got past the jokes about just using paint or wallpaper, I went away and listened to all my Dad's Doors LPs on a very scratchy record player, making copies for Jamie. I have to confess that I am not a huge fan of the Doors but as I listened, "Summer's Almost Gone" was the track which stuck out as being the most suitable for our sound at the time. It didn't really come as a surprise when Jamie came to exactly the same decision independently. We tend to agree on most matters musical!

Has there been much interest since?

Evelyn: We've had a great response to this track. Lots of people seem to enjoy it because it is quite different to the other tracks on the album, completely departing from the Doors' instrumentation. We heard it got some airplay in the U.S. but it's not easy to keep track from over here. I know Anna Creech played it on her on her program Estrogen Nation.

What singers do people think Evelyn sounds like?

Jamie: Evelyn's voice has been likened to other artists; Kate Bush, Jewel, Ani Difranco for example. I really don't see these comparisons, myself, but possibly Kate Bush because Eve does sing in her natural English voice. I honestly think the only comparison is that they are all female singers! But it seems there's this need to pigeonhole people and voices, which I don't really understand. I don't actually think it's too helpful.

Tell us about your musical training and education.

Evelyn: As I mentioned before, I am a classically trained flautist so got a lot of knowledge of musical theory from that. I feel my true musical education however has come from learning from each project I have been involved in. Jamie has taught me to play guitar over the years and I am a self taught pianist and singer. I feel I learned a lot about melody from our work in Tsuki for example, and working on the soundtrack for The Vawn taught me a lot about atmosphere in music. As far as singing goes I have never tried to sound like anyone else and so I feel I have learned simply through experimentation and practice, picking up tips and hints from friends and books along the way.

Jamie: I'm entirely self taught. In fact I didn't start playing till quite late on; I was seventeen before I picked up a guitar in any meaningful way. Now I also play a bit of keyboard and an increasing amount of bass, which I really enjoy. I played in a number of bands early on most of which weren't together long enough to even come up with a name. The band Oriole was the best and longest lived of these. It was another trio with flute, guitar and keyboards, but very different from Mermaid Kiss.

I went through another batch of bands while I was at college, including a couple of punk jobs and then with a college friend, Mike, formed Close To Zero in London. The problem with all these bands was that for the most part I ended up having to do the vocals because everyone else refused point blank. I hated it because I really don't have much of a voice. The writing and developing of a piece is what I enjoy most.

Then I got married and moved away from London and really I gave up music for about twelve years, did other sorts of writing, articles, reviews. It was only meeting Evelyn that persuaded me to pick up my guitar again.

How about you Andy?

Andy: This makes me feel old: Initially I played drums in a three piece rock band called Jaffi around S.E. London some 20 years before Evelyn was born. In the late seventies switched to guitar and formed a five piece country-rock band called Chester, which toured the country club circuit. Left the band only to re-join on bass for a tour of the N.E. England in the early eighties. Great fun, OK music, crap audiences. There were too many gunslingers and red Indian chiefs. Got into jazz and played guitar in an excellent pubbing band called Jazz On Que in the mid-eighties. Gave up playing live in the early nineties to concentrate on recording my own material for fun.

Who do you like to listen to frequently and what specifically turns you all on?

Evelyn: There really are so many musicians I love to listen to that I couldn't begin to name them all! Female singers that I suppose have been an inspiration in some ways over the years are Heather Nova, the first female singer songwriter I listened to who was doing anything even vaguely resembling anything I wanted to do; Natalie Merchant for her terrific song writing and harmonies; Tori Amos because she is so herself, no one else could do her songs justice in my opinion. I also listen to Beth Orton, Tanya Donelly, Blondie, Gemma Hayes. Outside the female singer/songwriter genre I love the atmosphere of artists like Sparklehorse and, a recent discovery, Air. REM are also a personal favourite with Automatic for the People being the album I always turn to when I'm feeling low. My CD collection is extremely varied as it also contains Coldplay, Nina Simone, Eminem, John Coltrane, Everclear, The Beatles and Yes. Music for every mood and occasion!

Jamie: Obviously we listen to a lot of female singers. In addition to the ones Evelyn's mentioned there's Megan Slankard, Sarah Fimm, Eileen Rose, Thea Gilmore, Kate Bush, Terami Hirsch, Fiona Apple, Liz Phair, Paula Cole, Kristen Hersh - hundreds - and female-led bands as well of course. Anyone who's read the diary on our web site will know that we listen to a vast array of music on a daily basis. What we listen to depends on mood, weather and many different factors. Over the past few of days we've played Yes, Transmissionary Six, Tori Amos, Sparklehorse, The Catherine Wheel, P.J. Harvey, Mazzy Star, JoeLies, The Barnacles, Ani Difranco, Ruin The Rain, Heather Nova, The Wannadies and Karnakata. Because we're doing a lot of admin at the moment we're getting through a lot of listening. Our fan-friends also write suggesting things we should listen to.

I discovered a terrific band, Fuel, after a recommendation from Kristen in Pennsylvania, and Jukes at WheresTheBand gives us lots of pointers too. And sites like this are a gold mine for discovering new music. I first heard Karnataka here for example. But as to whether anything we listen to actually influences us I very much doubt. I think the range of what we listen to is simply too broad for any one style or band to stick.

Evelyn: Or maybe there's a tiny bit of everything we hear in there!

Andy: My musical influences are Afro Celts--there is a nod in their direction in the reso-bass riff in the middle of "Reprise: on the album. The spirit of the Afro Celts fusion sums up my overall taste in music: strong melodic content backed up with driving rhythms. Capercaillie too. I listen to a lot of what is broadly termed Celtic music. Capercaillie epitomise the best in Scots/Irish fusion from mouth music to afro-funk. Sunhoney are out of the same stable and Slainte Mhath from Nova Scotia are one of my greatest finds of the year. Andreas Vollenweider, the Swiss harpist has been a favourite for many years, as has Loreena McKennitt. I just love the atmosphere that she creates on her albums. I seem to be listening to a lot of Sheila Chandra recently. Oh yes, nearly forgot Joni Mitchell , Bill Evans and long standing favourite, Weather Report.

Evelyn:, why did you take a year out between your A levels and university? What did you get up to during the year?

Evelyn: When I finished my A-levels--I got four A grades!--I realised that there were still things I wanted to do in terms of the music I was producing with Jamie and Andy, things that would take time and effort and there is no doubt that although it has been hard watching all my friends already at university it has been worthwhile. Working on the music full time has produced some great results (The Mermaid Kiss Album) and I have learnt a lot about music in general; writing, arranging, experimenting and also about what aspects of music production I enjoy most.

As well as working on the album I have taken part in a stage production of The Resistible Rise of Arturo Ui by Bertolt Brecht, which I enjoyed greatly and have continued with creative writing. I also did the traditional gap year thing of holding down two part time jobs at evenings and weekends to get some money for Uni!

Who has taken all the marvellous photographs?

Evelyn: The photo's are mainly taken by us - obviously Jamie takes pictures of me and vice versa. We also have images from the video of "Mermaid Kiss" shot by John Platts of Hereditas Studios and we have a friend called Caroline Beaumont who is a photographer and has been kind enough to take photos on several occasions.

How did you come up with the initial selection of tracks and the running time of the album?

Evelyn: We always wanted this album to be an exhibition of our best work so that made choosing tracks easy. We picked the best ones! Fourteen tracks just felt like a good number. I don't know why we chose that but it's always been what we were aiming at and we were hoping for something about 50 minutes plus. It's actually 53:31. It seemed to us that that would be good value for money.

And the name "Mermaid Kiss" for the band?

Evelyn: Our first recordings together were released under my name as a solo artist. Since the development of the group has led to a far more band-based sound on The Mermaid Kiss Album it seemed wrong to make it a solo release, especially as the input of the three of us has been equal in the sense that we all have our roles and work hard at them.

The name itself originated from the song "Mermaid Kiss," a song about desire and temptation and we felt Mermaid Kiss was a great image and enigmatic enough not to imply anything about our music, which is so hard to categorise that we didn't want people to have any preconceptions!

And what happened as you began to put the tracks together for the album?

Evelyn: As the album has come together our whole method of songwriting and recording has changed. This is partly to do with having more time to devote to the process and also having a computer to record demo versions of the songs. When we went full time in July last year we had a list of fourteen tracks either already recorded or that we wanted to record for the album. It is quite a telling indicator of our progress that of those tracks only one has made it onto the final album.

Jamie: I think there are seventeen tracks that we rejected for one reason or another. Most of these were from early in the project. All of the last eight songs we started appear on the CD; we've learnt a great deal making this album.

Evelyn: Recording at home has meant that the song writing and recording has become a very organic process with songs growing and developing on the computer. In certain cases songs didn't even have choruses until a lot of work had been done on the verse and the overall sound of the piece. Some songs started with a keyboard pad, some with an interesting drum loop, some with a guitar or keyboard riff. There are no rules in how we work and I think this is partly what helps to give the album its varied feel.

Some of the songs are written very recently. Tell us about putting these together.

Jamie: Most of the songs have been written by a process we stumbled upon when writing "Write My Name In Stars," what Evelyn calls the organic process. I also think that our roles have become more defined, that most songs now go through a similar process. I initiate, Evelyn and I develop the song and do the demo with Evelyn doing the vocal arrangement. Then it goes up to the Goat Shed and Andy takes the pieces and adds his parts and does the technical alchemy to make it whole.

Evelyn: Songs used to take forever. There's one called "42" that was still on the album with three days left to the final deadline. We must have been working on that song for eighteen months and I'm not joking when I say I must have done more than 200 vocal takes for it in that time. It wasn't that I could find anything specifically wrong, lots of people really liked it, but all three of us sensed more than heard that there was something that wasn't quite right about it. So we ditched it and that gave us only three days to write and record a new song.
| | |
| --- | --- |
| | |
Jamie: I think we were running on empty by this point. In the previous couple of weeks we'd written and recorded both "Like Water" and "Breathing Under Water" and given the time factor this had to be kept fairly simple. So I just sang a melody line, based on a single chord, over a strong drum track. And then Evelyn added some loops and sounds while I worked on the lyrics we threw ideas at each other and asking for thoughts and opinions. The song's inspired by something that happened to one of the characters in our Etarlis story.
Evelyn: Then as soon as the lyrics were finished, I did the vocal tracks. The whispered middle eight that reflects the mood of the song as a whole also meant we didn't have to come up with a further melody. Or even another chord!
Jamie: And the speaking harmony on the word 'falling' was a touch of genius. All this took about four hours which is lightning fast. Then we dashed the demo up to Andy and 24 hours later it was finished.
Evelyn: It probably sounds chaotic but it always felt like we were completely in control and knew where it was going. We always set little tests for ourselves in the songs we write. This one was to write a one chord song. So things have changed quite drastically really. From songs that take years to songs that take hours. Mind you, I wish they were all that quick!
Who plays the various instruments during songwriting and how does this translate into the finished product?
Evelyn: For the most part Jamie initiates the songs. That is, he usually writes the basic melody, the chords, the rhythm and some words based around an idea.
Jamie: At this stage I only ever write a verse and/or chorus. I usually also have an idea of the feel, style and/or atmosphere, though obviously all these things are liable to change in the rest of the process.
Evelyn: Then we record a simple voice and chord track and develop the song from there. If there's any more melody, say a verse or a chorus to be written Jamie will sit with a guitar and create the chord structure and we'll both sing ideas to each other until one of us hits on something we both like. Once we've got a verse and chorus, if there are sounds or sound loops involved--which increasingly there are--I'll sit at the computer and we'll just chuck ideas at each other, working through the sounds I create and put ideas and comments forward like "that's okay but slow it down" or "let's try that backwards" or "too weird" or "too distracting." Because we're very much on the same wavelength there's very few disagreements.
Jamie: Once we've got that, we then work on the lyrics. We sit there and exchange ideas and lines and words. See what sounds right when it's sung. Some things look good on paper but really don't translate too well. And since Evelyn sings the words she has the final say about content.
Evelyn: Once we've got the basic lyrics sorted out together with a song structure we're happy with, we then begin to lay down a quite complex demo version, again starting with a guide vocal/chord/percussion track. At this stage Jamie and I play all the instruments between us; usually drum/percussion track, sounds, bass, keyboard, all guitars, flute and the vocals or whatever else we feel needs to be used.
And what about the recording process?
Jamie: I record her and she records me so we're swapping seats at the computer and instruments. Often I'll play keyboard for the verse and she'll do the chorus. Or I'll play bass for some of it and she'll play bass for another part. Whoever has the best idea, we just go with it.
Evelyn: The only certainties are that Jamie plays all the guitars and I do all the singing and flute! The drums, bass and keyboards we lay down are only to give Andy an idea of the way we're thinking. He redoes these in his own way, which is fine by us.
Jamie: Once we've got the instrumental tracks down in a way we're happy with, Eve will usually re-record the main vocal and begin work on the harmonies. Watching and hearing her do the vocals is for me the best bit of all. And as you've probably gathered by now, I find the whole process of writing/creating a song an immensely enjoyable experience. I've never come across anyone remotely like Eve. No one has inspired me enough to want to go through the whole process, that is, to actually do it all the way. She'll record track after track of harmony ideas and then we'll talk about what works, what's over the top etc. We always record far more harmonies than we ever use and sometimes it's hard leaving things out just because of the sheer audacity of her ideas! And we're always prepared to try stuff as the vocals in "Just Like You" show!
Evelyn: Once we've got this complex demo 'finished' we take it up to Andy at The Goat Shed where the serious stuff happens.
So once you've got the demo, what do you do next?
Andy: What turns up is generally several tracks with vocals, guitars and the initial ideas for other instruments. These are imported into Samplitude as individual tracks. The first thing I put down are the drum tracks. Initially a composite kick/snare/hihat is played in using the original instrumental backing. A bass track is added to give a tighter rhythmic springboard for the rest of the tracks. Once the feel to the rhythm section is right, and depending on the material, piano, pads, strings etc are laid down - next the bass is usually redone to encompass some of the changes made by adding other instruments. At this stage Evelyn and Jamie will come in to lay down vocals, harmonies and guitar tracks if they need redoing.
Evelyn: Then the three of us will sit down and listen to the track and decided what needs changing. Oftentimes these are only little things, drum fills, cymbal sounds or sometimes a different bass line or guitar sound or the harmonies need filling or emptying; that kind of thing.
Andy: Or we might decided to do the whole thing again in a different way or more likely, to abandon it all together.
Evelyn: That used to happen quite a lot, but very rarely nowadays.
What's it like nowadays then?
Andy: This is an interesting point. In the early days of our working together, the songs were bought to me in a 'closed' state. The structure of the songs seemed to rigidly define what could be done with them. They were about the lyrics and the chords that supported the melody. Now it is different - Evelyn & Jamie are writing atmosphere and that is exciting. I suppose it started with Mermaid Kiss.
Jamie: The lyrics also continue to change right through the recording process, Evelyn and I will still be bartering ideas right up the moment of recording and Eve's even changed words while actually recording.
Evelyn: I've become very aware of how some sounds are easier to sing than other, some words harder than others.
Andy: When we are all happy with the basic tracks, the mixing phase begins. All the tracks are balanced, separated and finally the vocal FX added.
Evelyn: Since Andy became a full member of the band, his role has become increasingly important. In addition to playing the bass, drums and keyboard; the brass arrangement on "Some Days" is his as is the orchestral arrangement of "Spirit."
Jamie: And the "Reprise" of "Mermaid Kiss" is really the Andy Garman remix!
What about the lyrics? There appears to be a distinct connection between Evelyn's passion for music and the track "Spirit," for example.
Evelyn: The lyrics are always a very important part of the song for us and are often the last thing to be completed, with changes being made right up to the moment of recording. The inspiration for the lyrics is very varied. "Spirit" is about a passion for music but also how music should always have some sort of passion beneath the surface --truly great music will always stay with you--'the spirit won't let you go.'
And what about the evocative lyrics of "Like Water"?
Evelyn: It is about being torn between temptation and duty. It was written during Lent and so it is perhaps not coincidental that it is full of images of the desert and the devil tempting with water. It is an evocative song - heat and passion often going hand in hand.
Tell us about some of the other tracks on The Mermaid Kiss Album.
Evelyn: "Breathing Under Water" is loosely based on the story of Ophelia in Hamlet. "Just Like You" is about the paradox of being unique because you are the first person not to be unique and was triggered by the story of the cult who claimed to have successfully cloned a human being.
There's more of a story here, isn't there?
Evelyn: We had great fun on this track, nearly everything on it is cloned. Each of the percussion beats is doubled, the vocals are doubled over the octave, even the bass doubles over the octave. The electronic bleeps also give the track a very futuristic feel.
Jamie: For me the most extraordinary effect, in fact the most extraordinary moment in the making of this whole album, came during the recording of the vocals for "Just Like You." We recorded Evelyn singing the words "Just Like You," then played the tape backwards so Eve could actually learn to sing it backwards, words, (uoy ekil tsuj) tune, intonation, the lot. It was actually very scary hearing this strange sound coming out of her. We then recorded her singing this and reversed the tape again so it's playing forward. The words are quite clearly 'just like you' but with a distinctly unnatural and unsettling feel, in keeping with the song as a whole. You can hear them between 2:05-2:23 and again at 3:30-3:43. It took a long time, but is without doubt the most amazing thing I've ever seen attempted in a recording studio.
And how would you say the lyrics have developed over time?
Jamie: I think the nature of the lyrics has altered, again this probably started with "Write My Name In Stars." The earlier songs tended to be more narrative in nature. Yet with the exception of "Some Days," none of these made it onto the album. There was nothing wrong with them as songs but they told a story about an emotion. On this album we've become far more concerned with creating the emotion rather than just singing about it.
The lyrics have become more enigmatic to fit the mood and atmosphere of the songs. The music and lyrics have become so intertwined that it's hard to imagine one existing without the other. "Soundchaser" is scary; it's not simply a song about being scared; Mermaid Kiss isn't simply about temptation; you are being tempted, especially if you've seen the video! If you listen to the album in a darkened room, through headphones and with your eyes closed, it's actually more like experiencing a film that simply listening to songs. It's vivid and emotional, in fact, someone told us that it's an album of pictures. There is a big visual aspect to it.
Who does the vocal arrangements and how are they done?
Evelyn: As the vocalist I do the vocal arrangements. I will even accept responsibility for the extraordinary combination of the six voices--two lines in three part harmony--at the end of "Blind"! I love to harmonise with songs, any songs. I avoid listening to music in public because I always end up singing along and hardly ever sing the tune, just invent harmonies!
Recording at home has been wonderful from this point of view because I can have a free rein to experiment and try things out without worrying about wasting time. I'll just keep adding lines until I run out of ideas then take off the bits we don't want.
What do you mean?
Evelyn: I can get a bit carried away with it all, I mean, on the album it is rare to find only one harmony on a track! There were also places where I had to be reined in a bit. Like in "Soundchaser" I ended up with a harmony on the second verse which I think had so many voices in it that I used every note on the scale! Quite extraordinary but not quite right as it left nowhere to go! We have tried to ensure that the album isn't simply drenched in harmonies indiscriminately and I think we found a good balance.
What about instrumental harmonies? How do these come together?
Andy: This might be a good time to say that I am not a great lover of chords. Well, perhaps I should actually say I am not a great lover of sticking to the chords. I love cutting across the written chords--taking the whole thing in another direction--but with such strong melodic lines that Evelyn and Jamie come up with, it is sometimes leaves little room. "Spirit," I suppose, was the most challenging. The string lines are all based on harmonies of the original melody.
Jamie: And we're definitely using fewer chords these days. We're moving away from songs based on chord sequences.
Tell us about the various sound effects. What are some of the more unusual things you've done?
Evelyn: One of my favourite times during the recording of a song is adding sounds and loops in order to create atmosphere or depth for a piece. My favourite toy is a disc of atmospheric sound samples which I spend hours cutting up, reversing, slowing down etc. The first time I did this was on "Write My Name In Stars."
Jamie: The writing, development and recording of "Stars" was a revolution. We did it in a completely different way to anything we'd done before and it changed the whole way we looked at the process--I think in a way it made us--it was certainly a quantum leap forward. Like so many things it was a simple idea that started it.
I initiated the song on the keyboard, playing long quiet chords. I suffer from mild tinnitus and so I have this background noise in my head. For years I've been filtering it out and it suddenly dawned on me that that noise was actually part of what I was hearing when I sang the song. So I explained this to Evelyn the following day and she didn't bat an eyelid. Just sat down with some sounds and loops and set about trying to recreate the background noise that existed only in my head. You know, it isn't really very easy to describe sound in words.
Evelyn: I just played with loops and sounds until I got something Jamie said fitted with the atmosphere he heard. It taught us to be far more aware of sounds and where they fit into things.
Tell us more about what you did on "Stars" and some of the other tracks.
Evelyn: The basic loop for "Stars" was made up of a match strike, the sound of breaking glass, and some interference on a track which I morphed into a four/four loop. I love doing the loops. The noise like a creaking ship in "Soundchaser" is actually a galloping horse slowed down quite considerably. The bleeps on "Just Like You" were interesting to work with--we had to be so careful--there was one that sounded just like the theme music to Dr Who and needless to say that had to go! To create the desert atmosphere in "Like Water," I found sounds of wind, thunder and a rattle which I was convinced was a snake but in fact it is a rainmaker--very appropriate! Blended together and used in the right places, sounds like these really make the track for me. Andy adds effects as well.
Andy: On the end of "Like Water" the effects were very simple. A bounce of all the drum tracks had some Flanging applied; another bounce of all the instrument tracks was reversed and filtered giving it a kind of Hurdy-Gurdy quality and one of Evelyn's effects tracks of a family of crickets recorded during a thunder storm was finally laid over the top. I have always loved sound effects in music and it seems that Evelyn and Jamie have similar thoughts. It all helps build atmosphere. It helps conjure up the visual picture, which for me is what all good music is about--a kind of film score idea.
What motivated the extended instrumental at the end of "Some Days"?
Evelyn: "Some Days" is actually the oldest song on the album, although the arrangement is very recent, and is a bit of a throwback to our Tsuki days which probably explains the long instrumental solo. We thought the song had a great chord sequence and with the interesting rhythms as well it made for a good instrumental. I enjoy improvising with flute. Many fine tunes have developed this way. We like to use the flute on tracks because it adds an unusual element and can contribute to the atmosphere on songs such as "Stars."
Andy: Evelyn and Jamie tell me that this song has been around since 1999 and has been through several different versions. The original version of this song was started in August 2001. Evelyn and Jamie laid down a couple of guide tracks, just guitar and vocals and Evelyn picked up her flute and jammed over when she finished the vocals. The ending is the only part that remains from the original treatment; everything else was changed earlier this year to fit more closely to the evolving style of the album. In the final section, drums, bass, piano and brass were syncopated to fit the flute.
How would you describe the finished product? I mean if you had to tell listeners what to expect, what would you say to them?
Andy: One of the reasons that I gave up playing live in the eighties is because I could not stand playing in a country-rock band or a jazz band--any kind of band that followed strict rules of what was expected of it--I do not like categories. Music should take you on a journey. When I put a CD in the player for the first time and let the tracks unfold, I really want to be surprised. Hopefully, when you listen to Mermaid Kiss you will be surprised. If so, it's worked for me.
Evelyn: I don't really want to tell listeners what to expect from this album. Any preconceptions are wasted in my opinion! It is extremely varied as you can tell after just the first three tracks. "Mermaid Kiss" being an acoustic track with loads of harmonies, "Breathing Under Water" is a far from conventional rock track, and "Write my name in Stars" is an atmospheric slow song with lots of sound loops, flute and effects. And the whole album continues like this yet there is a unity to it. There is a lot to discover. One listen certainly won't be enough!
Jamie: We've always done the music we've enjoyed. And we've never followed fashions or copied anyone. Because of that, over the five years we've played together, I think we've developed a distinctive sound. So, like Eve, I hope people will come to it without any preconceptions. There is great variety in the songs, but it's still very much an album. Evelyn's voice binds it together.
Which are your favourite tracks?
Jamie: "Write My Name In Stars" for the honesty about what love is like and because the writing of it completely changed the way we thought and wrote songs. And thus in a sense it is the song that made the album. "Spirit" because of the sentiment and the fact it's very beautiful, "Mermaid Kiss" and "Fated" for their simplicity, "Like Water" because it rocks, "Whisper" because it's a terrific piece written under pressure, but probably on balance, "Soundchaser," because it's not like anything else I've ever heard.
Andy: The best track for me is "Just Like You." I like the originality of the composition from Evelyn and Jamie and the complex layering of sound within a very open space. It's great fun for rhythm section and mixing. Closely followed by "Like Water" because it's a great rock song; "Reprise" for the atmosphere; "Breathing Under Water" for the drama; and "Whisper" because it's a bloody good track, using one chord and finished in lightning time.
Evelyn: "Like Water" because I think it is such a great sing-along rock song with atmosphere, interest and a catchy chorus! I also love "Soundchaser" because it is so weird, I never want that track to end! And "Just Like You" because of the fun we had recording it; "Fated" for the harmonies; "Whisper" for the atmosphere. I actually like a lot of the album!
After you've put the initial ideas together, you go up to Andy's studio. What's all the geewiz equipment like?
Andy: What geewiz equipment! The set-up is ever so simple. A Soundcraft 14/2 mixer for the input direct into what I consider to be one of the best pieces of DAW software around: Samplitude Pro Studio. From then on in, the audio workflow never leaves the digital domain. All tracking, mixing and mastering is done within Samplitude. The software has excellent mixing and mastering tools. I had to upgrade to a very fast PC during the later stages of the recording to handle the growing number of tracks on each song, 37 on "Just Like You" for example.
Tell us how you came up with the concept for the album cover and sleeve artwork.
Evelyn: A while back Jamie and I spread all the CDs we possess out to see which ones caught the eye. We both thought it was the ones with a lot of white on the cover and that a human face was important along with eye contact. We went through many different cover pictures before settling on the final design. The photo is a still taken from the "Mermaid Kiss" video. The original was a little pale for a cover shot, so I doctored it slightly on Paint Shop Pro.
Jamie: The simple truth is that Eve's got gorgeous eyes. And once we'd seen that picture, I think we knew we were going to go with it.
Evelyn: We like clean lines and space on album sleeves so we kept the whole thing very sparse, with plenty of white. We also decided not to include the lyrics as when we asked people if they read them they generally admitted that they didn't! So instead of cluttering up the CD sleeve we just put on our favourite lines from some of the songs. The full lyrics are available at our website where there is also a lyric booklet that can be downloaded as a PDF and printed and which should fit in the album cover if people want to keep the lyrics with the album.
What can you tell us about the videos?
Evelyn: The video is for the song "Mermaid Kiss." We filmed it here in Kington in March this year with cameraman John Platts from Hereditas Studios.
Jamie: It's actually the second one we've done. We shot one last summer on the beach at Harlech in North Wales.
Evelyn: That was a great experience and we learned a lot. In fact the main thing we learnt was that we'd been far too ambitious and in the end we weren't happy with the result so we shelved it. It was for a song called "Hand In Hand" which was our absolute favourite at the time and which as it turned out didn't make it onto the album anyway. It just shows how fast things have progressed I guess.
What did you differently this time?
Jamie: We kept it simple. Basically it's just Evelyn performing against a white backdrop. We decided to over expose the film to burn out everything except Eve so that the focus is always on her. Although it is filmed in colour, we wanted to keep the colour simple too so Evelyn wore black, although because of the lighting and overexposure it comes out a kind of deep earthy red/brown. Which actually looks terrific because the same things brought out the red in her hair.
Evelyn: We tried white on white, white on black and black on black as well as the black on white we went with in the end. We actually shot a lot of footage overall, trying out all the colour combinations. But in the end we only had about 20 minutes black on white and the whole video comes from this. I think in the end we used one whole verse uncut. There's an extract from the video on the web site.
What else have you been working on?
Evelyn: We've done a number of covers which may or may not appear on projects over the coming eighteen months: a punk version (honestly!) of Buddy Holly's "Everyday"; a cover of the David Bowie song "After All" which we hoped might appear on another Skipping Discs compilation, but it didn't make the cut. We've also done a version of the U2 song "Love Is Blindness" which is the one we're definitely most proud of. We're aiming that at a compilation called Love Is, which is scheduled for release, we think, in late 2004. We also wrote and recorded the music for a local project called "Hidden Extras" which is a tourist guide CD visitors can play in their car while they drive around the area. It's nice to be able do something local from time to time. Actually I think that's coming out about the same time as The Mermaid Kiss Album.
| | |
| --- | --- |
| | |
Jamie: The album has taken most of our time over the last nine months, so other writing has had to take a back seat, but I'm actually sketching a new scene for Etarlis at the moment so I'm hoping we might move forward with that again. I've got a couple of other ideas for new projects but haven't had a chance to talk to Evelyn about them yet. However the new Mermaid Kiss project is bound to take most of our time and obviously takes priority.
Evelyn: We're planning on doing maybe three extended tracks, plenty of vocals of course, but this would also give us the opportunity to develop some longer instrumental passages.
Jamie: We're warming up for this by doing a cover of the song "Soon" by Yes, also known as the last six minutes of "The Gates Of Delirium" from the Relayer album. Our version might be longer than theirs.
And then what?
Evelyn: Of course, I'm going to University in September to study music and sound recording so the way we work is inevitably going to change.
Andy: Evelyn will have access to some great recording facilities in Manchester, and with the Internet the distance between us isn't a problem.
Jamie: I do think the writing process will have to be adapted though. I can still initiate songs, Evelyn can still develop them but it's the way she and I trade ideas musically that'll have to change - lyrics-wise we can use instant messaging. There's holidays, and Manchester isn't that far from here. We'll do whatever it takes, though I think it's inevitable that the rate with we've which we have been writing songs is going to slow.
You've done some live shows along the way. Please tell us about them. Are we going to get you out in front of live audiences?
Jamie: We have done a few live things this year, but mostly we've been concentrating on writing and recording. Evelyn is a charismatic performer. Her love of drama probably explains her tremendous stage presence.
Andy: So Jamie and I tend to keep well in the background.
Evelyn: The Mermaid Kiss Album is going to be hard to tour though because it's very much a studio project. We've talked about how we might be able to do it--possibly the three of us with an additional female singer/instrumentalist, mainly for the harmony vocals. But inevitably the sound would be stripped back compared to much of the album.
You also do your own web site production. Who does most of the work and how does it come together?
Jamie: Effectively we've had two web sites over the past few months: There's www.mermaidkiss.co.uk which I look after - and the new www.music.mermaidkiss.co.uk which, as it's far more technical, Evelyn takes responsibility for. We're going to stop work on the former and only www.music.mermaidkiss.co.uk will be developed from here out.
Evelyn: We developed the second site especially for the album as the other one doesn't have the facility for putting song and video samples up. The new site has a page where you can order the album, the track listing with a short explanation on each song, some song samples, lyrics, including a downloadable lyric booklet that goes with the album and there's an extract from the video too. At the moment the two sites are very inter-linked but I think in time everything will be transferred to the new site. Like everything else putting these together has been a learning process and very time consuming, but again, great fun.
Is there much correspondence from fans? Where are they from?
Evelyn: We do get a lot of correspondence. It's great and we've made some good friends on the net.
Andy: Most of our fan base is in the States, though we have no idea why. We get web site hits from all over: Singapore, Japan, Venezuela, Peru, New Zealand, Sweden, Italy and the Arab Emirates. We wish more people would sign the guest book. It'd be great to make contacts in these countries.
Jamie: We've got a diary page on our web site that's proved really popular and we get a lot of mail relating to things that appear there.
Evelyn: And the photos attract a lot of comment too!
Do you think that the web site will continue to be a good resource to promote the project and the music?
Evelyn: The web site and the Internet are crucial to us. Being a largely studio based band, we don't get out playing live as much as we'd like, or probably should. So we work hard to keep the web sites updated and encourage people to correspond with us to build up relationships with our fan base that way.
Evelyn and Jamie, you two have formed a rather uniquely close artistic relationship and it seems to be a very deep friendship as well. As we conclude this interview, would you please tell us about it.
Jamie: I think our relationship is actually very complex. We're very alike in some ways and opposites in others. And there's the age difference of course though this is more obvious to others than it is to us, though it means we bring different perspectives to situations which is a good thing. I have tremendous respect for her - and I don't just mean musically.
To be honest, I'm a bit wary of trying to analyse our relationship too deeply. If something works it's not always wise to ask why. Artistically, I think over the years we have developed a unique partnership. I'm aware of that. We spark the best in each other whatever it is we're doing, we encourage each other, drive each other on. The sessions where we develop the songs are exhilarating. We're also totally honest with each other. If either of us feel something isn't going to work, isn't good enough, or that we could do better, we say so. We also trust each other implicitly in these judgements because we're both aiming for for the very best music we can make.
I think--no, I know--that when we started out hardly anyone took us seriously, and to be fair I suppose we are an unlikely pairing, but we're both very, very determined and have an unshakeable belief in what we're capable of. In the end that's probably as important a factor in getting us this far as anything else.
Evelyn: I suspect the friendship is probably deeper than either of us realises. There's an obvious bond between us because of the music. I suppose you don't know how strong a friendship is until it's tested and there have been times when, how shall I put this, we've been somewhat annoyed with each other, when either of us might have, and probably were tempted to say 'sod this'! But neither of us have. What doesn't kill us makes us stronger. And those disagreements have never been about the music, but usually about outside things that affect the way we work and hence the music. I think perhaps we don't always communicate well enough about those things beyond the music.
Working together can be very intense and you do get close; we even seem to have developed a whole vocabulary of our own that no one else understands. But we don't socialise much together--maybe the odd concert or film--I guess we need that space.
I don't really know what it is that makes it work, I just know it does. <! do not remove these lines>
---
Return to website contents
---