---
Nightwish—the premier progressive metal band from Finland featuring the stunning vocal work of Tarja Turunen—builds on the success of their prior three studio albums and four further singles with the release of three recordings including live material and previously unreleased studio tracks. Although the band has had a holiday during the first half of 2001, a mini-CD with two new tracks, a cover of a Gary Moore tune and several live tracks is due for European release during June 2001. In eager anticipation of this release we review the Limited Edition recording Wishmastour 2000 and both CD and DVD versions of From Wishes to Eternity - Live here.

Wishmastour 2000. As 2000 came to a close Spinefarm Records (Finland) and XIII Bis Records (France) collaborated on a European-only limited edition multi-media CD entitled Wishmastour 2000 (Spinefarm/XIII Bis 155492 / MU663, 2000). Still available at this writing from amazon.com (order here), six audio tracks and two videos are included on the recording. The artwork contains a city and date listing of the year 2000 Wishmaster tour, a collage of live band photographs and several standard studio shots. It is a must for dedicated Nightwish enthusiasts and completists.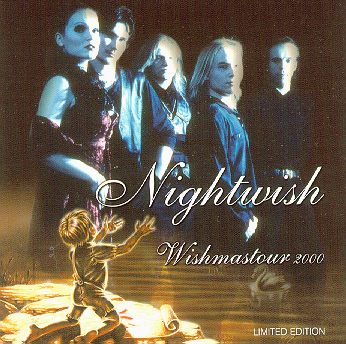 Wishmastour 2000
Image © Spinefarm / XIII Bis Records 2000
Wishmastour 2000 opens with the studio version of "Wishmaster," standard fare for Nightwish enthusiasts. Treats include the 'heavy version' of "Sleepwalker," an alternative edit of the band's Eurovision Song Contest entry that had been included on the first Finnish release of Wishmaster and a now-rare CD single. Foremost a stunning Nightwish ballad with Tarja's vocals right up in front, "Sleepwalker" is equally a symphonic rocker, laced with keyboard passages and contrasting metal edged guitars. A single edit version of "Passion And The Opera" that fades out prior to the instrumental solos is also included.
"Nightguest," a bonus track previously only included on Oceanborn releases in certain territories and on an ultra-rare CD single has been included. It is a fast moving metal-edged rocker with layers of Tarja's stunning vocal work and superb instrumental solos from the other members. The fast-paced electric piano solo during the bridge is especially notable.
"A Return To The Sea" is a previously unreleased symphonic ballad from the Angels Fall First sessions. While the band's later developing metal-edged sound emerges during the track, it has the gentler orchestral feel most characteristic of their first album. Instrumental solos during the bridge illustrate the band members' virtuosity. The final audio track entitled "Once Upon A Troubadour" was previously included on the French release of Angels Fall First. It is a folky ballad blending male and female vocals primarily over light acoustic guitar. A gentle keyboard passage that underscores the acoustic guitar develops into a lovely harpsichord-sounding solo.
"Sacrament of Wilderness" is a live video track from the Wishmaster 2000 tour. Professionally shot and recorded, it certainly provides a souvenir to those that have seen the band perform on stage and a glimmer of what a Nightwish concert would be like to those that have not. The video recording is good but a bit jumpy, like a music video, yet audio quality of the recording is superb. The promo video of "Sleeping Sun" is visually stunning perfectly complimenting the track itself. Evident from Tarja's visual appearance, the video was obviously recorded much earlier in the band's career.
Although this compact disc is a limited edition, at this writing, further information and reviews are available at amazon.com and you can order it here. Clearly worth a trans-Atlantic journey for serious Nightwish enthusiasts, it is a must listen!
From Wishes to Eternity - Live. The compact disc is presently only available in Finland (Spinefarm 6 417871 170024, spi100CD, 2001) and is likely a limited edition recording. While the artwork accompanying the DVD is limited to the front and back cover, the booklet accompanying the CD contains a collage of photos taken during the band's 2000 tour. Supberbly recorded in every respect, the CD is comprised of fifteen tracks with a running time of just over 74 minutes are included.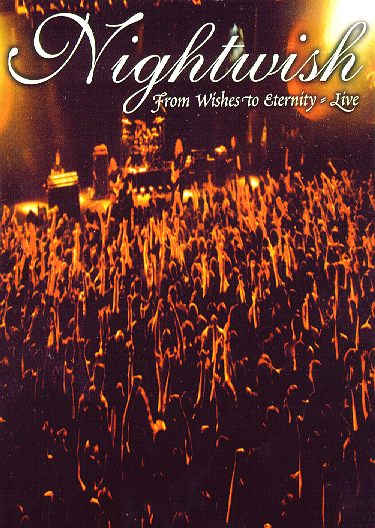 From Wishes To Eternity - Live [DVD]
Image © Spinefarm Records 2001
The DVD is also presently only available in Finland (Spinefarm 6 41787 500067, spi100dvd, 2001) and is recorded for 16:9 PAL video format with sound in Dolby Digital 5.1; it has a running time of 150 minutes. The DVD will play in all regions on computer but requires a PAL DVD player for home theatre viewing. There are no known plans for an NTSC release at this writing. Mauri Osteroholm filed the following report on the DVD preview earlier this year:
Helsinki, Finland 27 March 2001. The introduction of Nightwish's DVD for the international press was held in the Kino Palace today. Our close cooperation with the original Finnish label Spinefarm Records has existed for over a year now, our invitation was warmly welcomed, yet not a surprise. The Nightwish DVD is the first one made for this rock band in their home country of Finland.
The audience was warned that the theather has some minor tecnical inconveniences and also, the DVD was not exactly made for a theatre. It may be that the picture is not as clear as you may expect and the bass was a bit understated. But this is by no means true of the actual DVD!
The DVD begins with shots taken backstage where Tarja gives a short comment about her feelings before the concert. Everybody is making their final checks and then all is prepared. Lights out ... then a little bit of light .. and then Nightwish is on stage! The set begins with "Kinslayer" with the friendly power we are used to hearing from them when performing live.
And the show--again they do it. Regardless of environment here in the theather, they take you again for a ride of your lifetime. Here I felt the same breathtaking feeling which is typical for Nightwish in concert, amazing really how suitable they are for a DVD show.
Shots of Tarja are excellent. She is shown like a 'goddess' in her red coat and leather jeans. Shots of the other band members present them from a very close perspective. The camera is not at all nervous or jittery, it travels calmly and takes all that there is. Emppu's guitar solos have been paid enough attention; he plays with everything: other members, the audience and—of course—the guitar.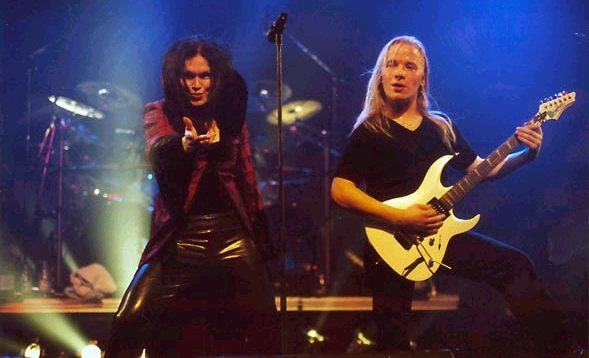 Tarja Turunen and Empuu Vuorinen at Tampere
Image © Nightwish 2001
The recording is very successfully made and the lights worked well with the cameras. The concert at Tullikamari / Tampere on 29th December 2000 must have been a great event for both the audience and the band. Just pay attention on the positive audience onnection which is clearly visible.
We also had the possibility to say hello to Tarja and Tuomas. They are quite satisfied with result of the DVD allthough some minor details seem to bother the perfectionists little. But the moment counts and the camera takes it as it is. From the viewers perspective the show is perfect.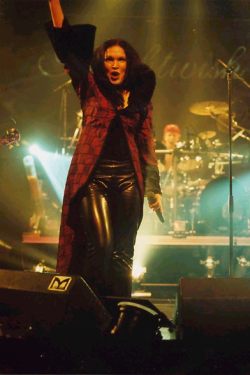 Tarja Turunen Live at Tampere
Image © Nightwish 2001
We asked Tuomas about future plans and also the interest in other territories. He told us, "I have given lot of interviews lately for US media. Wishmaster was released there in the beginning of the year and now we will see how all will be set up for the future." Nightwish is distributed in the United States by Century Media Records and unfortunately at this writing there are no plans to license From Wishes to Eternity - Live either in CD or DVD form from Spinefarm.
Nightwish keep their audience continuosly satisfied with their stunning operatic-rock show. This DVD, with all of its additional multimedia material, is so fine and real, that the only thing that worries me is they could replace their concerts with this. In this viewing I had a very much concert-like feeling, although it was seen on the big screen instead. Wonderful! --Mauri Osterholm, Scandinavian Correspondent
In addition to the video tracks of the live performance at Tullikamari / Tampere, the DVD also includes interviews with Tarja and Tuomos, a very humorous selection of off-stage on-the-road footage, deleted scenes, a photo gallery and discography. Two further music videos and live videos are also included. The music videos include a high-budget, motion picture style rendition of "The Carpenter" and a DVD version of the "Sleeping Sun" video that is otherwise identical to that included on Wishmastour 2000. The DVD version is obviously more robust and that much more stunning.
A live version of "Kinslayer" recorded at the Alcatraz club in Buenos Aires in July 200, is dramatically filmed with shots effectively taken from what seems like a dozen different angles. The audience's excitement from is everso notable in both the video and audio tracks of the recording. Video quality, while quite good, is not of the same standard as the Tampere show. The cover photo for From Wishes to Eternity - Live appears to have been taken at this show.
A lovely version of "Walking In The Air" recorded at Le Medley (review) in Montreal in November 2000 is also included on the DVD. Again shot from several distinct angles, the video is stunning and is surpassed by the audio quality. Tarja's evocatively and sensually sung lead is perfectly complimented by Emppu's guitar solo during the bridge. A concert that we attended, our memories of the evening were thoroughly rejuvinated by this video recording.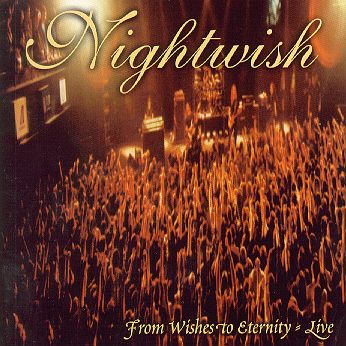 From Wishes To Eternity - Live [CD]
Image © Spinefarm Records 2001

From Wishes to Eternity - Live (CD). The compact disc version of the live show at Tampere consists of fifteen well-recorded tracks faithfully reproducing the in-concert feel that only Nightwish can generate. The disc opens with a stunning rendition of "The Kinslayer" before launching into "She Is My Sin" and an excellent performance of enthusiasts' favourite "Deep Silent Complete." Pyrotechnics and audience excitement are acoustically evident in the mix.

The recording continues, following the DVD track list precisely with a live performance of "The Pharoh Sails to Orion." A backing track for the male vocal part was used at some of the tour stops but this version is performed live. Tremendous versions of "Come Cover Me," "Wanderlust" and an instrumental taken from "Crimson Tide" and "Deep Blue Sea" follow. We especially enjoyed the solos within the instrumental. Tarja's stunning vocals again soar way above the arrangements in "Swanheart" and the metal sounds of "Elevenpath" which she introduces dramatically. The dynamic live performance of the instrumental solos and vocal passages in "Fantasmic" (part 3) works quite well and has been captured effectively on the compact disc.

A lovely version of "Dead Boy's Poem" begins as one of the quieter tracks on the album but develops into full Nightwish instrumental splendour as it builds to the crescendo at its conclusion. The dynamic metal rocker "Sacrament of Wilderness" is announced by Tarja as the last song of the evening concludes the band's main set with thunderous applause.

Three encores—the stunning Nightwish arrangement of the "Walking in The Air" ballad, a dynamic rendition of "Beauty & The Beast" and a tremendous version of "Wishmaster"—complete the recording. Tarja's vocals are recorded perfectly, neither overcome by the thunderous percussion nor guitar- and keyboard-based instrumentals. Audience excitement is evident throughout the encores yet they are also mixed perfectly. Artwork accompanying the CD includes an extensive collage of on- and back-stage photographs taken during the tour.

Enthusiasts outside Finland will currently find it somewhat difficult to obtain From Wishes to Eternity - Live either in compact disc or DVD format although importers will likely be able to obtain the DVD more easily than the CD. The three recordings reviewed here are currently not listed in the band's discography. Yet the new 'mini-CD' that will be released throughout Europe will contain a sampling of live tracks as well as some new studio material and will certainly broaden the distribution of the band's live recordings. Nightwish is resuming their tour in June 2001 with dates in Finland, Germany, Hungary and Switzerland, so there's even a better chance that they will perform near you. A live performance is worth a trans-Atlantic journey; certainly a must see!

<! do not remove these lines>
---
Return to website contents
---