Priscilla Hernandez is an independent composer, singer-songwriter, multi-instrumentalist and fantasy illustrator from the Canary Islands who is now based in Barcelona (Spain). Her music can be described as ethereal gothic inspired in fairy and ghost tales and with a great component of fantasy.
"I like reading, writing, composing, drawing and fantasy, especially old fairytales like those illustrated by Edmund Dulac, Edward Gorey,Arthur Rackham among others," says Priscilla. She has have a deep fascination for spectral gothic ghost tales, and feels particularly attracted by the dark side of folklore. Priscilla thinks think that these have influenced her art with a very moody and melancholic flavor. In addition to singing, she plays piano and keyboards, low whistle, recorder, hammered dulcimer, mountain dulcimer and other instrtuments. Priscilla is incorporating the kantele, jouhikko, harp and other new instruments into her songs.
The artist has earned an intense loyalty from her fans for her music and art work. In addition to performing live, she holds internet-based concerts to reach her audience. Priscilla's first album Ancient Shadows, released in late 2006, is recognized today as a masterful independent project with superb music, outstanding packaging and excellent illustration.
Five years on, Priscilla has reached new heights with The Underliving (Yidneth (Spain) YID2, 2011). She says, "It was a small cooking project, for me it's a dream come true, all I can say it was made with great love the indie humble way." The article below includes our review of The Underliving and is then followed by our interview and review of Ancient Shadows from 2006.

click on image to visit artist's website
image © Priscilla Hernandez 2006

In the closing moments of 2006, Priscilla Hernandez reached out to Musical Discoveries to introduce herself to our visitors. She was already well-known on the internet for her ethereal gothic textures and comparisons of her sound had been made to Tori Amos, Kate Bush and Enya.
Her debut album Ancient Shadows, the story of the ghost and the fairy, immediately drew attention from listeners worldwide and has become the subject of one of 2007's earliest reviews. Presented in a deluxe digipak, the album has two beautifully illustrated booklets with full lyrics and storyline.
A native of the Canary Islands, she performs in front of live audiences in Barcelona, Spain and around the world in places such as the UK and United States whenever the opportunity emerges. She is proud to be entirely self-made as an illustrator, musical artist and vocalist. Learn all about Priscilla in the comprehensive interview below and read our Ancient Shadows album review. The images within this article complement our story and illustrate Priscilla's beauty.
The Underliving Album Review
Priscilla's 2011 project clearly builds on her debut in every dimension. The album is comprised of 18 tracks that flow effortlessly from one to the for over an hour. Beautifully packaged in a 190mm wide x 135mm high (DVD-size) deluxe landscape oriented digipack, the embossed CD is accompanied by an extrmely well produced and removable 48-page booklet. In addition to telling the album's story, it includes lyrics to all the songs, over three dozen of Priscilla's illustrations and several new photographs. An access code in the booklet hints that additional materiail will be made available to purchasers.
Enthusiasts will appreciate the length of time since her last album when noting Priscilla's credits for the album: lead and backing vocals, piano, keyboards, harp, mountain and baritone dulcimer, hammered dulcimer, psaltery, Koshi chimes, kantele, jouhikko, double ocarina, glass harp, singing bowls, recorders, flute, irish tin and low whistle, bansuri, chalumeau and sound effects. Partner Hector Corin contributes percussions, electronic drums, synthesizers as well as pianio and Oscar Tribalhunder drum and selected arrangements on several tracks. Biel Fiot is credited for lead cello.
A vast array of guests contributed to the album: Louisa John-Krol, Kelly Miller Lopez, Gaston Iungman, Maria Montes, Svetlana Tovstukha, Richard Waters, Tonika Nova and student children from Kimberly Steele music class. Purchase the product to read where these contributions are heard on the album.
The Underliving is reminscent of the way record albums used to be. While individual tracks are gorgeously produced and stunning in their own right, the album is best appreciated listening to the themes develop from beginning to end while enjoying the booklet at the same time. That the artist has revealed the album's story and included track by track commentary is certain to be appreciated. This album took a long time for many good reasons. In addition to the stunning production, songs were written between 2007 and 2011.
In addition to Priscilla's stunning vocal work, harmony layers building texture behind or alongside her lead, The Underliving's arrangements are more lush, orchestral and cinematic. "In The Mist" opens the album delicately with soaring vocal layers perfectly joined by strings. The richly arranged and percussive title track explores Priscilla's entire vocal range and, wrenched with an intensely emotional delivery, is a certain standout. Allusions to Loreena McKennitt's work begin to emerge as one listens to the rich strings carrying the theme and the percussive textures supporting Priscilla's superb vocal delivery in "Feel The Thrill" that follows.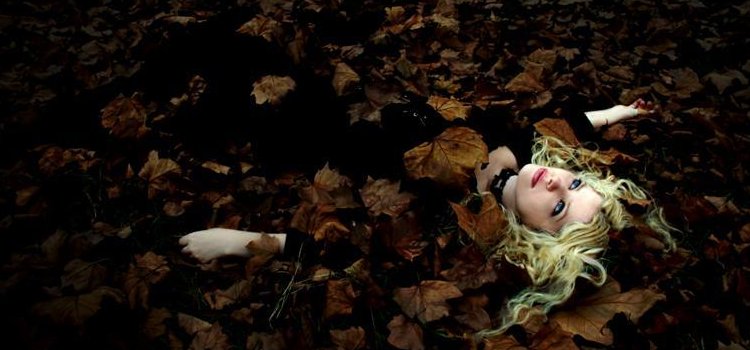 image © Priscilla Hernandez 2011

"Through the Long Way" is the epic that begins the album's next passage. Down tempo and piano driven, Priscilla performed this on the internet accompanied by a backing track to significant acclaim. The richly arranged album version with soaring vocals, lush strings and low whistle is stunning. In contrast to the melancholy "Don't Be Sad" and stunning single "Off The Lane," "In my Mind's Eye" is a more upbeat and celtic-tinged rhythmic number with lush strings supporting the melody. Listen for the moody cello, crisp harp and the sharply contrasting vocal layers in the atmospheric track "Storm."
"The Aftermath" begins a transition into an even more atmospheric portion of the album with shorter tracks that continues with "The Wind Song." Listen for the incredible electric guitar solo in this dramatically delivered number. "Ode to the Silence" is the first mostly instrumental nummber. It combines piano, keyboard and harp with whispy effects, Priscilla's soaring vocalise and also features a great whistle solo.
In the ballad "Northern Lights," cello, harp and whistle join further rich string arrangements and backing harmonies to support a delicately delivered vocal line. The melancholy "Morning Light" follows accompanied by much lighter arrangements that allow Priscilla to emerge almost a capella. In contrast, the powerful ballad "At the Dream's Door" is backed by a rich piano melody. "One Last Hope" may have at one time been the original conclusions of the album. A rhythmic and warmly arranged ballad, Priscilla's lead vocal carries the melody and allusions of Sarah Brightman's work emerge.
"Totonika Nova" is crisply backed lullaby by harp and whistle tones. Listen for the lush vocal harmonies in this short track. In contrast, the "Good Night Kira" lullaby is more richly arranged with cello and dulcimer backing the lead vocal line. The album concludes with an atmospheric instrumental that is not named in the album's booklet.
The Underliving is a gorgeous album both musically and physically. The eighteen tracks flow seamlessly from one to the next and are perfectly accompanied by the lovely booklet. If you have been inspired by this review or Priscilla's debut, don't settle for a download--buy the physical product. Watch Priscilla's website for availability and ordering information. It is an outstanding project and certainly a best of the year!

Ancient Shadows Interview
Musical Discoveries: Will you please tell us about your background.
Priscilla Hernandez: I'm an ethereal gothic singer-songwriter and fantasy illustrator. I was born in the Canary Islands though now I'm living in Barcelona. Actually I got into music when I was given a one octave toy-piano at four years old, and I think I started creating some melodies and songs then. Afterwards, some cheap keyboards followed and I used to compose with my voice recording from one cassette to another, till it was nothing but a hideous hiss sound. I think music was always in me but I never had the chance to have a formal training, so actually I'm self taught.

Digital Portrait
image © Priscilla Hernandez 2006

Can you tell us about how you hooked up with the people you work with today?
Actually I'm a solo artist, I mean I produce the music myself, and I write the arrangements as well as perform the great majority of instruments in the album. Of course there are some featured musicians but some are contributing friends and other hired musicians to perform what I wrote. Honestly this is a major problem when you have to bring music to the stage and perform it live, as I don't still count with a solid group most of the time you need to hire unknown performers to play your music.
Ancient Shadows has been released under my own production company, and thus I had a total control over it. I have to mention though my mate (and also composer) Héctor Corcín. He's helped more on a constant basis, especially technically, and he's also contributed with some percussion and arrangements as well as aiding in the mixing and mastering of the album. He encouraged me all the way, and though he's more into instrumental music, I believe he ended up understanding the concept of songs as storytelling.
What artists do you think have influenced your work?
In art, as an illustrator, the treasure books from late XIX and XX century, fairy tales with drawings of Arthur Rackham, Edmund Dulac, John Bauer among others. And or course more recent illustrators like Brian Froud, from the Dark Crystal and Into the Labyrinth movie, a pivotal key to my preferred aesthetics, Alan Lee from The Lord of the Rings. I also like Edward Gorey which I think inspired Tim Burton most gothic fantasies, an artist that I also worship.
Regarding the lyrics, aside from recent fantasy books like Michael Ende's and Tolkien's, the folklore, myths and fairy stories, there's a big influence from victorian, gothic and even pulp literature from M. R. James--Lost Hearts is one of my favourite tales--Edgard Allan Poe, Maupassant, even Lovecraft to XIX century romantic novels like Wuthering Heights and Jane Eyre.
Regarding Music, my inspirations come mostly from film music. I was an avid collector of soundtracks a while back. I do love film scores because they portray a great imagery in my head, even if you have not watched a film, a movie score can give you hints about a storyline. I do love storytelling, that's why my songs can be conceived as little stories.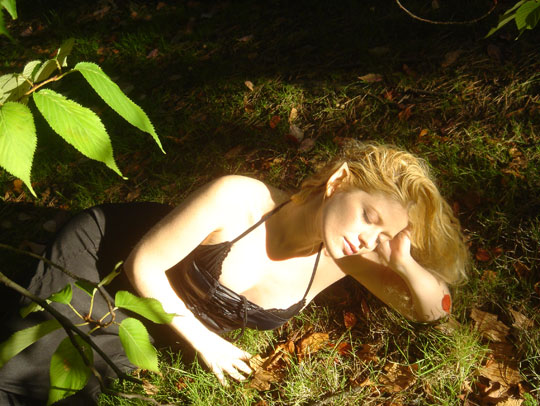 image © Priscilla Hernandez 2006

What are some of your favourites?
I can mention Joe Hisaishi, Trevor Jones especially in The Dark Crystal, Danny Elfman and Jerry Goldsmith among others. I also like the early works of Vangelis, specially that theme in Heaven and Hell CD that became the well-known credit music of Carl Sagan Cosmos television program and Antartica.
Aside from this, and growing during the eighties, I have to mention a few singers that were a pivotal influence to me. Above them all, Roland Orzábal from Tears for Fears, I can certainly say that I learnt to sing along his tunes, and though I never was really a fan of any band, spent enjoyable times singing alone his songs, specially after the band split in the late eighties. One of my favourite songs of his is "Elemental". And I wouldn't mind to duet with him one of these years. I also like Cyndi Lauper--in her ballad-mood--and Elizabeth Fraser from The Cocteau Twins. I think I also was influenced by some songs in Mike Oldfield albums Moonlight shadow, To France, Five Miles Out.

click on image to visit artist's website
image © Priscilla Hernandez 2006

Does anybody compare your work to other artists?
The curious thing is that though I see very clearly some of their influence in my work, people consistently to point to Enya, Tori Amos and Kate Bush. Actually I take this as a huge compliment. I think Enya has a very nice voice and that she makes sweet melodies, although I personally prefer Miriam Stockley in her solo works. And about Tori Amos and Kate Bush I didn't know them at all initially but have since listened to Kate's "Wuthering Heights" but I found her material extremely unusual and quite appealing, so I take this comparison as a huge compliment. From Tori I liked "Winter" very much.
And whose recordings are you listening to these days?
The Dark Crystal soundtrack by Trevor Jones is in perpetual rotation and Edward Scissorhands. I've been listening to some others like Narnia, Jin Roh by Hajime Mizoguchi and Princess Mononoke by Joe Hisaishi. I'm listening to my dear friends John Kelly and Maite Itoiz Tales From the Secret Forest. They've done a superb job.
I'm also listening to Héctor Corcin's album on the making Sentiments. I feel rather privileged because of being able to listen to it in this moment of the production. I'm listening to a wealth of indie releases this days as I run a platform for the promotion of artists in relaxing genres that is called nuevasmusicas.org.
Please tell us about the making of your album.
Oh, this is quite an odyssey. For the mixing, keyboards and synths I use my home studio. For recording vocals and acoustic instruments, some were recorded in distance as there are some guest musicians from different countries. I needed better gear than I had, and aside from studio I had several friends assisting and helping with their own studio. My thanks specially to Carles Reig from Ohm Spirit Sound for his time, friendship and help regarding this.
It took ages, countless hours, nights without sleeping at all, recording, then back on recording, many songs were taken out, then back in. And then I stopped completely and decided to focus it as an illustrated cd so not long before it was going to be released as a nine-track standard CD, decided not only to create my label to handle everything but also to sit down, make it a 19-track album and gather illustrations and drawings to plan the booklet and overall design.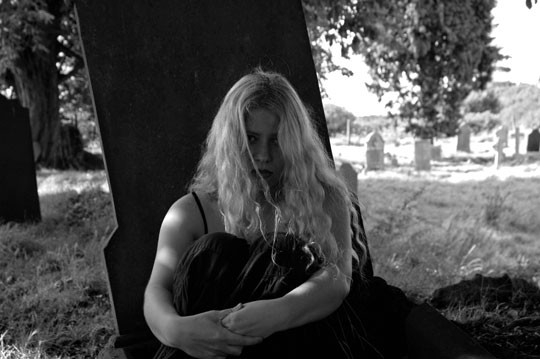 image © Priscilla Hernandez 2006

Finishing something is always wonderful, but there was a lot of struggle and bad moments as well. Donors in the official website were contributing and encouraging me to go on, and I stopped everything I had on the making to work in Ancient Shadows 100%. We had some bad luck as the first factory we worked with sent the CDs and they were not working, official release and digital release had passed away and we could not sell the CDs really, so finally we managed to order them urgently again in another factory and as a plus, sign every CD, thousands of booklets had to be replaced as well as the CD.
Yes, an odyssey is the word. Still when I thought all the illusion of your first official debut album--I had collaborated in soundtracks, other's cds and works and only had a previous demo--had been completely spoiled, it wasn't true. It was awesome, to have a first copy of Ancient Shadows ready to see the light, so it did, in late November 2006.
| | |
| --- | --- |
| | image © Priscilla Hernandez 2006 |
How have you been affected by the publicity of your album?
I cannot complain at all. The CDis getting really wonderful reviews and press. Actually I do not care much of what they say, after all to do what I've done, the way it has reached your hands, I declined several label deals including majors. It was my decision to be independent to do this kind of music that I'm not sure if it fits in one genre, or if it's or not commercial. It was a challenge for myself and of course I do welcome the encouragement, but I guess it affects me as publicity if good, might eventually determine if I still go on fighting for this thing I love making, which is music, in future works.
How do you describe the style of your music?
I would define it as "ethereal gothic". Actually I've been using this adjective for a while but not thinking about tags or genres. I think actually there is a genre of music carrying that name and I'm not even sure if you can consider my music within. I tend to think it's like dark downtempo, even close to new age sometimes, but with neo-classical and a twilight silver light instead of the vivid and colourful moods of new age. I really don't want to think much about definitions, like to go with the flow.
There are some reprises of songs included in Ancient Shadows that could not be included and I was thinking of recording them just for the fans or digital, but I don't know in advance if next CD will be more instrumental or if it will be even darker, or if I'll go to any other direction. I think the CD actually is rather heterogeneous, and even if that's bad to be placed clearly in one type of music or another, I really cannot help to compose randomly. We'll see when we get there.
I'm not still sure about the actual CD, I thought by sound it could be close to new age, but it's been gothic communities the ones that have embraced the project with less prejudices.
Whose work and what artists do you and your fans compare your music to?
I am compared often to Enya, Tori Amos and Kate Bush. Actually I can say these weren't my influences but I take it as a huge compliment. Then there have been other resemblances pointed that I cannot really recall why, the strangest ones. Many people compares me to artist they find with a physical resemblance rather than a similar sound. Still it's a curious thing.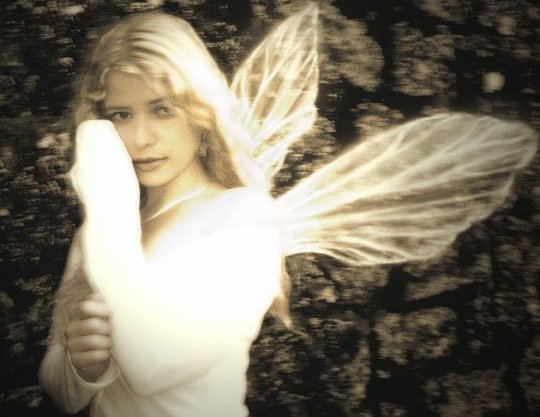 image © Priscilla Hernandez 2006

How do the audiences react to your live performances and on-stage persona?
It depends very much on the kind of show I'm making, but when you have a small place and some time to get in intimacy with the public I've seen some people crying with "Lament" and "Nothing." I really cannot evaluate my onstage persona specially because I tend to avoid watching the videos afterwards.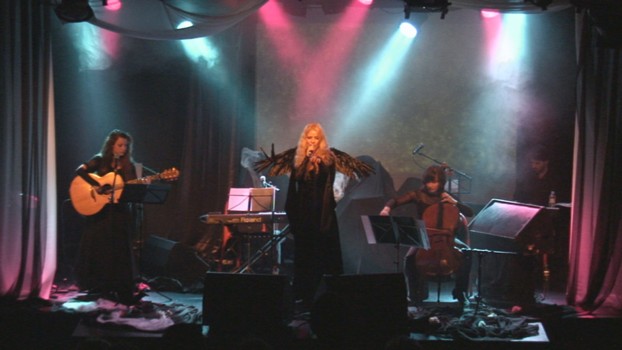 image © Priscilla Hernandez 2006

I've had the chance to perform in front of a big auditorium and maybe the public seemed to be far away, but I remember for example when I first met David Riché and Myrea Pettit from fairiesworld.com. Myrea is a very sensitive and wonderful fairy illustrator, an occupation that we have in common, and I sang "The Realms of Twilight" for her alone. When I saw her heart touched and her eyes shimmering I felt it was reaching her and it was one of the most beautiful moments an artist can experience when showing their art.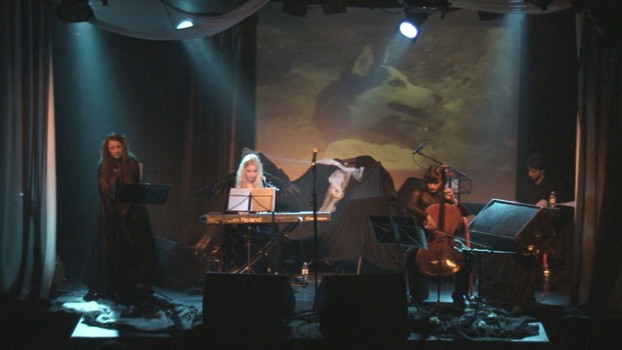 image © Priscilla Hernandez 2006

About how public react in general, they tend to think I'm rather mystical, and not very down to earth, but I think is because I tend to bee in my inner world when up there, in many senses my performances are rather introspective, I share them but at the same time I'm sharing a very private part of myself the public is observing.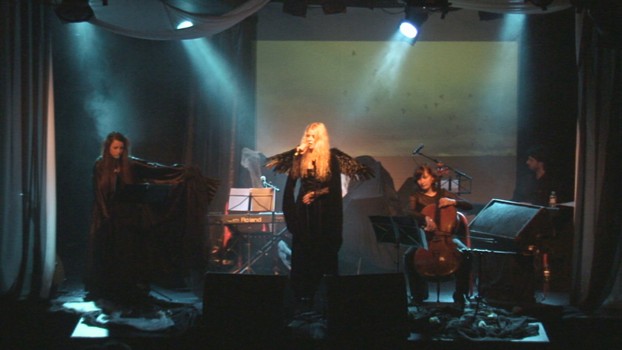 image © Priscilla Hernandez 2006

How would you describe the influences to your songwriting and vocal style?
Roland Orzábal from Tears for Fears could be probably my most clear influence. Hope to be able to meet him one day and shake hands even if no one ever guesses it. I have never been a fan really of any musician, but I admit I would be extremely honored if I ever can duet with him on the first place. I have influences from Sting, Mike Oldfield songs, when he is using female vocalists from Maggie Reilly to Sally Oldfield. Of course Elizabeth Fraser from Cocteau Twins and This mortal Coil. I also like Cyndi Lauper especially in her less pop-sound songs, she has some nice ballads like "Water Edge". From people I would have loved to find out earlier to be influenced by ... I think Miriam Stockley has one of the most beautiful voices on earth. I wish! But I think we all have our particularities after all.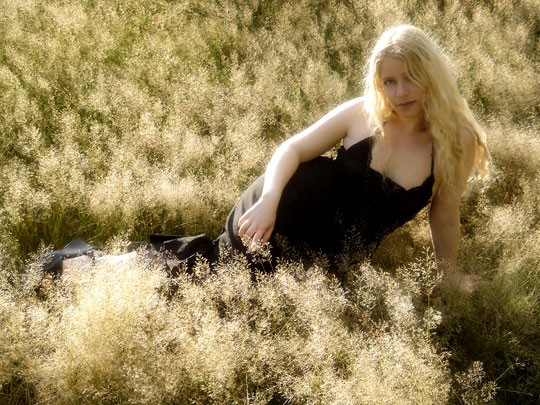 image © Priscilla Hernandez 2006

From what do you draw inspiration for the music and the lyrics?
Random forces from the universe? Music, art, literature, love, passion, the smell of grass, crickets, a starry night, a mystic haze, my own passions, fears, sadness, out of my sadness. The CD is dedicated to my dog Kira who died three years ago, her departure was so sudden and violent that left me undone, and really felt the urge to do something to honor her.
I think there's something wistful and longing in the entire CD that really comes out from my spirit. The CD opens and closes with "Facing the Dream" and I have written the songs "Ancient Shadows" and "Nightmare" about a sleep disorder called sleep paralysis, an uncommon disorder that can cause hallucinations when falling sleep (hypnagogia) or waking up (hypnopompia). Actually this is perfectly normal and rather frequent in artists. During my childhood I admit it was absolutely terrifying but now that I'm aware of it, I found a way to even find it inspiring, just like the CD moves in a dual nature you can see the romantic and horrid side of the experience in two themes.
I'm also inspired by ghost and fairy tales as I mentioned a while back. I devour books.
| | | |
| --- | --- | --- |
| image © Priscilla Hernandez 2006 | | image © Priscilla Hernandez 2006 |
How do you think your album has impacted the public's interest in your music?
I think that even though my music was on internet for a long while, still there's a need for many to see an already released, packaged and finished CD to consider a musician seriously. Of course it matters a lot, and when once decided to make a legal release, maybe you put ten times fold the effort to make it as best as possible. So the quality in the CD and previous online versions differ completely and I think people have reacted to an unexpected big jump in audio quality.
Not only that I've improved myself during this four years but also that we opted for better recording gear and a long time on the developing to balance the lack of resources. Work and determination and always ahead. I opted for a deluxe digipack because after all I'm a visual artist and that's part of the conception of my music as well, and people response to the package has been very positive.
I wanted to make the physical thing a bit special. The CD is a formal and new way of presenting your music, and I have realized about the difference, as many radio and press really does not pay much attention if there's not a publication behind. It was a lot of time and investment, a big effort in all senses, but it was really worth it, really!
| | |
| --- | --- |
| image © Priscilla Hernandez 2006 | |
What are your interests outside of music?
Well I studied Molecular Biology but I admit Art has gained my entire devotion lately. Aside of creating music I'm very interested in improving my abilities as a sound technicianso I can better manage sound in the recordings. On the other hand I'm a fantasy and goth illustrator.
In fact it's my other occupation. As you can see in Ancient Shadows I'm also fond of photography. And bit by bit I'm entering into the world of video editing.
I would like to improve my skills in this latest field to be able to make my own video clips. I like writing as well. In fact I started writing, then illustrating my stories and then creating a soundtrack for them. It's all intermingled.
When I was younger I also made some animation cartoons, I want to explore 3D and computer animation this year to get into it in a less traditional way, but I need to study a lot.
I also like acting, though I have not much experience, I would not mind to give a try in a short or a movie. Meanwhile from time to time, I keep on writing some scripts. Who knows. I love cinema and movies, specially fantasy, horror and scifi.
How do you think the internet has influenced your musical career?
The internet launched it, that's for sure. Last time we counted to be close to two million downloads and streams of the music, that is a promotion I cannot even dream of if I have to pay for it outside the net. I think the internet is a tool that provides many free resources to the indie musician. I keep a directory of free links at resources.yidneth.com.
Before 2002, and internet entered my life, music was just a hobby and, in fact, the keyboard was in the closet for a long time. But that year I felt like making a record of a few songs and looked for some friends to sing on it. I never considered becoming a vocalist myself, I just didn't think my voice could be good enough for it. But when I found nobody to do it, I made the first version of "I Steal The Leaves" and "The willow's Lullaby" myself and put them on mp3.com with a note "singer needed".
People started not only to encourage me but also to compliment my voice and it started to do really good reading finally the top-selling new age demo-albums there. It was unexpected but more even the fact I was getting fanmails from over the world, and getting features in webzines. It was a total surprise but not as bit as finding out myself I love singing.
The internet puts every act on the same level. If you have a website and music, eventually some other person in some other part of the world can find it and claim you're their favourite artist even if you're not a top-bestseller and it allows you to reach and be reached.
Do you think MySpace is worth all of the hype?
| | |
| --- | --- |
| | image © Priscilla Hernandez 2006 |
Actually I have the opinion that for an artist is more important to keep their own domain up to date. I run my official website www.yidneth.com and also co-run the fanclub website priscellahernandez.yidnethfanclub.com and believe me, it's hard work.

Of course I have a MySpace profile and well as a wealth of satellite sites. I think any mirror with a sample of your music and your information really helps in your promotion. When I started out, everybody was crazy about mp3.com, when it closed, people saw all the time they had invested in having more visits and plays in them vanished.

One day MySpace can close, nd then? My advice is keep a site you control completely, take care of it, develop it, keep it nourished and updated, and make it sure people know the way back. What I personally don't like from MySpace is that it looks like "friends collector," people seeking to increase the number of friends wether they are listeners or interested in what you do or not.

I prefer to have ten people enjoying my music than one million friends not visiting my profile anymore. I was specially upset when I found out many artists were using automatic software to collect friends. This kind of lie-to-yourself- thing is not something I find especially appealing. I find many acts that I was in touch back in mp3.com times are on MySpace and seem to have forgotten I have an e-mail address where they can send personal correspondence.

I find it rather useful, and as an indie act I don't complain of a free promotional additional mirror for my music to be exposed. About many sites, I think I'm listed in a wealth of them, and now it's being rather complicated to enter and update the information, and of course there is a lot out of date information in internet that cannot be changed anymore, either.

What are your musical hopes, plans and dreams for 2007?

Awwww, so may that makes me feel discouraged--just kidding! I have the hope of getting a sponsor or some luck, or something to make the live show what I really would like it to be, a mixture of audiovisual, performing, storytelling and music on stage. This needs an investment that I cannot conceive and thus we're starting out in a much humbler way. We have so many ideas, but of course we need funds to make it real.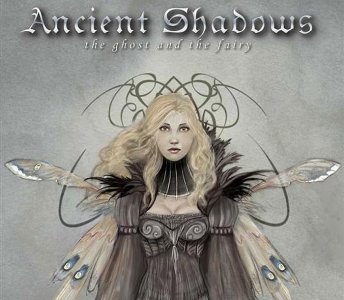 Early Ancient Shadows Cover Artwork
image © Priscilla Hernandez 2006

Actually in this kind of music genre you certainly have your followers but you don't move big masses of people, especially when your career is just triggering. Thus, live performances are scarce and most of the time costs us money rather than earning from them. Still I think it's a key for the promotion of the music, and a need for the heart of any musician. I love performing on stage, so I dream to have chances to be able to do it on a regular basis not worrying so much about it.
I have of course "Yidneth" my comic, from which my label takes name. The project was stopped a couple of years ago and now that I have some time I'd like to get back at it, maybe even compose a couple of songs for it to publish it along with a single. But it's unlikely I can finish it within this year. This year, as a musician, seems to be starting on the right way, I hope Ancient Shadows also brings some attention into my illustration skills as it is the other thing I do for a living and maybe because I was so involved in the production of the music, it now needs a further push.
I also want to keep on growing my home studio and keep on creating new songs, painting, daydreaming, and one day, get another dog in my life!
Ancient Shadows Album Review

Ancient Shadows ... the ghost and the fairy
image © Priscilla Hernandez 2006

Ancient Shadows (Priscilla Hernandez (Spain) YID0001, 2006) is a 19-track album meant to tell the story of the ghost and the fairy. Also intended to be a highly visual and cinematic experience, the main contents are placed within bookend tracks entitled "Facing the dream" labeled as opening and closing credits respectively.
A range of musical themes recur throughout the hour long album and textures vary from more aggressive gothic tunes to sublime new age sounds. Priscilla's stunning ethereal vocals grace the entire project soaring above the rhythmic arrangements often self-backed with remarkable harmonies.
The superbly illustrated digipak comes complete with two booklets. The booklets contain further illustrations by the artist, full lyrics and stories behind each of the songs. Every page of both booklet is graced with either a photo or illustration; words are provided both in English and Spanish. The stunning presentation spared no expense.
While others have made comparisons of Priscilla's work to Tori Amos and Kate Bush, these allusions are difficult to recognize in the material. Instrumentally and vocally, it is easier to hear the references to Enya that are often made, however Priscilla's voice has a more delicate albeit more powerful energy. Listeners will be enthralled with the rich orchestration Priscilla has produced across the album. The first musical theme emerges in the title track. The song has lovely harmonies, crisp percussion and a gentle hook that recurs and drifts in and out throughout the project, for example in "I Steal The Leaves," one of the ablum's powerfully delivered standouts.
As the stories unfold, the listener is immersed in soaring vocalise or sung lyrics and well orchestrated arrangements. We especially enjoyed string and woodwind textures, notably the recorder parts in several tracks. One of the album's darker tracks, "The Willow's Lullaby" features both with stunning harmonies and robust string passages. The robust, gothically-oriented standout "Haunted" returns later as if to echo its sister track. In addition to whispers, breaths and whispers, echoes also add texture that illustrates the story in "The Call Of The Nymph," but Priscilla's soaring vocals will bring goosebumps to even the most insensitive listener.
While much of the album is heavily arranged, the tracks recorded as vocal atop piano with only slight supporting arrangement, provide not only a suitable contrast but serve to demonstrate Priscilla's singing and songwriting versatility. "Nothing" is arranged sparsely but draws on the recurring theme that runs throughout the album. To ensure that the listener doesn't get too comfortable in the gentle new age texture, Priscilla's voice soars in the standout track "Nightmare" atop rocking electric guitar.
The project never loses sight of its cinematic aim returning thematically with Priscilla's gently soaring vocalise in "Fairytale" that blends seamlessly into the lushly arranged "The Realm's Of Twilight," yet another album standout, Priscilla singing harmony with herself in a lovely duet. "The Voice Of The Night" is a tender piece backed by gently plucked strings. It is easy to hear the Enya allusion as Priscilla's evocative voice floats across the arrangement. The closing harmonies are spine-tingling.
The album's themes develop rhythmically in the notable "Lament," rich vocal harmonies blending with lush string arrangements. While the majority of the album is sung in English, two Spanish named tracks have been included. The first is a very gentle, string-textured instrumental entitled "Ahora Que Te Has Ido," which blends perfectly into "The Prince And The Fairy," immediately recognized by Priscilla's soaring vocalise that graces almost the entire track.
"I'm Right Here" is one of the album's most memorable tracks--a love song that listeners will certainly play again and again--and a certain standout. A gently arranged ballad, Priscilla's lead vocal soars primarily above a rhythmic piano arrangement. Keyboard washes and Priscilla's self harmonizing vocalise add texture under the lead vocal and piano. We will not have been the first to hear a very strong reference to Sarah Brightman in the stunning Spanish-language track "Sueño Muerto." The allusion is evident in Priscilla's emotionally delivered soprano lead vocal, gentle but depthy harmonies and the rhythmically produced instrumental arrangement. A dramatic reprise of "Facing The Dream" (closing credits), full of dramatic vocal effects, closes the album.
Clearly Priscilla Hernandez has a tremendous career ahead as a singer and songwriter as well as a fantasy illustrator. The Ancient Shadows album provides listeners an excellent introduction to the stunning artist whose etheral voice and personal repertoire is certain to span rock, new age and classical crossover. Bravo!

<! do not remove these lines>
---
Return to website contents
---