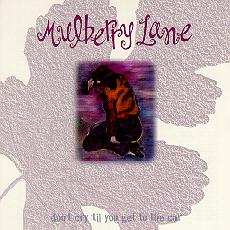 Image © 1997 Refuge Records
&nbsp
(18 November 2000) The first album from Omaha, Nebraska-based Mulberry Lane is entitled Don't Cry 'Til You Get To The Car (Refuge Records (USA) RFGD-11906, 1998) was released almost two full years ago. Their followup, Run Your Own Race from 1999 (review) achieved broad commercial success and critical acclaim. The band exhibits a significant stylistic similarity to Wilson Phillips, who unfortunatly disbanded in the mid-1990s. Clearly Mulberry Lane are, along with The Corrs, filling the void left from this breakup. The fact that the four Mulberry Lane band members are physically stunning has little to do with it!
Don't Cry 'Til You Get To The Car is comprised of eleven highly accessible pop-oriented vocal tracks. Vocal harmonies dominate the arrangements with lead parts piercing through appropriately. The album is certain to enthrall heavenly vocal enthusiasts. Upbeat tracks include the everso "Hold On"-style "Harmless," and "I Don't Love You." A certain favourite is the gently rocking Wilson Phillips style "Just One Breath" where a lovely lead vocal is perfectly balanced with harmonies in the choruses and superb instrumental arrangements.
Hearfelt ballads are well sung and drip with emotion. These include "Unending Hope," "Abbie Marie" and "The Why" with their lovely vocal harmonies, and the sensually sung Corrs style "Would You Know Her?" Three live tracks include the almost-Gospel tune "Jerimiah," the tender "Just Another Friday" acoustic ballad and the acoustic harmony "The Tree Song." The album closes with "Carnival Lights," a country style ballad track with lead vocals and lovely harmonies certain to appeal to a broad audience.
Mulberry Lane's debut album is a wonderful introduction to this stunning four woman band. Stylistically similar to both Wilson Phillips and The Corrs, this one is certain to appeal to fans of either or both. You can read further reviews, hear soundbites and order Don't Cry 'Til You Get To The Car" from amazon.com here. Certainly worth further exploration, this lovely debut is worth a journey—a very nice listen indeed!