Dale City, Virginia is the home of currently unsigned, independently produced Brave who were known previously as Arise From Thorns. Still fronted by female vocalist Michelle Loose, the band's repertoire includes highly melodic acoustic progressive rock spanning two full length albums—

arise from thorns (1997) and before an audience of stars (1999). A new EP is due out in January 2001. Enthusiasts of female fronted progressive music by bands such as Renaissance, Quidam, Second Story and Solstice are certain to find Arise From Thorns' music highly enjoyable. Learn more about the band and their two albums here.

Arise From Thorns was created in 1997 by Scott Loose (acoustic and electric guitars) and Trevor Schrotz (drums and percussion) who had two projects underway initially. One of them involved acoustic guitar work and diverse production while the other was more oriented towards metal edged progressive epics. The metal sound was discarded as they began recording at Neptune Studios (Occoquan, VA) in March. Once two songs had been completed Scott's sister Michelle joined them initially to play piano and keyboards and to do background vocals. However, when Scott and Trevor had heard Michelle sing, it was decided that she should sing most of the lead parts on the band's first album. With distribution spanning the globe—London, Norway, Belgium and United States—and an overwhelming response to the recording, several of the debut album's tracks were selected for Italian and United States compilation album releases.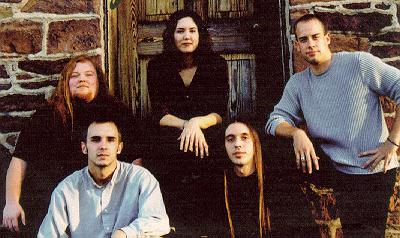 back row: Chris Welborn, Michelle Loose, Trevor Schrotz
front row: Scott Loose, Tom Phillips
Image © 1999 arise from thorns
The trio were joined by Chad Peevy (bass) for live club gigs in Northern Virgina during the summer of 1998. When autumn came, Scott, Trevor and Michelle began working on new material; they were joined by Chris Welbourne (bass) in November 1998. Michelle and Scott also joined a epic doom metal band called While Heaven Wept in February 1999 and performed live with them in Maryland and New York. Arise From Thorns began touring extensively throughout Northern Virgina, Washington D.C. and Maryland not long after. While Heaven Wept founder Tom Phillips (electric guitar) joined the band during live performances and helped with the production of their second album, recorded between April and August and released in November 1999.
We asked Michelle Loose about the band members' careers and aspirations. She said, "We all have full time day jobs, which can make things difficult. Mainly because all of our hearts are into music, and none of our day jobs relate to music. Scott and Trevor work for a local newspaper; Chris is a manager at a fast food restaurant and I am an office manager for a private counseling center. The goal is to make music the only full time job!"
When asked about their songwriting influences, Michelle told us, "We all have varying influences, from Led Zeppelin to Tori Amos to Genesis. I think sometimes the music has a very technical, or progressive, feel so bands like Genesis and King Crimson may make their influences here. Scott has been listening to Pink Floyd almost non-stop for several months while Trevor listens to a lot of jazz, like Allan Holdsworth and Chick Corea. Chris mostly listens to eighties metal." Arise From Thorns' music is significantly acoustic and very vocally oriented. Michelle said, "As for vocals, personally I am influenced by Tori Amos, Bjork, and Lisa Gerrard of Dead Can Dance." She also is listening to a lot of Faith No More.
While the band enjoys the flexibility of being unsigned and independent, Michelle told us, "We are sending out the new CD to a lot of labels all over the world. We have not had any great offers yet, but we are looking to get signed. The main reason why we want a label is because we don't have the power to distribute and market our music as much as we would like to, and obviously a label would help us in that aspect." The internet has been a great help to the band. "The internet has brought about so many contacts. There is no way that we would have the recognition that we do without the internet. With all of the online magazines and information on labels, radio stations, etc., the internet has proven to be a highly valuable tool for promotion and recognition."



arise from thorns
Image © 1997 arise from thorns
The band's debut self-titled album is comprised of eight progressive rock tracks. A black and white booklet with complete lyrics and some nice photos accompanies the CD. While "Restoration" has an air of seriousness with its lush keys and narrated male vocal, the album quickly moves into a lighter style dominated by layered acoustic guitar parts, light keyboard and percussion and Michelle's heavenly vocals with "Ivy" and the subsequent tracks. Several songs include Scott's and Michelle's lovely vocal harmonies. Michelle told us about their songwriting, "We always think that we have a song ready to go when we get in the studio, but when we realize the potential of adding layers of tracks of different instruments, sometimes the songs end up taking a different form."
Independently produced albums often have technically superb recording quality, usually attributable to professional engineers. Michelle adds, "We are fortunate to have the opportunity to work with JP Maheu, our engineer who recorded us at Neptune Studios in Occoquan, Virginia. JP gave us a lot of ideas, and he really took the time to make sure we had good tones. It is so important to work with a good engineer who cares about your product."
Multi-layered vocals within the ballad "To Dance By Moonlight" and a Spanish influenced acoustic guitar part adds texture to the vocal lead and the rhythmic instrumentals. Arise From Thorns show their symphonic side with especially lush keyboards in the progressive classic "Remember The Stars." A reprise of the album's opening theme provides the foundation for "The Red And The Black." A gothic texture and various vocal effects, including a capella harmonies within the track further develop the mood. New arrangements of both tracks appear on the band's second album.
"The Calling" with its deep keys and choir vocal parts is a progressive track with lighter acoustic guitar and soaring heavenly vocalise parts illustrate the depth of the band's talent and can be clearly compared to Renaissance. "Fire Of The Night" is a progressive epic with lush instrumentals and soaring vocals. There are strong contrasts drawn between the quietest and boldest passages within the nine minute song, running right into the album's closing piano solo track entitled "Return Of The Old Forest." Their first album is illustrative of the band's budding talent. It should intrigue progressive rock enthusiasts and provide the necessary encouragement to seek out and explore their second album.
Arise From Thorns' sound is perfectly suited for a live setting and they have had great recognition for their live performances which also served the band well promotionally. Michelle told us, "The gigs that really stand out as being our favorite are the ones where people really respond to the music. We played a show a few months ago at a biker bar in northwestern Virginia where we honestly thought that we would get thrown out of the club. We were all nervous because we didn't think that that sort of venue would like our style at all. But the response was incredible, people were screaming and applauding. It felt great. We seemed to get good reactions from most of our audiences, some places more than others. We really want to start traveling more and playing different places. We will soon being playing venues in Philadelphia and New York."

before an audience of stars
Image © 1999 arise from thorns
Arise From Thorns'

Before An Audience Of Stars is a clear development and in some ways a departure from the band's debut album. Eleven tracks comprise the album and lovely full colour artwork and complete lyrics accompany the CD. While traces of the band's sound from the debut album are evident, the album is much more richly produced and more layered.

There is a clear development of Michelle's vocals—louder, clearer and mixed more effectively—in the transition from their debut album to the follow-up. She told us, "I think the biggest factor in the progression of the vocals from the first album to the latest album is confidence. When I recorded the debut album, I was so shy, I had a hard time really getting into it. Also it was really a last minute decision that I was going to do most of the vocals. Originally Scott was the main vocalist for the band. But now I feel much more confident for a couple of reasons. One of them being that I have gotten great feedback from people about my voice which has made me have more confidence in my singing. Also playing live really helped me open up and let loose."

Rhythmic almost 'western' (think Bonanza) acoustic guitar and soaring crystalline vocals carry the album's opening track, "Dreaming." "Time Alone" is more electric, even slightly gothic, in the Love Is Colder Than Death or This Asension style. Michelle's confidence is evident with the power and range of the lead vocal. A clear favourite with its combination of progressive styles, "Among The Leaves" has lovely rich orchestral instrumentals carried by keyboard layers and acoustic guitar. Sensitive ballad-like vocals within the verses are complimented by soaring multi-tracked choruses that build as the song concludes.

Michelle weaves incredible emotion into her lead vocals the progressive ballad "I Can't Believe" with keyboard layers that add significant dimension to the track. With verses sung deeper in "Lure," the choruses continue to soar. Percussion, guitar and bass instrumentals are more pronounced—a guitar solo in the instrumental bridge is especially notable.

Intricately woven guitar and keyboards are the foundation for "Surrender" and "Lovelorn." Progressive—very Renaissance—epics, the songs share their sound with "Among The Leaves," with rich keyboards and vocals that develop substantially through the tracks' various movements. Musings from the album's opening track are evident in the closing instrumental passage of "Surrender."

The new arrangement of "Remember The Stars" originally recorded on the debut album is vocally clearer and instrumentally lusher. The guitar solo during the instrumental bridge is clear, bright and melodic. A new introduction, substantially improved vocals and lusher instrumentals were added to create the new arrangement of the epic "The Red And The Black." Both new arrangements are stunning.

"Persia" is much in the same style as "The Red And The Black" with its rhythmic percussive instrumentals and vocal excursions that develop with symphonic keyboards and multi-tracked vocal melodies during the choruses. "Bluer Skies" develops from an extended light acoustic guitar introduction into a progressive rocker with its rhythmic guitar and percussion and symphonic keyboard underlayment. Soaring vocals and melodious instrumentals dominate the dynamic choruses. A certain favourite amongst their followers, it must be wonderful to see Arise From Thorns perform "Bluer Skies" live.

We asked Michelle to tell us a little more about the album covers. She said, "For both albums, we asked our good friend Courtney Reyers to come up with a few concepts for us to choose from. We have known her for years, so she knew our sound and our philosophies. For both albums we were blown away by her design; they seemed to match the music perfectly. The themes of the earth and universe are present in both covers, which are also present in our music and lyrics. The second album cover is also great because there is a hidden baby picture in the eclipse. The photo is of Scott when he was about six months old. So much can be interpreted by this, the concept of life in the universe, etc. We hope that people will interpret for themselves these concepts and that we can evoke some thought and emotion about such issues."

With easy access to Arise From Thorns on tour, people living in northern Virigina are a lucky bunch. Progressive music fans in the Northeast, especially Philadelphia, should stay tuned and watch for performances within their reach. Arise From Thorns is a group of highly talented artists with outstanding song writing abilities and performance skills well above the norm. Their albums are both available directly from the band; check out their website for details. Progressive music fans will find that their two albums are worth a journey—certainly both a

must listen.
---
Return to website contents
---