Charlotte Martin's second coast-to-coast headline tour included stops in the upper midwest before venues in the northeast would again welcome the return of her dramatic live performances. Planned since the late summertime, we arranged our third interview to coincide with a concert at the Buffalo Icon. Dressed in a tee-shirt, jeans and slippers, she sat comfortably and unpretentously in a cozy chair in front of a low coffee table beside her tour manager as we entered the Starbucks. Here was singer songwriter Charlotte Martin, her long blonde hair tied up and back against her head, gently sipping her tea, as keen to meet us as we were to meet her. Her sound man Mitch sat nearby working with the laptop.
Friday. With two interviews with the artist already completed, we were warmly greeted by the artist and drawn closer as our discussion ensued. Charlotte is a genuine, personable and straightforward individual. We enjoyed a deep conversation about the tour, life on the road, her music and the future. Charlotte was perhaps expecting more of a question and answer format. About half way through our discussion she asked when we would begin the interview. She appeared happy when we told her that it was already well underway. Charlotte was quite relaxed and open in our talk, smiling all the time and she is very naturally animated.
Charlotte is currently working on her new album, but said she wouldn't be playing any of her new songs during her performance. She said that her audience sometimes records her songs, and she'd rather the music come out on her album first instead of on an audience recording. She said that she doesn't mind when her fans record her music during her shows, and even encourages them to do so. Her new album, Stromata, is a faith based type of album. Charlotte described the music as being inventive, using the keyboards and exploiting self-made sounds. When she's done with this tour, she's planning on recording her new album and it should be released early next year.
| | |
| --- | --- |
| Image © Erin Russell 2005 | |
Charlotte spoke about the plans for the recording of Something Like a DVD in November, 2005. The production will involve three cameras at the helm of a director. She has invited two hundred fans to participate in the making of this intimate recording of her debut DVD. The private recording is slated for Thursday, November 17, 2005 at The Silent Movie Theatre, a performance venue in Los Angeles, California. Fans attending the one-night taping will experience a powerful solo performance, lasting just under two hours, and a personalized autograph signing at the venue's terrace. The ticket price includes admission to the concert, access to the autograph signing, and an autographed copy of Something Like A DVD. The DVD is planned for release in February 2006.
Charlotte was signed with RCA, but has decided to move on and now she is looking at signing with an Indie label or possibly another major. She said that she's had concerns about being with a major, especially since one of the albums she recorded, One Girl Army, was never released. Apparently there were one thousand copies of this album made and released to media. Those that have copies are considered very lucky!
Charlotte said she is writing music all the time and that it has matured. She still journals extensively and uses material in her notebooks to feed her music. While she used to write about broken relationships and related issues, she is now focussing on different things. She likes to listen to various types of music and mentioned Dead Can Dance specifically, and also remarked that she's currently listening to an advance copy of the new Kate Bush album, which she adores.
While Charlotte would like to meet Kate Bush some day, she thought that doing so might make her tremble. She remarked that it was great to meet Tori Amos earlier in her career and it was a good experience. As far as meeting other artists, Charlotte said that someday she'd like to meet Peter Gabriel. She is really interested in different types of keyboards and her fifteen years of piano training has been her love. She expressed an interest in learning to play the guitar, but she is far too busy with her writing, recording, and performances at the moment.
While talking about her tour, she said that she would have liked to have brought her friend Terami Hirsch (feature) along with her. She said they would have had a fabulous time together on tour. Charlotte said that her tour manager, Erin Russell, and her sound engineer, Mitch, are driving across the country for this tour. It is an exhausting schedule, but she said it is well worth it. She is primarily playing in venues that she has either headlined in or played as a support act previously. Charlotte said music is her life, and she is doing what she loves. While at concerts, she mentioned that people like to give her their music, but she doesn't like to be a critic. She feels that music is subjective and she leaves the critic work to people like us.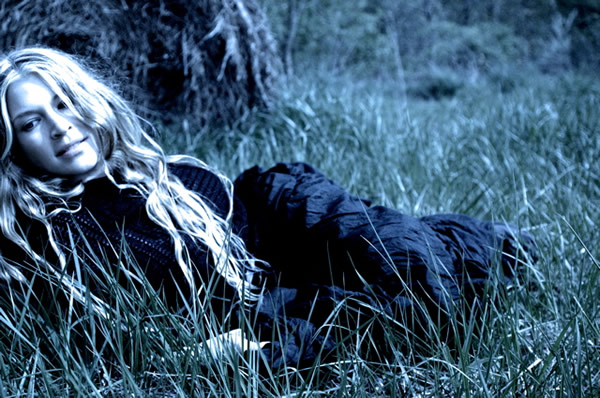 Image © Erin Russell 2005

Charlotte said that the people that come to her shows are really into music--they really listen to it and pay attention to the intricacies of well-written work--and are often not into crank-it-out commercial recordings that fill the shelves. She loves creating her music and knows her fans appreciate her work. She normally writes out her set list right before her show, choosing from her a group of about forty songs she has rehearsed to perform live. While there are some common threads, every show on her tour is different. Although she writes out her set list, she said she occasionally veers off, much to the chagrin of her sound engineer--but he goes with the flow! She quite enjoys interacting with her audience, and as we witnessed ourselves, will take requests.
Charlotte was curious to know if we would be taking photos. We explained that since Erin was on the tour that we'd actually prefer to use her shots rather than our own. She said Erin takes fabulous pictures and we could not help but agree. They recently did a photo shoot in Illinois, stopping along the way in a hay field--had to have the hay! They also found an eerie cemetary that was the perfect backdrop for some photos used as artwork for the "Darkest Hour" EP.
The Buffalo Icon is a popular club in upstate New York, hosting numerous musical acts. Charlotte headlined there in front of a most appreciative crowd. There were a couple of dozen people in attendance and she doesn't mind a more intimate crowd. In fact, she likes a smaller crowd instead of the larger gigs as she talks to her audience and builds up an ongoing rapport. While waiting for the show to start, we found out that the people attending her concert already knew her music and were keen fans. There were some fans that will be following her on tour throughout the east coast.
| | |
| --- | --- |
| | Image © Erin Russell 2005 |
Buffalo. After a musical intro of "Cars on Crescent," Charlotte walked out on stage looking lovely, with her beautiful blonde hair flowing down her back. She gracefully sat down at her piano and keyboards and began her set with "Under the Gravel Skies" from Veins. Charlotte has an intensity to her performance, putting her heart and soul into every song. She is on stage for a full hour, and commented that she used to only play for twenty minutes, as she is drained after her sets. She gives so much of herself in her music. When she starts to sing, her lips caress her microphone. In fact, she is pressed right up against her mic the entire time.
Unbridled raw emotion pours out of Charlotte as she sings. She gets into the groove, using every inch of her body when she plays the keys. She is on stage alone with her piano and keyboards and the music just pours forth. Her expressiveness and soaring vocals are both extremely impressive. Who would think that such incredible sound comes out of someone so slight in stature! She followed with the melodic and forceful "Haunted" from On Your Shore. Charlotte caresses the mic as she sings and moves her entire body as she percussively strikes the keys with a magical touch. She will sometimes kick up her feet, arch her back or even lean her knees on the piano when she's playing.
When she finishes a song, she delights in the audience response, and often will give a little shriek that her fans match with applause as well. "I Am Stretched On Your Grave," the Sinead O'Connor cover, was another song that Charlotte sang with the wonderful composure and intimate style we love about her. She then played the beat driven and percussive "Veins." Her voice was clear and sharp throughout, the song performed while almost making love to the microphone. When she hits some of the high notes, she sometimes almost grimaces while articulating the lyrics. This raw emotion is a unique aspect of her live performance. The gentle "Sweet Chariot" and the explosive "Limits of Our Love" followed. Her vocal range seems effortless as she sings with precision. The music flows with a graceful ease that identifies her style so well.
Charlotte returned to Veins for "Four Walls." She uses a percussive backing from her keyboards, as the excitement is turned up. You can't help but move to the hypnotic beat and become entwined in the feeling. And, of course, the fans knew the words to all the music and you could see people mouthing the words along with Charlotte's expert delivery. "The Girl I Left Behind" from Test-Drive Songs had that techno sound and was funky, hard-hitting and just so Tori Amos-like.
"Every Time It Rains" was strikingly beautiful and Charlotte's poignant lyrics flowed brilliantly. She followed this song with the riveting "Root" again from Veins. What a voice, hallelujah! If there's one thing that Charlotte Martin excels in, it's holding a note to perfection. She continued with "Last Day On Earth" and the Pearl Jam cover, "Elderly Woman Behind the Counter." Since her fans could not get enough, she came out for an encore with her last song of the evening being "Up All Night" from On Your Shore. She played with the same boundless energy that she started with, finishing on a high note for this marvelous evening.
After the concert, Charlotte signed CDs and communed with her fans. She took the time to speak to everyone on a personal level demonstrating her love of people. She genuinely takes an interest in what everyone has to say and has an incredible ease of dealing with the public.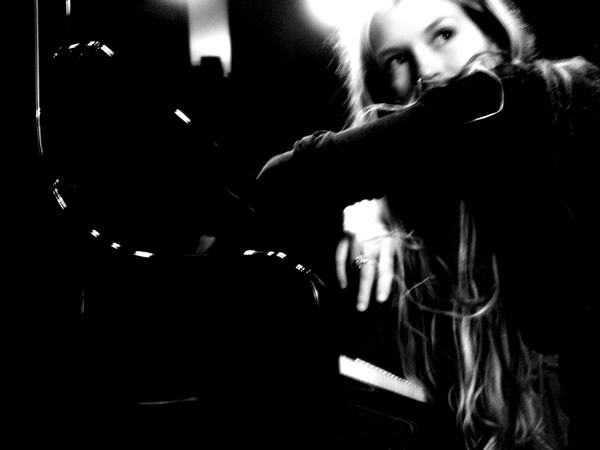 Image © Erin Russell 2005

Saturday. The very next evening Charlotte was to perform in Hartford, Connecticut at the Webster Underground Theater. Although several hundred miles away from Buffalo, we made the journey to see and hear Charlotte again; and we spoke with her before the show. We ventured down the stairs to the dank and pot-infused dressing room area. Charlotte was relaxing before the gig, and having obviously studied them for a few hours, pointed out that we probably shouldn't look at the walls in her dressing room. Of course we did, and witnessed a plethora of penis drawings that were quite comical and entertaining. We all had a good laugh over it.
Charlotte hadn't yet decided on what she was playing that night and set about making her list. We asked earlier in the day if she would do "Raven" for us and she did say it had been added to the setlist. She was very calm and wide awake, even after a grueling trip from Buffalo. She commented that she was unusually relaxed that evening. Prior to going on stage each night, she has a cup of tea, calls her mom, and then stops talking for a while to get her voice ready. She said that playing on stage takes a tremendous amount of energy out of her.
The Webster Underground is well-known in this state capital. The room was small and darkly lit, setting the mood for her awesome performance. There were a couple of tealight candles lit and placed on her piano. Since it was the weekend before Halloween, there were many people walking around in costume (there was a Star Wars type show going on in another room at the venue). Needless to say, there were some interesting folks wandering around from all over the galaxy! The Charlotte Martin fans were varied in age, but all had a clean-cut look, versus the goth atmosphere we were in that night. Someone from the audience placed a toy bat on the keyboard which Charlotte delighted in discovering when she came on stage. She ad-libbed a conversation with the bat, playing the crowd and we were amused by this wonderful interaction.
Hartford. Once again, "Cars on Crescent" played as an intro. Not all the songs were the same as the previous evening and the set list is as follows: "Under The Gravel Skies," "Limits of Our Love," "Veins," "Raven," "Keep Me In Your Pocket," "Four Walls," "The Girl I Left Behind," "Bones," "Something Like A Hero," "Monster," "Elderly Woman," "One Girl Army" and "Beautiful Life." There were some exciting moments during the show as Charlotte forgot the words in the midst of "One Girl Army," stopped, put her head in her hands and smiled saying she didn't rehearse this one. After a remark to us about no two shows being the same, she remembered where she'd left off and finished the song to much applause. She also burst into laughter in the middle of another song when someone appeared in the crowd wearing bunny ears. Charlotte just couldn't contain herself at the sight of those ears.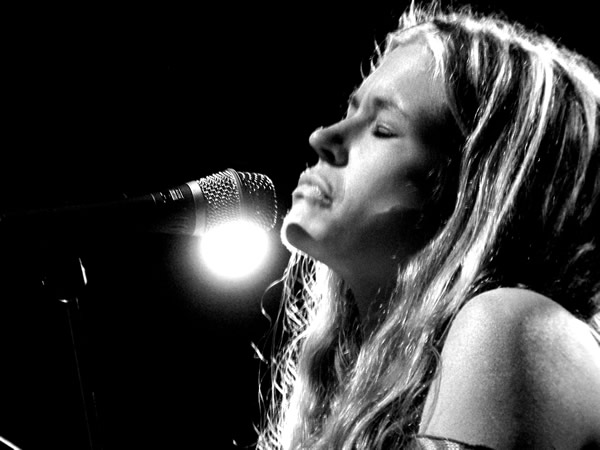 Image © Erin Russell 2005

A hearty rendition of the stunning song "Raven" was the first track to differ from the previous night's show. Charlotte's exacting presentation to this requested song was fun and unpretentious. She then went on to sing a new song--even though she said she wouldn't sing any songs from her new album Stromata--called "Keep Me In Your Pocket." She is clearly flowing with great new material and this song was a standout. She later sang the tender and emotional "Bones" from Veins and dedicated it to one of her diehard fans. The simple piano melody set the touching mood for this piece.
Charlotte toyed with the crowd with her breathy rendition of "Something Like a Hero." She encouraged her fans to sing along, taunting them to sing the words loud and clear. And, the audience fulfilled her wishes, and theirs, joining in the singing with their incredible Charlotte. The lyrics eventually go to 'duh duh n duh duh' and Charlotte stood up and started dancing, repeating the lines again and again. The crowd loved it. Everyone knew the lyrics well and she made the show a great deal of fun. Charlotte uses a lot of eye contact with her audience during her songs, and you feel that she is singing directly to you. She has wonderful stage presence and takes skillful command of her show.
She also performed the exciting "Monster" from In Parenthesis to perfection. She didn't want to end with "One Girl Army" and immediately sang "Beautiful Life" as her final song for the night. She wanted to end the evening on a gorgeous, memorable note which was easily accomplished. Charlotte put every last ounce of energy into this flowing song and she certainly came out a shining star. She again gave all of herself to the audience, signing CDs and chatting with those that had made the journey to see her show until the wee hours.
What more can be said? Charlotte Martin puts on a unique and fabulous show, and seeing her play live certainly makes her recorded music become more alive. There is unique intensity in her music and in her performance that she executes so well. She is an incredible talent which she has clearly showcased night after night on this tour.
While Charlotte's recordings are each tremendous in their own right, it is the deep immersion in them and participating in her dramatic live performances that add a unique dimension to the experience. Charlotte completes this tour with the fliming of Something Like A DVD in mid-November. She promises to tour again early next year to promote the new album. Charlotte Martin is Musical Discoveries' newest featured artist. It is really only the beginning.

<! do not remove these lines>
---
Return to website contents
---