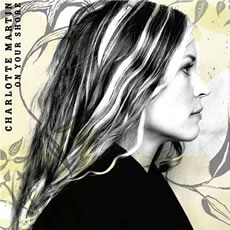 Image © RCA Records 2004

more Charlotte Martin:
Interview (On Your Shore) (Dec 2004)
Interview (Darkest Hour) (July 2005)
Interview (Veins | Live) (Nov 2005)
Test-Drive Songs (2002)
In Parentheses (2003)
On Your Shore (2004)
Veins (2005)

&nbsp
(updated 05 November 2005) Charlotte Martin's On Your Shore (RCA Records (USA) 62876 60676-2 RE-1, 2004) album turns out to be a very fine CD indeed, for Charlotte has given up the vocal impressions and sings in a far more natural and convincing way. Even if a few of the piano quotes remain, she has discovered, in more ways than one, a voice of her own. The songs show more individuality, and RCA (at last) deserve credit for believing in Charlotte enough to let her continue to develop and do things her way, to grow as an artist, writer and singer and for giving her a clearly sympathetic producer.
There's new power, for example, in the terrific, driving "Limits Of Our Love," the breathless and wonderful "Haunted" and "Steel" has Charlotte singing against some gamlan style percussion before the signature open arpeggio piano kicks in--the piano solo just prior to the coda is straight out of the Tori repertoire, but the fact it sticks out as such shows just how little derivative playing there is on this album. Madman builds and builds and builds.
There's delicacy too in "Every Time It Rains," the beautiful "Parade On," and the piano is replaced by a Rhodes in "Up All Night" which is still fine despite probably being--along with "Something Like A Hero"--the weakest song on the album. And anyone who remembers the massively underrated Judee Sill will love "Sweet Chariot" with its straightforward piano and voice approach and gorgeous harmonies.
When people ponder on 'album of year', in the female singer/songwriter category, this project has to be a major contender. Of the album's thirteen tracks--two songs put in a reappearance "Your Armor" from In Parentheses and "Something Like A Hero" from< i>Test-Drive Songs--which being the earliest song is the one that sticks out on the album as a Tori clone. All the songs bar one are self-penned, the exception being the bonus track, a superb cover of the Stones "Wild Horses."
We'd like to think this shows Charlotte's sense of humour--echoing Tori Amos' penchant for covering tracks by rock bands such as Led Zeppelin and Nirvana.

Because if the Tori ghost isn't completely laid in her own songs, it's certainly fading fast to be replaced by an extraordinary and very exciting new talent.