---
The fifth album of entirely new material from Dublin's goddess of new age Celtic music entitled A Day Without Rain (Reprise Records, 2000) is available worldwide on 20 and 21 November 2000 depending on territory. Enya's debut self-titled album (Atlantic Records (USA) 81842-2) made its debut fourteen years go. The album's fifteen tracks written to accompany the BBC television series The Celts laid the foundation for Enya's career. Interestingly, the latest album by Karl Jenkins' Adiemus project The Eternal Knot (review) was written to acccompany a sequel to the original series.

It turns out that Enya's recording debut was actually made in the early 1980s first when performing with her family band Clannad; the band image on the Irish album cover includes her photo. Enya left Clannad and began a solo career in the mid-1980s. She wrote the soundtrack for the motion picture The Frog Prince in 1985; legend has it that she performed portions of the music as well. Clannad's former manager, Nicky Ryan, took over Enya's career and she was subsequently signed by Warner Music when Rob Dickens became entranced with her work. Things took off from there.

Enya's first major release was Watermark (Warner Music (UK) 2292-4387502, 1988). Tracks from the album were featured in the LA Story and Greencard motion picture soundtracks. Hit singles from the album included "Orinoco Flow" and "Storms in Africa" and the beginning of rare Enya b-sides began. Three years later, Shepherd Moons (Warner Music (UK) 9031-75572-2, 1991) emerged, again achieving widespread commercial success selling over 11 million copies and drawing critical acclaim. The hit single "Book of Days" was featured in the motion picture Far and Away.

Occasionally released singles, including Enya's stunning interpretation of "Silent Night," kept enthusiasts buying Enya's music while reissue of the artist's debut album under the moniker The Celts (Warner Music (UK) 4509-91167-2, 1992) continued to pump interest into her work.

A long-awaited new album was released in the run up to the holiday seasion in 1994. Indeed more adventurous and experimental, it was entitled The Memory Of Trees (Warner Music (UK) 0630-12879-2, 1994). It did quite well commercially and while some critics adored it, arguments over some of the more pop-oriented material raged in the press and online newsgroups.

In the quiet times between The Memory Of Trees and the present day, several copycat artists cashed in on Enya's sound. A compilation entitled Paint The Sky With Stars (Warner Music (UK) 3984-20895-2, 1997) was released that included two new tracks—"Paint The Sky With Stars" and "Only If"—in addition to the first album pressing of a couple of former b-sides. A 46-track three-CD package entitled A Box Of Dreams (Warner (UK) 3984-21333-2, 1997) was also released. The box set remains a collector's item and features the two new tracks on Paint The Sky With Stars as well as b-sides "Oriel Window" and "Eclipse."

Enya's music has been covered extensively. Perhaps the two most successful albums of her music are by the Taliesin Orchestra. The eleven-track Orinoco Flow (Intersound (USA) 3566, 1996) capitalised on the popular tunes from The Celts, Watermark and Shepherd Moons blending orchestral arrangements with alternative vocal performances. Maiden of Mystery (Intersound (USA) 3715, 1998) covers ten tracks selected from Enya's career up through Paint The Sky With Stars and continues in the same vein as the group's first Enya music exploitation.

A less well-known album done by Neora—Hiroshi Upshur and Michael Sutton (keyboards and synthesizer) with Eula Janeen Wyatt (vocals)—is the twelve-track Tribute to Enya (BCI Music (USA) BCCD 402, 1997). Vocally quite different than the original material, blending theatrical styles with R&B inflections at times, the inexpensive album remains available from online sources.

Enya is one of the world's most accomplished female recording artists and has sold an astonishing 44 million albums worldwide. This ranks her alongside Cher, Tina Turner, Madonna and Whitney Houston in total sales. Although fronted by Enya, the music released under her name is the result of a collaboration between Enya, producer Nicky Ryan and lyricist Roma Ryan. Enya has previously stated, "Without any one of them, 'Enya' could not exist."

Hints of Enya's new album began to surface during the early Autumn when promotional material for A Day Without Rain was sent to major retail distribution businesses. The final mixing was done in early October and promotional copies were sent to media in the run up to the international release, again in time for the holidays as with The Memory Of Trees. Musical Discoveries editors have been listening to the album since mid-October.

A Day Without Rain is comprised of eleven tracks and has a total running time of just under 35 minutes. The debut single "Only Time" released one week prior to the album includes two non-LP bonus tracks. While the music is in the same vein as her earlier work, the tracks on Enya's newest album are more richly orchestrated. Experimentation is kept to a minimum and pizzicato strings are used significantly once again. It is only through very close, perhaps intense, listening that the differences from her former recordings can be heard.

Enya's drive towards perfection increases the time between releases and tends to minimise the running time of new material when it emerges. "As I do all the vocals and harmonies, and we do not sample, this obviously takes up a considerable amount of time," Enya explains. "Also, as everything you hear on the album is played by me, that too becomes a very long process. Therefore, we are inclined to take much longer in the studio than other people." Layers upon layers comprise the total sound and perfection is truly achieved.

Enya's music is traditionally melancholy and the tracks on A Day Without Rain don't drift far from her Donegal-based themes, particularly as evidenced in the lovely opening title track, reminscent of the title track to Shepherd Moons. This piece is a lyric-less gem that meshes synthetic piano, strings, and light vocal flourishes, creating a serene and warm mood.

"Wild Child" is an inspiring track and the most adventurous on the album. With extensive instrumental and vocal layers, the English lyrics are entirely understandable and the lilting chorus has a lovely hook, certain to trap even the casual listener. Initiating what appears to be a common theme on the new album, "Wild Child" expresses the common desire to get away from the hectic and enjoy the positive opportunities in life whether it be travelling, falling in love, or simply relaxing.

Unmistakable Enya textures emerge in the gentle "Only Time" ballad. It borrows slightly from the song "China Roses," although it is a much more romantic and sweet song. While the verses rock gently and evenly in a fashion that some may find to be similar to 1950's doo-wop ballads, the bridge in the middle of the song ingeniously alters the mood without destroying the overall emotion conveyed throughout. A regal instrumental-only track entitled "Silver Inches" reflects further on the melody and provides an uplifting break. Instead of being a solo-piano track, "Silver Inches" combines strings and jubliant harpsichord-sounding accompaniment.

The serious string-based instrumentals and thick vocal passages recount sounds of "Cursum Perficio" from Watermark and "Pax Deorum" from The Memory Of Trees in the brooding gothic intensity of "Tempus Vernum." Dark and war-like, it would perhaps make a perfect soundtrack to an epic historical film. In stark contrast, the lovely solo lead vocal supported by extensive layers in the hymn "Deora Ar Mo Chroi" (tears in my heart) is reminscent of "On Your Shore." Sounding very much like her sister Máire Brennan, Enya appears to draw inspiration for this song from her love of hymns and chant.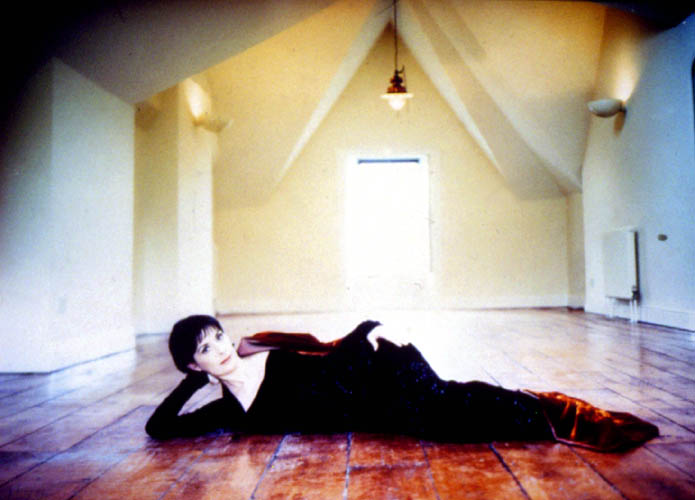 Image © 2000 Reprise Records
The upbeat waltz-like rhythm "Flora's Secret" is driven by a lush string arrangement with lead vocals supported by layered harmonies. A combination of charming melody and witty and vibrant lyrics transports the listener back to the Victorian era when lovers would stroll through grassy parks or relax in front of fountains simply to enjoy the beauty of nature. "Flora" in this song represents an anthropomorphic vision of flowers and trees that hide their own stories deep within.
Balanced and lush arrangements in "One By One" blend vocal harmonies with a catchy chorus while strings support the melancholy nature of the melody. The beginning vocals may remind some of the less-known Abba song "Angel Eyes." A clever and playful song, Enya returns to one of preferred themes to create a somewhat melancholy atmosphere singing of lovers who must part creating one of the best tracks on the album.
Enya's solo vocal talent is highlighted in the gentle ballad entitled "Fallen Embers" certainly one of the stand-out tracks on the album. The strength and clarity of Enya's voice is evident and while instrumentally sparse, Enya's voice rings beautifully through the track. The absence of harmony layers reveal another striking vocal similarity to her sister Máire. Particularly moving are Roma Ryan's lyrics which speak of shared personal moments and the ending of relationships. While backed with some harmonies, Enya's solo lead carries the gentle ballad "Pilgrim," an introspective and quiet song that addresses the issue of finding one's true identity through the choices on makes in life.
"Lazy Days" is a lovely signature track with sounds that summarise the scope of her work to date and conjures up images of a sunny and carefree summer afternoon. A jaunty and adventurous tune, one cannot help but smile while listening to it. The syncopated strings bounce cheerfully along with what may be Enya's most forceful vocal work in a long time; listen carefully during the fade and you will hear her reach some amazingly high notes.
Enya's latest album A Day Without Rain was by all means worth the wait. On the whole, her use of live strings throughout many of the songs is a very nice development which gives the album a "chamber music" quality. While this album is not a drastic departure from her previous work, her inclusion of many upbeat melodies is a nice change. Never musically complex, Enya still demonstrates that she can write stunningly beautiful music that soothes the heart and soul and that her voice is a unique and trend-setting instrument.
Serious Enya fans should be aware that the "Only Time" 3-track EP includes two additional tracks entitled "The First of Autumn" and "The Promise." "The First of Autumn" is reminiscent of Enya's well-known track "Book of Days." Lively and pulsing bass strings are joined by a group of higher strings providing visions of a racing and rhythmic journey. While there are no actual lyrics, Enya's vocalisations add a soaring quality to the track. "The Promise" is a solo piano piece that comfortably reminscent of songs like "Miss Clare Remembers."
The Japanese release of "A Day Without Rain" includes the bonus track "Isobella." A lovely, sonorous piece, it begins with warm and slow textured strings. Enya's voice melts into the music creating an epic aural landscape. Interestingly the lyrics are in Irish. This is certainly an exceptional track that will hopefully be released as a b-side in Europe and North America at a later date.
The second single taken from the "A Day Without Rain" album is the upbeat track "Wild Child." The CD single contains three tracks: "Wild Child (radio edit)," "Midnight Blue," and "Song of the Sandman (Lullaby)." Despite being designated as an edit, "Wild Child" is the exact same length as the album version. The song has been remixed remixed somewhat, having lost some of its high end, which makes the deeper synth sounds stand out more. The result is a more rhytmic feel for this upbeat song in which both the lyrics and melody line encourage the listener to abandon worry for a while - this song will provide the listener with the perfect time to do so.
"Midnight Blue" is a short intrumental track featuring piano with synth strings quietly in the background. The song is quite short and does not establish a strong melody line. The repetition of the piano melody makes it seem as if the lead vocal it was intended to support is missing. Much more interesting is the final track which is a quiet ballad somewhat reminiscent of "Smaointe" from the "Shepherd Moons" album. The beautiful vocal is not as filtered or compressed as on many of Enya's recordings and is given a slight echo, making it sound as if Enya sings this in a large hall with the listener having a front row seat. This song would have made a fine addition to the album and makes this CD single worth searching for.
While the running time is a bit short, the music has been made to perfection. The official website has some interesting multi-media effects as well as downloads. Read further reviews, listen to soundbites and order the album from amazon.com here. You can also order the "Only Time" single with non-LP bonus tracks from amazon.com here. An up-to-date on-line discography should also be investigated by serious enthusiasts; follow the links from there for further information about the new album. A Day Without Rain is a tremendous album that will appeal to Enya's fans and bring her new ones. With music worthy of a trans-Atlantic journey, it is truly a must listen! <! do not remove these lines>
---
Return to website contents
---