| | |
| --- | --- |
| | click on image to visit Epica's website |
Epica
Consign To Oblivion
reviews and artist reflections


interview © Russ Elliot and Mark Fisher 2005
reviews © Russ Elliot 2005
exclusive photos © Joseph Voncken 2005
artwork © Transmission Records 2005
all imagery used with permission
formatted for 800 x 600 or larger windows
last updated: 21 August 2005


---
Epica is a rapidly emerging band from The Netherlands fronted by stunning soprano lead vocalist Simone Simons. Today the band tours with the largest symphonic metal groups. Epica was formed when Mark Jansen left After Forever (feature) to explore his own musical desires. A project called Sahara Dust emerged but concluded before any output was released.
Epica's debut album The Phantom Agony (feature) received critical acclaim worldwide with their sound a cross between Nightwish, Evanescence and Within Temptation. Simone's vocals were immediately compared to those of Nightwish's Tarja Turunen. The Phantom Agony was released in limited edition and regular CD. In addition to a special collectors book with DVD, three EPs released around the album created a buzz amongst fans including non-album tracks and alternate mixes.
Consign To Oblivion (Transmission Records (Netherlands) TM-052CD, 2005) is Epica's second album. Released in three formats--traditional CD, limited edition with DVD and SACD--the album demonstrates significant artistic growth. To date, only the additional EP "Solitary Ground" has been released from these sessions to the album. Read our review below. At this writing, Epica is writing a soundtrack expected for release in the autumn of 2005.
We caught up with Mark and Simone following the album's release for this extremely in-depth interview. We are pleased to present exclusive photographs taken by Joseph Voncken within this article. Additional exclusive photographs of Epica in concert are provided in these stunning slide shows: Landgraaf, Megaland, The Netherlands and Booch Festival, Heerlen, The Netherlands.
Interview
How are things going for Epica two months after the release of Consign to Oblivion?
Simone Simons: Crazy! We did a lot of promotion for this album. We flew to Madrid, did 20 interviews. After that we went to Paris, did another 20 interviews and photoshoots. Besides that there were of course more interviews. I have never done so many in such a short period! The album went up the charts in Holland and Belgium! We had great succes with our first single 'Solitary Ground' and of course a great video. No complaints honestly, we are very grateful for the succes and the positive respons from our fans and many new fans.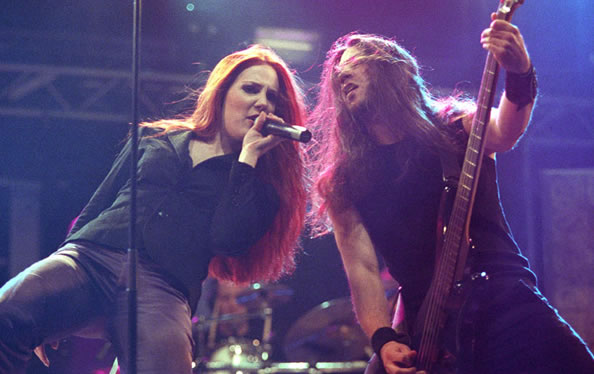 Simone Simons (vocals) and Mark Jansen (guitar)
Image © Joseph Voncken 2005

Mark Jansen: I must say that it canít be better. We are very happy with the reviews of the new album and we do a lot of live shows these days. We are a hardworking band so it's an advantage 'or us that we get so many offers. Currently I'm in a mastering studio for the mastering of another new Epica album. Itís a score of 65 minutes. You haven't heard this side of Epica yet. People who have the single "Solitary Ground" have an idea because it's in the vain of the song "Palladium."
Did the phenominal success of The Phantom Agony have any profound effect on you personally?
Simone: I would lie if I'd say no. All of the sudden we were known in the metal scene. Playing almost every weekend. Not much time to rest for me since I was still in school. I decided to devout myself fully to Epica so I quit school. We played on many festivals, met so many people. Bands that I love are now collegues, how cool is that? I am still very sober under it all. I know that it can go away within a blink of an eye. But I enjoy it and am very thankfull. I love our fans!
What kind of impact did the album's warm reception have on the band?
Mark Jansen: It had a positive influence. The band was formed with the idea to get a lot of live shows and deliver good CDs. Fortunately we paid off the expectations, otherwise we surely would have had a problem. Because our label invested a lot of monery in The Phantom Agony and also the bandmembers invested a lot of time in the band--some gave up their studies and work. So I'm really happy that it worked out the way we hoped for. Furthermore the success of the album made it possible for us to get a good budget for Consign to Oblivion.
What improvements do you feel were made on the second album in comparison to the first?
Simone Simons: I sing now in various styles. It is not only classical anymore. I feel more confident about showing my emotions. A lot of performing made me sing better and I wanted to let the fans hear I can do more than just opera style. My voice has matured a lot in the last couple of years and it will maintain that, since I am still quite young.
Were there things that you felt were not accomplished on debut album that you wanted to improve or change on this one?
Mark Jansen: Sure, you always want to make progress and improve yourself. We wanted to make the arrangments more rich and Simone gained the ability to sing with more variety. We also tuned the guitars lower in order to get more balls in the low regions. We also tried to write our most varied song so far, the title song!
Did you know before you started writing that you wanted the new album to be a concept record or did it just start to evolve in that way?
Mark Jansen: I always work with concepts on my records so I knew it before I started writing. But I didnít know the concept yet. I ran into it when I got some books from my mother about the mayan culture.
The next album will even be more concept related. The idea we have about this album is huge, I hope we can realise it.
The Mayan culture is a tremendously interesting subject for an album. What first sparked the idea?
Mark Jansen: Yes indeed it is. The Mayan culture is so fascinating. I received some books and a video from my mother and got interested in it. I knew immediately that this would be the main subject of Consign To Oblivion. The maya had a great knowledge about the universe and lived in close harmony with the nature. We can learn a lot from them by reading about their knowledge. They also made a calendar in perfect harmony with the cycli of nature. I think this calendar will become very popular the upcomming years because it contains many answers on lots of questions.
What were some of the challenges involved in making the concept really work as an Epica album?
Mark Jansen: It just works, we donít think that much rationally but do a lot on intuition. Things which feel good will be integrated. I strongly believe that we can make great progress by listening to our intuition.
Was the concept album theme difficult to get into personally? Did it mean anything to you as the band's lead singer?
Simone Simons: I don't see it as concept album. You have to see it more as the Prison of Desire. Mark wrote lyrics with the subtitle "The Embrace that Smothers" so he did with Consign To Oblivion with "A New Age Dawns." We decided to use the artwork from the Mayan culture, since it is something completely different than what we had before. I feel confident with his lyrics, he makes a point with what he is saying and I can identify with that.
The title track is one of the strongest tracks on the record. Can you tell our readers a little about the songs and how it fits into the album as a whole?
Mark Jansen: I totally agree, and it seems that it's also the favorite one of our fans. So on the next record we'll try to compose some more songs in this direction. We tried to compose a varied album with a good balance between long and short songs and heavy and smooth songs.
We asked the singer of Kamelot, Roy Khan, to appear on the album and fortunately he agreed. It became the song "Trois Vierges." We like the voice of Khan most in the balladesque songs of Kamelot so we wrote a ballad for him to sing with Simone.
Live we prefer to play the heavy songs, they contain all the things you need for a good live show. My favorites of the album are: "Consign to Oblivion," "The Last Crusade" and "Mother of Light."
Although the album is based on historical writings, do you feel that you were able to relate to it on a personal level?
Mark Jansen: Yes personal interest, and very imortant is that the historical writings are very up to date because one of the most important years for the maya is the year 2012. It's the ending of the big cycle of 26.000 years. But a song like "Mother of Light" combines also history with my personal feelings. "Another Me" deals about the egotism of people and that personally touches me because we should care about each other.
Do you feel that the lyrics and music are an intimate representation of yourselves in any way?
Mark Jansen: I'm sure about that. Music is like a therapy, however I feel creating music makes me feel good. So my whole inner self is placed in my music and lyrics.
Simone Simons: Some of my lyrics are. With some songs I can get really emotional or angry when we play them live. When we are onstage we have a lot of fun, but it is very intense in every sense.
What can you tell us about working with Amanda Somerville specifically and some of the other artists that contributed to the recording?
Simone Simons: She helps fitting in the lyrics to the singing lines. She is a native American so she helps also with pronounciation.
With the growing popularity worldwide of progressive metal the market has exploded. Where do you feel that Epica fits into today's progressive metal scene?
Mark Jansen: I don't care about the scene in which Epica fitts best. We believe in ourselves and out music and we get the support of lots of fans. That's most important. We make the music that we love to make and people notice that.

Simone Simons at Booch, Heerlen, Netherlands
Image © Joseph Voncken 2005

An issue that many progressive metal bands with female vocalists have to deal with is the fact that more attention is likely paid to the beautiful female singer, rather than the band as a unit.
Mark: I personally prefer to visit a concert of a band with a beautiful singer rather than an ugly one. It's not just listening but also viewing. So I donít care if some people only visit us to see Simone on stage. The only thing which is important for me is that everybody has a good time. We get enough compliments after the show so I'm not worried that we have success only because of the beauty of Simone.
What is it like being a young and beautiful female vocalist in Holland these days?
Simone Simons: I have to say that I am being recognised more and more. Two days ago on the airport by the security! I was a little shy. It is a strange feeling that people know who I am. But it is nice to talk to the fans, they are so happy to meet you and if gives you the feeling you are doing something right. They can identify with our music, a wonderful feeling!
What would you attribute the huge growth in female-fronted symphonic metal over the past few years to?
Simone Simons: I believe that the music that me make is a combination of popular streams in music nowadays. Film music, classical, metal, choirs, grunts and female vocals. There is always something for the people to like.
There has been a huge increase in the worldwide acceptance of Dutch music as well as music from contries nearby Holland, especially fronted by female singers over the past few years. Why do you think that is?
Simone Simons: There are indeed a lot of Dutch metal bands with a female singer. For me it is hard to explain but I do know that it all started with The Gathering. I started singing when I discovered Nightwish, but for many other dutch singers it was Anneke. I got in contact with The Gathering much later after Nightwish. I have to recommend you a Spanish band with female vocals, maybe you know them already, Ebony Ark. Their debut album is just released and I like it very much!

Simone Simons at Booch, Heerlen, Netherlands
Image © Joseph Voncken 2005

Who picks your wardrobe for the photo shoots and live gigs?

Simone Simons: I do myself. The things I am wearing on the photoshoot I designed myself and Horsnorm made it for me. They come from France. They made the dress and the red catsuit. Other stuff I wear on stage I buy in little shops. This is an aspect that I like very much about performing.

How has the response been to the band in the festivals this year?

Simone Simons: We played on Pinkpop, it is very close to where I live. We had a great response and it was a good experience to play there. This festival is well known in Holland and it is an honour to play there. Graspop and Furyfest were also really great! France and Belgium are fantastic!

What live shows are most memorable for you?

Simone Simons: Almost all shows are memorable. Even if they are bad. I enjoy all shows at the max. Pinkpop, Graspop, Lowlands, all shows in Spain, the first show in Mexico. So many!!

Do you plan to tour much outside Holland in the coming months?

Simone Simons: Yes, we are going to visit all our fans! For a closer update they can visit www.epica.nl I just had a look on it myself and we will play a lot.

Mark Jansen: WWe are going to do a big European tour at the end of this year. We go to Brazil as well with Kamelot and this summer we gonna do a lot of summer festivals. It's possible that we play on Prog Power 2006, I hope it will happen. It would be great to play in the US.

Simone, what kind of persona or attitude to you try to convey to the audience on stage?

Simone Simons: I am myself but less shy. I am a little lazy when I am home, but on the stage I don't have any limitations. I try to rock the nations and have fun with the fans.

Simone Simons at Booch, Heerlen, Netherlands
Image © Joseph Voncken 2005

Why were there were several versions of Consign to Oblivion offerred?
Simone Simons: We like to do something special for the fans, we have some real collectors among them so this way we repay our gratitude to them.
What can the fans expect from the singles/EPs/maxis that have been or are planned for release?
Simone Simons: Very special artwork and never released songs. Special versions of the single and things like that.
Who thinks up the concepts for the deluxe booklets that accompany your albums? Do you have any say in the final result or the photos of yourself used in the output?
Simone Simons: Yes, the artwork is partially designed by me. All the bandmembers chose a picture of themselves that they liked most. It is very important for the record compagny that we are happy with the end result.
Can you tell us about the making of the video clips?
Simone Simons: "Solitary Ground" is a very pretty video clip. Too bad the band members don't appear in it. It was recorded in Kootwijk, Holland. A very nice forest with a 'small sahara'. The weather was great and I didn't feel like I was in Holland. To record video clips is always very tiring, but when you see the end result you know that it was worth it!
Did you always want to be a musician or were there other careers you considered when growing up?
Simone Simons: I always was a big music freak. Besides music I like to work with children. I worked in the hospital on the baby department for a while. I like to take care of people. Before Epica I played the flute and had also pop singing lessons for a year. There were no bands before Epica.
Do you have any specific musical hopes and dreams for the next 12 months?
Simone Simons: I want to enjoy everything that will come on my path. We are going to tour a lot, meet our fans and other bands. Have also a little holiday in between. And of course, write new songs!
Do you have any parting thoughts for Musical Discoveries readers?
Simone Simons: I would like to thank them for their support! I hope you guys and girls like our new album and come to see us live!
Mark Jansen: Thanks for your interest in Epica and to your American readers I would like to say, "See you one day in the US!"
Review
Consign To Oblivion. The eleven-track album is available in traditional CD (TM-052 CD), as a Super Audio CD (TMSA-052) with three bonus tracks "Palladium," "Solitary Ground" (soundtrack version) and "Quietus" (grunt version), and as a limited edition (TME-052) in Deluxe CD-Ecobook with bonus Documentary DVD. The "Solitary Ground" EP is a clear picture CD featuring "Solitary Ground" (soundtrack version), "Solitary Ground" (remix), a previously unreleased version of "Mother of Light-A New Age Dawns" without grunts and the previously unreleased track "Palladium." The album was recorsding with a range of guest artists providing choir and orchestra parts.
While the music on the three album versions is (essentially) the same, the packaging is different. The CD version comes in a standard jewel box and includes a color booklet with Transmission's typically superb artwork. The Limited Edition comes in a hardcovered jewel box size book with the booklet bound inside. The bonus DVD includes some spectacular footage of the band and is a treasure for Epica's most serious fans. The SACD version also includes a stunning color booklet but is packaged in a super jewel box. Unlike the Limited Edition, the eleven main tracks can be ripped to mp3 for playing on iPod or equivalent. Sadly, the bonus tracks can only be played on a SACD-capable player.
Consign To Oblivion is immediately a step away from The Phantom Agony, especially in the extensive use of orchestral arrangements and choir in "Hunab K'u" ("A New Age Dawns - Prologue) which serves to introduce the project. Simone's mezzo vocals join metallic arrangements in "Dance Of Fate." Lush symphonic keyboard tapestries add to the orchestral texture. Rich choirs are effectively used throughout this recording and introduce "The Last Crusade," the first of the three part theme "A New Age Dawn" that spans the album. Jansen's heavy use of symphonic instrumentals softens the metallic edges defining the unique Epica sound. And Simone's vocals span the range between Tarja Turunen operatic and Sharon Den Adel's sweeter heavenly sound.
The first single from the album "Solitary Ground" is a warm ballad Simone sings solo atop a gentle acoustic orchestral foundation. Arrangements build to metallic but never overpower the track. Light multi-tracking adds texture to the Simone's lovely and accessible vocal. The rhythmic texture of "Blank Infinity" reveals a Within Temptation side of Epica, with lead vocal echoed by lush choir textures. Simone's extensive range is explored in the track. "Force Of The Shore" is the most metallic of the album's tracks, Jansen's grunts offsetting layers of female vocals. Extending the metallic edge further, "Quietus" is full of contrasts, ripping guitar opposite soaring soprano vocal excursions. A gentler version appears on the "Solitary Ground" maxi.
The second in the "A New Age Dawns" theme is "Mother Of Light," a rapidfire tour-de-force of guitar, bass and percussive arrangements. Simone's soaring lead is backed with layers of choir as well as grunting that work well together. We were delighted with the harpsichord textures of "Trois Verges," a tremendous West End-style ballad exploring the most sensitive side of Simone's vocal range sung as a duet with Roy Khan.
Simone illustrates her range and power in the track "Another Me" ("In Lack'ech") joined by rhythmic guitar and bass. Choir and additional vocals provide plenty of extra texture in this everso powerful track. The album concludes with the epic almost 10-minute title track and third in the "A New Age Dawns" theme. The piece picks up where the "Prologue" began with soundtrack-texture orchestral allusions.

Crisp percussion and strings set the foundation for this masterwork before rapidfire metallic guitar and bass join the fray. Jansen has cleverly woven metal arrangements--complete with grunts--choir, rich symhonic orchestra and operatic vocals together in this concluding piece.

Solitary Ground. The EP features tracks that make it a worthwhile addition to any Epica collection. The 'soundtrack' version of the number is sung atop piano and gentle string-based orchestral arrangements. With a running time of just over 4:00, it is an absolutely superb illustration of Simone's most evocative vocals. The 'remix' is substantially more aggressive than either the album version or the 'soundtrack' version. Sharp contrast between the soft verses and the seriously overdubbed choruses is evident and it works!
"Mother Of Light" is a symphonic metal joyride.

This version without grunts is a nice variation to the album version. "Palladium" concludes the EP and is a further illustration of Jansen's cinematic soundtrack tendencies. Lush choirs and rich orchestra paint a rich thematic soundscape that forecasts what might be heard on Joyride later this year.

Clearly Epica have come of age in Consign To Oblivion. Mark Jansen is successfully evolving to epic cinematic masterpieces and has provided an appetizer for the Joyride soundtrack in a couple of the pieces on this new recording. Simone Simons has matured tremendously since The Phantom Agony and demonstrates her extensive range, stylistic virtuousity and sheer vocal power on this recording. We await their next recording eagerly! <! do not remove these lines>
---
Return to website contents
---