Simone Simons
click on image to visit Epica's website

Epica
The Divine Conspiracy
progressive metal with operatic vocals
album review and artist reflections


More Epica Review and Interview Features:
The Phantom Agony (2003)
Consign To Oblivion (2005)


interview and reviews © Jim Hall 2008
exclusive photos © Joseph Voncken 2008
artwork © Nuclear Blast 2007
all imagery used with permission
formatted for 800 x 600 or larger windows
last updated: 17 February 2008


Epica is a progressively styled metal band from Holland that Musical Discoveries editors have followed since their debut album The Phantom Agony in 2003. The overwhelming success of the album and supporting tour led to their followup Consign To Oblivion in 2005. A number of special packages ensued after. Originally a spur from the Dutch band After Forever, Mark Jansen built the band around symphonic instrumentals and stunning soprano Simone Simons. The band's tremendous 2008 release is a twelve track masterpiece entitled The Divine Conspiracy (Nuclear Blast (USA/Germany) 1956-2, 2007). Read our review below.
Jim Hall met with Simone Simons face to face in London to conduct our latest indepth interview prior to the band's live performance. Be sure to read Jim's concert review. Simone sat for our exclusive photoshoot with Joseph Voncken in Holland in February 2008. The extraordinary results grace the pages of this article.
Musical Discoveries: You got into music at an early age. Talk to me about your early exposure to music and how it inspired you to become involved with music personally.
Simone Simons: I always loved to listen to music and when I was quite young me and my sister were inspired by The Spice Girls, we wanted to start our own band. So I started writing songs, that were total crap! I learned how to play the flute and was in a musical, in primary school. In the last class you have to do a musical to 'conclude' it. I was so nervous, and I sucked, again. Then from 14 I started to listen to rock music and slowly got into metal and Nightwish. I was singing along and I found out that my voice worked, singing classically. So I started taking classical singing lessons and got in contact with Mark. That's how things started.

Simone Simons
click on image to visit Epica's website

During that time, the earlier days, was music the future you hoped for? Or was it more of a passion, doing something that you loved?
Yeah, I mean I really loved doing it. I never thought from the beginning that I would end up here. Also at such an early age. I was still in high school when I was with Epica and things got so heavy. I had to quit high school, originally I was supposed to finish and then go study something, But we got a really good record deal and a real good producer for the first album so that kicked us into a really high level. I just let everything come over me and said 'Okay, let's go for it!' It's really hard work and it's a lot of fun. Sometimes you just need to take a deep breath and realise what you've been doing because it's so intense all the time. We've been touring for five years now..
Focusing with Epica, and the latest album: The Divine Conspiracy. It's the band's third album, tell me about the experience of writing and recording for the album.
Well the only things I do for the music is to make up my vocal lines and write, together with Mark, the lyrics. This time it was a concept. The Divine Conspiracy means the one and only God created the test for mankind in which he created several religions and several Gods to see if we would find out the true meaning behind religion, realising that we all have so much in common. That all extremities within religion would vanish. You can believe whatever you want to if it gives you strength, but you should not oblige others to believe the same thing and all the suicides commands, the honor killings, all that stuff, it gives me goose bumps even right now. So it's basically about realising that all of us are the same, there is just one God and we should protect each other.
In terms of the sound of the album, how is it different from the Epica we've heard in the past?
We still have the same team, the same studio. Sascha Paeth and Miro did the arrangements. A big change for us was that we didn't have a drummer, we didn't have a record company. The new album was coming up and we had no contacts. We had a chance of going the commercial road or one taking us much harder. So we chose the second and we found a good session drummer. Arien van Weesenbeek. He's an ass-kicking drummer, really good. Our keyboard player Coen already worked with him once so that decision was easily made. But we knew already he was a little bit more of a 'metal' drummer than we had before so this album would sound really different. Then we asked Sascha to create a different mix. To make it a little more rough, place the guitars more upfront. It looks like we made the right decision, people said we would go too commercial. I think now, with the third album, is how our sound should be.

Simone Simons
click on image to visit Epica's website

Are you proud with the end result?
Yes, yes I am. The only thing we found out lately is that for the live shows, the first song I don't sing so much. So then I go on stage and sing for two minutes and then I leave again so that's something we will change for the next album, then I can sing more. There is also one great song, a ballad, called "Higher High" which is a bonus track. It's a very emotional song and it didn't get to be on the album. Those are the only things, but when you record an album it's difficult. You think it's never finished, and you go crazy. You have to have that moment where you say stop. Then when the album is recorded and you listen to it you think 'that could be a nice vocal harmony'. You have to stop, have to let go of it. The nice thing about playing live is that you can adapt.
What inspired you when forming the lyrics for this album?
Well everything that I saw on the news. I write mainly about the religious parts. I wrote about the suicide commands on "Sancta Terra". I wrote about a Christian couple who were pregnant, who had a baby which died at birth. That's "Living a lie". "Death Of A Dream" is about the position of women in the Islam society, that they are not equal to men. That they are speaking out for themselves. The main character in that song is a young girl, a Muslim who got pregnant by her boyfriend who is not a Muslim and her father killed her. That's how the song title came about, "Death Of A Dream". That everybody's equal as long as you're happy, but that dream died whilst her father killed her. All of those things, and it's about nature. It's basically the journey we make as a human being. All the things that we see, the things that we go through. We have a main character, who is not the main character of every song but yet she is the one who travels through it all. In the first part of the album you have "Obsessive Devotion" dealing about greed, "Menace Of Vanity" about a guy who is so absorbed by his own self that he is ruining everybody around him. "Never Enough" is about greed, "Obsessive Devotion" about obsession for a person. That part is about the negative side of the human being, the character which he gets in contact to. Then when we have "The Embrace That Smothers" he goes to travel and gets in contact with those religions, he writes about it. Then the last part is basically about nature. It's a really big concept, I can't stop talking about it!
Was it difficult to balance the whole piece? Was it a challenge to allow the music to convey what the lyrics were saying in the concept?
The lyrics and music always have to be balanced. But the first thing people hear is the music. The music has the first priority. It is also important what you sing. So when you have a super-aggressive song and you sing about how much are in love and love the sun and the birds ... [laughs]. The emotion in the singing has to fit the music but also the lyrics. It's not that we have a theme, musically, that repeats itself.

Simone Simons
click on image to visit Epica's website

Do you feel the band have progressed since releasing your debut album The Phantom Agony? In what ways?
We've progressed as a band playing together, definitely. For me as a singer I've learnt a lot. To experiment with my voice, and to feel much more confident when using my voice. I think everybody has grown now, after the third album. When we were thinking a little bit of how our style would be--because some people say well you resemble this and that band but that's not what we want.
How do you describe your music?
It's Epica. We're all very proud of the third album now. It's very important when you have a good debut album that the second one has to be good and then the third one is like the maker or breaker. We were also very lucky to have a deal with Nuclear Blast which gives us that extra kick in the band.
What would you say have been the highlights since you've been involved with Epica?
There have been so many highlights in our short career. That's why we made that book The Road To Paradiso. It's by the fans and for the fans. We have many nice shows, going to Brazil and Mexico. We've had shows where there were fireworks and dvd recordings. There are only a few things which are not nice, things that people don't see around being in a band. The whole travel part, airplanes and stuff. Being ill on tour. Overall we are very glad that we have had such a good start and that we are still going strong with the new record company.
You actively seem to try and keep in touch with your fan base. You have a regularly updated Myspace page for example. Are the fans a huge part of what keeps you going and where you take your inspiration from?
If you don't have fans, nobody can buy the album and you cannot play because nobody wants to see you. First of all we write the music that we like and we are lucky that people like it. We have very loyal fans. Fans that travel all around the world to see us. We have a Dutch fan club, French fan club. We try to organise meet and greets and try as much as we can after the show to stay a little bit afterwards. The hard part of being a singer is that everybody wants to see you. Just because you are so much in the picture you have that extra need of privacy. So I feel sorry that I cannot meet all the fans. But our fan base is growing and I have to sleep a lot!
Is it hard to sometimes not be able to see everyone, does it get on top of you at all?
Yes, it is because some people are pissed and they don't know that you might have had a bad day or that you are sad or sick. But that's why we also have Myspace and emails so they can contact us like that and I try to write a blog every now and then. But the bigger the band gets it's impossible to meet every fan.

Simone Simons
click on image to visit Epica's website

What drives you forward creatively?
I don't know. I've always been very creative, not with music but with handcrafts. I really loved them in the past. I think it's just something you are born with. The creativity. Be it in music or handcraft. Both of my parents are not really musically talented. My father loves to listen. My sister has a good voice and is also very creative. I get inspired by many things. Mostly because of the things you see when traveling in a band. You also lead a total different life than any other person because when you are on tour you are on this bus all the time. You don't watch the news, you don't read the newspapers. Then you find out some important guy in Holland died again. Because you are not in that world it gives you more time to reflect on who you are and you have a lot of time to think. Sometimes you have those great moments where you write a very philosophical lyric!
Having seen you live several times, you certainly seem to do all you can to get the crowd going when performing. How do you approach a live show?
Well, what I've heard so far is that we give a very energetic live show. That I give some some kick-ass headbanging! Though I can't always do it. You have that one chance to bring music alive and if you stand still on stage it looks horrible. It's a little bit of interaction with the fans. If they react then it gives you more energy and then they react even more. It doesn't work with all the audiences. For example, we're not so big in Germany. But now we're touring with Sonata Arctica you always are very worried when the clapping parts in the music come up because only two people might react. But we're lucky that so far everybody has reacted and that gives you more confidence to do a better show.
How has the new material been to perform live for you to perform live?
Some songs I really love. "The Obsessive Devotion" I love too but there's the sad thing I have to leave the stage because I don't have anything to do for five minutes. Even my dance steps get kinda boring! But the new songs are so fresh. The old songs, you can do them automatically. But I actually had a problem when we started to tour again. I was thinking 'what was the lyric for that song'?' Then when we go on stage normally it comes automatically But when you try to think about it as I was singing a song and I was thinking of another song, suddenly the lyric was wrong. But everything goes well. You just have to practice the lyrics and have faith in yourself.
You've also worked with other bands. Contributed Vocals to Kamelot, Primal Fear and Ayreon. Do you try to experience and get involved with as much as you can musically? I mean, you seem a very busy lady!
I think it's good for me as a singer. The band I do guest vocals for had to be as big as Epica or maybe even bigger. It has to do something for Epica and it has to do something for them because they'll use my name of course. So if I don't like the music then it already doesn't work. But Kamelot is part of my family we've done so much with them, toured with them. I live with the keyboardist and the singer. Primal Fear contacted me on Myspace. I'd never heard of them and I immediately loved the songs. They are a German band so it's good for Epica The song turned out great: "Everytime It Rains".

Simone Simons
click on image to visit Epica's website

Ayreon is something I was hoping for because I really love all of his Opera's. But he was also with Transmission Records before and he split up with them in a really ugly fight. We were still there with Transmission Records, so he didn't want to contact me. But the moment when Transmission Records went bankrupt he said 'Simone I think it's time now for you to sing on my album' and I was so thrilled. The song is very nice, it's very sweet.
You're obviously the front-woman of the band and a key part of the image. Is there that added pressure put upon your shoulders being the focal point to perform, and constantly meet expectations? Does it get demanding at times?
It can be. My instrument is my voice and if I get sick the whole tour might be in danger because of me. Everybody wants to meet you, everybody wants something of you because you are the face of the band. But the band is five people who all contribute. Being the singer, female or male, pretty or ugly you're always the centre of attention.
I mean they use me because I have a pretty face, but firstly I am the singer and I really prefer to get criticism about the way I sing than the way I look. The eye wants something too and it's a little bit like decoration. Nice clothing, make-up, be pretty. because that's what a lot of people want to see.
Do you listen to your own music and what feelings does it evoke inside of you?
I don't listen to all the songs. I have to listen to all the songs back of course. But I really love the new song "Chasing The Dragon" and "Memory" I listen to quite often, along with the other ballad "Higher High". Those songs lie so close to me, not because I wrote the lyrics but because of the feeling of the songs. I can really cry if I listen to it. I did a huge contribution on those songs so they lie closer to me than the other songs. But the whole album kicked ass so it's hard to say. It's nice to sometimes take a distance and actually listen to the music.
What other passions do you have in life, and do you get much of a chance to pursue them?
I have a huge DVD collection, I love to watch movies. I actually brought many with me on tour as I cannot live without them! I really love nature, shopping, sightseeing. That's what I love about touring I mean tomorrow we will be in Paris, now we're in London. Shopping, shopping, shopping! Meeting people...I actually got asked by a guy here on the street if I wanted to work on television. He asked me 'Are you the one from Epica?'[laughs] I also listen to a lot of music and recently have a nice apartment with my boyfriend so just love to be home.
If you weren't involved in music what could you see yourself doing?

Simone Simons
click on image to visit Epica's website

Maybe I would be a child psychiatrist. I love children. I've always wanted to work in a hospital, the maternity ward. I actually worked there for a couple of weeks during the holiday earning money. I'm really good with people I've been told and I try to help them.
What's your philosophy on life?
Don't look too often in the mirror, enjoy family and friends, and to try to focus upon the positive things instead of the negative things.
What hopes and dreams do you hold for both Epica and yourself in the future?
I really hope that at some point we earn the money that we deserve. You have to see when we do a tour the huge investment because there are so many costs. When you are a little step higher it's easier to pay the bills. It's not that we want to become famous it's just that we've invested five, six years of our lives and sometimes your savings account is empty. I hope that Epica can play to more people and tour more. We have a huge touring schedule, we're going to America next year, coming back then going to Mexico and Columbia. Then we have a Dutch tour, a French tour, then we go to Brazil and America again. I just hope that everybody stays in good health and that we can enjoy it.
And you yourself?
As long as I can be at home every once in a while so I have enough time to reload the batteries. That we don't overwork ourselves too much as this is the part where we're going to work full force. I hope I can afford a nice holiday in Hawaii one day!
Album Review
| | |
| --- | --- |
| image © Nuclear Blast 2007 | |
The Divine Conspiracy. Following up a promising debut album is a challenge. Matching the quality showcased in a stunning second album even more so. Yet this is the task Dutch symphonic metal five-piece Epica were faced with after releasing the critically acclaimed Consign To Oblivion in 2005. A successful North American tour with Kamelot in 2006 saw drummer Jeroen Simons leaving the band and former God-Dethroned drummer Arien van Weesenbeek stepping in to record drums on their most recent studio release The Divine Conspiracy. This being the band's first release through renowned label Nuclear Blast and an album highly anticipated by Epica's devoted fan base.
Released in September of 2007, the band's latest album presents a sprawling concept piece within 75 minutes of high-caliber symphonic metal. The concept is split into three separate 'parts' yet the whole album flows as one inter-linking story, depicting lyrics presenting an individual's personal journey through life, as they discover the true meaning of religion, the beauty of nature and learn much of who they are as themselves in a challenging and ambitious album.
The inclusion of Arien van Weesenbeek creates an extra-heavy edge to the sound of the album in comparison to previous works, most notably in songs such as the frantic "Menance Of Vanity". A song opening with chugging riffs and maejstic keyboards before exploding into the charging vocal interplay of Mark Jansen and soprano beauty Simone Simons. Mark's fierce growls counteract Simone's urgent vocal swoons inside a song filled with a relentless pace and energy. "Death Of A Dream" similarly excelling on the impacting grunts of Jansen [who contributes more than ever on this album than before] contrasting with the soaring Simone.
The overall mix of the album is rougher, harder and more aggressive than ever, creating a really intense listening experience. That isn't to say the album is a non-stop assault however. The music is still sprinkled with the shimmering orchestral keyboards and sweeping vocals of soprano beauty Simone Simons that their music thrives upon, and though the extra bite the album is gifted with allows for the band to present their heaviest sounding material yet, the overall sound of the album is still very much 'Epica'. Single "Never Enough" lets Simone shine in a memorable chorus carried with grace and emotion by the lead vocalist, who showcases her exceptional vocal talents throughout the album in a highly confident and assured performance. The blend of her flowing vocals amongst the distorted guitar and pounding drum work takes the songs to that extra level and she is at her best on the album's more quieter moments. Take the gorgeous ballad "Safeguard To Paradise". Soothing piano guides Simone's caressing vocal melodies as warm keyboards softly float atop her emotive vocals in a stunningly moving piece. Another example being the slowly-rising introductory passage of "Chasing The Dragon" which she dips in and out of, the peace eventually broken apart by crushing riffs part-way through.
Concluding the album is the ambitious title track. A song stretching past the 14 minute mark that melds all the elements the band's sound possesses in one constantly-progressing composition. Opening with a pulsating orchestral build up, the song features hard-hitting instrumental passages, scattered with pummeling drums and breathless guitar work in amongst another commanding performance from Simone. The song breaks at around the 7 minute mark to a soft lull of lingering keyboards before returning to life at 8 and half minutes, leading to a furious conclusion of choir-work and galloping guitars, before eventually settling to a thematic orchestral conclusion.
A demanding and challenging track, that is a fitting conclusion to an album that presents a definite progression in the sound of Epica. Heavier than before, yet still containing the creativity and accessibility that made previous albums The Phantom Agony and Consign To Oblivion loved by many. It's an ambitious album, lyrically and musically speaking and can be an awful lot to take in upon first listen.

But for the fans who are patient listeners and who can appreciate the band's need to experiment and progress with their sound, whilst still retaining the distinctive qualities that make Epica such a force in Symphonic Metal, The Divine Conspiracy is a must.

Concert Review

Simone Simons
click on image to visit Epica's website

Live in London, U.K. A frozen winter's eve in London on Monday the 12th of November, 2007. Dutch Symphonic band Epica present a 45-minute set as the main support act for Finnish headliner's Sonata Arctica on their European headlining tour, inside a packed Electric Ballroom in Camden. A venue tightly enclosed and with a fairly compact stage, the venue was buzzing and seemed to be brimming with many Epica fans excitedly awaiting the five-piece to take the stage.
A stirring orchestral introduction, "Indigo" from latest album The Divine Conspiracy sees the daunting, long-haired figure of guitarist/vocalist Mark Jansen emerge through the darkness of the stage, along with the remaining [male] band members, to cheers from an instantly appreciative audience. Leading into the driving "Obsessive Devotion" front-woman Simone Simons soon joins the fray from backstage, dressed spectacularly and looking positively breathtaking. She headbangs her way into the steadily paced opening verse after the flurry of opening riffery and clattering drum work calms and vocally, she is on wonderful form. Her sweeping, soprano style blends within the aggressive, harsh vocals of Mark Jansen to create an exciting mix, as she longingly looks out to her audience, hands outstretched, drawing everyone inside her web of delicate, moving delivery, commanding the stage with ease.
An intense light display flashes throughout the more furious moments of a set presenting a brief showcase of material from all three of the band's studio works. The swaying openings of "Chasing The Dragon" gift Simone the opportunity to let lose her most touching vocals of the evening, swirling keyboards surrounding a gradual build up before distorted riffs and the growling rasps of Mark Jansen crash inside the song's peaceful openings. A rousing orchestral break backed by the clapping crowd takes the song to an urgent, aggressive conclusion as booming vocal work and whirlwind keyboard conjur a haunting, dramatic atmosphere.
Older songs "Sensorium" and "Cry For The Moon" from debut The Phantom Agony were well equally well received by the audience, and still stand strong today. "Sensorium" thriving on an intro of galloping guitar work and dancing piano as the animated faces of each band member strive to get the audience involved, via raised fists and furious headbanging. Particularly during the uplifting bridge that is tailor-made for audience participation, catchy keyboard work that builds and builds, the band pumping their fists high every step of the way.
The set concluded with the epic title track "Consign To Oblivion" taken from the band's second album. A complex, near ten minute track that merges the best elements of the band in an ideal showcase of their capabilities, and a song they seemingly enjoy performing, having played it numerous times on recent tours. Opening with haunting keyboards and battle-like drums, Simone stares unnervingly into the eyes of her audience before the song launches into a charging riff to which all band members throw themselves into.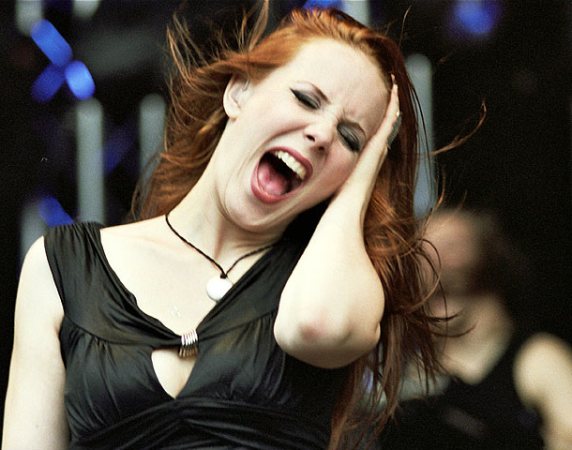 Simone Simons | click on image to visit Epica's website

Blinding light flashes throughout the venue in an impressive combination of visual and aural intensity. The crunching guitar work and powerful bass hit harder than ever on this closing number, the song really coming to life in a live environment more so than on the already impressive studio version, the instrumentation holds a real edge, an attacking bite to it, particularly during the thrashing drums and growled vocals of the bridge, which finds Mark Jansen spitting lyrics into his microphone, in a showcase of Epica at their heaviest and engaging best. Simone sways in her own musical world to the side of the stage, before she rejoins the fray to bring the song to a soaring conclusion. One which receives mass cheers and applause from the audience as the band depart to an orchestral closing, an outro that can be heard long after the band have exited the stage.
The challenging task of warming up an audience of whom many were waiting solely for the headline act in such a short space of time was met with a real commitment and desire by Epica in what was a fantastic performance. The set was brief, and seemed over all too soon yet still they were able to convey what a force the band have become in the world of symphonic metal. They presented a set that would keep any fan happy, offering a selection of material old and new, with a sound that was excellently balanced throughout. The crowd received the band well, though seemed rather reserved at points as Epica did all they could to create the exciting atmosphere to match their music. Still, they left to enthusiastic cheers and with smiles on their faces, in a performance that you sense the band enjoyed just as much as their audience.

<! do not remove these lines>
---
Return to website contents
---