Born in 1968 as Heather Frith, her father's family is one of the oldest in Bermuda, with their history on the island going back 200 years. Heather's mother is Canadian and the name Nova is a surname present on that side of the family. Heather spent most of her childhood sailing off to sea in a 40-ft boat, with her parents sister and brother, a dog, a cat and a power generator, the latter one being useful to blast off her family's records. Heather quickly showed an interest in music, and started learing to play the guitar and violin and writing songs at a very early age. Her first recording was a four track EP entitled "These Walls" released in 1990.
Heather Nova's music was brought to the attention of our editorial staff by Evelyn Downing and Jamie Field (feature) earlier this year. The albums quickly went on extensive rotation in offices on both sides of the Atlantic ocean. The run up to Heather's 2003 release Storm inspired a collaboration amongst several Musical Discoveries correspondents who contributed to the construction of the indepth interview with Heather Nova completed in November 2003 and presented below.
You are about to read an in-depth and retrospective article that reviews all of Heather Nova's (authorised) albums: Glow Stars (1993), Blow (1993), Oyster (1994), Live From The Milky Way (1995), Siren (1998), Wonderlust (2000), South (2001) and the new album Storm (2003). The article also includes reflections on Heather's live performances. The worldwide web offers plenty of further information on Heather Nova including a vast array of photographs of this stunning vocalist. A click on any of the images within the article will point your browser at her official website.
Album Reviews
| | |
| --- | --- |
| | Image © V2 Records 1993 |
Glow Stars

. Heather Nova's debut album (V2 (UK) VVR1001982, 1993) is more acoustic in concept and far more idiosyncratic than her later collections--less focussed and polished and not as immediate. In many ways however it is her most interesting and rewarding CD.

The decision, by Heather and/or producer Felix Tod, to leave the drum kit gathering dust in the corner was inspired. Sparse percussion is the order of the day and this brilliantly maintains the sensual aura and otherworldly feel that permeate the album.

The ethereal opening to "Bare" sets the mood not only for this track, but for the album as a whole. As with many Heather Nova songs, the sea is never far away--the whole CD is awash with images of and references to it--and this song is laced with ocean-sounds.

"My Fidelity" and "Spirit In You" are more conventional; both are based around Heather's acoustic guitar and have choruses and fragile harmonies. "My Fidelity" is held down by a cello/string line and "Spirit" demonstrates how little percussion is actually needed on a song to maintain a feel and rhythm. "Shell" is a sensual, rhythmic song with some unusual vocal lines.

The title song is another of the more singular tracks on the album with Heather's voice sounding younger than normal. There's a ripping electric guitar in the mid-song break and while the whole track is only the minutes long, it is utterly fascinating. "Ear To The Ground" is an early example of the half-spoken/half-sung vocal that she uses to such effect on later albums, for example in "I'm The Girl" on Siren.

"Second Skin" is the one track that might not sound out of place on later albums. The full drum kit puts in its only appearance, but it doesnít quite fit the overall feel of Glow Stars. There's a more aggressive vocal approach to "Mothertongue" which again sits a little uneasily in the context of the album. The live version on Blow is arguably better. This is followed by the short and unnecessary "All The Way."

After this slight dip however there's a massively powerful three-track finale to the album. "Frontier" is stunning without doing anything dramatic. The use of a male voice (Moses Bones) is an unexpected and brilliant touch. Tori Amos tried the same thing on "Little Earthquakes," but it works better on "Frontier" for being understated. Heatherís harmonies are unearthly. It is a riveting piece of music. "Shaking The Doll"í is another left-field track with sudden changes of tack. There's a percussive string quartet and a subtle vocalise reference to Pink Floyd's "Great Gig In The Sky" from Dark Side Of The Moon.

The final song of the album, "Talking To Strangers," set against a keyboard wash with some double tracked vocals, admirably demonstrates Nova's ability to use her voice to create atmosphere--itíll make the hairs on the back of your neck stand up. If you come to Glow Stars having heard any of Heather Nova's other albums you may need some convincing--despite her distinctive voice--that it is the same artist. The song writing and arrangements bear very little resemblance to what was to follow. Nevertheless, dismiss this album at your peril; thereís much to discover and admire in these unusual songs. Persevere and youíll be rewarded.--Jamie Field and Evelyn Downing

Read further reviews, listen to soundbites and order Glow Stars at amazon.com here.
| | |
| --- | --- |
| Image © V2 Records 1993 | |
Blow.

The first of Heather Nova's three live releases, it is a recording of a solid performance in front of what sounds like a small audience. The band backing Heather consists of a guitarist, bassist, cellist and drummer and this line up gave the opportunity for a good variety in tone, tempo and sound during the set. Recorded after the release of Glowstars and before Oyster, it has a selection of tracks from both these albums.

"Light Years" has Heather launching into some extraordinary vocal gymnastics. It takes confidence to open with something like that. The song's solidly played if a little lacking in energy. There's good use of cello lines and it is dynamically strong. "Sugar" is consistantly a highlight of Heather's live set and this is no exception. The tension builds remorselessly, the guitar sound is excellent, there's superb use of dynamics and the singing is extremely powerful.

The quiet opening to "Maybe An Angel" is wonderful after the power of "Sugar." Slower than the album version, it suffers a little, though it is still one of Heather's strongest songs. This is followed by "Blessed" with just guitar, voice and cello--very calming and very beautiful. "Mothertongue" provides one of the most energetic performances on the album--very well played and sung with excellent melodic guitar lines and great lyrics. Altogether a better piece than the studio version, it is probably the highlight of the album.

"Talking To Strangers" has a wonderful wash and successfully transfers the atmosphere of the Glowstars track to a live setting. The same could also be said of "Shaking The Doll," where the tension grows through the subtle opening until it becomes almost unbearable before the powerful emotional release. It's one of Heather Novaís most ambitious songs and this is a fine version. "Frontier," one of the strongest songs on Glowstars, opens with an impressive soundscape and develops well with some glorious cello lines and some restrained vocals. The album closes with the beautifully melodic "Doubled Up."

This is a fine live album. The arrangements are satisfyingly different from the studio versions of the songs and show off admirably Heather's extraordinary vocal range and dexteritory. The performances of all the band merit a larger and more enthusiastic audience than the one they were playing in front of and the response to some of the songs is somewhat muted which doesn't help the feel of the album as a whole, but the CD does capture the tremendous emotion both in the songs and in Heather's vocal performance.--Evelyn Downing and Jamie Field

Read further reviews, listen to soundbites and order Heather Nova's Blow at amazon.com here.
| | |
| --- | --- |
| | Image © V2 Records 1994-1995 |
Oyster.

Heather Nova's 1995 release is considered the artist's breakthrough album. In particular, the single "Walk this World" received significant airplay around the world. For the most part, Oyster is a brooding, atmospheric, and haunting affair. Heather's skillful guitar playing is the focal point of the album although her songs are beautifully layered with cello, percussion, bass, twelve-string and electric guitars.

Most of the songs are written in minor keys, lending the album a somewhat tragic tone and the lyrics are intense and personal in nature. The aforementioned opening track, "Walk this World" is a rockingly solid tune that sounds as fresh today as it did eight years ago. Fans of Michelle Branch or Sarah McLachlan would no doubt find much to enjoy in this song.

Songs like "Heal" and "Island" are lush and sorrowful tunes displaying Heather's uniquely stunning voice. One of the best tracks on Oyster is the forceful "Throwing Fire at the Sun." The almost tribal-like rhythm and blazing chorus make this a standout song. Heather Nova clearly loves good old fashioned power chords. On "Maybe an Angel," Heather kicks it into high gear in an almost 80's-esque fashion with processed reverberating vocals and guitar rifts.

The standout "Truth and Bone" is especially catchy with its clean harmonized chorus and singable lyrics. The mournful and tender "Walking Higher" is an example of exceptional songwriting. The lyrics are deeply poetic and meaningful while the melody of the song is positive and uplifting. "Doubled Up" is a fine and folky rumination on the wonder of love.

Oyster is an excellent collection of exquisite melodies written and sung by a superbly talented artist. Heather Nova has never feared to share her most initimate thoughts and emotions through her songs. It is this artistic honesty that makes her work so consistently appealing.--Justin Elswick

Read further reviews, listen to soundbites and order Oyster at amazon.com here.
| | |
| --- | --- |
| Image © V2 Records 1995 | |
Live From The Milky Way.

The album, as the title suggests, is a six track live album recorded at Melkeweg, Amsterdam. The set, all but one of which are taken from Oyster, are superbly played and recorded. We have come to expect nothing less from Heather Nova. The vocals are clear and precise, sung with the confidence of the performer we know Heather to be, and display her full range and versatility. There isnít a poor moment from the opening power and energy in "Maybe An Angel" to the angelic "Verona" that closes the CD. The pace is varied well throughout, although there is a surprising number of slow tracks given the length of the set.

The opening track, "Maybe An Angel" is an excellent rock song, performed with energy. "Throwing Fire At The Sun" another great rock song, makes excellent use of dynamics and moves seamlessly into "Talking To Strangers," the only track from "Glowstars," which has wonderful cello lines weaving through it, creating atmosphere with the very simple instrumentation so typical of that album. This marks the start of a very quiet, reflective section that isnít broken until halfway through "Sugar" when there is the impact of electric guitars and full drum kit. This track shows off Heather's grasp of dynamics and displays some great ensemble playing.

"Walking Higher" is yet another track to start quietly and build. Despite this repeated trait, the arrangements are solid throughout, often stronger than their album counterparts. Such is the case with "Verona" which seems to have more energy a nd style despite the lack of vocal harmony. The overall sound and feel of this album is different enough to Oyster to make it interesting, while still being fundamentally Heather Nova at her best.

It could be argued that, terrific performer though she is, Heather Nova is over-represented in terms of live CD recordings. When Wonderlust was released there were as many live albums as there were studio ones. Of the three performance albums--Live From The Milky Way, Blow and Wonderlust) Milky Way arguably possesses the vocal performance of greatest clarity, and despite some occasional over-heavy drum work, still has a freshness that the lack lustre and world-weary Wonderlust fail to match. Milky Way also has a noticeably better concert feel than Blow. Youíre much closer to the front! But as with Tori Amos, a DVD is likely to prove the best medium to do Heather Nova true justice as live performer.--Evelyn Downing and Jamie Field

Read further reviews, listen to soundbites and order Live From The Milky Way at amazon.com here.
| | |
| --- | --- |
| | Image © V2 Records 1998 |
Siren.

The release of Heather Nova's album Siren (V2 (UK) VVR1001872, 1998), released three years after Oyster, marks a major advance. The smooth production values of its predecessor have been jettisoned in favour of a more immediate, somewhat rougher, but altogether more confident sound. "Less polished, more rock'n'roll," is how Heather described it.

Siren also gives more room to Heather's exceptional voice and there's a concerted effort to use the vocals to create the atmosphere within the songs. Heather described Oyster as "a healing process" following an abusive relationship. On Siren there is a sea-change; it is, for the most part, a much more optimistic collection of songs.

The ultra commercial "London Rain" is perfect as an opening track. It's awash with hooks and displays all the new found self-confidence and self-belief that grew from the success of "Oyster." "There've been changes beyond my dreams. Everybody wants me to sing," says Heather--which she does superbly. "Blood Of Me," about the ending of a relationship, is one of the most powerful songs on the album due almost entirely to Heather"s devastating vocal performance, which will leave you haunted.

"Valley of Sound" is a simpler song driven by Heather"s acoustic guitar. "I"m The Girl" a heavier track with half-spoken verses leading into another great chorus. The atmospheric introduction to "Winterblue" lifts into a string-washed, love song. The Beatlesque keyboard on "Widescreen" sets up a song about the joy of simply being alive. The vocal delivery on this is absolutely perfect. There are still echoes of the past though. "I'm Alive" suggests the ghosts that haunted Oyster haven"t been entirely exorcised and "Paper Cup" is a touching song with darker overtones suggesting that sometimes it"s better to let go however much you"d like to hold on to something. There's a song for every emotion and a tremendous variety and imagination in the arrangements.

For the most part, the song writing on this album is exceptional. Lyrically, Nova has the knack for conveying complex emotions in killer couplets - and the album is laced with choruses that hook you on a single hearing. On the closing track, "Not Only Human" she sings "Life is something set to music," which aptly sums up what Heather Nova is all about. She writes from experience, her emotions are honest and real and this gives the songs a rare authenticity and authority. By whatever lights you measure these things, Siren is a truly outstanding album.--Jamie Field and Evelyn Downing

Read further reviews, listen to soundbites and order the Siren at amazon.com here.
| | |
| --- | --- |
| | Image © V2 Records 2001 |
Wonderlust.

The most recent of Heather Nova's three live releases is perhaps one too many as it is by some distance the weakest of them. The cover bears a striking resemblance to Blow, her first live album (pastelesque drawing), but that is where the similarity ends. Much of Wonderlust is best described as lack lustre. The verve, sparkle and interesting arrangements found throughout Blow and Live From The Milky Way are lacking here.

Despite the technically faultless playing, the band plod through the opening "Winterblue," one of the best songs from Siren and it takes them to beyond the set's half way mark to really get going. From that point on, there are some superb moments, noticeably the slower, more acoustic numbers such as "Doubled Up" and "Truth And Bone." The band and audience warm up considerably after this, building through the rockier "Iím The Girl" and "Make You Mine" and culminating in the extraordinary extended performance of the album standout "Sugar," before calming down again with the closing track, a beautiful rendition of "I'm On Fire," which shows off Heather's amazing range and vocal dexterity.

But, in truth, these moments aren't enough to justify a third concert release. As anyone who's seen Heather live will vouch, she is a dynamic performer but that simply doesn't translate consistently enough onto CD in this instance.--Evelyn Downing and Jamie Field

Read further reviews, listen to soundbites and order Wonderlust from amazon.com here.
| | |
| --- | --- |
| Image © V2 Records 2000 | |
South.

This richly producted and varied album is Heather Nova's most musically diverse, mature and interesting album to date. Following more closely the style of Siren, South incorporates elements of blues, folk, jazz, rock and even occasional trip-hop/electronic flourishes.

On tracks like "If I Saw You in a Movie" and "Help Me be Good to You," Heather moulds her crisp and angelic voice to creamy downtempo beats and dreamy strings. Heather's fabulous take on the classic "Gloomy Sunday" is vibrant and utterly new. The string accompaniment and slinky backbeat give this standard a whole new image.

Reminiscent of her earlier work on Oyster, "Just Been Born" and "Heaven Sent" are deleriously sensual and intimate. What is apparent throughout is that Heather Nova really knows how to write appealing music. Her's is the sort of music that sounds great whether on an open sunny highway or in a dark room on a rainy night. "Just Been Born" is a pulsating, erotic and trippy track that cranks up the heat. "Heaven Sent" has a touch of the Fleetwood Mac spirit in the way that the melody resolves and the instrumentation propels the song.

The romatically brilliant "It's Only Love" with its broken and sweeping guitar chords is a passionate and goosebump-inducing slice of sonic pleasure. Not all is obssession and intensity on South, however. The lazy and fun "Waste the Day" captures the vibe of a breezy summer weekend at the beach. "Virus of the Mind" shares some common ground with Alanis Morrisette and Sherly Crow. Jaunty and sassy, the song is largely sung in speak-song as Heather considers the importance of indepedent thinking. "I'm No Angel" is a rockin' and rollin' tune that hits that perfect Americana/rambling roadhouse sound.

Old fans of Heather Nova may be a little suprised by the broadened scope of her music. However, the core aspects of Heather's style remain intact. Still present are the thoughtful lyrics and solid songwriting that are the hallmarks of her work. South proves that Heather Nova is an artist that can effortlessly combine various musical styles without sound contrived or "of the moment." This individuality and spark leads us to believe that Ms. Nova will be around for a long time to come.--Justin Elswick

Read further reviews, listen to soundbites and order South from amazon.com here.

Image © Saltwater Limited 2003
and © Big Cat Records 2003


Storm. An album started in the late sweltering heat of a Bermuda summer, recorded in a studio on top of a snow-covered Woodstock mountain and mixed in a Manhattan spring where a freak heat wave was constantly interrupted by gale force winds, sleet, heavy rains and snow. The elements were destined to affect more than just the choice of album title. So writes the label about Storm (Big Cat Records (UK) ABB205, 2003), Heather Nova's fifth studio album. Regrettably much of what was wonderful in Nova's former work seems to have been lost in this long-awaited offering. It is a short album with a total running time of just under 40 minutes.
We understand that it's an album that Heather has wanted to make for a long time, simplicity being the common denominator throughout the songs, the musical performances and the production. With vocals and basic guitar were recorded at Heather's Bermuda home, she feared that the songs might get lost in the production process. Listening to her favourite albums, Heather came upon the ideas of taking her songs further by collaborating with another artists, as botgh co-producers and musicians, each of her previous albums having been made with a mixture of musicians and producers. But Storm has lost Heather Nova's brightness, the material broods so, that even after repeated listens, the album didn't capture our correspondents' attention the way South, Siren or Oyster did.
It isn't that the vocal work or the recording went astray. The songs have just lost the brightness and brilliance that Heather Nova's music created previously. Perhaps it was the atmosphere of Mercury Rev's albums and her intense work with him that created the result. The two laboured away without contractual restrictions at Allaire Studios, thousands of feet up a mountain in Woodstock, where daily snowfall levels increased through the wintertime. The music flowed freely and quickly, the "Divine Sparks" bringing the desired atmosphere and the subtlest production touches and playing on all but two songs: "Storm" which features Heather on her own and "Everytime," solo performance featuring the guitar playing of the Patti Smith Grou's Lenny Kaye, a long time Heather fan.
The songs fall loosely into two different types according to Heather, those with a narrative like "Fool For You" and "One Day In June," and those like "Aquamarine" that are textures, landscapes, passing moments in time. Heather says, "If I had to sum up the album I would say it is about 'temptation, desire and guilt'. The title Storm" points towards a need to bring situations to a head, often where it is tha hardest thing emotionally, in the hope that things can be resolved. The weather conditions during the recording definitely added to the isolation felt in the sound of the finished record."
The eleven tracks are well stripped down in comparison to the last three of Nova's studio recordings. Vocally the artist remains strong but the broody and dark textures across the album's tracks dominate in all but a couple of more thickly arranged numbers. While the earliest of Heather Nova's albums were more simply arranged, the essential ingredients of brightness and balance were lost in the production of Storm. Maybe next time Heather should record the entire album in Bermuda where the weather is always fair, or alongside producers that understand how to make the most of this stunning vocalist's tremendous raw talent.--Russ Elliot

Read further reviews, listen to soundbites and order Storm from amazon.com here.
| | |
| --- | --- |
| | Image © Saltwater Limited 2003 |
Interview
Musical Discoveries: Many of your songs contain highly personal and intimate lyrics. What drives you to express these feelings in song form?

Heather Nova: I think the need arises simply from a desire to find clarity in my life. Somehow through writing I am able to learn things about myself, about how I feel. And it makes me feel more alive; more in touch with life. Writing is very much a process of searching and discovery.

During the writing process do you start with the lyrics first or the music?

I usually get a few lines of lyrics with a melody already attached. They are very much married from the start. sometimes i will think of a melody first but rarely a lyric. If that happens it usually becomes a poem instead.

Do you have a songwriting 'process' as such, or do different songs demand different approaches?

Well, some songs land in your lap; they seem to come through me and those are the lucky days, as they seem to write themselves, but more often I get, as I mentioned earlier, a few lines in my head and then I follow the thread to finish it. Sometimes it takes days or weeks to write a song - I keep coming back to it until it completely gels.

Neil Young and Bruce Springsteen appear to have been influential to you since you have covered a few of their songs. What other artists have influenced you and what else are you listening to these days?

The artists that have influenced me have been ones that take risks; that put themselves completely into their songs; the ones that aren't afraid to be exposed and dig deep and go to the dark side too. Over the years the ones that stand out are Kate Bush, Patti Smith, Dylan, Neil Young, Van Morrison and Chrissie Hynde.

Pinkpop | Landgraaf, The Netherlands | 21 May 2002
Image © Joseph Voncken 2002

On a side note one of our correspondents wrote that he would love to hear you perform Neil Young's "After The Gold Rush." What do you think?
That whole album is wonderful. I will give it some thought!
The Glowstars album is definitely a rock album, yet only one track seems to use a drum kit and the percussion on others is sparse. The space and atmosphere created is brilliant. How and why did you and producer Felix Tod decide to do the songs this way?
Funny, I don't really think of Glowstars as being "rock" - in a way it is more electronic. The beauty of that album in retrospect is that we were so limited that we got even more creative sonically than if we had had a full band and lots of gear.
We made that album at home on an 8-track cassette machine and it was just the two of us, my guitar, a little keyboard and an effects box. A few friends dropped in and contributed bits of electric guitar and stuff, but we were literally set up in our living room. Felix was brilliantly innovative with the sounds.
It seems like most if not all of the songs on Oyster are autobiographical. Can you describe where you were personally and spiritually when you wrote those songs?
I had a few demons to confront. I had just gotten out of a relationship with a very abusive and controlling man and alot of the album is about finding my strength and freedom. There are some intense songs on there but overall I would say the mood is one of catharsis. No matter how dark a song is there is a sense of hope in my music I believe. I guess I see writing as a hopeful act in and of itself.
With a song like "Sugar" it would seem that you would have the lyrics first since it's almost done in a narrative style during the verse and lyrically there is a lot going on. Can you elaborate on the writing process for this song?
No, actually I was going round and round that guitar figure on my acoustic guitar, in a sort of trance-like way, and the words started coming. I like working with spoken word, mixing poetry with rock and roll. I want to do more of that.
When the CD single of "Truth and Bone" was released you re-recorded the track for the single. What led you to re-recording this track with a different arrangement than the version on the Oyster album?
Getting the production right on a song is a tricky thing because there is a real spirit to a song and it's a delicate thing, and sometimes you don't really nail it the first time in the studio. I wanted to try again to capture the feeling of the song with a different arrangement.
Please describe how your music developed from Oyster to Siren.
Well, with Oyster it was my first time in a recording studio. it was all new to me. I think I had more confidence on Siren - I knew what I wanted more in terms of production and I had just been on the road for 18 months and was inspired by the sound of playing with a live rock band. I wanted to capture some of that on the album.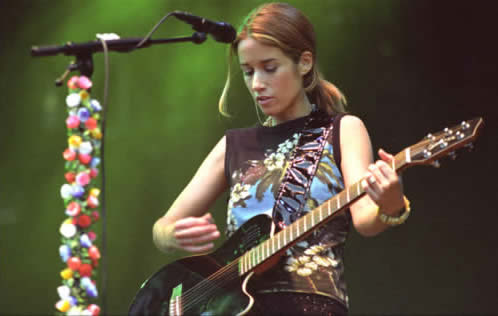 Pinkpop | Landgraaf, The Netherlands | 21 May 2002
Image © Joseph Voncken 2002

Do you think that the path from Siren to Storm was more of a straight line or was there a curve in the road?
The whole of my career has been an evolution, though some albumsIi have liked better than others. I think that Storm is probably my favourite and South my least favourite, probably because I had so much interference and pressure from the label on South they wanted a hit, and that is no climate to make music in. I made Storm independently with no label and that was the best thing for the creative process.
Were there times when you made conscious decisions about your the path your singing style has developed?
In a way Storm was a return to my roots, to a kind of simplicity. On Storm I didnt so much want to rock, I just wanted to make something very atmospheric and beautiful and intense without being angsty. It is intensely honest album. sometimes dark, but not at all angry. I think from playing live for the last ten years I have become a better singer. I am able to give myself up totally to singing - to lose myself in it, and that's when I sing my best - when I really let go.
What were your reasons for doing a remake of the classic "Gloomy Sunday" for the South album?
I was asked to record a version of "Gloomy Sunday" for a film that was being made in Germany. The film was actually called Gloomy Sunday and was all about the song and the composer of the song. It was a great oportunity to try a different style; I loved singing with the orchestral arrangement.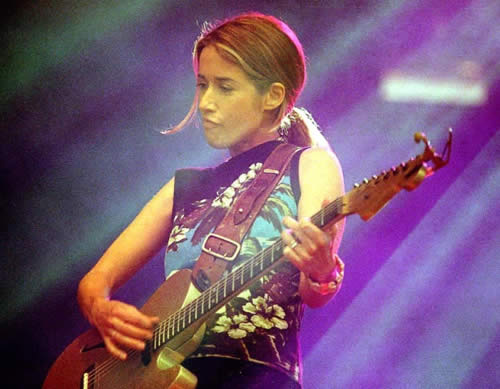 Pinkpop | Landgraaf, The Netherlands | 21 May 2002
Image © Joseph Voncken 2002

Who are the artists who've made an impression on you recently?
Jeff Buckley made a real impression on me. Again, for his abandon and for putting all his soul into the music. I was impressed by Sandy Dillon, who I first saw play live a few years ago. She plumbs the depths, and writes beautiful songs and sings them with an extraordinary voice.
I also listen to stuff completely unrelated to what I do. I loved the first Air album, and actually I am a big Eminem fan! I also go back to old favourites alot. Right at this moment I am listening to an old Joan Armatrading album.
Some of the images of you used in the CD artwork are very beautiful, particularly on Oyster and Siren and they are almost works of art in their own right. How much do you have to say on the photo shoots and on which images are eventually used?
I have a lot of say on photo shoots. Sometimes the final decision of which one to use on a cover becomes a pretty heated debate with the record company though!
Are you happy to leave the production to other people or do you have input on the production side even if it's not credited on the albums?
It would be impossible for me to just sit back and let someone else take control of my songs. It is always a collaborative effort. It's helpful to have the objective ideas of a producer, and in the beginning I relied more on that. With Storm though, it was more a collaboration between me and the band.
In a previous interview you mentioned you would probably feel pretty strange talking in front of an audience without music. However, you performed at the Crossing Border festival in Amsterdam last year, doing a mix of reading your poems from The Sorrowjoy and singing a few songs. Was that an experience you would consider doing again?
That was a real challenge for me. I was very nervous! But it's good to take risks. In the end I enjoyed it.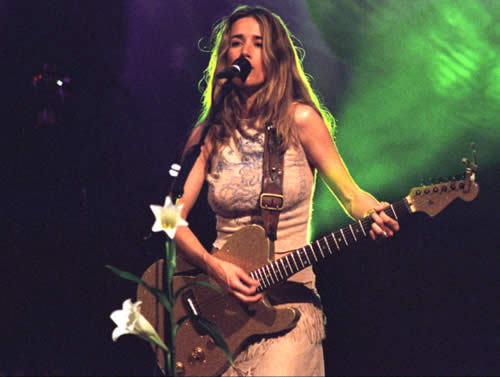 013 | Tilburg, The Netherlands | 26 June 2002
Image © Joseph Voncken 2002

What is the difference between reading your poems and singing your songs to an audience?
I don't know. I think that ideally a poem is to be read to oneself from the page. It's a quiet private thing. During the reading I interspersed it with some acoustic performances of old and new songs. Singing calms me down!
More recently you said you are on a personal quest, and that writing in itself is a quest, but it also clarifies emotions, situations. Are you at all afraid of finding the "secret" of life or of your inner-self? I mean, that everything becomes too clear? Isn't this the mystery that keeps us going? That we need to find hope and inspiration?
Ha! That makes me laugh! I don't think I am in danger of finding too many answers. Life is such a big mystery, and every day there are challenges, but I do enjoy searching. And sometimes writing is simply an expression of an emotion just for the sake of expressing it. What is the human need to express itself? I don't know - that too is part of the mystery.

013 | Tilburg, The Netherlands | 26 June 2002
Image © Joseph Voncken 2002

Now that you live in Bermuda again, is it easier to find inner peace to let emotions flow towards the pen, rather than in hectic London, or does it not really matter where you are? Has there been a change in the way the emotions find their way out? I imagine the surroundings influence the nature of the emotions, and as such the tone of the writings.
It doesn't really matter where you are; that old cliche is true - inner peace is something you find inside. I have only had moments of it. It's like happiness - people ask you if you are happy but happiness only comes in moments. It is the harder times between that define the happiness.
You have now done a tour in a semi-acoustic setting, which fits with the style of your latest album. Some older songs (like "Island") sounded like they have been made for this setting, it seems their delivery is even bigger than in a 'full band' setting. Is it right to say that a more stripped down set can actually give more contrast to a song? Does it bring you closer to the essence of the song?
Yes, i really enjoyed this tour. Ironically there can sometimes be more intensity on an acoustic version of a song, without the big guitars. There is more exposure and that can be arresting.
There are some songs that don't appear on your main albums. When can we hope to have a compilation album or a box set that includes these rare and beautiful songs?
I would love to do that. I don't have total control over my back catalogue, however, as it is my old label who owns the recordings.
Your performance of Neil Young's "Like A Hurricane" was performed in Hiroshima. How did the audience respond to it and what did you feel performing that song in this location?

013 | Tilburg, The Netherlands | 26 June 2002
Image © Joseph Voncken 2002

It was quite intense to visit Hiroshima. To think of what had happened there, and then to be an "American" playing there a couple of generations later. It made me aware of how people have the ability to heal and that love is the overriding human quality we have. It was humbling in a way.
Do you think becoming a mother will affect your music in any way?
Of course. Everything in my life affects my music, and surely becoming a mother has got to be one of the biggest things to experience.
We have heard that one of your recent concerts was recorded for a future DVD. When can we expect its release?
Early in the new year.
What has been your "greatest moment" in all your years as an artist?
I couldn't put my finger on one moment, but in general it has been the live gigs - some of them have just had a magic; where there is a synergy between us on stage and the audience. Ultimately playing live is about a connection, communication, and sometimes you really feel it so strongly.
What are your musical plans, hopes and dreams for 2004?
I hope to make another album in 2004. I will keep you posted!
Live Performance Reflections
August 2001. A hot summerís night in a theatre in West London, in the darkness a band begins to play. Eight bars in a slight figure bounds onto the stage to be met by a full volley of light. Heather Nova in sequined top glitters and flickers. It is impossible to take your eyes from her. And she reaches for the microphone.
| | |
| --- | --- |
| Image © V2 Records 1998 | |
"Just Been Born" from South is a strange choice for the opener as itís 29th August 2001 and the album is still a month from being released so virtually no-one in the sell-out audience, crammed into the Shepherdís Bush Empire knows the song. But then she goes into "Maybe An Angel" from Oyster--a Heather Nova staple that shows immediately why she's considered one of the finest live performers around--seeming totally confident and relaxed.

Much of the set is taken from Siren. The hook-laden "London Rain" is full of energy and the audience bounces a long in time; the moody and atmospheric "Winterblue" features a great little solo from lead guitarist Berit Fridahl, though her vocal harmonies on the song weren't quite so impressive.

"I'm Alive" with a broad range of dynamics, the verse nothing more than a whisper, the chorus immensely powerful. Unlike so many bands Heather clearly understands that not everyone has to play all the time. As if to emphasise the point she performs "Walking Higher" alone with an acoustic guitar before leading the band into "Heart and Shoulder"

It was surprising that Heather didn't communicate with the audience much during the set at all. Certainly a few details about the new songs from South (even just their titles) would have helped. The finale, "Verona," was very powerful both musically and visually. It was one of those "you really had to be there to fully appreciate it" moments. The band at the max under the swirling lights, Heather giving it everything--right on the edge.

As part of the encore, Heather introduced ex-Suede guitarist Bernard Butler onto the stage to join the band in playing "I'm No Angel," a song he wrote with her. The verse is straight out of the Pretenders songbook, but itís got one of those choruses you feel youíve always known - then straight into "Widescreen" with some terrifically controlled yet powerful guitar work from Berit and a great melodic bass line.

The ovation went on and on--clearly no-one was leaving the building--and finally the band reappeared to play "Island," simply a great song. Itís fair to say a thoroughly good time was had by all.--Jamie Field and Evelyn Downing

September 2003. An acoustic evening with Heather Nova at Brighton's Concorde2 concluded the UK portion of her launch tour for Storm (review). Simplicity underlines the the songs, her musical performances and production both on the album and on stage.

Her music flows freely and effortlessly, creating a wonderful inspiring atmosphere. Heather herself describes it "full of texture, landscapes and passing moments in time." The venue describes it as "Soulful, modern, sophisticated Americana!"

The Brighton show, as with others in the UK, was supported by the three-piece acoustic outfit Grand Drive (website). Their short set warmed up the packed house who were so eager to see and hear Heather Nova that regrettably they were not invited back for an encore.

Heather Nova's band came to the stage followed quickly by the stunning singer. Her band is comprised of Glenn Scott (keys, bv), Luke Bellen (drums) and Matt Round (bass). While the focus of the set clearly was on Storm, Heather treated the audience to selections from her back catalog as well including many prior favourites in the set. An incredible warmth from the audience was felt across the venue and appeared to positively influence the singer and her band.

Not knowing what to expect from the gig, we were impressed from the first track to the very last with the stunning quality of Heather's vocals in a live setting and the stunning production that surrounded this live performance. So perfectly mixed and performed, we were initially almost fooled into thinking that it was recorded previously, but it was clearly a live performance, and a stunning one at that. The sublime tracks from Storm, an album that requires some warming up to, especially for those that adored the artist's prior three projects, were brought to life on stage and given new definition through Heather Nova's stage presence.

The set mixed the new material in with the back catalog. Heather opened with "One Day In June" and "I Wanna Be Your Light," both tender tracks from the new album. She then transitioned to "Winterblue," one of the knock down favourites from Siren and "It's Only Love" from South. With the back catalog now well in play, Heather transitioned into further stunners from Siren, "Heart and Shoulder" and "London Rain," before returning to the gentle textures from Storm with "You Left Me A Song" and "Lets Not Talk About Love."

The gig continued by blending the back catalog with new material. The first played from Oyster was "Island" then followed by "All I Need," another track from Storm. Back to South with "Gloomy Sunday" and then "Drink It In" from Storm. A stunning rendition of Storm's "Drink It In" and "River Of Life" followed before returning to South for "Help Me Be Good To You." The main set concluded with "Truth And Bone" (Oyster), "Fool For You" (Storm) and "Doubled Up" (also from Oyster).

After leaving the stage for the first time to thunderous applause, Heather Nova and the band returned to perform two back catalog classics in the first of two encores. Everyone adored the reworked live version of "Valley Of Sound," from Siren. But it was the live performance of Oyster's opening track, "Walk This World" (also featured on Wonderlust in a live version) that really brought the house down. Based on the continued tremendous response from the audience, Heather returned for a second encore by herself to perform the title track of her new album. The band returned one more time to take their bows to conclude this incredibly performed and arranged show.--Russ Elliot

Interview Credits.

Our questions were prepared by regular contributors to Musical Discoveries: Scott Bassin (Nanuet, NY, USA), Russ Elliot (Endicott, NY, USA and Portsmouth, UK) Justin R Elswick (Provo, UT, USA), Evelyn Downing (Manchester, UK), Jamie Field (Hereford, UK), Jelger Groeneveld (Amsterdam, Netherlands), and Joseph Voncken (Herleen, Netherlands). <! do not remove these lines>
---
Return to website contents
---