After a highly successful headline gig at the Oakwood Centre the previous Friday at CRS' Rotherham Rocks, Karnataka appeared at The Mean Fiddler in central London to record their first DVD. The enthusiastic audience included new and established fans from the UK, America and the continent.
An impressive array of video cameras and audio recording kit, assembled by Classic Rock Legends, captured Karnataka's superb live performance. The band played two sets with a short break between them that included material from their two released albums and three new tracks from a forthcoming album due in March 2002.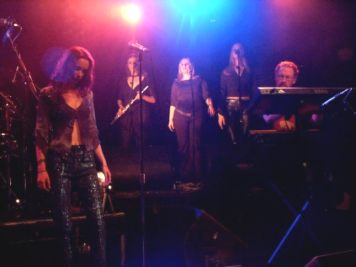 Rachel, Anne, Kirsty, Helen and Jon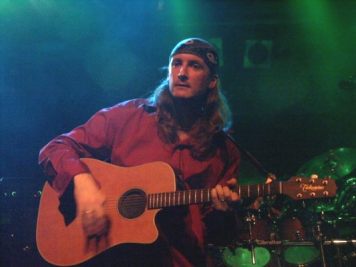 Ian Jones

Karnataka is a modern progressive rock band that effectively blend accessible melodies with various world sounds and well-written arrangements. Fronted by stunning lead singer Rachel Jones, the band's instrumentals are equally strong. Three backing vocalists—Anne-Marie Helder, Kirsty Roberts and Helen Banham—added texture to several of the tracks, with vocal harmonies aligning the band's rocking live performance more closely to their recordings.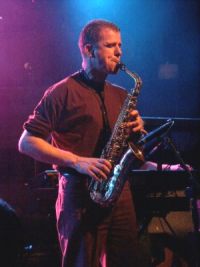 Steve Simmons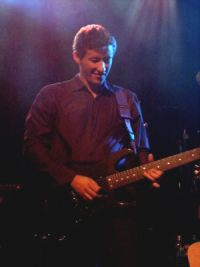 Paul Davies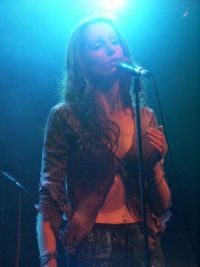 Rachel Jones

Keyed up for the recording, the band were all in especially fine form. Rachel's outfit enticed us to marvel over her vocal training and allowed us to witness just how her body performs when she sings. She captivated the audience throughout the performance with Karnataka's well-known tracks such as "Crazy," "Dreamer, "Writing On The Wall," "Tell Me Why" and many others.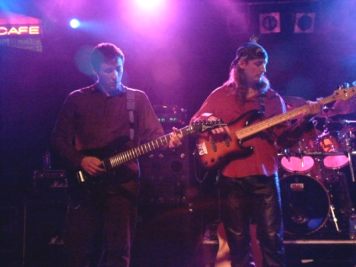 Paul Davies and Ian Jones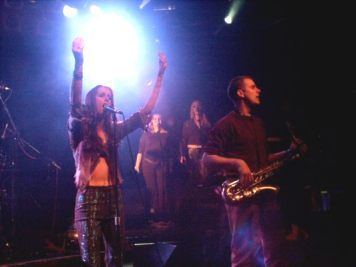 Rachel, Kirsty, Helen and Steve

The audience adored the new material including the dynamic opening number "Time Stands Still," the ballad "Heart Of Stone," and the progressive "Delicate Flame Of Desire" which closed out the second half of their main set.
Paul Davies' incredible guitar riffs and Jon Edwards keyboard excursions contributed significantly to the band's instrumental richness. Karnataka's rhythm section--Ian Jones on bass and Gavin Griffiths on drums--were extremely tight, each demonstrating their individual talents to vast acclaim. We were also treated to Ian Jones' acoustic guitar and Steve Simmons' sax on several of the band's classic tracks.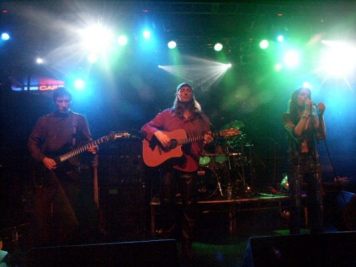 Paul Davies, Ian Jones, Gavin Griffiths, Rachel Jones


The almost two-hour peformance drew significant applause and concluded after an encore of "Shine" and the band's new "Outro" with a thunderous audience response demanding more. The DVD capturing the evening will certainly delight current fans and further expand Karnataka's following with its release!

<! do not remove these lines>
---
Return to website contents
---