Karnataka are a modern progressive rock band who effectively blend accessible melodies with world sounds and well-written arrangements. Their music is as gentle as it is stormy, evolving significantly since the release of their debut self-titled album and its follow-up The Storm. A band for the new millennium, Karnataka blend gentle ballads, memorable upbeat tunes and epic-length rock numbers into their repertoire.
Fronted by their stunning lead singer Rachel Jones, Karnataka's instrumentals are equally strong with melodies from Jonathon Edwards (keyboards), Paul Davies (guitars) and Steve Simmons (saxophone) supported by the tight and powerful rhythm section of Ian Jones (bass and acoustic guitar) and Gavin Griffiths (drums).
In addition to the primary five band members and several guest spots by saxophone player Steve Simmons, the DVD also includes performances by three backing vocalists-Anne-Marie Helder, Kirsty Roberts and Helen Banham-who bring texture to several of the tracks, with vocal harmonies aligning the band's dynamic live performance more closely to their recordings. In early 2002, backing vocalist and flute player Anne-Marie Helder became the sixth member of Karnataka.
We spoke to the band about their history and influences shortly after the Mean Fiddler show. Our DVD review follows; read our exclusive interview with the band members below.
Review
The Karnataka Live In Concert (Classic Rock Legends (UK) CRL 0939, 2002) DVD, recorded at London's Mean Fiddler on 27 October 2001 (concert review) is a well produced chronicle of the band's 2001 live performances. While the majority of the video footage and entire audio track is taken from the Mean Fiddler show, black and white dressing room excerpts and further video—primarily of Rachel—shot along the Gower Coast (Wales) adds visual interest to the DVD.
In addition to the primary five band members and several guest spots by saxophone player Steve Simmons, the DVD also includes performances by three backing vocalists-Anne-Marie Helder, Kirsty Roberts and Helen Banham-who bring texture to several of the tracks, with vocal harmonies aligning the band's dynamic live performance more closely to their recordings. In early 2002, backing vocalist and flute player Anne-Marie Helder became the sixth member of Karnataka.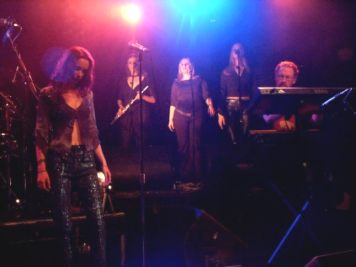 Rachel, Anne, Kirsty, Helen and Jon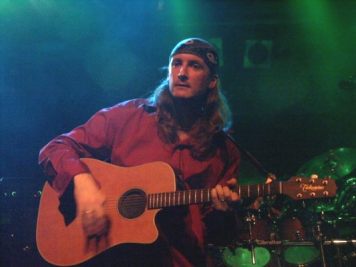 Ian Jones

Keyed up for the recording, the band were all in especially fine form making an incredible connection with the audience. Each a consummate performer in their own right, the video's choreography highlights each of the members musical talents—transporting the viewer into the venue and capturing the mood of the show—from Ian's bass and acoustic guitar to Jonathan's keyboards to Gavin's drums. Rachel's enticing outfit shows off her vocal training and the video shows just how her body performs when she sings. Paul Davies superb guitar solos have been extensively filmed in the video and illustrates his tremendous viruousity.
Rachel and the band captivate the audience throughout the performance with Karnataka's well-known tracks such as "Crazy," "Dreamer," "Writing On The Wall," "Tell Me Why" and many others. The storming rocker "Time Stands Still," the ballad "Heart Of Stone," the progressive "Delicate Flame Of Desire" from the band's forthcoming album are also included. The band's classic "Shine" featuring Steve Simmons' saxophone solos is the concluding number. The DVD captures the band's rocking and crowd pleasing live performance perfectly.
The audio track of the DVD is well mixed without excessive post-production effects and it has been edited especially well for home theatre systems. Video production is good quality and the viewer is afforded lots of opportunities to actually focus on each of the band members since excessive music video-like cuts have been avoided. Three of the tracks—"The Storm," "Woman In Me" and "Delicate Flame Of Desire"—have blended footage shot along the Gower Coast with 'in concert' footage to great effect, in the style of an Enya music video. Ian joins Rachel playing acoustic guitar in the Gower Coast video portions of "The Storm."
Classic Rock Legends have published the DVD in both PAL and NTSC formats. In addition to the main feature's 90 minutes of live music, the DVD also includes a 20-image photo gallery and excerpts from the label's other videos in a section entitled "Rock Vaults." A concise booklet with introductory notes is included in the package as well. [although our NTSC version did not include one!]
Interview
So where did Karnataka come from?
Ian: I had just started getting into the recording side of things and the first album became a very steep learning curve for me! The three of us have been writing and performing together for a few years. I think we shared a common vision of how we wanted the music to sound, but until Karnataka was formed, we never really had the right combination of musicians to make it a reality. When Paul and Gavin joined, it was a bit like adding the missing pieces to the jigsaw, and finally we were able to bring the music to life.
Rachel: The three of us have been playing together in various bands with different line ups for several years, including some time spent gigging as a three-piece. We began to write our own material right from the start, but needed the right team to bring the music to life. Gavin joined later, followed by Paul and Karnataka was born!

Ian and Rachel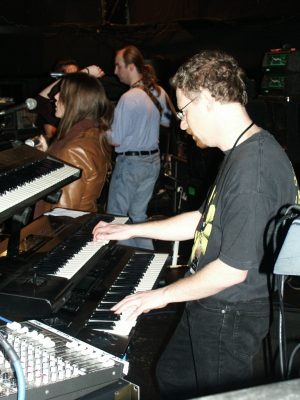 Jonathan Edwards

Jon: The band came from many years of the three of us playing together in various formats from trio with drum machine to full band line-ups with a variety of other musicians and never really capturing our potential. After taking a long break we just decided that the music had too strong a pull to just let it go and decided to get together to record the best of the songs that we had written up to that point. Initial rehearsals went so well with Gavin and Paul that we started writing again and the band just grew from that and Karnataka was born. I don't think the band had a name until recording was nearly
completed! The name was inspired by Ian's trips to India.
How did the sound we hear on your debut album develop?

Ian: I think when we began writing we knew where we wanted to take the sound - a dynamic mixture of powerful atmospheres and textures. The first album was the first step in developing that sound.
Rachel: Some of the songs on the first album were written a long time before Karnataka ever existed, and had therefore been played live many times in many different versions! In 1998, shortly after Paul joined the band, and after a long break from the live music scene, we decided that we wanted a permanent recording - simply something to keep for ourselves. This encouraged us to work on the tracks together and update them a little. The songs' raw feel is a result of our individual influences coming together for the first time.
Jon: The band was initially brought together to record the best songs that the three of us had written up to that point and was never originally intended to last beyond the recording of the songs. Once rehearsals started and we realised how good the vibe was between the five of us we started writing again and it just took off. I guess the sound on the first album has a certain freshness to it; we had the initial excitement about how the new band was sounding coupled with the buzz of writing new songs after having taken a long break from writing together.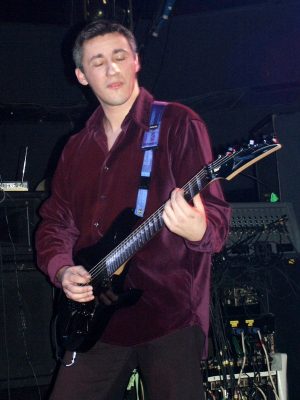 Paul Davies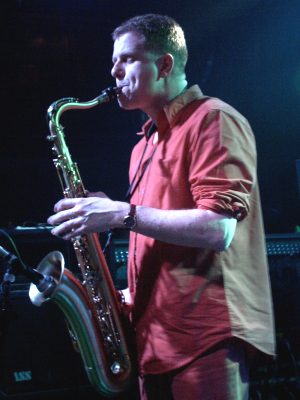 Steve Simmons

The songs are all strong and fairly diverse in sound and for the most part were written, arranged and recorded within a fairly short period. The older songs had been played live many times before in various band incarnations and the arrangements were pretty much fixed while the new songs had never been played live at the time of recording. The priority was to get the songs down; there was no game plan. We were just doing it for ourselves and hadn't even really thought about selling the album or gigging it until it was nearly finished. The album is not as coherent as The Storm but its strength lies in the attitude we try to bring to all our projects. We always try to do the very best that we can, Karnataka is the best that we could do then as much as The Storm was our best work two years on.
And from what did you draw your inspiration?
Jon: I think our inspiration comes from many sources. Musically the band has an enormously wide spread of influences, from rock bands like Zeppelin and Floyd to baroque and classical music and prog bands such as ELP, Camel, Yes and Genesis, who themselves were influenced by those composers and tried to stretch the rock music format in that direction.
It also comes from traditional folk music artists like Martin Carthy and Kate Rusby to bands like Clannad, Iona and All About Eve, who use elements of folk in a more rock context, to just good individual artists such as Beth Orton, Kate Bush Richard Thompson, and others. Individual musicians have also had an influence on the the way we play such as Satriani, Vai and Chris Squire. I guess we all listen to such a diversity of music--folk, jazz, rock, pop, orchestral--that they all become colours that we use when we're painting our own music. We've never tried to sound like any other band and I think that we're finding as we progress our biggest influences are each others musical individuality. Hopefully we're sounding less like anyone else and more like ourselves!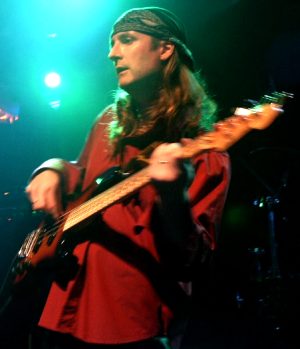 Ian Jones

Ian: Obviously the music I listen to has some form of influence over the music I write, but all sorts of things affect the way an idea might develop. Usually when I'm writing on guitar an idea will have a certain feel that takes it in a particular direction. Experiences too have an impact on writing - my trips to India certainly influenced some of the songs. I think we also draw upon each others' input too - Jon may play a particular chord over something I've written or vice versa, which takes the idea in a new direction. Similarly with Rach's melodies, it can change the feel of a song.
Rachel: I'm responsible for writing the vocal melodies and the lyrics on all of our songs, so my writing inspiration comes mostly from the music that Ian and Jon create. The feel of an idea usually suggests a particular mood and subject matter for me to work with.
What experiences did you draw from when writing the lyrics?
Rachel: Most of my lyrics are inspired by emotions and emotional situations, as I find that feelings are easy to put into words and can be beautifully explored when the words are set to music. I tend to look within myself and draw on past
experiences, but also try to give the listener something to identify with. It is wonderful if people can hear something in every song to make it feel as though the lyrics are meant for them personally.
The live performances during the early years came before the recordings. What were the venues like and what was the response?
Rachel: Our early live performances were very experimental, both in the music that we were playing and also in the different personalities involved at the time! Most of the early gigs were performed to local audiences, who seemed to enjoy listening to something different on the local music scene.
Jon: The very first Karnataka gigs were actually done after the recording of the debut album as the band was brought together initially as a recording project and it was only after recording that we decided to play the songs live. Initial gigs were in and around the Swansea pub scene and response to the band was not particularly encouraging in a scene where the staple diet was covers, blues and tribute bands.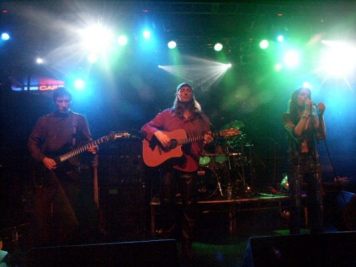 Paul Davies, Ian Jones, Gavin Griffiths, Rachel Jones

Like a lot of towns Swansea has a proliferation of pubs where music is played, but the actual opportunities for playing original live music to receptive audiences are very limited. We started playing at music pubs and also venues such as Ellington's, a local jazz club. Audiences were small, acoustics were often appalling and we soldiered on through a pretty even mixture of apathy and downright hostility amid constant requests for covers.
It was only our faith in ourselves and the music, and the occasional encouraging remarks of individuals who had seen us perform, enjoyed it and told us so, that kept us going. The most receptive venue at this time and still our favourite local haunt was The Uplands Tavern, Swansea's best music pub.
How was the first album recorded?
Rachel: The first album was recorded entirely at a home studio, which Ian built himself. We'd never attempted a project of this kind before, so the recording sessions were a long learning process for all of us. It probably took three or four months to complete, but we did everything ourselves, including the mixing of the tracks and the pressing of each individual CD!
How did people respond to the first album?
Ian: The first album was initially sent to one place for review: The Classic Rock Society! We simply wanted to get an un-biased opinion on our music. We hadn't even had the album pressed at this stage, but were running the copies off ourselves one by one, as and when they were required. This process obviously became too time consuming as things took off, but the real demand for the first CD came after the release of The Storm, as people began wanting to collect the Karnataka back catalogue!
CRS gigs came next. What bands did you support?
Rachel: Our very first gig as Karnataka was a talent showcase in London, which meant traveling to a club in Soho to play a 30-minute set along with five other bands. We enjoyed ourselves so much that we immediately started playing locally again, and began sending CDs to lots of other venues. We sent a copy to the Classic Rock Society for review in 1999, and we did our first gig for them that June, supporting Re-Genesis.
We were all very nervous to be playing to our first real music audience, but the show went well, and the response was wonderful. We did several more support gigs for the CRS that year, and began to develop our own following.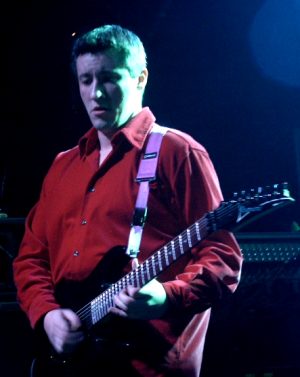 Paul Davies

Jon: Our first CRS gig was a support for Genesis tribute band Re-Genesis and was quite daunting for us. At the time it was the biggest gig that we had done and our first chance to play the music to a large audience. We had also never played as far north before and, though the debut album had received a great review in Wondrous Stories, we really had no idea how the audience would react to Karnataka. It was a real leap into the unknown! When we finished the first song and the audience were silent we thought "they don't like us, they're just waiting for the Genesis songs to start!" and then when the last note had completely died away they all started applauding! We'd never up to that point had an audience who, in their entirety, listened to the music.
When we later did our first headline gig at the CRS and we could see people in the audience singing along to the songs it was just one of the best feelings--to see an audience give as much back to the music as you put in when you're playing it. At that gig we played the only cover that Karnataka have ever played live as our final encore; it was "I Know What I Like" as a thank you to the CRS for that first gig supporting a genesis tribute band and for the wonderful reception they gave us.
We've also supported Jump at the CRS and at some of their other gigs and played at their Horses Head Festival a few times. Jump have always been very supportive of the band and the support slots they offered us helped us to reach a wider audience and give us more experience of gigging further afield. Similarly playing with Mostly Autumn and Fula at the CRS was also rewarding. One of the really important things about the CRS is that they give opportunities for new bands from right across the rock spectrum to play at good venues to critical audiences who don't care if you fit into
a particular genre of music--if it's good they're into it!
When did you realise that it was time to work on The Storm? And when did the concept for the material form?
Rachel: We had already started writing new material by the time we began recording the first album. The interest in our music during 1999 escalated more quickly than we expected, and all of the gigs that year included several new songs, which generated a lot of excitement. We decided to start on another album to capture the new sound we had developed, but this time we wanted to give the whole album a particular feel, rather than simply making another collection of songs.
Jon: I guess we probably started writing The Storm songs about a year or so after releasing the debut album. It took about six months to write and another six months to then record and produce. Musically the sound of the album is more unified, although the themes of the songs don't really form any overall concept.
I think the more pastoral side of the band shines through on tracks such as "Hay" and the title track is probably as close to a folk song structure as the band have gone. The album was named after The Storm as we felt that this song particularly captured the breadth of sound that we were capable of; it had that yearning quality that some folk music has, without being folk music, it had elements of rock, but wasn't exactly rock music--itwas just Karnataka music! The Storm captured the way that we wanted to sound.
Rachel: We drew on the influence of the local environment, in particular the coastlines near home and--of course the sea, which was recorded at a local beach. Lyrics for the title track were inspired by a shipwreck at Rhossili Bay near Swansea and the photographs for the cover artwork were taken there.
Where did the inspiration for the vocal arrangements come from and how would you describe the differences between the sound on The Storm and your debut?
Rachel: I've always loved music based around rich vocal harmonies, and a lot of my early listening consisted of artists such as Clannad and Kate Bush. It was always a great pleasure of mine to listen to songs on record and sing along, inventing my own harmonies at the same time.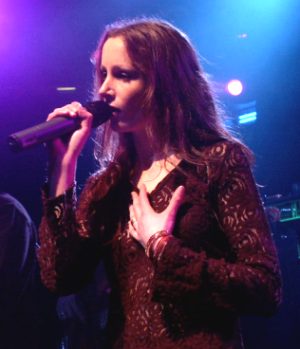 Rachel Jones

As I mentioned earlier, the arrangements of the tracks on Karnataka are fairly straightforward. This was because the recordings were only meant as a personal keepsake for us all as band members; the CD was never intended to be released commerically. When we were ready to begin recording The Storm, we decided to put all our energies into crafting the songs carefully to bring out extra depth and make a richer, more polished overall sound. I spent time creating harmonies for each track with this in mind.
How was The Storm recorded?
Rachel: The recording of The Storm was again done entirely at Ian's home studio, which had been updated by this time. We began with drums, then added keyboards, guitars/vocals and finally bass. Sax, percussion, Scottish pipes and other elements were then put down. Ian worked as sound engineer, producer, and studio manager for the five months it took us to complete the recording, so he certainly had the hardest job.
When the recording was finished, we needed some extra input at the mixing stage, as we felt that we were all too close to the music to be able to listen to the songs in an un-biased way. Having decided to make a major investment, Ian contacted Rockfield studios, and arranged a few days studio time with an engineer. Ian, Jon and I arrived at Rockfield in the first week of January 2000 - a wonderful way to begin the new millennium.
Jon: The main difference between The Storm and Karnataka was that for the most part the songs were played live before being recorded and most of the arrangements were honed down and pretty fixed when we started recording. Having said that, quite a few "happy accidents" happened during the recording and last minute ideas cropped up as we were listening back to the recordings which found their way onto the album. The songs are still diverse, but there is a unity of sound on the album and the arrangements are much tighter; the various elements of the band's sound are in place.
Another big difference between the albums is that The Storm was mixed at Rockfield and nothing can compare with the feeling you get when you hear your music coming out of the desk through the studio monitors on a completed mix. I think we were all a bit overwhelmed and tearful the first time we heard the initial mix of "Heaven Can Wait."
Rachel: We felt very privileged to be working on our music in such a beautiful and famous environment. We bonded very quickly with Phil Ault, our engineer, and enjoyed every single moment of the time we spent there. We came away feeling that The Storm was going to be something very special for all of us.
Things seem to have taken off for Karnataka after The Storm was released. What would you attribute that to?
Ian: I think The Storm showcased the true potential of the band; many of the songs on the album have become band/fan favourites, such as "The Journey." The album also brought us to the attention of a much wider audience with the amount of airplay it received, including that by Bob Harris on BBC Radio 2.
Rachel: The final sound on The Storm was much more professional than that of the first album. We also spent a lot of time on the artwork for the CD, to make it visually appealing as well, so it was a generally improved package throughout. We sent copies of the album to as many people in as many different places as we could, and had a wonderful response. Another major factor in our progress during 2000 was the band's website, which Ian developed. It helped us to reach a much wider audience.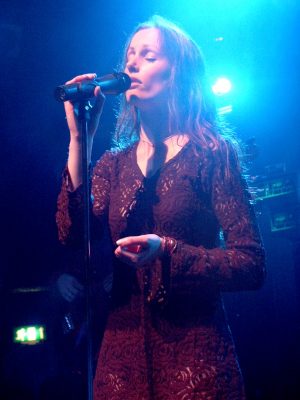 Rachel Jones

Jon: I think that there are several things that have contributed to our success. First, it's our music itself. The band works hard at the music and we're passionate about it. If we didn't believe in it ourselves we could never convince other people of it's worth. Second, it's down to hard work and persistence. It doesn't matter how good the music is if you can't get people to listen to it and this is where sheer hard work and continual knocking on doors is important.
As well as his musical duties in Karnataka, Ian is also the driving force behind the band's achievements. He has the knack of convincing people who don't know us at all that they really do want to give us that gig, or let us play at their festival, or play our songs on their radio show, including Bob Harris! Even if it takes 50 phone calls to produce a result!
Ian's hard work in running the Karnataka website has also brought us many new fans and opportunities and is a continuing factor in our success. We've been lucky. like most bands who have had any level of success we've had our fair share of being in the right place at the right time. It's worth remembering that you've actually got to be in the right place for this to work even if it's only the right time on the twentieth visit and Ian seems to have the ability to find that right place more often than not.
Our fans have helped spread the word about the band and supported us. The encouragement of others should never be underestimated. Sometimes just one person coming up after a gig and saying "Thanks, I enjoyed that!" can make all the difference. We have a collective sense of humour; if we didn't, the band would have split up long ago!>
Gigs certainly got bigger in 2000. Was your work at the CRS helpful in evolving from the Swansea pub scene into more significant music venues attributable to the growth of the band's sound or would you say it was the band's confidence?
Rachel: A bit of both, probably. Certainly the CRS were the major factor in spreading the word about Karnataka in the beginning. They gave us the first opportunities to travel and play away from home on a fairly regular basis, which in turn helped to make us more confident on stage and made us work harder to achieve a good live sound.
Jon: I think that the CRS gigs and their encouragement definitely gave us the experience and confidence to branch out; doing those gigs really made us feel, "Yes, we can do our music and people will respond to it!"
Were your support arrangements with Jump, Re-Gensis and Mostly Autumn instrumental in your evolution?
Rachel: Our support gigs with Re-Genesis and Jump in 1999 were the first real Karnataka gigs, where we played to people who were there specifically for the music. It was very exciting to spend time with other bands who had much previous experience of the music business and were willing to share their stories with us; we learnt a lot during that
period.
In 2000 CRS bestowed two awards on you. What do you think about that? Has it had any impact on the band in 2001?
Rachel: Our profile within CRS circles increased dramatically in 2000. We played our first headline gig for them that July, which was a wonderful success, and attracted many new fans. We thought that there was a possibility of a nomination at the 2000 Best Of The Year Awards, but had no idea that we would actually win anything. Our two awards -- Best New Band and Best Female Vocalist -- came as a huge surprise on the night. It has been wonderful being able to add the awards to the band's CV and it has helped us over the last year to have an official stamp of approval.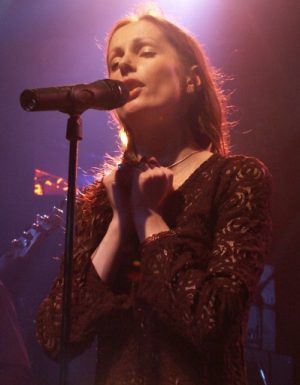 Rachel Jones

And what about the evolution in your live sound. It differs significantly from the two albums--how would you characterise it for your listeners?
Rachel: I'd say that we have a more energetic and rocky sound when we play live. People are often surprised at the difference between this and our albums. There is quite a laid back feel to the sound on The Storm, but Karnataka's live performances are very dynamic.
Jon: I think as a band we all pay more attention now to how the overall sound of the band comes over. In the earlier days we were happy to just play and perhaps not so much concerned about the sound itself. However, as the sound of the band has progressed and the songs have developed it's important to capture the nuances and subtleties of the sound as much for our own satisfaction as for the audiences. Having such a brilliant sound engineer in Mike Osman has made a big difference to our live sound also. He has a very sympathetic ear for our sound and his background and diverse experience in both rock and folk make him ideal for our music.
In recent live performances the keyboards sound more prominent. Please describe how this is achieved and what you think it's doing to the band's overall sound.
Jon: I think that the keyboards have always been fairly prominent in the live sound of the band, but probably not so much in terms of lead lines. A lot of the songs from the first two albums have keyboard pads as their base with some piano or harp rhythm lines running through with most of the melody and lead work being taken by the guitar. As the song writing is becoming stronger and more complex I think the keyboard textures and lines are also changing.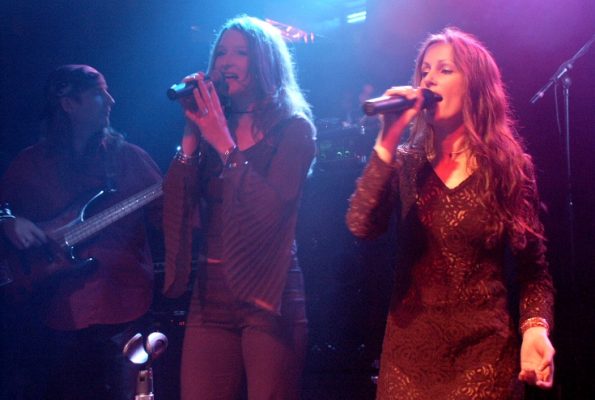 Ian Jones, Heather Findlay and Rachel Jones

Tell us about working with Mostly Autumn. Did it give you any inspiration for what to do with Karnataka?
Rachel: We've thoroughly enjoyed the gigs we have played with Mostly Autumn. They are a great band and are a pleasure to work with. I was really pleased to be asked to be a part of the backing vocal team on their DVD. I had wanted to do a similar thing for at least one of our major gigs and this encouraged me to put the wheels in motion and now you'll see it in the DVD and some of our live appearances.
Last year you had a European tour with Porcupine Tree. How was the response?
Rachel : It was very exciting embarking on our first trip abroad as a band, particularly as our first gig was at The Paradiso in Amsterdam; is is one of the most well known music venues in Holland. Porcupine Tree were very friendly to us and made us feel very welcome at each gig. The audiences in Europe are very different to those in the UK. People seem to be very enthusiastic about music in general and give a lot of encouragement to new bands.
Jon: The European dates with Porcupine Tree were fantastic; walking out on stage at the Paradiso in Amsterdam was great. The Dutch and Belgian audiences were very warm and enthusiastic with none of the reserve that British audiences seem to have--CRS excluded of course--where too cool to clap seems to be the order of the day.
To hear the bass pad rumbling out of the sound system and hear the acoustic guitar ringing through on "I Should Have Known" in 013 at Tilburg was heaven. We just thought, "Oh yes, this is how it was always meant to sound." It really gave us a vision of how things could be. Porcupine Tree themselves were a really great bunch of people--very supportive and encouraging--and great musicians and that made supporting them so much easier.
You also did a headline spot at ProgFarm. How did your sound work with the other bands, especially Flamborough Head?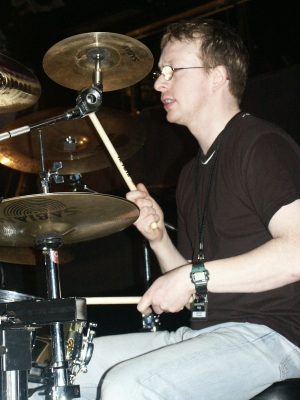 Gavin Griffiths


Jon: Progfarm was a great event to perform at. Our hosts Flamborough Head were a lovely bunch of people. Although we were initially worried that we might not have been progressive enough for ProgFarm we just gave it our best shot and had a really good time. It might not have been our tightest gig but it's certainly one of the most enjoyable we've performed.

Gavin: Even though it was smaller than anticipated it was well worth the trip as the response was excellent especially at the end when I thought the roof was going to blow off!! I also thought our band complimented the other bands well as some of the bands were really proggy compared to us. I look forward to playing there again.

Rachel: ProgFarm was a wonderful experience! All the bands on the night were very different in terms of musical style and it was interesting to hear some new stuff. The festival was really friendly and we had a good response to our set, although I think our music like Jon said, may have been a little too different for some of the faithful progressive rock fans.

When did you start writing the new material and when did you start taking it out onto the road? Is the reaction to it different to what you've done before?

Rachel: We started writing new material for the third album towards the end of 2000, and the process continued throughout last year, in between the many gigs we played. The new songs have been phased into the live set gradually and have been extremely well received. Our songwriting technique has improved considerably over the last couple of years, and I think that we have written some of our best ever music.

There will be eight tracks on the album. The songs tend to be longer than those on The Storm, and are more complex and encompass a wider selection of sounds and styles. I feel that we have really found the true Karnataka sound. We're working with a producer for this album, which is a new development for us. He helps us to experiment with new techniques, and gives us a listener's perspective on the songs, helping us to get the very best results.

Jon: As Rachel said, the new material has been written on and off since the end of 2000 and we've integrated many of the songs into the set as they've been written. It's been interesting this time as we've now lived with the songs for a long time before recording started, playing them live many times and they've developed as we've played them.

Sections have been added, dropped and chords changed until we were really happy with the arrangements. The audience response to the new material has been great. We certainly feel it's a step forward for the band in terms of writing, playing and arranging and the audiences have gone right along with us and told us that they think it's our best stuff yet as well.

A lot of the songs are longer and more complex than on the previous albums and that in itself was a challenge for us. That is to do something different, to keep it interesting for ourselves, to capture different moods and to retain the organic feel that our songs have. I think we're achieving that on the new album. It's going to have a very big sound and it's very melodic, it's Karnataka music but we're stretching ourselves without the music sounding forced or artificially extended.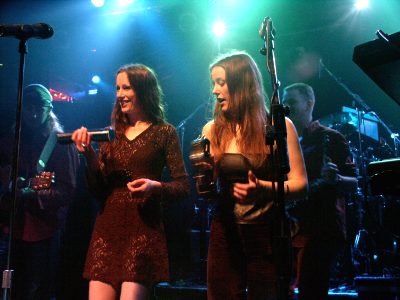 Rachel Jones and Anne-Marie Helder

At Rotherham Rocks you introduced backing vocalists for the very first time. What led to that and how do you think they have influenced the band's sound?
Ian: An important part of the recorded Karnataka sound is the layered harmony vocals. We simply decided that we would like to incorporate some of this feel into the live sound too.
Rachel: As previously mentioned, we decided to organise a backing vocal team for our DVD gig. I started working on this last August and thought that it would be a good idea, both for us and for the audience, to introduce the new lineup in advance, so Rotherham Rocks seemed like an ideal opportunity. There are a lot of backing vocals on our current album which are not usually part of our live set, so it was lovely to add the extra depth. The audience reaction--particularly from the male participants--has been great.
The Mean Fiddler show is one of the pinnacles reached during 2001. What were the preparations like?
Rachel: There was a lot of preparation for the Mean Fiddler gig, to make sure that we created our best possible show, knowing that it would be captured forever on film! Classic Rock Legends had filmed some footage from two previous gigs, so we were quite used to the camera, but it was a real roller coaster ride of emotions on the night.
Jon: The Mean Fiddler performance was a highlight of 2001 and a chance for us to present a snapshot of the band at the end of a brilliant year for us. We added backing singers and some flute to broaden the sound. Like Rachel said, it's something we had talked about doing previously and the Mean Fiddler gig was the spur to actually make that happen. We had limited rehearsal time with the singers due to various commitments and only one live gig with two of the singers the previous week at the CRS in Rotherham, which was also filmed.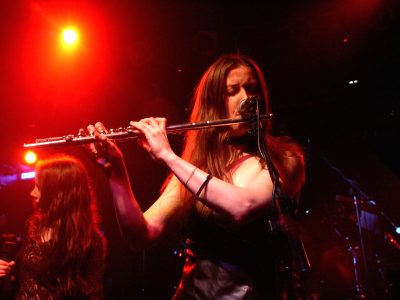 Anne-Marie Helder

On the night we all felt the pressure of the situation, but as always once we started the music just took over and any residual nervous energy probably gave an edge to the performance. We've not seen any of the visuals yet, but we have heard the a mix of the audio track and we're really pleased with the quality of the sound. I think Classic Rock Legends captured the energy of a Karnataka concert and if the visuals can match that, we'll be happy!
The audience was very supportive. Could you feel their energy?
Jon: The audience at The Mean Fiddler were great, there were a lot of long-term supporters of the band and it's a great feeling to get that warmth coming from the audience. We really cherish this as a band--that contact withthe audience. With the CDs we know people are buying them and listening and enjoying the music but it's almost abstract until you see the enjoyment on the faces at the gigs--it makes it all worthwhile.
Rachel: The audience were truly wonderful; everyone there gave us their full support, and made it a very special experience for all of us.
What is your outlook for the DVD? Are you keen to see the result or do you have some trepidation about it?
Ian: I can't wait to see the finished film, although we'll probably be very nervous when we sit down to watch it for the first time. We were very impressed with the Mostly Autumn package, so we know that the completed result will be of superb quality. It will certainly be interesting to sit back and watch ourselves on stage.
Rach, were you surprised to win "Best Female Vocalist" a second year running?
Rachel: I was amazed! It was a great surprise to win the award in 2000, but to win it again last year was brilliant. I feel honoured to have the support of so many CRS members, and it was great to get the chance to talk to so many people on the night, in such a relaxed atmosphere.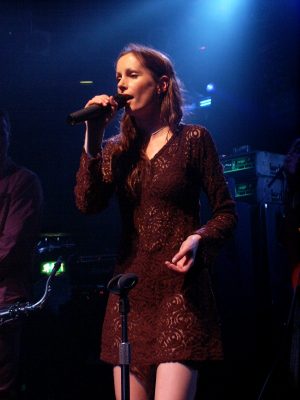 Rachel Jones

Jon, you are a key part of the writing team. What have you done to bring the keyboards more into the sound that emerges on stage and in the recorded material?
Jon: Preparing the songs for this album has been very interesting and probably the most diverse in terms of how it was written - there's been a mixture of both Ian and myself writing sections or ideas on our own which the other has then added to with Rachel adding the vocal melodies and lyrics, or we've had writing sessions together where we've thrashed ideas out between us. We've also brought basic ideas to rehearsals and jammed the ideas through with the full band. We've also adapted the arrangements and changed some of the songs through live performance.
I've tried to bring in a greater variety of sounds and textures on the keyboards to keep the songs interesting. I've started doing this live and on the new album I've had access to a lot of keyboards and modules besides my own stage gear and that's been exciting and will definitely broaden the palette of keyboards sounds that you'll hear when the album is released.
Tell us about your drum playing Gav. Where does your inspiration come from; tell us about how closely you work with Ian to hold the rhyhm section together?
Gavin: I have played with numerous bands of various styles, which has helped me progress to where I am now. Some of my favourite drummers are Stuart Copeland, for his raw style of playing, Vinnie Colaiuta, for his technical brilliance and Neil Peart, for his style of drumming that suited Rush. Ian and I play well together. He writes the music and I just put a rhythm to it. It seems to work--it is as simple as that!
Ian, tell us where you draw your inspiration on bass from and the sound you are trying to achieve. And tell us more about your acoustic guitar parts.
Ian: Whilst I'm the bass player in the band, my main role is in the songwriting department. I tend to take a melodic approach to playing as well as a rhythmic one. I've mainly been playing a Fender Jazz which has a lot of warmth to its sound and complements our sound well, but I recently acquired a Rickenbacker which is being used on some of the newer material. It has a much more up-front sound than the Fender. Bass players such as Chris Squire and Tony Levin have been a huge inspiration and whilst I don't pretend to be in their league, they do give me something to aim for in terms of a sound. I just try to use whatever fits the song best; what works with one may not be right for another.
Most of my writing is done on acoustic guitar and sometimes it is nice to keep that feel and sound in the songs such as on "The Journey" and "I Should Have Known." Sometimes I write on the acoustic but eventually replace it with perhaps keyboard or electric guitar. A good example is "Heaven Can Wait," which I wrote on acoustic, but decided not to retain in the final band arrangement.
How were the backing vocalists selected and what do you think of them and the part they play on the DVD?
Rachel: The backing vocal team for the DVD was carefully chosen. I already knew Kirstie and Helen from previous musical social circles. Both of them were singers in a soul band with Steve several years ago. I had also seen Anne perform--and was blown away--with her own bands in and around Swansea. I approached them in July and we started working on the various harmony parts a few weeks later. Needless to say we had great fun in the process. All three of them are wonderful vocalists in their own right, but have very different sounding voices, which complemented each other beautifully.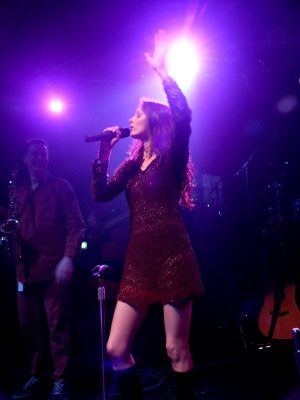 Rachel Jones


What did you think about being voted best CRS gig with Mostly Autumn?
Ian: The "Best Gig" award was a wonderful surprise. The gig itself back in May 2001 was our first joint appearance with Mostly Autumn. We already knew that between the two bands there was a lot of interest amongst CRS members, but all the same we were amazed at the audience numbers on the night. Everyone there seemed to enjoy both bands, and there was a general feeling that we all worked well together. We have some very special memories of that particular night, and our award serves as a welcome reminder.
What's next in 2002 for Karnataka?
Rachel: The first major event of 2002 will be the release of the new album in March/April, followed by quite an extensive UK tour. We have some wonderful venues lined up, and are very excited at the prospect of further travel. We plan to return to Europe later in the year and hope to see some more new places. One of our dearest desires is to travel to
America and play there - hopefully this is something we will be able to acheive very soon.
Concluding Remarks
In concert the lushness of Karnataka's recordings is augmented by their rockier instrumental sound. Multi-tracked vocal layers are replaced by performances of the backing vocalists. With excellent instrumental and vocal arrangements, the live sound is outstanding; certainly on an equal level as, albeit with a different texture than, their two previous albums. The visual element of the band's live performance adds significant dimension to their sound and is awe-inspiring.
The ninety minutes extracted from the Mean Fiddler performance presented here concluded with a thunderous audience response demanding more and critical acclaim in the music press.

. Find further information about the DVD and order it from amazon.com here. The DVD effectively captures the evening, introduces some of the band's new material in the run-up to their third album and is certain to delight current fans and further expand Karnataka's following. Clearly worth a trans-atlantic journey, it is a must see and a must listen!

<! do not remove these lines>
---
Return to website contents
---